The longer we live in our RV, the bigger it gets!  Does that sound strange? Over the past six years, we have discovered how little space you need to be comfortable.  It makes me realize why some folks choose to live in what some would consider as tiny RV homes.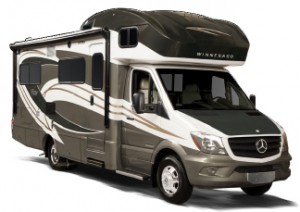 For us, the only reason we really need a forty foot fifth wheel is to store our stuff.  Now we don't have a lot of possessions, but when you scale down from a "sticks and bricks" you still have a few items that you want to keep. We don't keep a storage unit for those things, we just keep them with us.
So, if we removed those items from the RV we really could turn that forty feet of RV into less.  We see people living in class B RV's for the winter and wonder how they do it?  We like to have a full-size RV bathroom and a washer and dryer.  It just makes it so much easier rather than having to go to a bath house or use an RV Parks laundry facility.
But those are not deal breakers for those choosing to live in their tiny RV homes.  The trend for some is to go that route.  We just finished up with the Tampa RV Super Show and some of the hottest items there were these newer class c RV's on the Mercedes Sprinter chassis.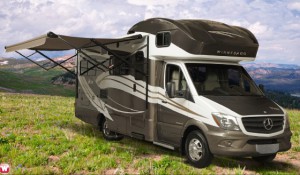 Some that are in the twenty-four foot length have full bathrooms in the back and queen size murphy beds to handle the sleeping arrangements. They appear to be really nice tiny RV homes!  I could actually see myself enjoying full time RV living in it!  If one is moving their RV home a lot of the time, I can see why these RV's are the way to go!
They are easy to maneuver, they are fun to drive, they can tow up to five thousand pounds, they are fuel efficient for this type of vehicle, and it's a Mercedes engine.  Hey, if you own one of these things you can say that YOUR Mercedes has a toilet!  If you are going to buy something with a Mercedes engine you might as well be able to sleep in it too!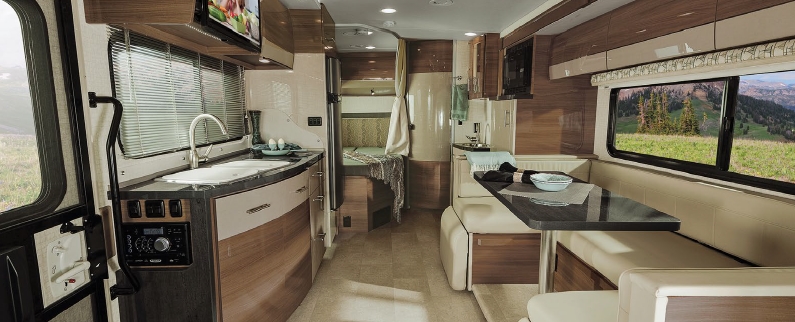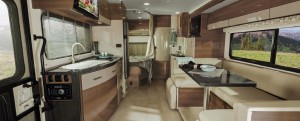 Why do I bring up this topic of tiny RV homes?   Business is picking up and it will require us to be on the move quite a bit.  That becomes a little difficult at times with the big beast we are currently in.  We knew when we started fulltiming back in 2008 that the current choice was great for fixed RV living where 3 – 6 months in a location was the mode of operation.  But once we were going to start moving around we knew that a motorized RV would be the choice.
Traveling around the east coast where RV parks tend to be older and have smaller RV pads, these new smaller Class C RV's are really starting to look appealing!  I have just about talked myself into it!  Can we do it?
Stay tuned and we'll see what happens!
Blessings,
Howard and Pam