If you have been to our website before you know a little bit about Pam and I. For those that have not, we have been living the full time RV life since 2008. In that time we have had two RV's that have served our purposes well during those years. Recently, we decided it was time for number three. So, I want to discuss what we did and some ideas on how to buy an RV.
Here are the RV's that have helped us travel the United States since 2008.



We have now welcomed this RV into our family! We call her Miss Tiffy. She is a Tiffin Allegro Open Road.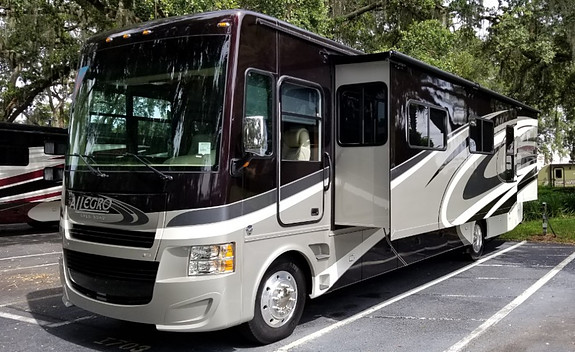 After our previous two RV's, why did we choose this one? What was our thought process? What class of RV were we looking for after having a 5th wheel and a class C RV?
After spending ten years in an RV and over one hundred thousand miles driven in RV's, we know exactly how to buy an RV! Of course, since our business involves being in the RV industry and being RV inspectors, that makes the process that much easier. Let's see if we can share some information that will help you as you do the same!
Why Did We Choose This RV?
So, we spent six and a half years with the truck and 5th wheel and three and a half years with the class C RV. Many fellow RVers asked us why did we go from a large 5th wheel and truck, some sixty feet of RV, to a thirty-foot class C pulling a trailer? Did we lose our minds?
The answer to that question lies in the needs of the RVer at the time that the purchase is made and how you see your RV life in the foreseeable future. Can you really know what RV will best suit your purposes for years to come? Do wants and needs change over time? Absolutely! We would have to be mind readers to be able to see years into the future to know what we would be doing so we could choose an RV that would suit those needs.
For the first six and half years of our full time RV life, we work camped in areas we wanted to visit. We spent months in those locations. One place was right on the beach in the panhandle of Florida. We enjoyed that areas so much we spent a total of forty-three months on and off over a period of years. We just kept coming back. And being that Florida is our domicile state it made sense at that time.
That style of full time RV living where you are not moving around a lot matches well with a 5th wheel RV. They are set up like a small condo with all the amenities you need to be comfortable. But, for us, the problem came when it was time to move. It took us many hours to get ready and once on the road, navigating to certain locations took careful planning due to the size of the RV.
The other issue was backing the RV into tight spaces. At sixty feet long we had issues in older RV parks that were not designed for today's larger RV's. I had experience backing RV's of this size as I was trained by a retired semi-truck driver in an RV park we were work camping at. He let me move 5th wheel RV's around the park and get them set on RV sites.
Even with all that experience, backing the 5th wheel is the thing that scares a lot of people away from them once they own them for a little while. Even if they get good at it, the process is always nerve-racking after a long days drive. And, pull through RV sites are not always available. And, if they are, they cost more. We have found this to be a problem for some.
After all those experiences with the 5th wheel for six and a half years, and due to the change in our full time RV living lifestyle at that time, we needed to go smaller in order to make more frequent travels to many locations easier due to our business that we run out of our RV home.
So, we decided on the class C RV, knowing that it would be much smaller and there would be issues related to the lack of space compared to the 5th wheel. However, when it came time to move, drivability, ease of getting in and out of any RV spaces, ease of fueling, less fuel and maintenance costs, better mileage, easier to clean, etc. we found ourselves enjoying the experience of living in Frank, as we called him.
I wrote an article on the full time RV living and small RV motorhomes that you can visit if you would like to know more about my thoughts on the positives and negatives of a small RV motorhome.
What Was Our Thought Process?
Having all those RVing experiences, since we started back in 2008, and with those two completely different RV's, plus all the time we spent renting Class A gas and diesel RV's, as well as class C RV's, we had a pretty good idea at this point how to buy an RV that would now suit our needs for years to come.
So, what were we now thinking would be the major things we wanted in our next RV home based on how we live our full time RV lifestyle? Now, before I share this list let me tell you this! No RV is absolutely perfect and able to meet all your RVing needs. Even if you had one custom built, there would still be the issue of the chassis and the advantages and disadvantages of each type.
We had to sit down and look at our previous experiences, what was currently available on the RV market, what manufacturer would best meet our needs of quality and durability, have a good reputation in the industry for overall quality and service, and overall meet most of our full time RVing needs.
What Class of RV and Manufacturer Would Best Meet Our Current Needs?
Taking the previous discussion into account, we decided on a Class A Gas RV based on these needs:
A gas engine over a diesel engine due to the desire to have the engine up front and easier access to maintenance facilities.

More adaptable to sit for extended periods of time or frequent travel compared to a diesel engine that is more suited for frequent travel and higher engine mileage.

More bang for the buck in the gasoline chassis and the fact that we did not need the carrying capacity that a diesel chassis offers.
Here are some of the other things we had to have. They are available in either a class A gas or diesel RV:
An RV with two slides on the streetside and not on the curbside.

2,600 to 3,000 lbs of cargo carrying capacity.

A suppression system to reduce sway.

A floorplan that allows for boondocking when the slides are in.

No plumbing located in slideouts.

A residential refrigerator.

A washer and dryer either as a combo unit or separate ones.

A bath and a half.

A space to create an office work area.

Only one black and one gray water tank.

All solid flooring with no, or very little, carpet.

Pass through outside storage bins.

A large shower.

A king size bed.

A comfortable chair for Howard to sit and work or to watch TV.
Once all these things were found, the next issue to overcome is whether the RV is built right and all the systems are functioning as designed. This is where the RV inspector training comes into play!
Looking at all the criteria above and having the knowledge about RV manufacturers and their building practices, as well as the track record from friends who own RV's, we chose the Tiffin Motorhomes brand as our RV of choice.
Once that was settled we only had to choose a floorplan that met the needs that we stated above. It was easy to find a floor plan that fit our desires perfectly. There were six options available and one was a clear choice.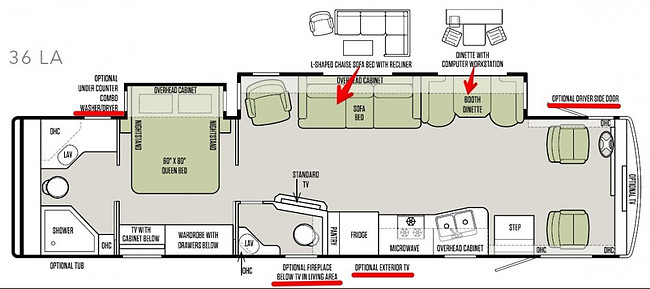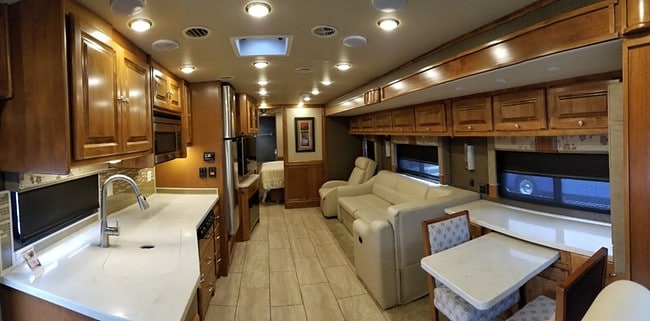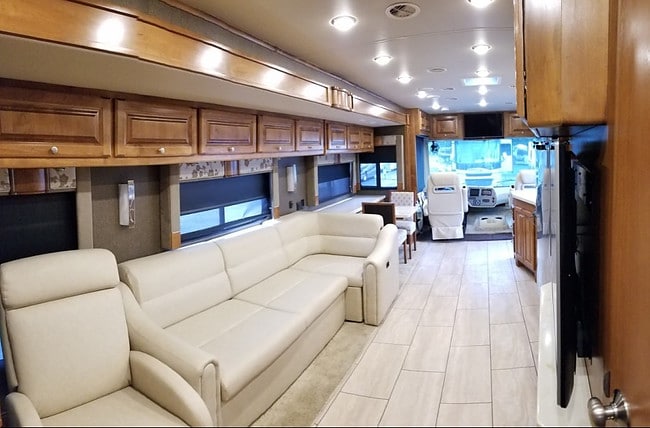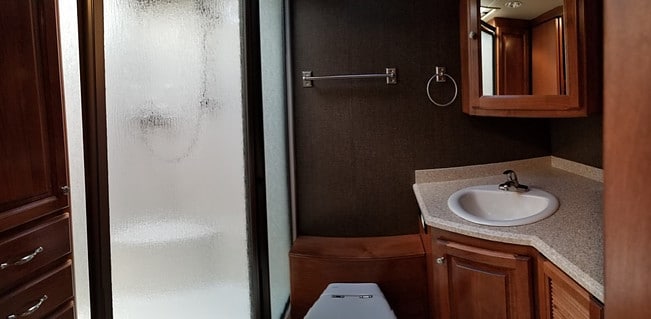 To Buy a New or Used RV?
We never buy new RV's as there is no need for such things! If you are patient and know exactly what you want, knowing how to buy an RV is easy! You can save tens of thousands of dollars buying a two-year-old RV!
When we were ready I did a quick search at a dealership that we bought our class C RV, and guess what? There was a 2016 Tiffin Allegro Open Road in their inventory that has just come in with only 1,226 miles on it! We contacted the dealership and put a deposit on it until we could see it in person.
Armed with our list of criteria, mentally, of course, we drove 1,100 miles to Florida to go visit the dealership and the RV. Our first viewing of the RV was promising. Pam and I went into inspection mode and did a quick evaluation of the major systems to see if all was okay.
I headed to the roof and Pam investigated the interior. It was looking promising. The next step was to verify all equipment was as listed on the build sheet. During all this investigation we quickly found some issues that we made known to the dealership and that we wanted to be addressed before we would possibly take possession of the RV.
We decided it was worth it to go on a test drive. We had expectations about what it would drive like, but due to the newer Sumo suspension system on the Ford F53 chassis, we were hoping it would not sway as much as previous rentals we had on the gas platform. Once driven, we found we were happy with the drivability so we decided to negotiate based on the dealer taking care of the concerns we had.
After a few weeks and patience on our part to get the dealer to get our concerns addressed, we were able to take possession of the Tiffin Allegro Open Road!
So How Has it Worked Out?
We have been in Miss Tiffy for almost four weeks now. We drove her from Tampa, Florida to East Texas. She performed admirably! There have been no issues since then. Due to the careful process that we initiated for investigating the RV prior to purchase, we were able to find the right RV for us.
All the items that we had stored in the class C RV, Frank, have disappeared into Miss Tiffy along with all the items stored in the trailer. Between Chevy Chase, our work truck, and Miss Tiffy, there is plenty of storage for our belongings.
We are thoroughly enjoying our new RV home!
How Can You Know How to Buy an RV?
Be sure to have a list of all the "must haves" for you based on your previous RV experiences. As I have said before, if you are considering the full time RV lifestyle, and you have never RV'd before, please rent for a while before deciding on your full time RV home.  A mistake can be very costly, perhaps to the tune of tens of thousands of dollars!
Also, unless you have the experience and credentials, we would suggest seeking the assistance of an NRVIA inspector to be sure you get all the facts about the RV you are considering prior to purchase!
Pam, Lindsey and I wish you all the best in your current and future RV travels!