So, I wanted to update how our experience went at the Tiffin Service Center and Campground getting Miss Tiffy's warranty work completed.
After the ice storm that occurred almost a week after we arrived, we were left still waiting to get into a service bay. The Tiffin Warranty Center was closed the entire week due to the ice storm. It left roads coated with a thick layer of ice that remained for days.
It took a warm front to come through to get rid of the ice and make the roads passable again so the Tiffin workers could get to work and be able to fix the RVs that were waiting for them. By the time we got called to a service bay, there were seventy two more people that were waiting behind us.
The Tiffin Service department told us that they can handle one RV a day in a service bay, maybe more, maybe less depending on how many warranty items need to be repaired.
Waiting For Service
It took Mom and Dad two weeks of waiting before they got into service. Once there it took three more days to get most of the work completed. We had to move the RV into the service bay each day and then leave the RV due to the human Covid thing. I wanted to stay in the RV, and the service guys did not mind, but Mom was afraid that I would be scared when they started using power tools so I went with them to the nice waiting room they have for Tiffin owners.
One thing that Mom and Dad noticed while they were at the warranty center was that each weekend, somewhere between forty and sixty RVs would show up for service. And the winter season is supposed to be the slow time of year! What that means is people can probably expect to wait for one to two weeks with that kind of traffic. If fewer RVs show up each week, the service department can get caught up.
Being a very smart Corgi, one would have to ask, why are so many RVs showing up each week for warranty work? Why didn't the dealership that these RVs were purchased at take care of these items? Why do so many RVs need this much warranty work? An inquiring Corgi wants to know!
Quality Issues
I have heard Mom and Dad say that Miss Tiffy Two is not nearly as well built as Miss Tiffy One. Their first Tiffin was a 2016 and this one is a 2021. The difference in some of the quality in the build is certainly noticeable! One of the main issues Dad had, and he was really upset about this, is the paint quality. Some areas have a nice layer of clearcoat, and others right next to those areas are more like an orange peel finish. He felt this was not up to Tiffin's standards from years ago.
In fact, while we were picking up Miss Tiffy Two from the RV dealership in Florida last year, Dad commented to the onsite Tiffin Rep his disappointment with the paint compared to our previous Tiffin RV. The Tiffin Rep told us if you want better paint we would have to spend another couple of hundred thousand for it. Wrong answer!!
Talking to Other Tiffinites
While we were at the Service Center waiting to get into a service bay, Mom and Dad had chances to talk to other Tiffin owners with new RVs also waiting to get into a service bay. They had Tiffin RVs that were more expensive then ours and the full body exterior paint was not any better. Dad went looking around at other 2021's that were waiting for service and he said he was shocked that someone would pay hundreds of thousands of dollars for an Allegro Bus and get that kind of paint job.
The owners he was talking to agreed. In fact, it was the paint department that was so backed up we could not wait any longer to get our issues addressed. We needed to leave after three weeks because we were all tired of waiting around in a parking lot and having to be without our full time RV home all day.
Ran out of Gas!
Of course, to add to all the frustrations of the ice, snow, and cold weather, trying to get propane in Red Bay Alabama is a real chore. Dad had to drive anywhere from five to thirty miles to fill up his propane tank. The ASME tank on the motorhome was almost empty, so it was a good thing Dad had already added and extend-a-stay system so that he could use an external DOT cylinder to feed the propane system. But even with a 40# tank, and the furnace running a lot, we needed propane every day or two because of the below freezing temperatures.
The day after the ice storm Dad wound up driving on roads that were a sheet of ice. He said he crawled along at fifteen miles an hour to go get propane se we could stay warm. Our electric heaters were just not enough when its in the teens at night, not to mention keeping the plumbing from freezing.
Without the furnace running, Dad would have had a hard time trying to keep the plumbing bay, water lines, and tanks from freezing. So, they had to leave me home alone and go find someone that still had propane (suppliers ran out) to fill our external propane tank.
Soft Corgi, Warm Corgi, Little Ball of Fur!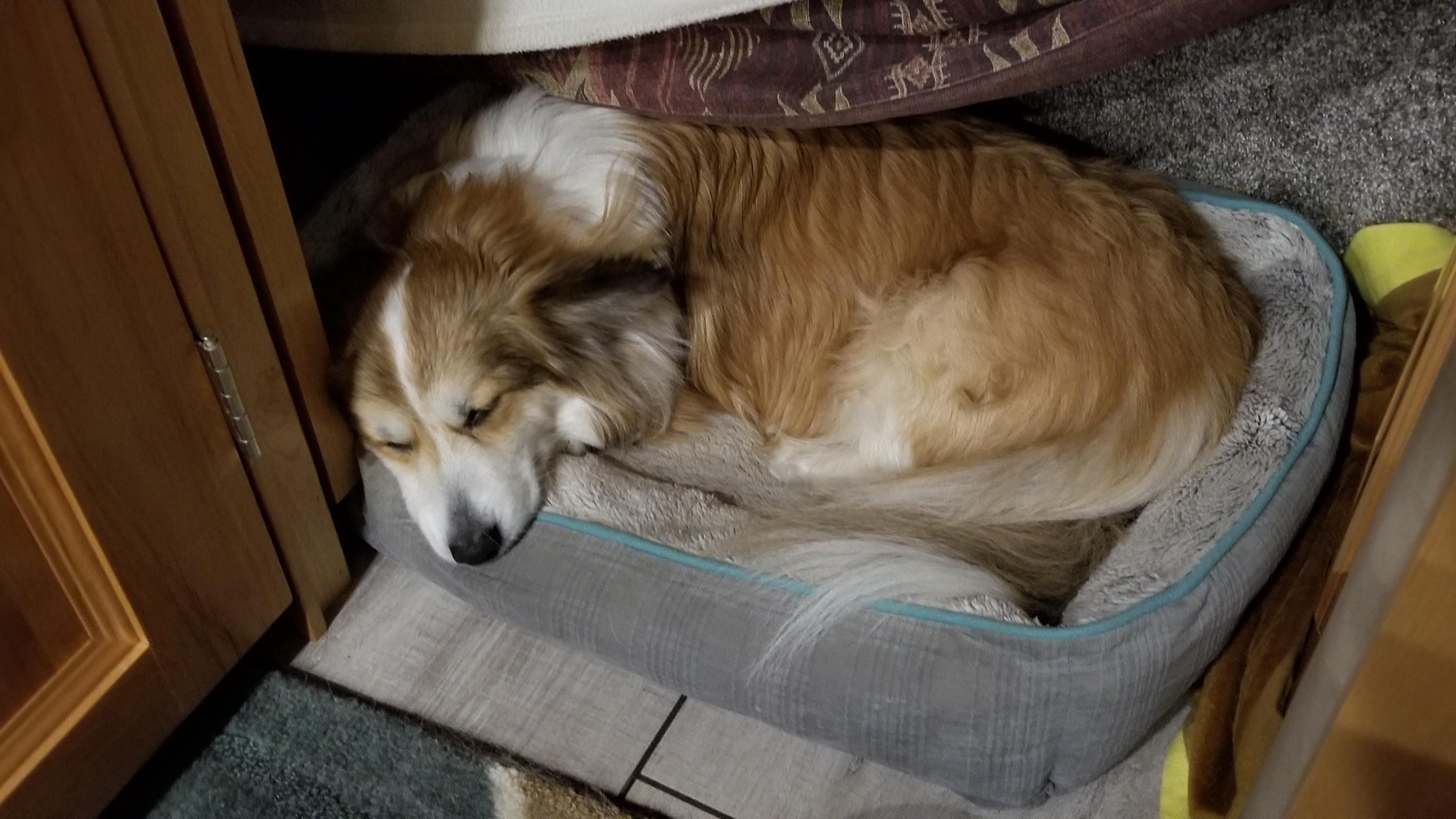 While they were out doing that I would curl up in my bed and enjoy a nice nap while keeping warm.
As the ice and snow started to melt, and then refreeze at night, our RV home sunk into the melting ice. After a day or two of that, the RV was frozen in four inches of ice because all the snow had blocked the water from escaping. It took a few days of much warmer weather to get the RV out, and once Dad did, we moved to another RV site that had better drainage.
After four days of much warmer weather, and temperatures that stayed above freezing, all the ice and snow disappeared. At that point it was just a distant memory of something I don't think they want to repeat again.
It Appears the Service Center is Always Busy!
Mom and Dad went to Red Bay in the winter months hoping it would not be busy so they could get in and out of there faster. Well, that did not happen. I guess everyone else with Tiffin RVs and warranty issues had the same idea.
So, I am back at the NRVTA right now catching up on my sleep while Mom and Dad teach RV inspector classes. I am lonely because I don't have Lindsey anymore to keep me company. I know Mom and Dad have to work to keep me in the lifestyle I am accustomed to. LOL But I miss them when they are not with me all day like we were the past three weeks.
Last year they would teach an RV inspector course for a week and then have five weeks off to spend with me. This year, because this has become such a big thing, they are teaching classes four weeks in a row and then have three weeks with me.
Oh well! That's the life of this traveling Corgi. I heard Mom say we are off to the beach next. Time to get sand in my paws!
Until next time!
Winston