Hi everyone! It has been a busy year for this Corgi! I continue to enjoy the full time RV living life with Mom and Dad. I miss Lindsey, but now I get all the attention. I also have to guard Mom and Dad by myself and that's hard because I am afraid of my own shadow.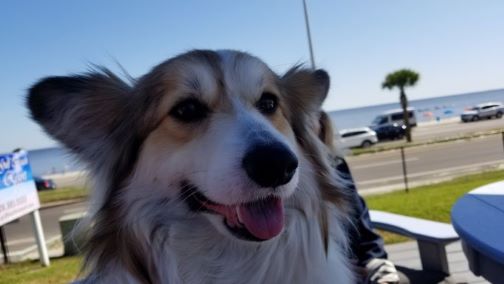 Biloxi, MS
After our trip to Tiffin in Red Bay, AL Mom and Dad took me back to Gulf Beach RV Resort. We had stayed there in 2020, but since we got chased out by a tropical storm, we went back to use an RV site credit. Mom and Dad enjoyed sitting on the deck enjoying the beach view and afternoon cocktails. I joined them too because fur-kids were allowed on the deck.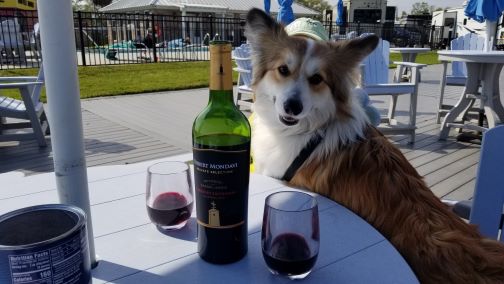 Mom and Dad coined the phrase "Wednesday's Wine with Winston" during our stay at Gulf Beach. It was great! I got to sit on the deck and drink wine with Mom and Dad . . . . . no, not really. They drank wine and I watched. I miss my Sis-fur, but I sure love all the attention I get these days!
After we left Gulf Beach RV Resort we traveled 30 miles east and stayed at the Silver Slipper RV Resort and Casino. They have a small RV park right on the water and about a half-mile from the Casino. Mom and Dad were not there to gamble, just sit on the beach and enjoy the view.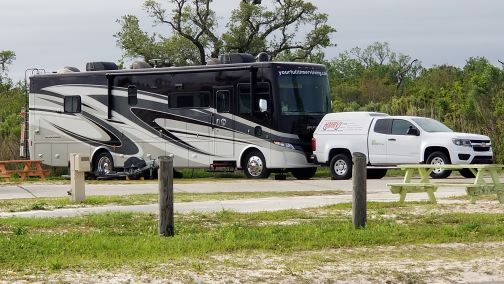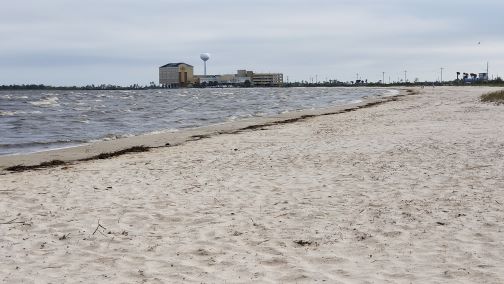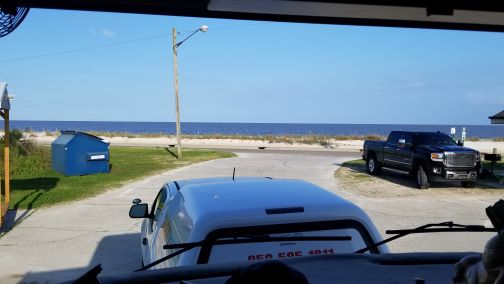 Our RV home was parked so that we could look out the window and see the ocean view all day long. It was great until a storm developed off the coast of Louisiana and brought 45 mph steady winds a day before we were supposed to leave. I was scared! It felt like the RV was going to roll over with the additional gusts of wind.
The next morning heavy rains were forecast, so Dad braved the wind and we abanded our beach location to head inland along I-10 in Gulfport, MS where we waited out the storm. Good thing too! The area got six to eight inches of rain. We parked in the rest area near the Innis Space Center and hunkered down for the night. After all that it was time to travel back to Athens to resume teaching activities at the NRVTA.
Galveston Island, TX
Our next adventure was to head back to Galveston Island where we stayed at Stella Mar RV Resort. We have been there before and decided to go back because of its close proximity to town and the ability for Mom and Dad to ride their e-bikes instead of taking the truck. They were able to ride all the way down to the north end of the island on the sea wall bike path system. I heard them say it was a really nice way to enjoy the ocean view and get some exercise.
I think they also went shopping the same way. Walmart was only a few miles down the road.
While there they took me on a ferry ride, in the truck, over to the Bolivar Peninsula. It's about a twenty-minute ferry ride. It was a windy day so it was a nice ride: lots of wave action to enjoy.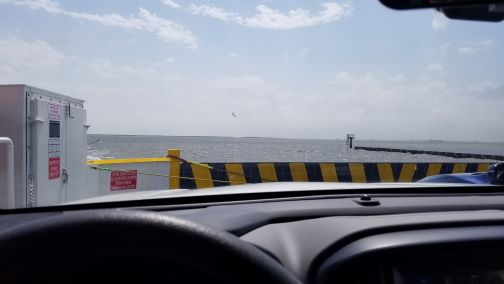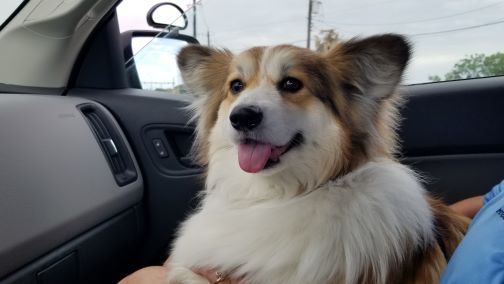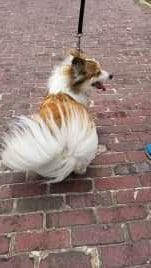 Because we were approaching the Memorial Day holiday on this trip out, Stella Mar was booked and we were unable to stay on the island, so we had to move to a new location. Mom and Dad chose an RV park southeast of Houston called Jetstream RV Park. It's near the Houston Space Center. Mom and Dad have not been there before so they thought this might be a good time to visit. I heard them talking about their visit and how cool the place is.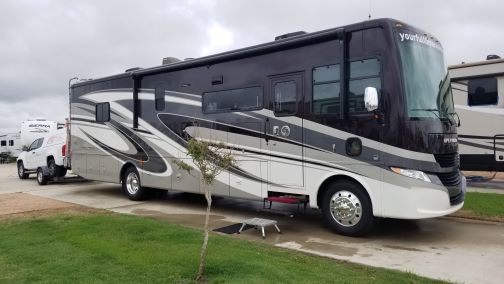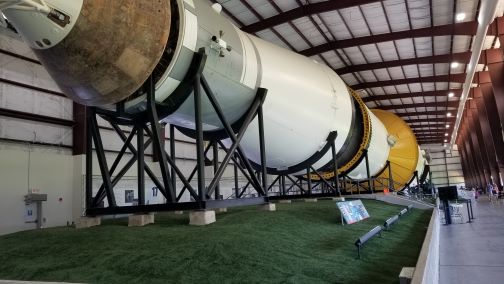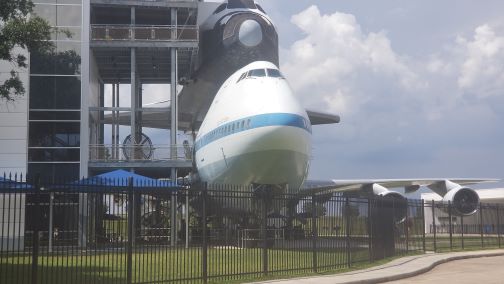 And of course, even though Mom and Dad are out traveling when they are not teaching at the NRVTA, they also did some business while they were in the Houston area. There are always people who need consultations about RV life no matter the area we visit.
Branson, MO
During the summer months, Mom decided to avoid the busy beach during the summer months and travel north instead. We went to three locations during that trip. But, before getting to Branson, MO, Dad got a call to assist a client on the way through Arkansas. So on July 4th, I spent the night in the RV parked in an RV dealership. Mom and Dad were going to inspect an RV the next day and offer a walkthrough for the new RV owner. I heard it went well, and I did get to meet their client after the process was completed. The client came by the RV to meet me.
We stayed in Branson, MO for a week at Branson Musicland Campground. It looks like it was an old KOA that was sold to another owner. It was located on a really hilly property, so when you enter, everything is downhill from there. Wow, what a climb getting out. I really got a workout when Mom walked me around that place.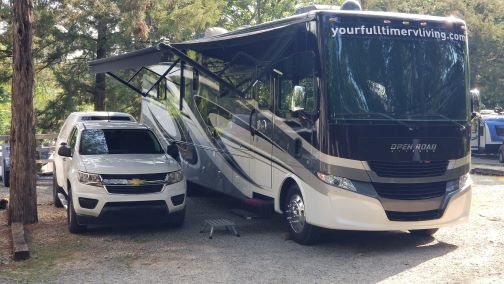 Dad said it was nice in that it was in close proximity to everything, so like their time in Galveston they did use the e-bikes a fair bit to get around.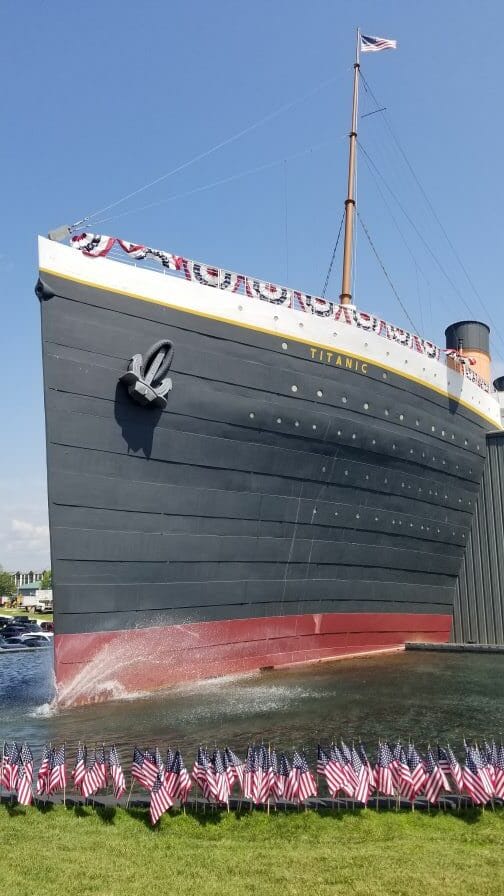 There is a lot of entertainment options in the area so they went to see the Texas Tenors one evening and said that was very enjoyable. They also rented a pontoon boat on one of the nearby lakes for a day on the water. They told me afterward I could have come, but I don't think I would have liked it. The owners at the boat rental place said they love dogs and allow them onboard. Maybe next year I'll give it a try.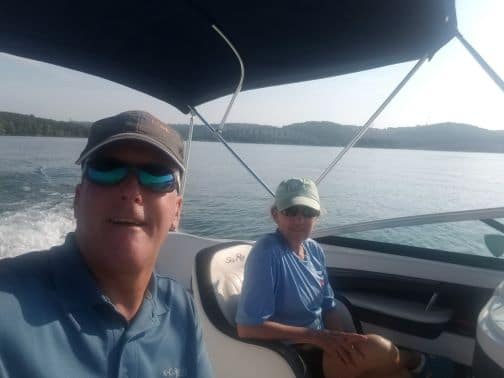 There is a place near Branson called Top of the Rock that they decided to visit while in the area. You can rent a golf cart and you go on a two and a half-mile journey through caves and by waterfalls while enjoying the landscape of the area. Dad said that was really fun! After that, they walked around the area to see the unique golf course that is there. Dad said he'd like to get his balls on those greens . . . oh, golf balls I mean.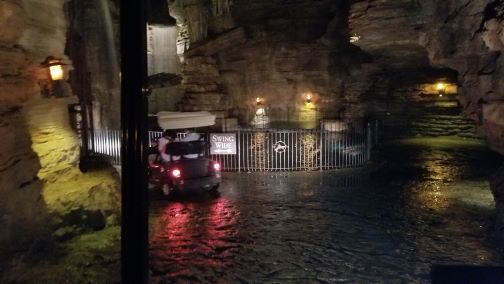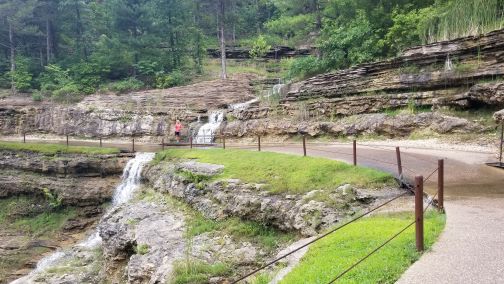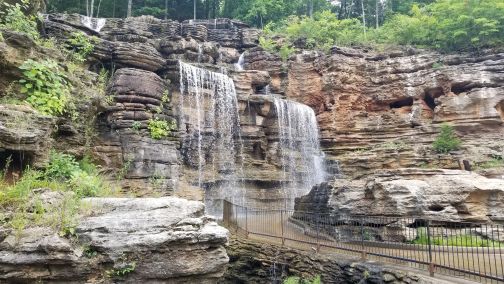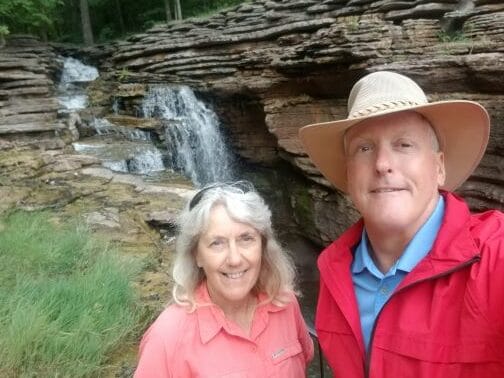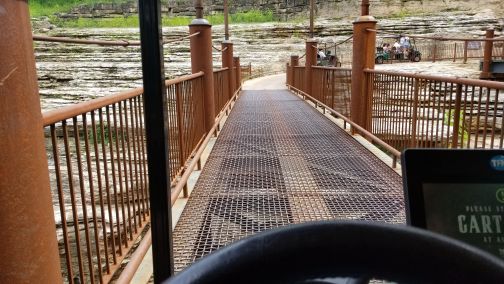 Fayetteville, AR
After Branson Mom and Dad wanted to visit Fayetteville, AR because of the great bike trail system they have in the area. There are miles of trails that go through and around the city. We stayed south of Fayetteville in Hog Valley RV and Treehouse Resort. From there, they were able to bike into town and even go north of town, all on paved bike paths. They said they biked about thirty miles that day.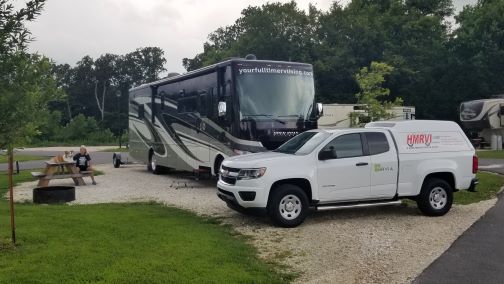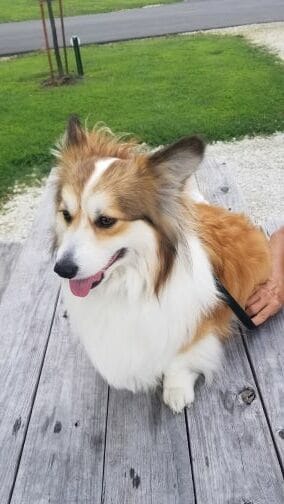 They said they might take me back there again because they liked the area.
And, as usual, they did some work while in the area. Another client requested they assist him with his RV purchase decision by checking out an RV that was forty miles south of where we were staying. So, I got to stay home alone and guard the RV while they did their work.
Hot Springs, AR
The last stop on this trip was in Hot Springs, AR. This time they stayed at Catherines Landing. It's an RV Resort below the Dam on Lake Catherine. And since they had so much fun with the pontoon boat in Branson, they decided to rent another one, a tritoon for the day. It's a pontoon boat with three pontoons. They said it had a 175 hp motor and really went fast! I would have been scared I think.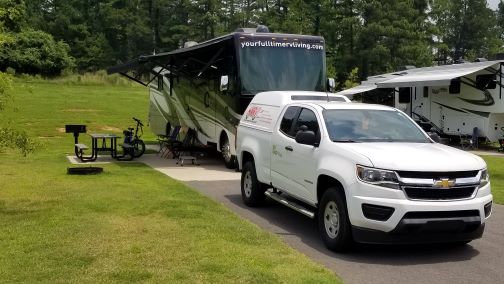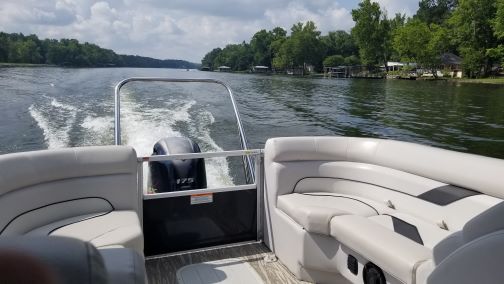 The rest of the time they just hung out with me and as usual, did some work while in the area. After our time there it was back to the NRVTA!
Fremont, WI
Our late summer trip was to visit family in Fremont, WI. Mom's brother lives in a small town surrounded by lakes. Mom and Dad love to visit the area because that's where Pam grew up, and there are boats there too. Mom's bro has a tritoon boat that Mom and Dad got to take several excursions on. In the Fremont area, you can go from lake to lake and travel many miles, even into Green Bay if one feels so inclined.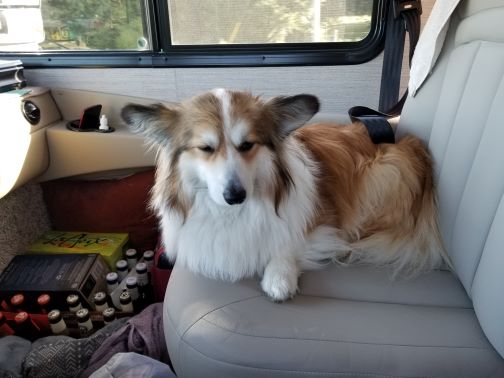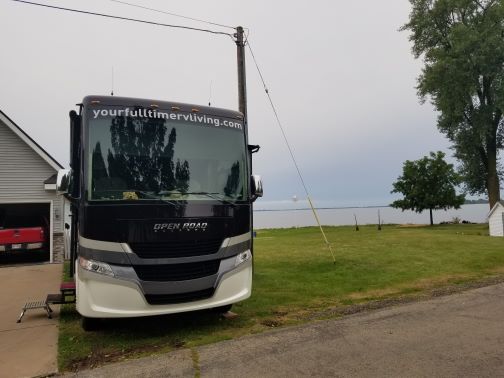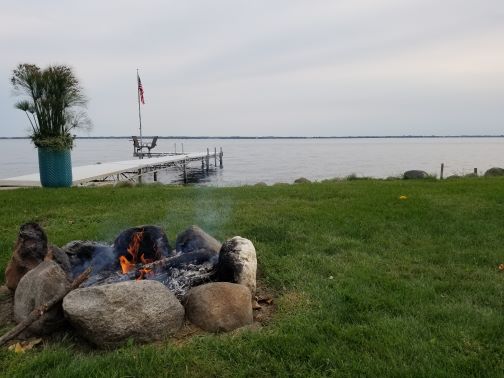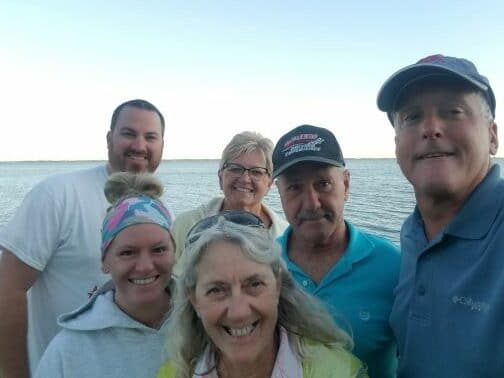 Mom also got to spend time with her niece and who was getting married a few weeks after our visit. It was nice they could get to see her because they could not make the wedding due to previous HMRVI company commitments.
We got to park the RV right on their property with water and electric service. The view was great and the two weeks there were very relaxing for us all.
Corpus Christi, TX
As we got into October, Mom and Dad wanted to head back to the beach so they went to Corpus Christi, TX for a week. They wanted to go directly to Port Aransas, TX, but Sand Fest was going on so the RV parks in town were booked solid.
They decided to try the Corpus Christi KOA in the area. It is a little over a year old and looked nice. It's right on the bay just the other side of Mustang Island, so it still had nice water views. The park was in close proximity to a large HEB grocery store and other large chain stores.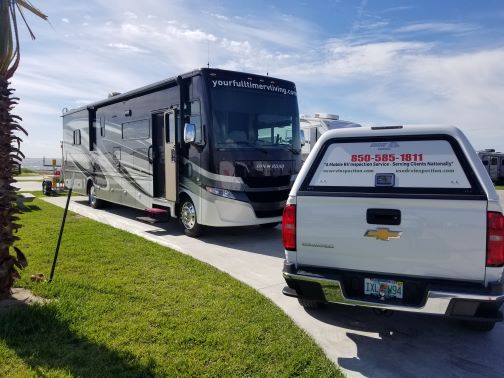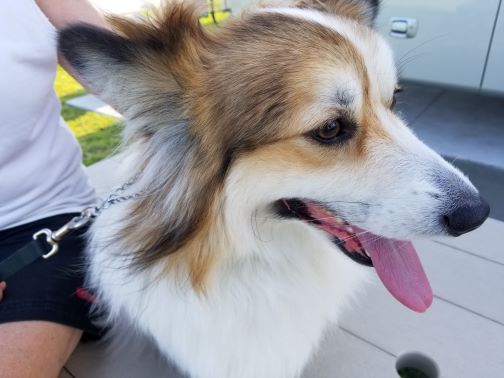 Dad decided to try an Apple product again, so he ordered a Macbook Pro for his business and decided to pick it up at Best Buy while in the area. Then he spent the week setting it up for business instead of paying attention to me. I was getting quite upset over this rejection, but I got over it. I know he's busy and has things to get done in order to keep his business growing.
Port Aransas, TX
After a week in Corpus Christi, TX we all headed south in the RV home, towing Chevy Chase, and went to Aloha Beach RV Resort in Port Aransas, TX. It was just as Sand Fest was ending, and Mom and Dad were able to ride their e-bikes along the beach and see the sand sculptures that were still there. They said they were pretty amazing.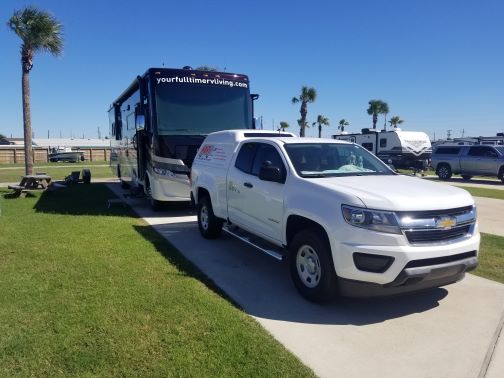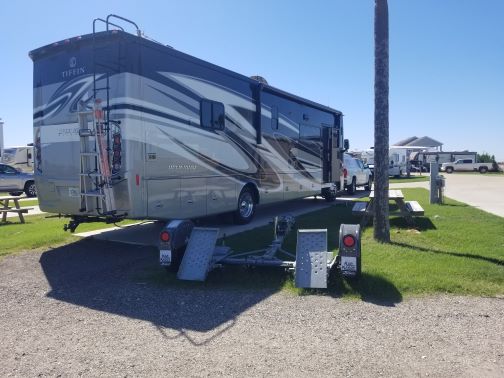 They love the area because on the island, and near the town, there are so many places to get to by bike. So again, I got to spend a lot of time by myself. Ho-hum! The life of an RV traveling Corgi!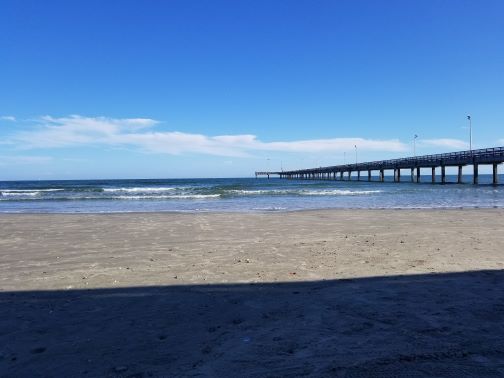 And of course, Dad was conducting his business activities during non-play times. He has purchased a device for the RV that will help reprogram the shift points of the transmission to help improve drivability. I think it may help me to get a better nap during travel days. I'll let you know during my next update.
I also heard Mom and Dad say we are headed back to the beach for a month over Christmas, but I am not sure yet where we are going, so I'll post again next year when I get a chance to get the computer out of Dad's hands so I can use it. LOL!
Until next time, Winston out!