So far this year, Pam, Lindsey, and I, as we have traveled, we have gone at least 500 miles to the next destination. This kind of travel has taken us across multiple state lines, sometimes a couple of them a day.  I frequently pay attention to gas prices near me as we move across state lines.
What I wanted to share in this post is something that is of importance to most RVers, fuel costs.  Now, we don't stress over this subject because it is what it is:  I don't know of anyone who can move their house and all their possessions so cheaply.  For us, we get around ten miles to the gallon with our current RV.  So, if we travel 1,000 miles, and gas costs $2.50 a gallon, as an example, we would spend $250 for that distance.  Not too bad!
Gas prices Near Me!
What if gas prices near me are possibly less.  What if we were able to buy that same gas for $2.20 a gallon?  Would it be worth knowing that?  If that cheaper gas was located at a place that was on our route, and we could drive a little further to get to it, why would we not do that?  That could save us $30.  No big deal, but it just makes plain good sense, right?  The other case can happen as well, the gas could be more.
Crossing state borders can drastically increase or decrease your gasoline bill.  GasBuddy has identified twenty high-risk areas where knowing that they can exist can definitely save you some moola!  When it comes to filling up a fifty to one hundred gallon fuel tank on an average sized RV, these differences can be significant.  Hey, any savings you can make might buy your evening dinner at Cracker Barrel!
"Generally, the price spread between states next to each other is the difference in state and local taxes, but can be enhanced if the two neighbors have different types of required gasoline from different regions," said Patrick DeHaan, GasBuddy senior petroleum analyst.  "Usually, traveling across state borders isn't an event that sticks out to motorists who are usually busy taking pictures of the welcome signs, but gas prices can stealthily surge just by crossing over the state line.  To avoid overspending, motorists should mind the price spread and look up gas prices on both sides of the border in advance to make an informed decision on where to fill up."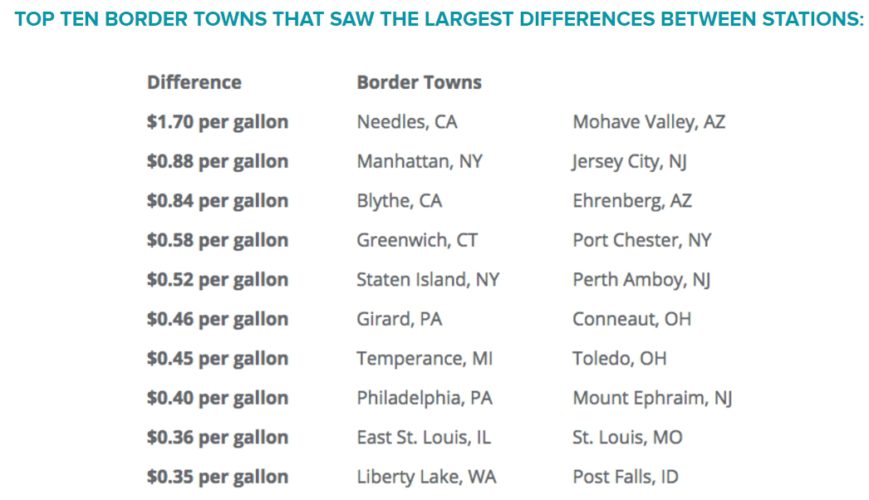 As Pam and I travel we have found that Google Maps, running on a tablet attached to a suction cup windshield mount, has been the best way for us to get where we are going and the easiest to deal with.  Google Maps is an easy app to use as well as it has live updates during travel.  This app also shows gas prices near me.  This information, as well as the GasBuddy app, has definitely saved us money as we travel through different states.
Now, we have been fans of Pilot and Flying J travel centers because you can be assured there is enough room to navigate the premises with any type of RV.  Plus, if you have the RV plus card you can save five to eight cents a gallon and charge at the pump, no need to go inside.  Now, I still compare their prices against other retailers, but usually, it works out in my favor.
I also want to get back to this live update comment I made.  With the Google Maps app running while I drive, with the traffic feature enabled, if there is an accident ahead that has slowed traffic, or closed the highway, I am re-routed around the slow up and saved from sitting in a traffic jam and wasting fuel.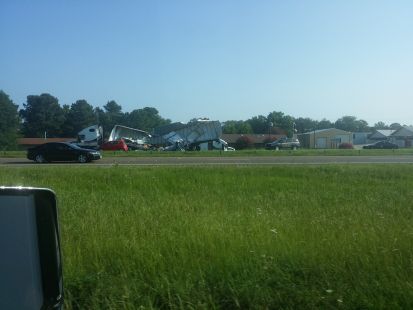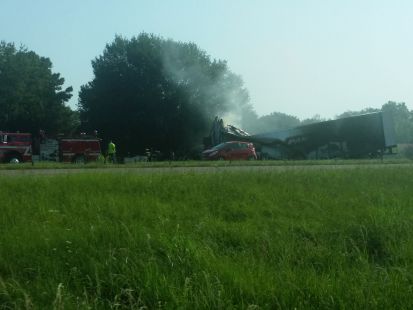 During our travels last month we were stopping for fuel as we had planned to do before crossing a state line, and upon trying to re-enter our planned route the Google Maps app told us that we should not get back on the highway entrance ramp, but travel seven miles south of that and re-enter the highway there.  The app identified a seven-hour delay because of an accident.  As we got further south of our location and were able to see the highway, there were two trucks that had hit one another.  We found out later that one trucker was dead on impact.  The highway was littered with debris and it took all day to clear before vehicles were let through.  We, however, did not have to sit on the highway and wait due to our technology running.  Apparently, not a lot of other people use this great source!
But, when it comes to finding gas prices near me, the Google Maps app is definitely the best way for me to pay attention to fuel prices, as I need fuel, and am near state lines where gas can either be more or less on one side of the price line or the other.
So, use those great resources that are out there and enjoy your travels!
Blessings,
Howard and Pam