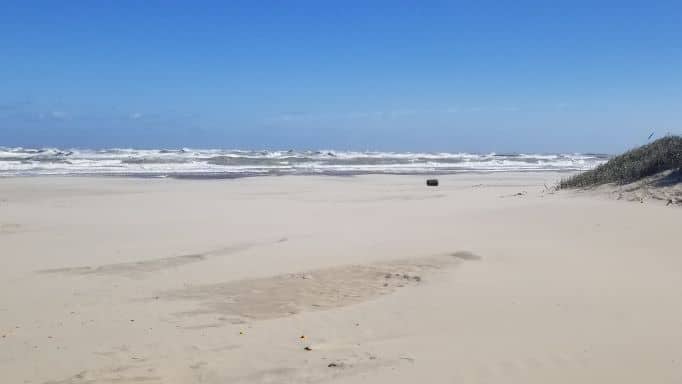 2022 Started for us in stormy South Padre Island. A big storm moved in and really tore up the beach. Mom, Dad, and I were in the area for a month starting in December of 2021. It was nice but Mom and Dad decided that they like Port Aransas, TX better, if looking for a beach in Texas.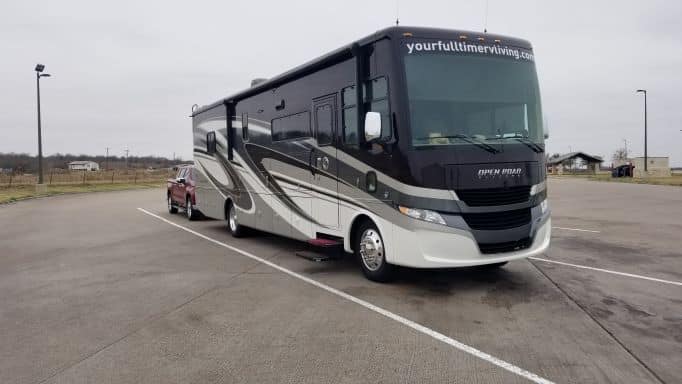 We started flat towing Silver, our Chevy Silverado, on the trip to South Padre. We dolly towed Chevy Chase, our 2018 Chevy Colorado, but it was time for a change due to business reasons.
So Dad has Silver hooked to Miss Tiffy with a Rodmaster Blackhawk tow bar and a air actauted braking system. Dad says flat towing Silver is awesome and loves how it tracks behind the RV.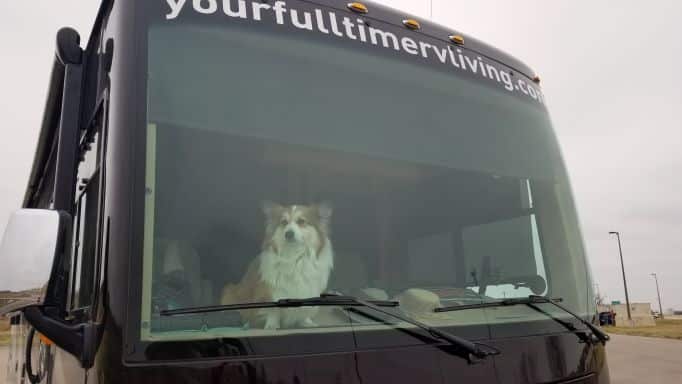 I am such a cute young man and I always like to keep an eye on Dad while he is checking things out during our rest area stops.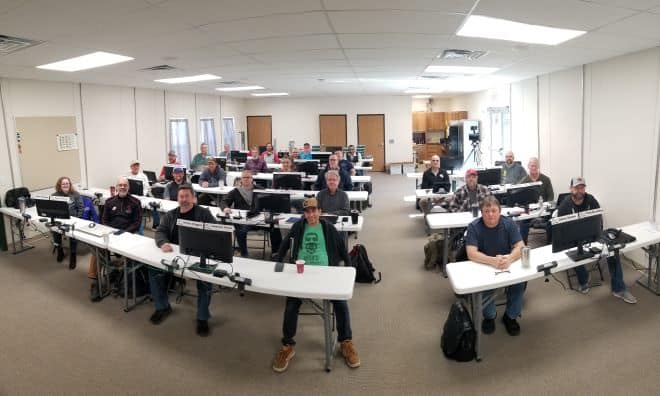 This was Mom nd Dad's first graduating NRVIA class of 2022. They train people how to be RV inspectors at the NRVTA in Athens, TX. They had a great year in 2022 as hundreds joined the NRVIA ranks. The goal of an RV inspector is to help other RVers get all the information they need to make an educated buying decision before making the purchase, not after.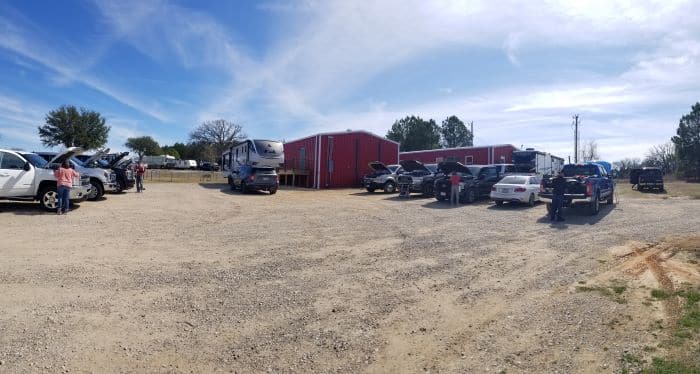 Here they are out pulling oil and coolant samples on cars, trucks, and RVs to determine the condition of those fluids. RV inspectors can't take engines apart to see what's up, but sending oil and coolant samples to a lab can reveal information about engines and transmissions before buying the vehicle. Afterward it may be too late and also costly!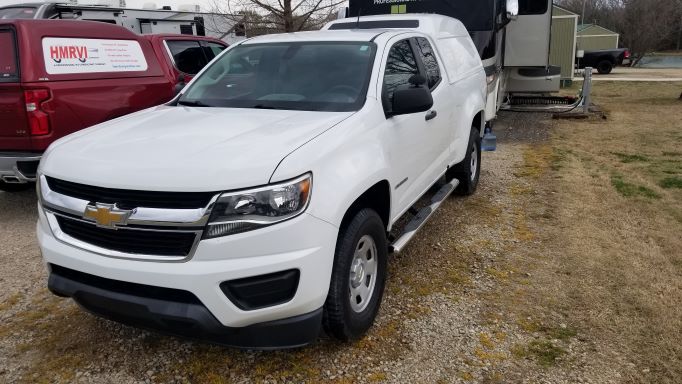 In late 2021, Dad's CPA reached out to him and suggested that due to the business set up of the company-owned vehicle, and its affect on corporate taxes, that it was time to replace it. So Dad was excited to go out and purchase a 2022 Chevy Silverado, the one pictured to the left of the Chevy Colorado.
They sold the Chevy Colorado in the first quarter of 2022. It still looked like new when Dad sold it. He always takes really good care of his vehicles!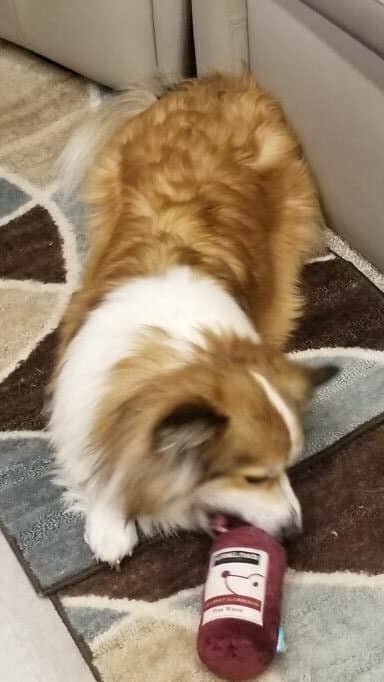 I'm still a toy boy! I destroy all soft toys given to me. But, I have been kinder to my wine bottle toy. I know how much Mom and Dad like Cabernet Sauvignon, so I respect the grapes!
When Mom and Dad are teaching for the NRVIA, Mom ends up grading a lot of RV inspection reports from student inspectors. And of course, I help! I'm really good at it. Being the Accomplished RVing dog that I am, I can really add value to the reports . . . . . LOL!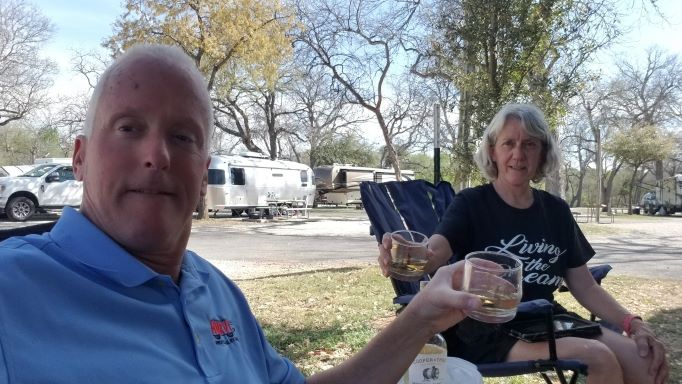 While in San Antonio, Mom and Dad had a chance to enjoy some down time with a great bottle of Cooper and Thief.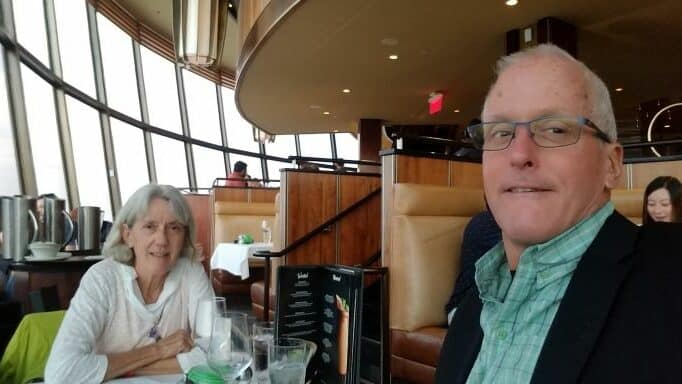 They also visited the Tower of the Americas for a business meeting to discuss the S-Corp annual minutes and plans for the rest of 2022. They said it was really awesome being seven hundrd and fifty feet off the ground in a revolving restaurant.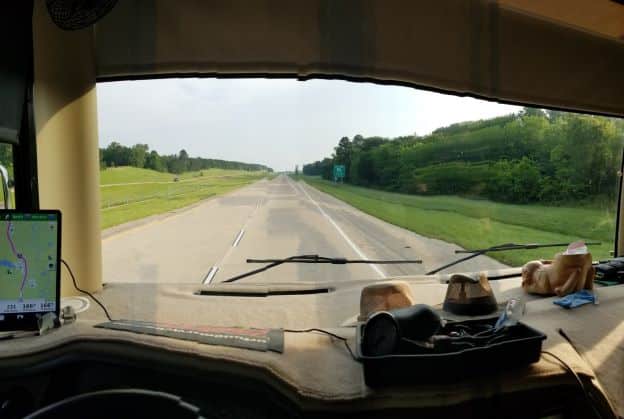 As summer set in we ventured to Arkansas to enjoy some boating on the many lakes that are around the Hot Springs area. Dad, having grown up on the water loves boats! So when he can he rents tritoon boats as they are roomy, fast, and very stable.
I was a captain in training on this trip down river. Here I am behind Dad watching how to navigate the boat.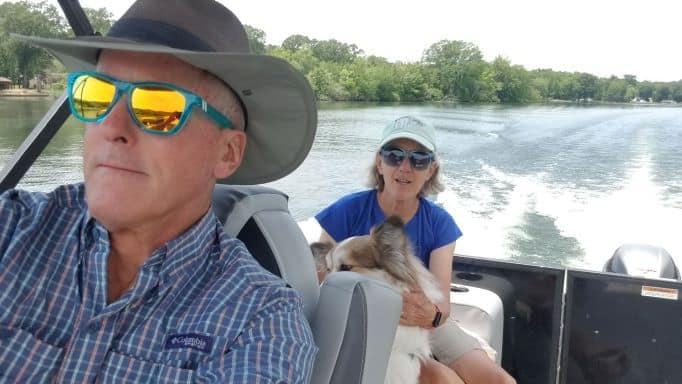 Once I felt ready, and Dad trusted me, he let me take the captains chair. But Houston, we have a problem! I can't reach the controls. Da knew that but he didn't want to discourage me. But don't I look cute in the drivers seat?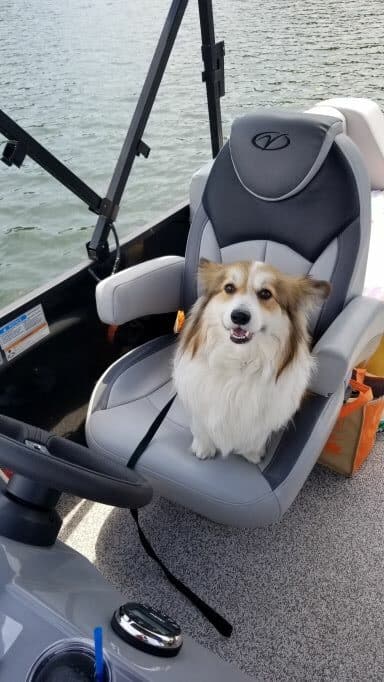 The next day Mom and Dad rented a tritoon for a day and ventured around on another lake. I stayed home because it was warm and the day would have been too long for me. So I let them go play by themselves. Someone has to guard the RV!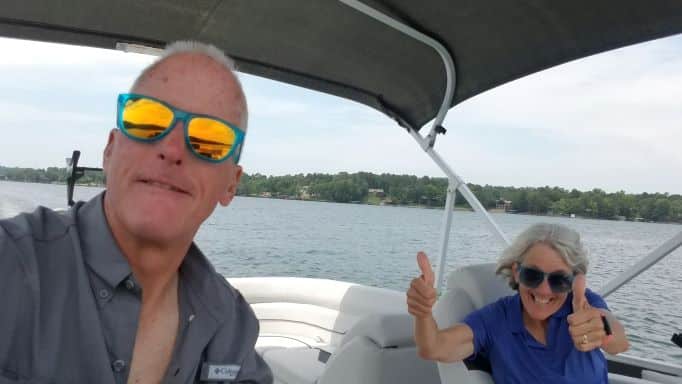 On another summer trip, we went to Fayetteville, AR. There is great biking in the area as well as some great scenic opportunities.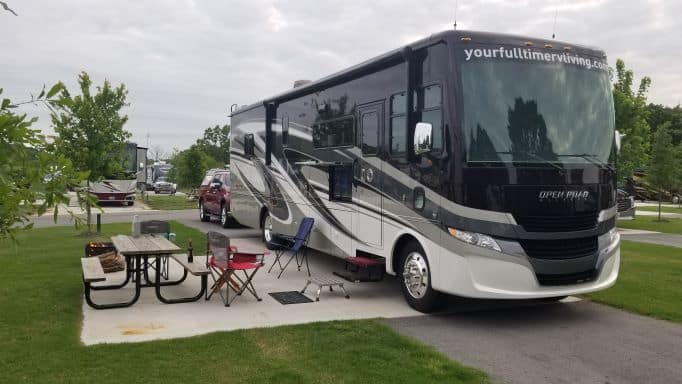 I love when I get a chance to ride in Silver. The back seat is all mine. I am strapped in so I can't get in trouble and also for safety.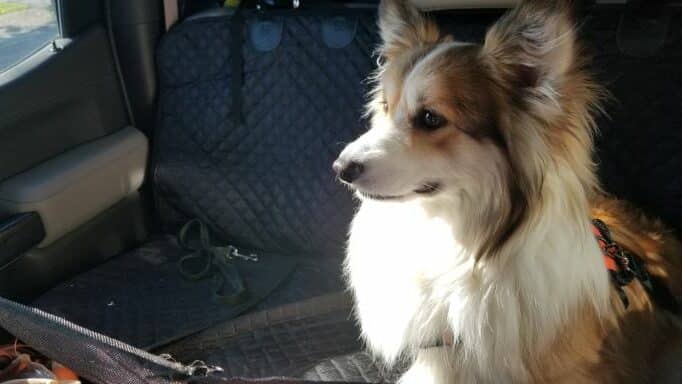 In the heat of summer, around July 4th, we hung out in Waxahachie, TX. It was a time of relaxation and some RV maintenance. Since it was so hot, I just hung out in the RV. We would sit out early while it was cooler, but during the day we were in the high nineties. With my heavy fur coat that is not my favorite temperature.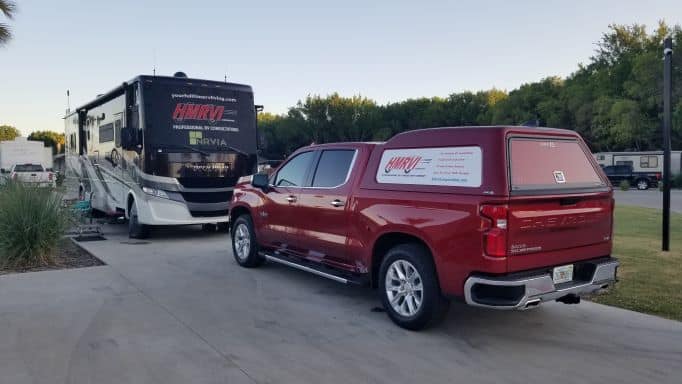 While in town Mom and Dad found Prime 115. They said it is a great restaurant! The food and service are top notch: a true dining experience. Check it out if in the old part of the town of Waxahachie, right by the old court house.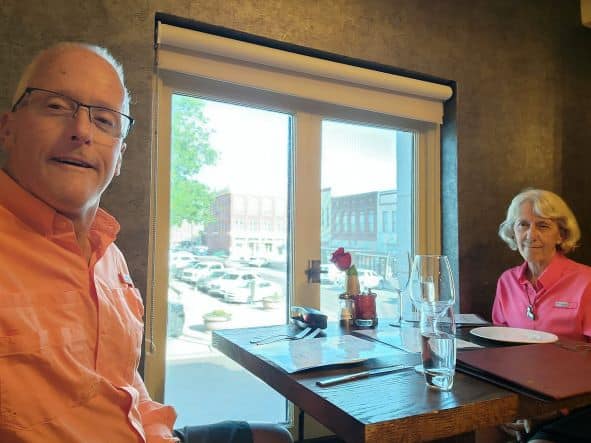 By late summer I was due for a tune up. Here I am in the Vet's office. Since I was a baby, and even though Mom and Dad travel the country, they always bring me back to the Athens Animal Clinic. I still get nervous, though. That's why my tongue is hanging out so far.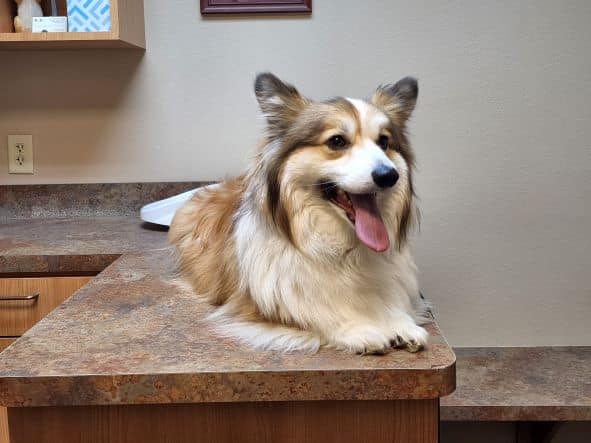 One of the joys of being hooked up and having a Ford F53 V-10 Triton gas engine is finding places roomy enough to fill up. Pilot and Flying Js with RV lanes work great! Being over sixty feet long, we need room to negotiate around gas stations. We have tried other gas station chains, but this seems to work best for us.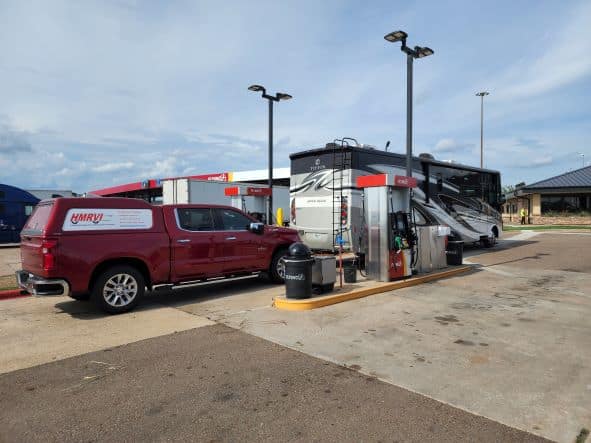 All set up to enjoy the outdoors!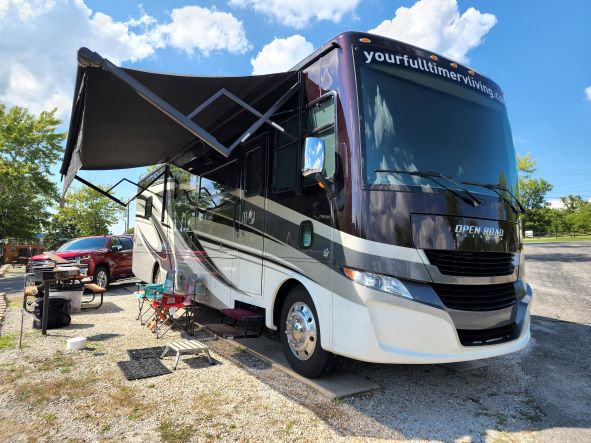 In late summer, we ventured to Branson, MO, to enjoy some more boating and the shows in the area. Mom and Dad say they really enjoy the Texas Tenors. They also went to see the Jesus Show, which they said was amazing: live animals and theatrical excellence.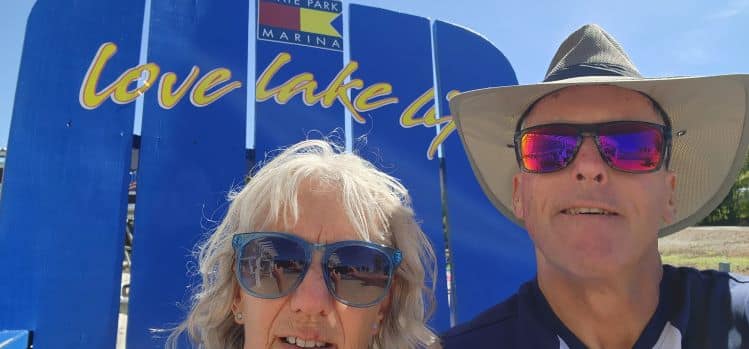 Mom and Dad found a big chair!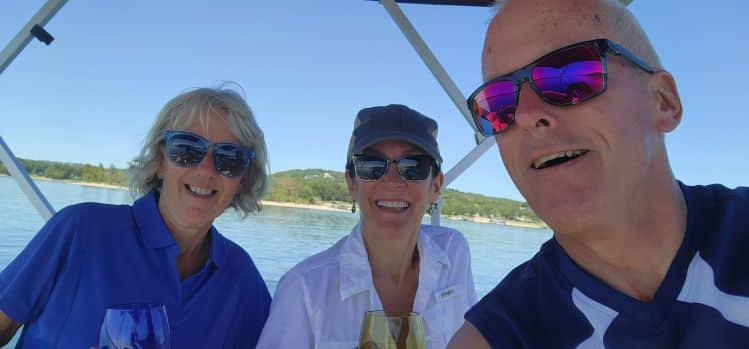 One of our good friends and a business associate came to join us for a day on the lake. The beauty of being self-employed!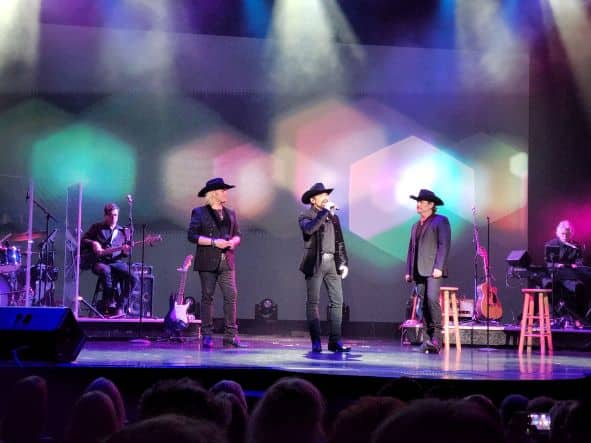 Dad took a photo of the Texas Tenors doing their thing! I get to hear them when Dad plays their music when we sit outside the RV and enjoy life under the RV awning.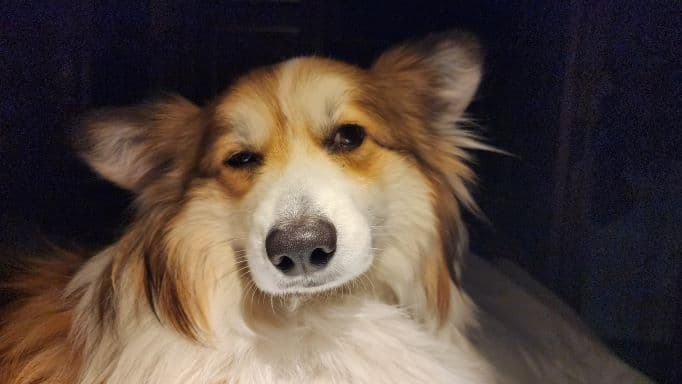 Sometimes I get snarky when Dad sticks that camera in my face! I'm pretty shy, but what can I do? I am just such a cute young man!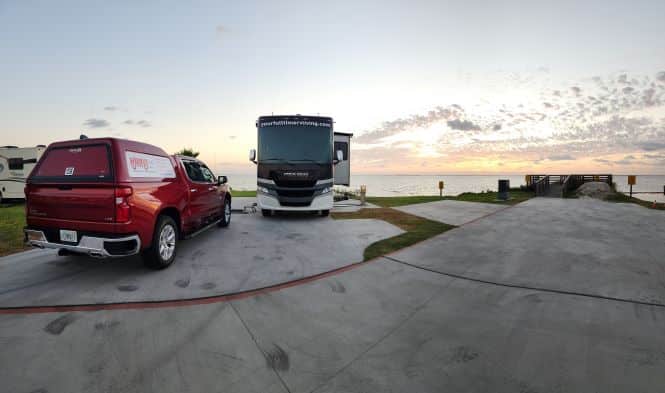 In the fall, we hung out in Corpus Christi at the KOA. We had a nice site at the end, with a great view of Corpus Christi Bay.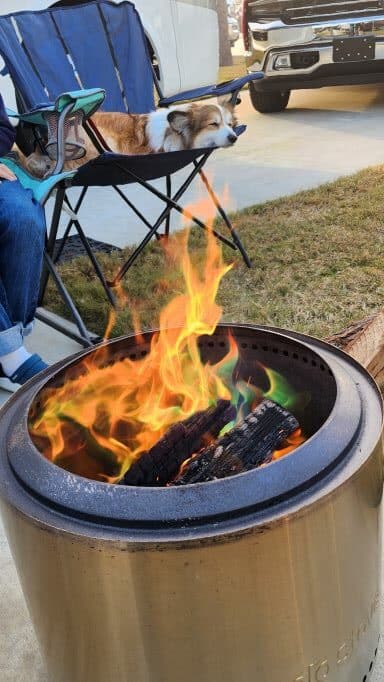 I love a good campfire, and Dad builds a great one using our Solo Stove. Once he gets it up to temperature, it is smokeless and beautiful! I love to nap by the fire. I never smell like smoke due to this unique portable fire pit.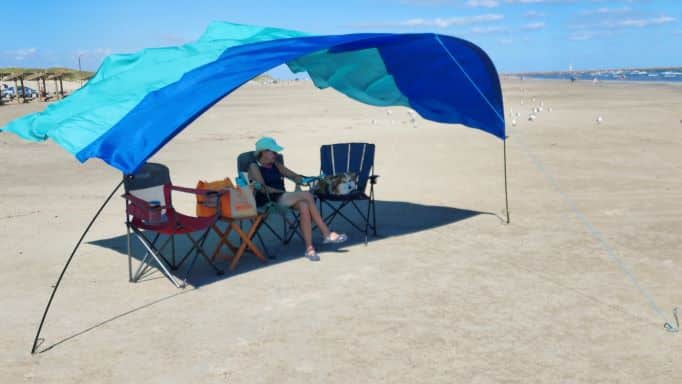 For the ultimate beach experience, we tried out this new sunshade by Shibumi! It's the coolest thing. I was out of the sun and could enjoy another great nap while serenaded by the ocean waves.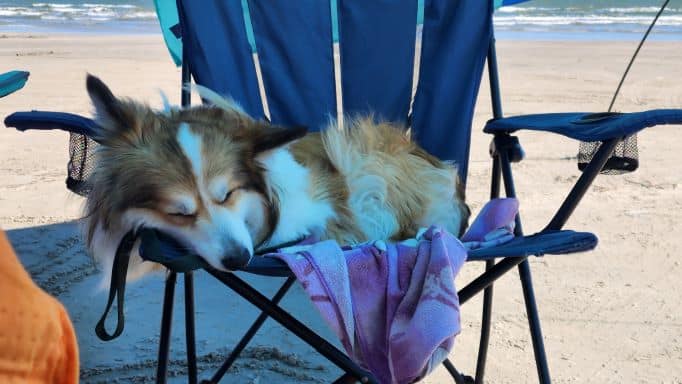 I love to ride in golf carts! It's a new favorite thing to do. I enjoy the wind in my flaps while zipping around Port Aransas. I can't wait to go back!
Mom and Dad took me to Crystal Beach in December, and we hung out at a really nice new park called Camp Margaritaville. A Newmar Super C pulled in behind us, and from what I heard, it sounds like one may be in my future. More to come!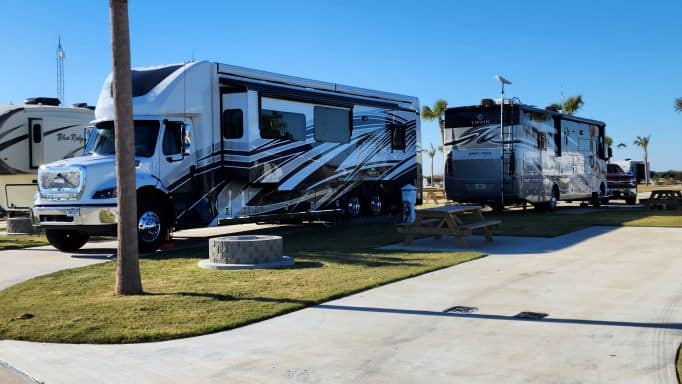 Come back and visit me again! I'll have an update posted before spring arrives.