Greetings from Lindsey, the full time RV living Corgi!  In less than a month I am going to be fifteen years old!  I have overheard Mom say to Dad that being a fifteen-year-old Corgi is way above the average for the life expectancy for my breed.  Maybe my life as an RV camping dog has extended my life due to all the adventures I get to have.
Or, it could be all the good food that Mom gives me.  She has been doing that my whole life.
I have already told you about Winston who came to live with us last December.  Mom has been feeding him the same way she did with me when I was a puppy.
I am not that crazy about the little nipper, but I'll have to give this younger generation credit for mastering technology.  He has mastered Mom and Dad's language and has been posting to social media and he even created his own online store to sell his favorite things.  He says it's better than having a paper route as a kid!  LOL!!
In his online store, he shares all the tasty food items that Mom buys for us.  I'll have to give him credit where credit is due.  He did a good job on his online page.  He added it to this website.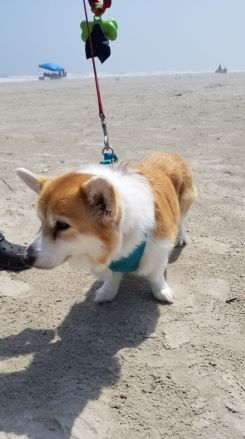 I know Mom and Dad already wrote about their recent travels to the beach in Port Aransas, TX.  But, I wanted to share a few things too.  Above is a picture of me on the beach.  It was great to have my RV home parked at the beach where we could camp for a few days.
I got to sleep a lot because Mom and Dad spent the whole time hanging outside the RV, or on the beach.  I got some great naps in while falling asleep to the thunder of the surf.  It was very restful!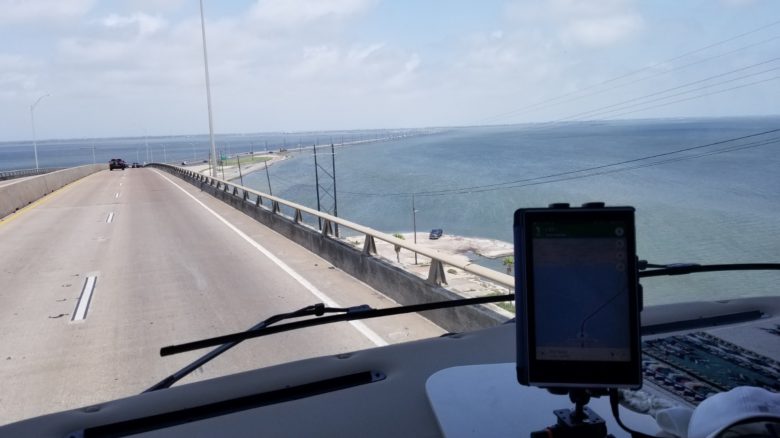 Here is a picture that Dad took while driving the RV over the bridge that leads to Mustang Island.  Port Aransas is on the north end of the island.  Dad likes to come in from the south to avoid the ferry when coming in from the north.
We did that once, and that was okay in order to have the experience.  But, the waits can be long depending on when you travel and the time of year.  In the summertime, it is always busy!
While in town, in addition to camping on the beach, Mom and Dad stayed at several RV parks during their visit to Port Aransas.  Dad talked about that in a previous post so I won't rehash that here.  But I will also comment on one thing that Dad mentioned: watch the electrical services and the proximity of those to your RV slideouts.
If Dad had not been paying attention he might have done damage to the RV slideout during deployment when it could have come in contact with the RV sites electrical service.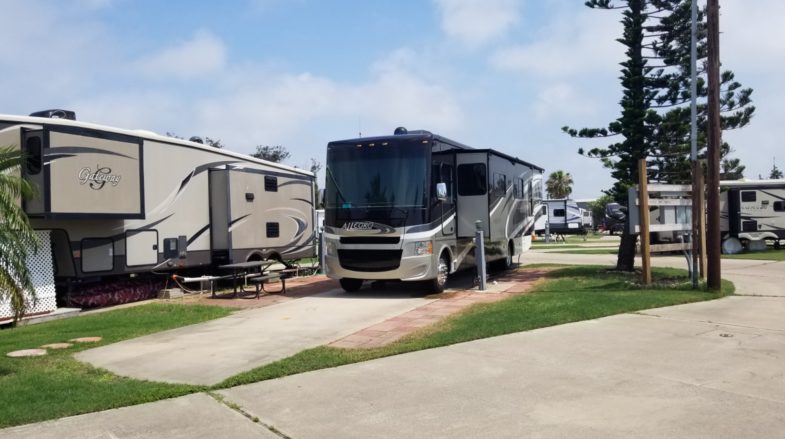 In this RV site, we had to pull in and back out.  The site was not very wide so in order to avoid a problem with the slides out, the RV had to be situated at the back of the site.  Some RV's might have been able to get the box between the slideouts, but not with ours since the two slideouts cover most of the streetside sidewall with no room between them.
If we had our truck with us on this trip we would have parked it in front of the RV.  The truck stayed back at the NRVTA as Mom and Dad did not need it.  You see, they teach there every five weeks so that is kind of like a home base.
So, pay attention to how you park your RV when you get it situated on your RV site.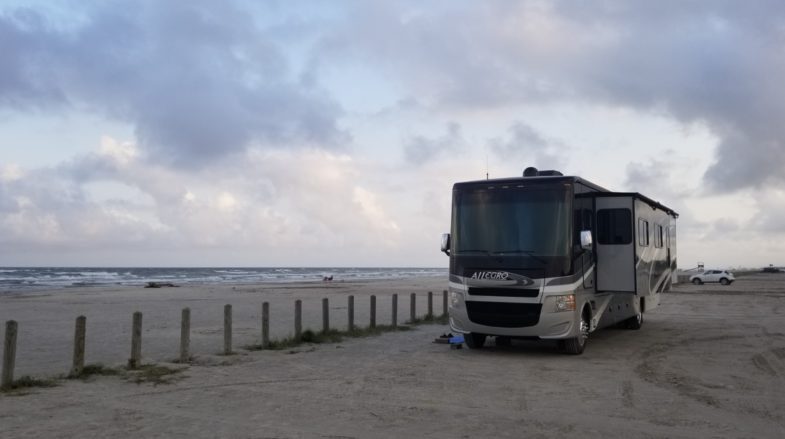 Here is Miss Tiffy at our beach spot just before a beautiful sunset.  The beach cleared out right around dinner time.  It was so peaceful.  I had a great nights sleep while continuing to feel the pounding of the surf given my limited hearing.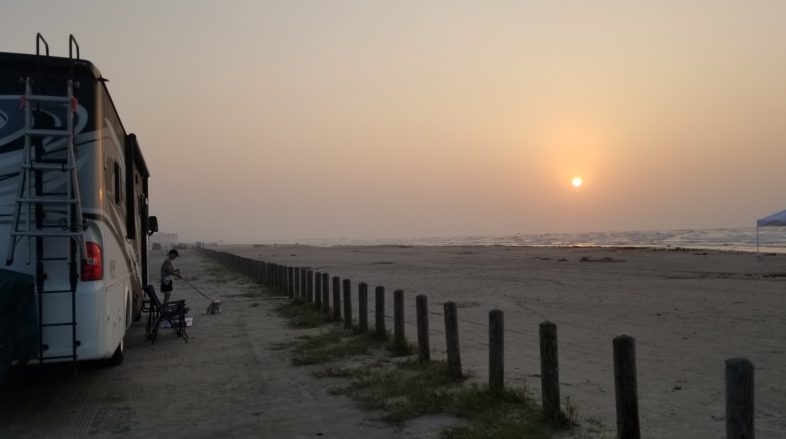 Winston got us all up early one morning with his loud talking and crying.  He is high maintenance!  Mom says he loves to be loved!
Even though it was early, it was really cool.  Dad got a lot of shots of the sun coming up, like the one above.  The pictures were so good he decided to use one of them as the main banner on their website.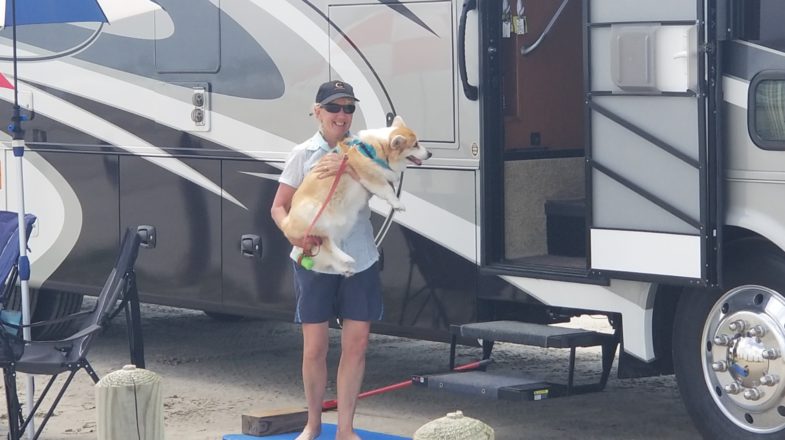 Here's a picture of Mom carrying me out of the RV so I could relieve myself.  My nap was interrupted, but when a girls gotta go, she's gotta go!  Mom has to remind me to go out or else I pee in my diaper.  I talked about that in my last springtime blog.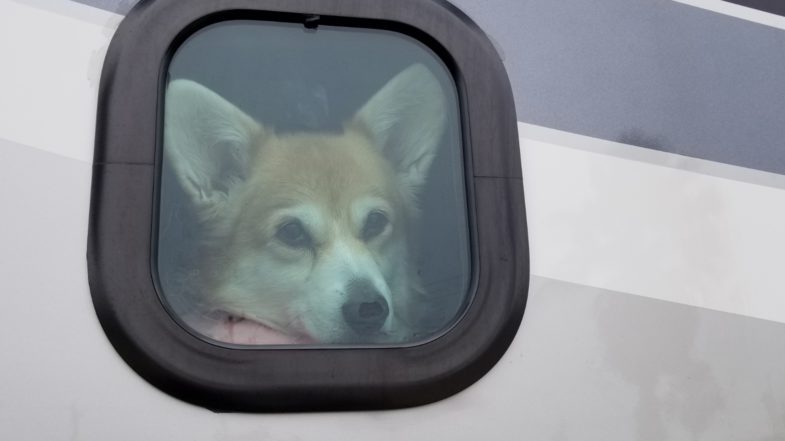 And here I am at my window in the RV!  It is right in front of the co-pilots seat and at floor level.  I lay here a lot and watch the world go by.  I told Dad he needs to put an awning above my window because it gets hot when the sun beats down on it.  LOLOL!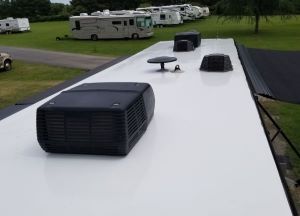 Finally, just recently Dad decided to clean and protect the roof of our 2016 Tiffin Allegro Open Road 36LA.  It was quite a project.  He was up there for hours!  It sounded like a big rat was up on the roof!  That's what Mom said anyway.
He was so proud of the results.  It looks like new.  He applied a coating of a product that I can't name, but I think he is going to post something in his page of RV Resources here on the website.
I'll have to say that the roof has quite a shine!
Well, Dad says that it's time to end this.  He has to type for me because I can't see very well anymore.  Thank you for stopping by!
Lindsey, out!