While out enjoying the full time RV living lifestyle Pam and I spend a fair bit of time at Walmart Overnight Parking spots because we are on the move a lot.  There are many occasions as we are traveling from one RV training location to another that we just don't have the time to seek out an RV park that is off the beaten path.
The best part about Walmarts is that they are conveniently located right off most major highways.  This makes it a great spot to stop for the night, restock on needed items whether they be food items or other necessities.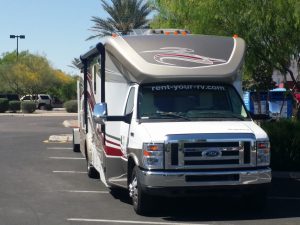 We also like that most Walmart's welcome RVers to stay the night as long as we adhere to a few rules.  Some Walmart's do not allow overnight parking due to the county or the local ordinances, but most do.
When Walmart Overnight Parking you don't want to look like you are staying long term: slides out, jacks down, chairs and awnings out, the grill operating, etc.  This is not the intent of what Walmart Overnight Parking was set up to be.  It is for a short rest and then it's time to move on.  You might also be required to check in with the manager to let them know you are staying in their parking lot.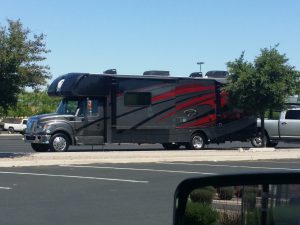 We see people doing all the things I just mentioned.  Unfortunately, if enough people do this Walmart may have fewer and fewer locations that allow RVers to stay overnight. Some already do not allow truckers anymore due to issues that have arisen with their use of the Walmart parking lot.
Is it Safe?
As we travel about and share our "Wally-docking" experiences we do get questions about the safety of overnight Walmart parking.  Like anything, you have to careful when you are in a strange place and are not completely aware of your surroundings.  Situations can change and safety must be considered at all times.
We have spent the night parked with truckers, other RVers, and car sleepers!
We have stopped at Walmart locations that were on our travel plans, and once having arrived at the location, moved on because we felt it would be safer to seek another location.  We do have other safety measures in place to protect ourselves and our property, but we would rather not put ourselves in that situation in the first place.
In certain situations, we have decided to stay but then decided to not leave the RV, but just rest a bit and then move on.
Some would say that if this is such an issue, why not just stay at an RV park.  Well, truth be known, some of the RV parks we have stayed in were worse than any Walmart parking lot that we have been to!
We have also stayed at Cracker Barrel locations, truck stops, and rest areas.  In the nine years we have been on the road, we have been fine.  We just keep our wits about us and consider all the facts before planning a stop and re-assess once we get there.
We have to say that we appreciate Walmart's allowing us to stay with them and we are loyal supporters of the Walmart chain.  We pay our camp fees for the night by shopping with them.  LOL!
Walmart Overnight Parking in our RV is a convenient way for us to travel on business, shorten our travel time by not having to deal with campsite registration, hookups, time to get to the RV parks, etc.  It works well for us, our full time RV lifestyle, our business needs, and the ability to keep costs down while logging the miles.
We recently stopped in Fort Stockton, TX on the way to Mesa, AZ.  There must have been thirty RV's in the parking lot.  Apparently, we are not alone with our choice to spend time at these locations.
Pam, Lindsey, and I wish you happy travels!