Pam and I love the beach, so when we are enjoying Texas camping we have found that we like to visit Port Aransas RV Parks!  We also want to share our experience with Port Aransas beach camping.
So far in 2019, we have visited two Port Aransas RV parks.  And in March and May of 2019, we enjoyed Port Aransas beach camping.  I want to talk about both these experiences so that you can learn about a future beach camping experience that you might want to enjoy for yourself.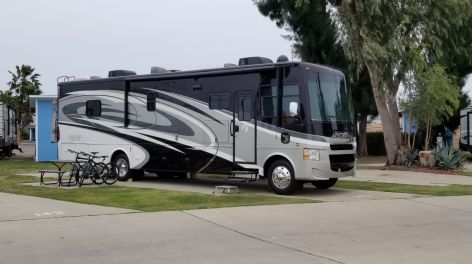 Here we are parked at Tropic Island RV resort.  It is located on Avenue G just southwest of the Ferry terminal on Mustang Island.  We stayed here twice: once in March of 2019 and the second time in May of 2019.  The RV park is very adequate for a stay, but depending on the size of your RV, and the parking of vehicles by other full time residents, it can be difficult to navigate the RV park's roads.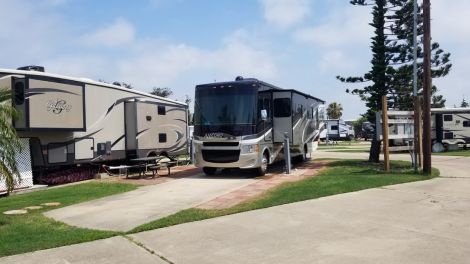 This was the site we had the second time we stayed.  It is a pull in / back out RV site.  It was very nice, but the only problem we had was the location of the electrical box in relation to our streetside slideouts.  We had to park toward the rear of the site to make it work for us.  If we had a tow car with us we would have parked it in front of the RV for this RV site.
You can see by the picture above that these pull-through sites funnel into a road that is very narrow.  If placed in these sites with a forty-foot fifth wheel and truck, getting in and out of these could be a problem if the park is full.  Even an experienced RVer with a towable RV could find navigating these a challenge if vehicles are parked right to the end of these sites.
The lesson here is, know before you go!   We ask what RV site we will be on and we check the online park map and Google Maps to see what the conditions are.
We stayed at an RV park a little northeast of Port Aransas, in Rockport.  They assigned us a site over the phone, the last one that was available for a standard back in site.  I checked out the site from my computer and saw that we may have tree issues.
When we got to the RV park, and while Pam was checking in, I went to go look at the site before driving to it.  I discovered that my suspicions were correct.  There was a tree on the site that would prohibit us from getting in there.  It would hit the roof.
So I went back to the office and relayed that observation.  Since there was no other back in sites they upgraded us to a pull-through site at no additional charge and stated that tree trouble was not our fault.  That was Wilderness Oaks RV Resort.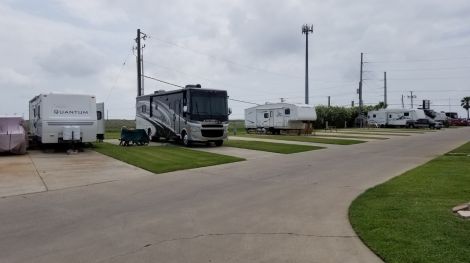 Here we are parked in Pioneer RV Resort in Port Aransas.  This park is a little southwest of town.  It is a larger park that is on the beach, the other side of the dunes.  We were about an eight-minute walk from the beach, down our access road, across the boardwalk, to the beach.
We used our little red folding wagon to load up our chairs and other beach toys to transport them the beach where we spent hours sitting and enjoying the view.

Pioneer RV Resort is well maintained and manicured.  While we were there and since it had been a very wet spring, the mosquitos were a problem.  Even in the wind, they were biting.  We don't know if it is always this way but if staying here, bring repellent if coming in the spring.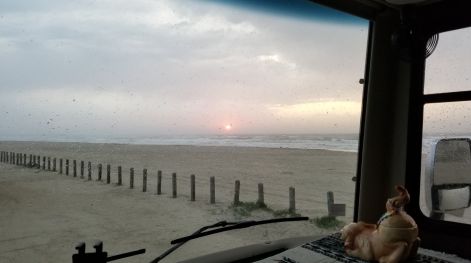 Here is a photo of a beautiful sunrise on the beach!  Winston, our corgi puppy, woke us up early because he wanted us to see it . . . . LOL!
Mixed in with our stays at Port Aransas RV Parks we stayed right on the beach in Port A, on Mustang Island.  You can get on the Island from the north by taking the ferry.  It's a short ride across the channel to the island.
We usually come in from the south through Corpus Christi, but we have taken the ferry once.  It was fun to do!
So, the deal with staying right at the beach is there are miles of Beach access road that run parallel to the beach, and areas where you can park an RV and stay overnight.  The only cost is the beach parking permit that is required for anyone parking at the beach.
In 2019, the beach parking permit costs $12.  It can be purchased at local vendors: Stripes, IGA, the Chamber, City Hall, Beach Mart, and Snappy's.  While we were there in May, there was a trailer at the end of Avenue G and Beach Access Road.  They were selling beach parking permits as well as other beach services.

Here is a panorama shot of us with the awning out, beach chairs out, and enjoying the view.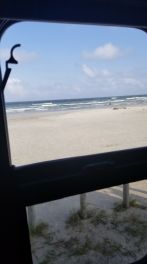 One thing I love about full time RV living is the ability to change the view out the RV windows.  It's great when you can look out the window and see a view like this!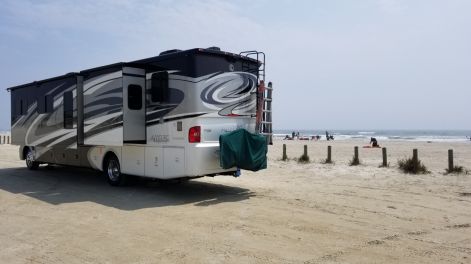 Here we are looking from the beach access road towards the beach.  Our jacks were down and the slides were out.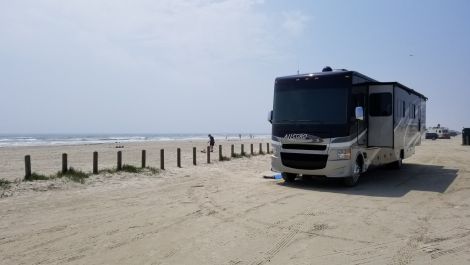 Here is another view looking at the front of the RV and towards the beach.  We have had people tell us that they would never park at the beach: too much sand will be brought in.  Well, if you have kids that are not well trained, that's possible.
What we did was to place a 2'x6′ mat at the bottom of our entry steps.  We kept a broom nearby.  We left our Crocs outside, kept the mat swept, and entered the coach barefoot.  We have carpet on each step so we had no trouble with sand in the RV!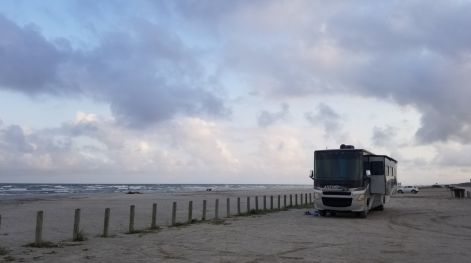 Here's a similar shot as the one above but it was later in the day and towards sunset.  The clouds can pick up the pinks and reds as the sun sets.  By this time of the day the beach clears out and becomes very peaceful.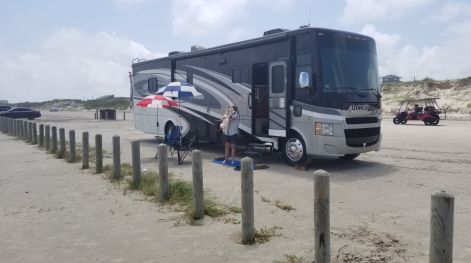 The day we took this picture the wind was fairly brisk, so we did not deploy the RV awning.  To do so could have resulted in damage to it with the gusts of wind we were experiencing that day.  So we used our chair umbrellas to shield ourselves from the sun.
Here we are enjoying an adult beverage right on the beach.  We brought the little red folding wagon out and sat for hours enjoying watching and listening to the ocean.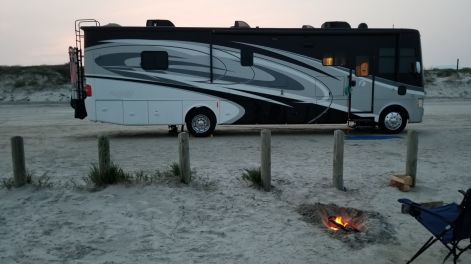 Once the sun set we decided to have a beach campfire.  You are allowed to dig a hole and burn firewood.  Just be sure to clean up after yourself when you are done!  We saw some people leaving their campfire pit without filling it in.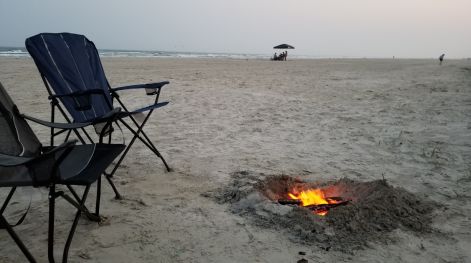 So, how long can you stay and enjoy Texas camping right on the beach?  In a three week period, you can stay three nights.  In the slow season, you may be able to stay longer, but you would have to ask permission to do that.  We saw some folks that had been camping for five to six days.  For more of the rules, you can visit the City of Port Aransas website.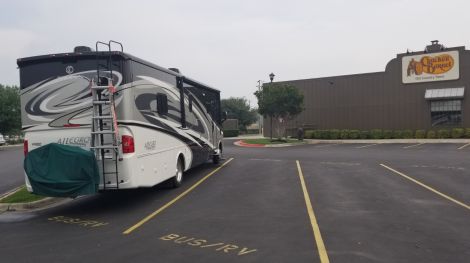 On our way out of Port Aransas, we stopped at a Cracker Barrel to boondock for the night.  They have wonderful RV lanes for RVers!  This particular stop we decided to eat in so we got online and placed a food order and then went inside to pick it up a half hour later.  We had a great meal and a great night.  We either have dinner or breakfast when we stay at Cracker Barrel locations.  That's how we pay our camping fees . . . LOL!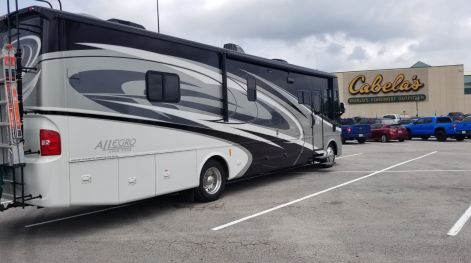 We also stopped at Cabela's in Buda, TX.  They allow RVers to stay overnight as well.  We go inside and talk to the manager to let them know we would like to spend the night.  They appreciate that and grant permission to do so and let the evening manager know that we are on the property.
We are so blessed to be able to live the lifestyle that we do!  For those of us that can live in a few hundred square feet on a full time basis, we have the ability to experience so many great places and people.
We hope that you will have the chance to do the same!
Blessings,
Howard, Pam Lindsey, and Winston