Greetings from Lindsey, the full time RV living Corgi! Since the last time I shared about my Fall 2019 adventures, I have logged another 2,500 miles in my RV home. Mom, Dad, Winston, and I like to keep the tires rolling, but lately, that has come to a halt.
There's this thing I keep hearing about. I can't remember the name of it, but I guess it is a highly contagious form of the flu, or something like that. I think it has something to do with a Mexican beer. Oh yea, Corona something or other. I am getting really old so things slip my mind!
Since that all started earlier this year, the RV home has been sitting for months. I am ready for the view out the peeky hole to change! I think my days are numbered. I am not sure, but I can't see very well, I can't walk too well either. My sense of smell can still find the food bowl, but life is tough for this old girl.
Mom keeps giving me good food supplements to keep me going. I guess I can't complain. I have lived way longer than the other Corgis that they have had, and by years. I was the first one to really have decent food from the time I was a puppy till now. Mom has learned so much about dog food quality over the years that I think that has probably helped me live this many years.
She is very leary of over-vaccinating too! After my bout with a tumor a few years ago I feel lucky to still be living the dream of traveling with Mom and Dad seeing the country. Oh, and of course with the runt too: Winston.
But I can tell he likes me because he always lies near me when he can. It's like he thinks he is protecting me. It's okay. I let him believe he is helping me out. Little does he know I am still a feisty old girl!
I have also been able to travel with Mom and Dad in the company truck while they were doing RV inspections. I prefer traveling in the RV better, but sometimes it works out that I have to go with them when they visit with their RV clients. You see, I can't hold my bladder too long anymore. So, Mom, has me wearing a diaper to prevent accidents in the RV. Winston laughs at me!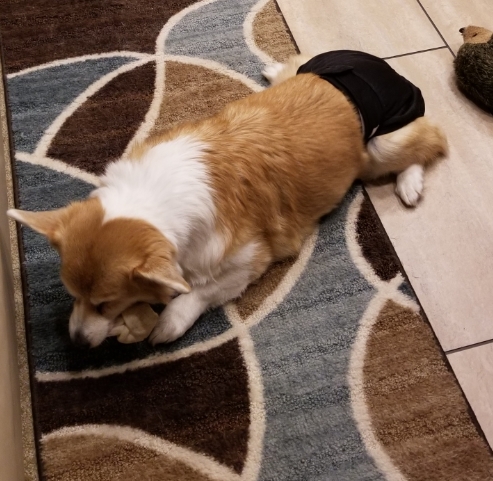 In late January, Mom and Dad packed up the RV and we ventured back to Florida to spend some time at one of our favorite RV parks, Camp Gulf! Mom and Dad work camped there early on in the full time RV life. It is a beautiful place! The park is right on the beach so access to beautiful white sand, clear water, and amazing sunsets are always close by.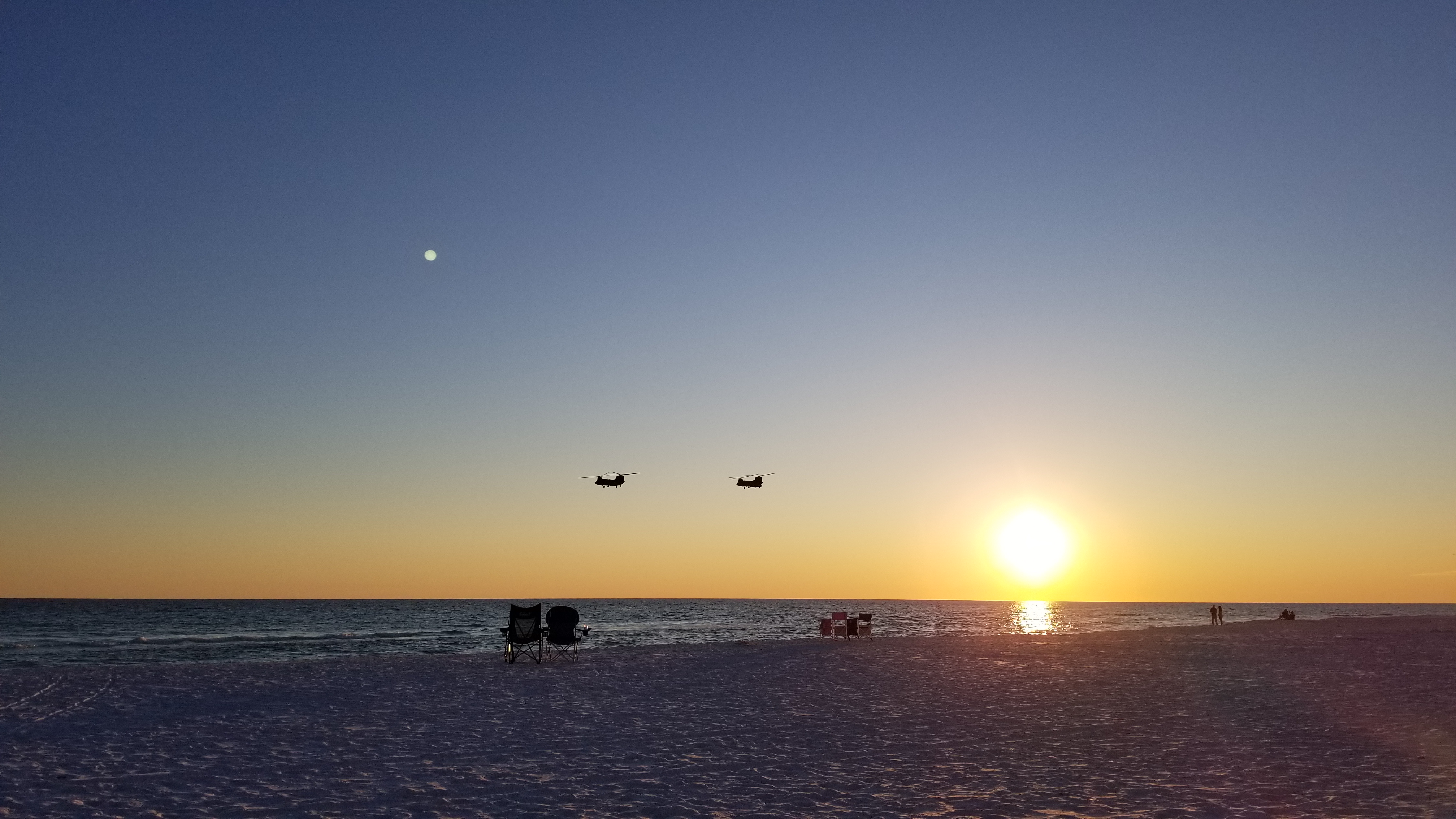 I am not allowed on the beach, but when we lived and worked there, we had a golf cart, and I could sit in that and enjoy the view. So, I still remember what it is like.
Dad decided to get a new tow dolly for Chevy Chase, the HMRVI Corporation work truck. The January trip was the first time pulling the truck behind Miss Tiffy. Mom and Dad had some work to attend to in Florida and Georgia.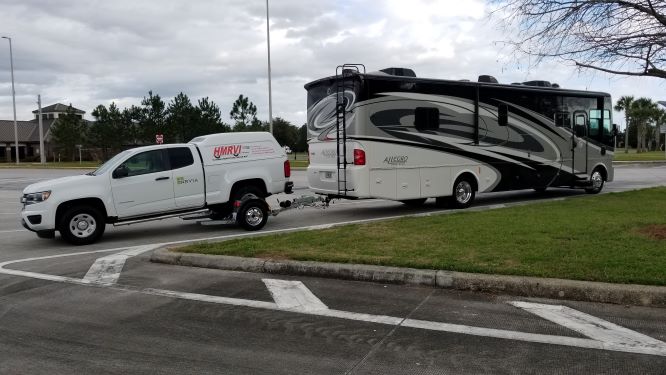 It's really cool because all Dad has to do is drive up on the thing, tie it down, and then off we go with Chevy Chase following behind. Unlike a lot of tow dollys, this one follows behind the RV and the wheels track were the RV tires go. It is able to do that because of the dolly wheels that articulate. When the RV turns, the dolly wheels also turn. Dad says it looks weird from his view of this in the RVs rearview mirrors.
I hope all this virus stuff ends soon! This Corgi has more adventures she wants to have before the big sleep. Speaking of sleeping, that is what I tend to do all day and I need to get back to it now.
Thank you for stopping by and checking in on me!
Happy RV travels!!