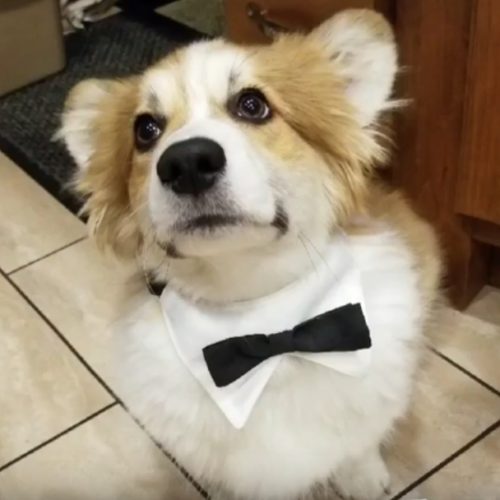 Hi, Sir Winston Churchill here!
Since I came to live with Mom and Dad at ten weeks of age, I have noticed that they are always busy working on their business.  That's good because that means they can buy me more toys . . . LOL!
I decided that when they are busy doing their thing that I should now do mine.  So instead of wasting time chewing on my RV home, I have decided to start a business of my own.  I know when kids are young they start lemonade stands or have paper routes, but my legs are too short for those activities.
So, I decided to start an online business. That's something I can do given my short stature and Corgi smarts.  With the extra money, I can buy my own toys.  Since I know you want me to be a happy Corgi, maybe you can help me out! Just visit the link on this video and see if my suggestions for great pet items might benefit your fur-kid.  These are things I use and love.  Mom has searched high and low for things that make me a happier and healthier Corgi. 
I would really appreciate you supporting my business efforts!! 
Thank you!
HEALTHY DOG FOOD
This is the food my breeder gave me in my early weeks of life.  Puppies stay on this food till the age of nine months.  I am a pretty finicky eater for being a Corgi, but I really like this food!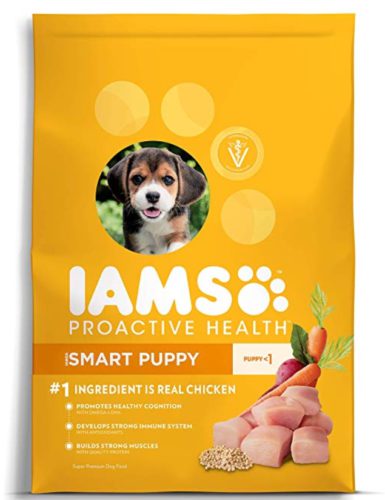 Iams Proactive Health Smart Puppy Dry Dog Food Chicken, 15 Lb. Bag.
Veterinarians recommend Iams so you can feed like A pro.  The food contains real, farm-raised chicken as the 1st ingredient.  It also includes 22 key nutrients that are found In a mother's milk.  It promotes healthy cognition with Omega-3 DHA for smarter, more trainable puppies.
________________________________________________________________________________
This is the food that Mom feeds Lindsey.  Once I get old enough I will be eating this food too.  Lindsey says it's pretty tasty!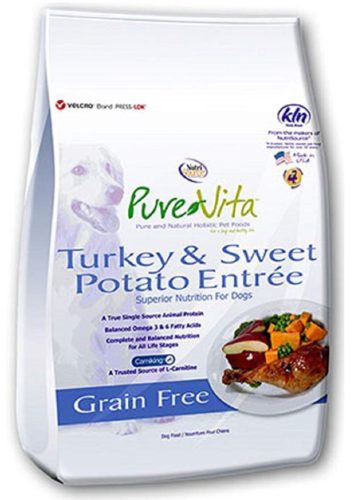 Pure Vita Grain-Free Turkey Sweet Potato & Peas
100% Complete Nutrition for adult dogs and puppies. It is packed with vitamins and minerals to keep your dog healthy. It is perfect for the most finicky dog!
________________________________________________________________________________
Lindsey and I really like these chewy food treats.  Mom adds this to my puppy food for extra nutrition and flavor.  It is great that it is freeze dried!  For us RVing dogs it makes having the nutrition in wet food easier to carry and store without worrying about the food going bad.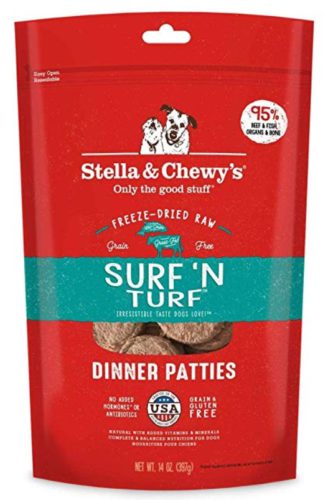 Stella & Chewy's Freeze-Dried Raw Surf 'N Turf
Help your puppy reach its optimal growth potential with Stella & Chewy'S Perfectly Puppy Freeze-Dried Raw Dinner Patties Dog Food. Each small batch is formulated specifically for puppies with guaranteed DHA, L-Carnitine and Vitamin E. And is a complete and balanced meal for puppies of all sizes. It is grain-free, all-natural and minimally-processed puppy food. Perfectly Puppy Beef & Salmon is a poultry-free food With no added hormones, antibiotics, gluten or fillers. This food includes nutrient-rich superfoods including chia seed for healthy skin and coat and overall outstanding nutrition. New Zealand green mussel is added for superior joint support supports healthy digestion, strong teeth and gums, stamina and vitality, and vibrant skin and coat.
________________________________________________________________________________
Mom and Dad learned about Marine Phytoplankton many years ago while studying ways to cure disease through proper nutrition.  They discovered that this superfood has many properties that allow the body to function at its best.  So, they figured if it's good for them it would be good for fur-kids too.  So, not only do they take this supplement, but Mom puts it on Lindsey's and my food too.

UMAC-Core Marine Phytoplankton Liquid
Born out of years of research, UMAC-Core can now provide you with life's most potent superfood. The rapidly assimilated micro-nutrients and perfect pH balance found in Umac-Core are exactly what our bodies need to function at optimal levels. Our human clinical study showed UMAC helped with energy & vitality, mood swings & depression, memory & mental function, cell health and more, all the while boosting your immune system! One full dropper per day provides you with the most powerful food you haven't been eating.
________________________________________________________________________________
When Lindsey had to have a cancerous tumor removed from her body Mom went searching for another option to help beef up the nutrition level.  This is good for dogs and cats to help boost their immune system.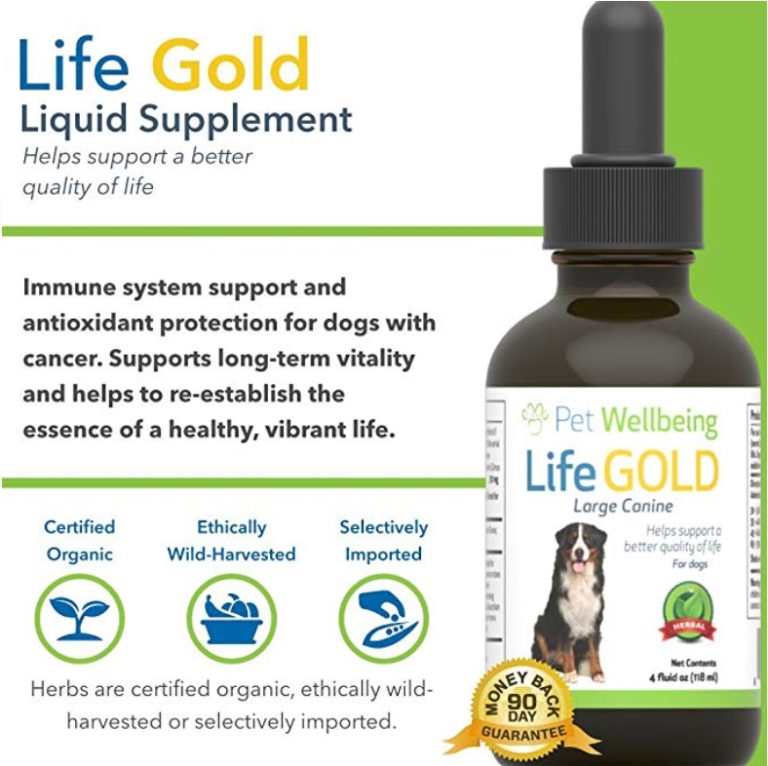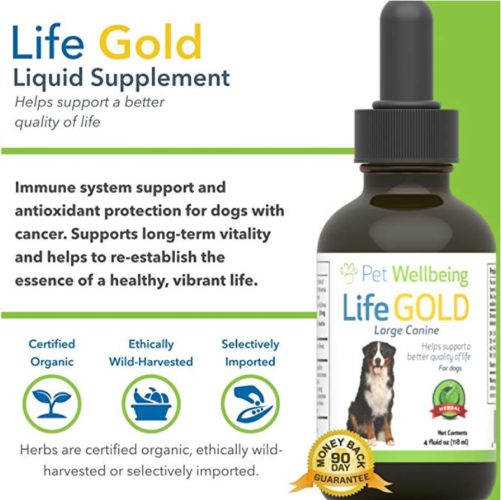 Pet Wellbeing – Life Gold for Dogs
This formula is entirely prepared with herbs that are certified organic, ethically wild-harvested or selectively imported if domestic sources are not available. We only buy from trusted growers. Tested for purity.
Life Gold helps to ensure that the body's vital systems of detoxification are working well.
Supports the immune system and promotes long-term health.
Designed to help your pet maintain the integrity of their immune system and keeps your Cat as comfortable and pain-free as possible.
Natural products can be a helpful addition to your veterinarian's treatment plan.
DOG TREATS
Like many dog breeds, Corgis love to chew!  It's our mission to destroy toys, so Mom gives me these rawhide treats to help me take out my chewing aggressions on.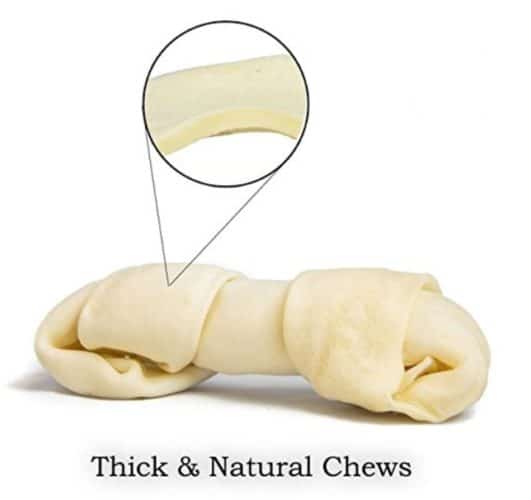 Pet Magasin Natural Rawhide Bones – Chewing Dog Treats with High Protein & Low Fat for Healthy Dog Teeth & Behavior
KEEP YOUR DOG GOOD IN HEALTH & BEHAVIOR: The best way to clean your pet's teeth and help to reduce tartar and plaque, promotes oral hygiene and healthy gums while improving their breath. It also helps prevent destructive chewing. No more chewing off your carpets, walls, and furniture etc. Enforces good relationship between you and your furry friend!
Treated to eliminate bacteria without adding any preservatives or other chemicals. Our products go through a very high-level QC process, and we will only package FIRST QUALITY bones.
Low fat. No additives, chemicals or Hormones. The cows are free-range, pasture-raised, grass-fed. Product has 3 years shelf life. Easy to chew & long-lasting: with a natural meaty flavor; each one will give your dog hours of chewing pleasure.
________________________________________________________________________________
When I am really in a chewing mood, Mom gives me these!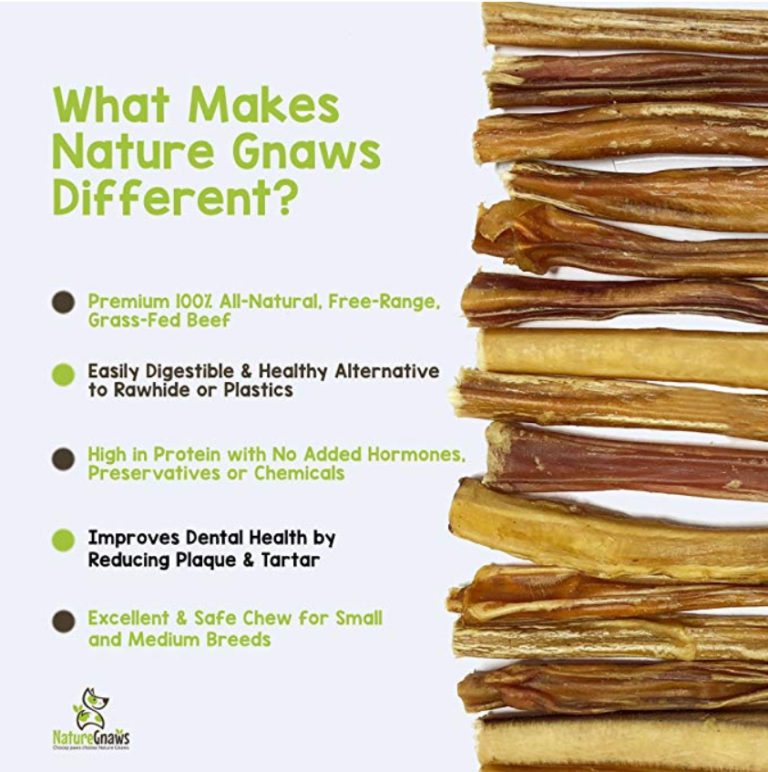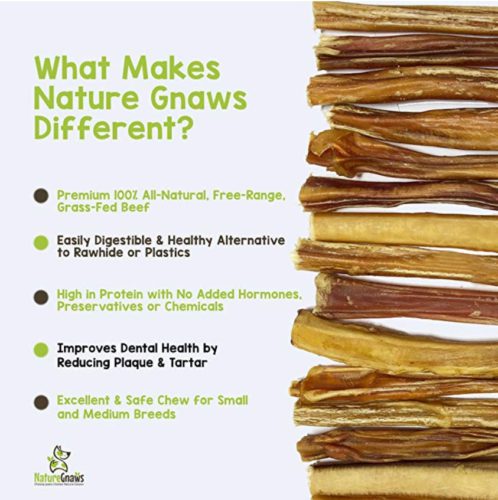 Nature Gnaws Small Bully Sticks 5-6 inch (5 Pack)
Single-ingredient Grass Fed Beef Bully Sticks
Natural Alternative to Rawhide Treats
Daily Chewing Supports Dental Health
Perfect for Small & Medium Breeds
We Provide the Best Natural Dog Chews
________________________________________________________________________________
When Mom wants me to do something that I may not always want to, she uses these really healthy and tasty treats to inspire me into action.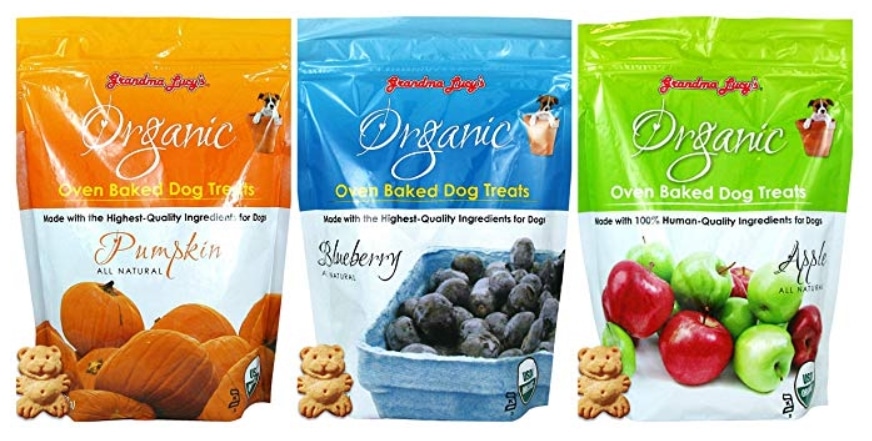 LUCY'S Organic Baked Treat for Dogs
GRANDMA LUCY'S Organic Baked Treat for Dogs, Mixed 3 Packs 14 oz. ea. – Apple, Pumpkin and Blueberry Flavors.
Certified organic dog treats
No Artificial Colors, Flavors or Sweeteners
Made with 100% Human-Grade Ingredients
DOG TRAINING IDEAS
As a puppy Mom and Dad wanted to be sure I learn to walk on a leash.  I need to go out many times a day to get exercise and to do my business.  I learned I can't potty in the RV but I need to go out.  So when I do have to go, Mom found this great harness for me.  It is easy to get on, it's comfortable for me, and it's escape proof so If I get scared I won't run off.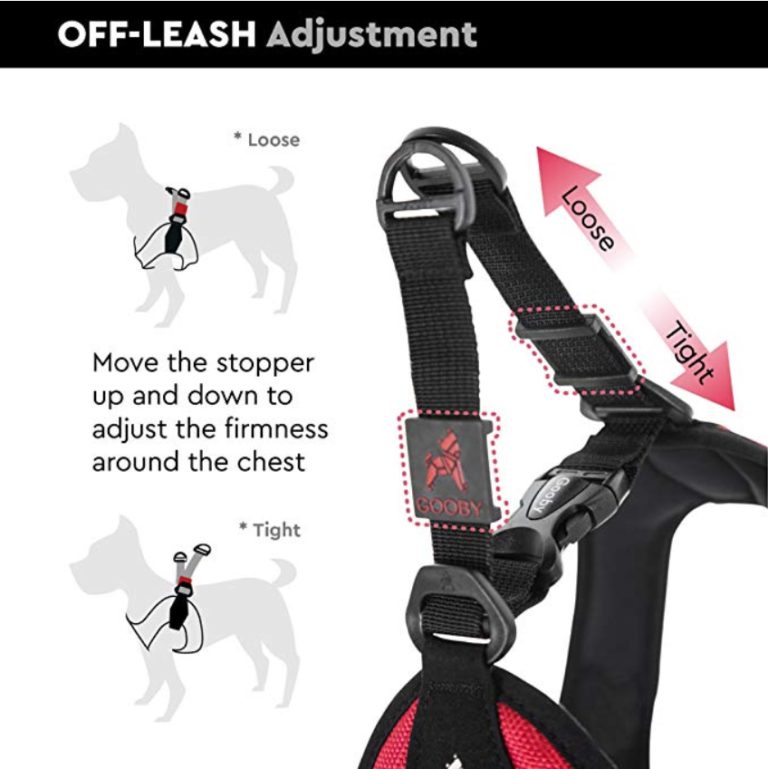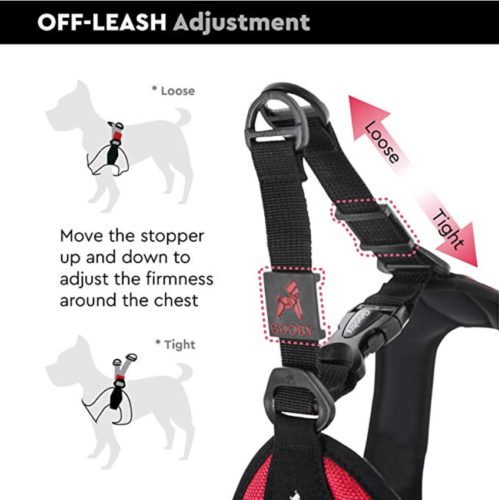 Gooby – Escape Free Easy Fit Harness
ESCAPE FREE – The harness reduces the space around the back making harder for your dog to escape the harness by backing away during a walk.
LIGHTWEIGHT – Lightweight neoprene body, as well as strong POM plastic D ring, adds functionality without being bulky.
EASY TO CLEAN – The harness is very easy to clean. Just machine wash cold and hang dry.
EASY TO ADJUST – Move the adjustment tab up and down for easy sizing adjustment.
________________________________________________________________________________
I am a pretty rambunctious puppy and Mom says I have some bad habits.  The worst one is my barking.  I just can't help myself!  I hear something and I just have to respond back the only way I know how.  But Mom and Dad don't seem to be pleased with me when I bark at every new noise I hear.  I have learned that talking when I have to go out is oaky, but barking at every little noise is not.
I learned that with the help of a training collar they got me.  There is a remote control that they use to sound a beeping tone when I get out of control.  If that does not work then the collar vibrates.  I don't like that very much.  One time I was really making a lot of noise and Mom must have hit the remote because I felt something I had never felt before.  It scared me and I stopped all the barking.  Lesson learned!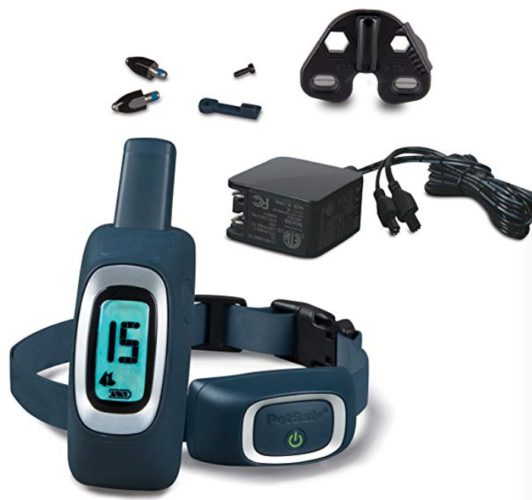 Petsafe Remote Training Collar
UP TO 300 YARD RANGE – provides communication with your dog at medium distances. Great for around the house and in the yard training.
TONE, VIBRATION, AND STATIC STIMULATION – features three different types of stimulation: tone (beep), vibration, and 1-15 levels of static stimulation
SAFETY LOCK FEATURE – levels 8-15 locked for protection
TRAIN UP TO 2 DOGS AT THE SAME TIME – with additional collars sold separately; PetSafe Add-A-Dog Receiver Collar PAC00-16163 or PetSafe Add-A-Dog Lite Receiver Collar PAC00-16164
WATERPROOF, RECHARGEABLE REMOTE AND COLLAR – uses a quick charging wall adapter (included)
BACKLIT, DIGITAL REMOTE – easy to read display; dedicated buttons for tone and stimulation
Call, chat or email with the expert PetSafe US-based customer care specialists six days a week.
DOG TOYS
I love to play soccer!  I bat a ball back to Mom or Dad, whoever wants to play with me.  Here's a new toy that I have really been having fun with!  I really like the flashing ball.  I can find it under the bad when I miss catching the soccer pass.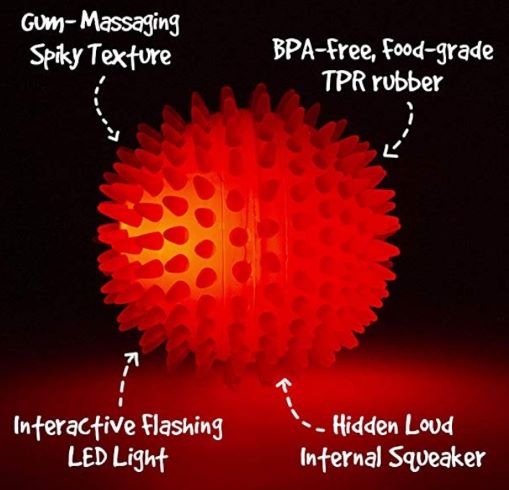 The 3.5-inch Squeak and Light Ball for Dogs as part of our awesome 'Gnawsome' collection! Gnawsome Squeaker Balls have a loud internal squeaker and the unique design ensures no choking hazards, only fun! This ball also features a gum-massaging, soft spiky texture which stimulates blood flow and improves dental health. The highly vivid colors are ideal for engaging your dog day or night and make the ball easy for humans to find in the grass or around the house. Soft, safe and durable, this fun dog toy is suitable for play in the home, yard, park, or beach! The Medium Gnawsome Squeak and Light Ball is ideal for larger dogs who love to chase and chew squeaky toys.
________________________________________________________________________________
I love to play!  Being a Corgi, I need to expend all my puppy energy.  Mom got me this toy because it makes a cool noise, I can play soccer with it, and even get food out of it.  This is my favorite toy!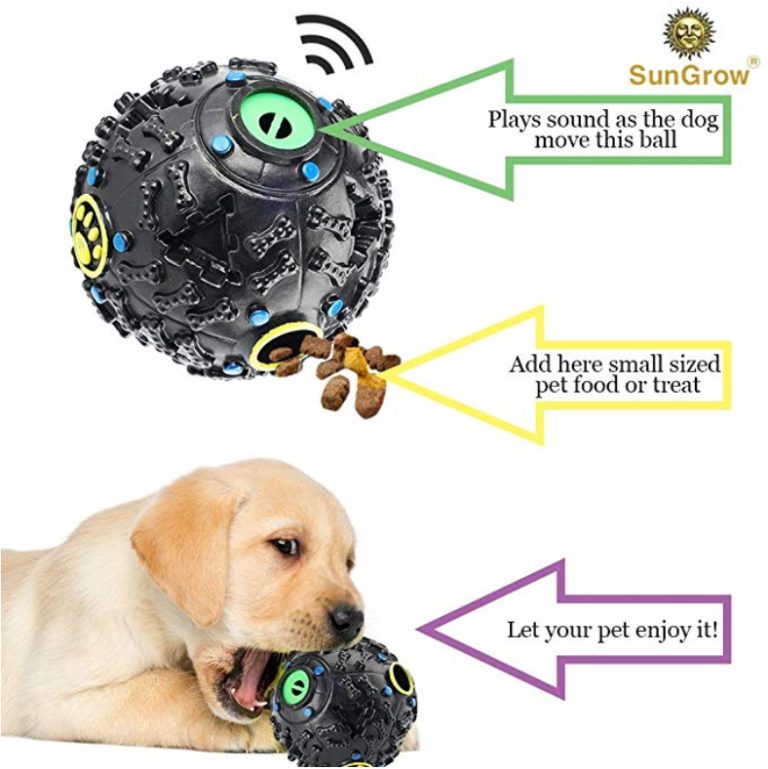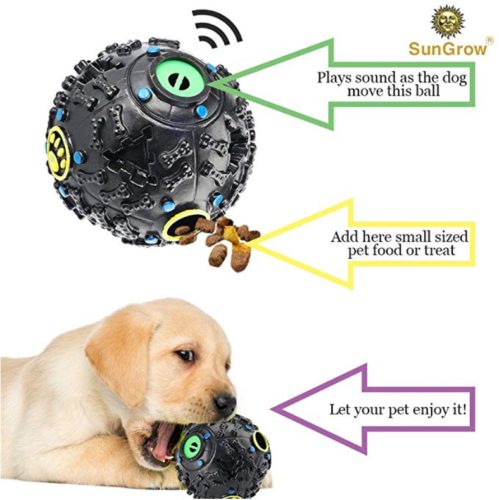 3-in-1 Interactive Dog Ball – Food Dispensing Toy IQ Training
3-IN-1 INTERACTIVE TOY — As playful and energetic creatures, our beloved dogs have three essential activities that they need to do regularly: eat, play & solve. To answer all these needs, we normally buy different toys for them. Now you can set aside the tedious task of choosing a gadget for each activity because Interactive Dog Ball by SunGrow is a Treat Dispenser, Squeaky Toy and IQ Training Ball rolled into one! Your pooch will surely love how he can do so much with this plaything.
INCREASES IQ & PROVIDES FUN PLAY — Your pet's curiosity will always be challenged as they try to keep figuring out how they can retrieve the yummy treats. This aids in improving intelligence and keeps him interested, engaged and focused as he continues to chase and rock the ball.
PROMOTES EXERCISE & GOOD BEHAVIOR — Let your pup flex those muscles as he moves, shakes, kicks, grips rocks, and rolls when he keeps himself busy with this interactive ball. Having an active lifestyle can also prevent your best friend from being obese. Any unwanted or destructive behavior caused by boredom like tearing your household furniture, appliances & cords will also be avoided because he'll be always be occupied.
PET-SAFE & NON-TOXIC — Made from environmentally-friendly & non-toxic plastic, it is guaranteed safe for your pets. With its top quality material, your dog can even clean their teeth using this, it also assures safety when it comes in contact with any food treats you put inside.
STYLISH, CREATES SOUNDS WITHOUT BATTERIES — This 5" (diameter) ball, looks very classy in its black color and really stylish with bones and paws pattern design. This attractive dog toy can also get your dog's attention easily because it creates funny sound with its internal magnetic field. You don't need batteries in order to use this feature. Just as the ball rolls or every time it is shaken, it easily produces cute tinkles.
________________________________________________________________________________
Here's another toy I really love!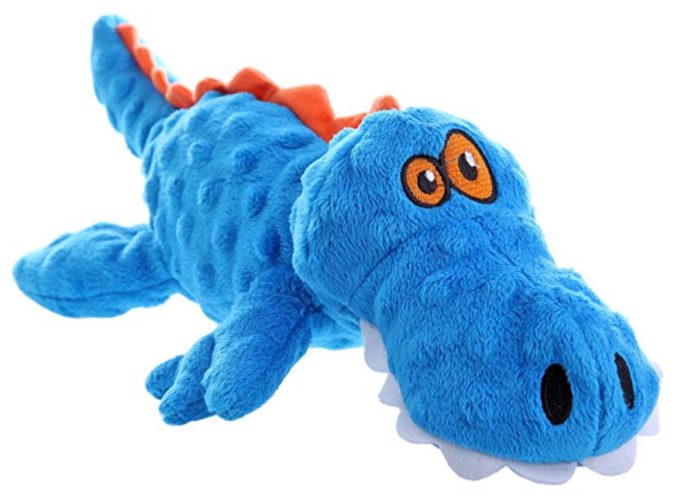 goDog Gators With Chew Guard Technology Tough Plush Dog Toy
goDog Gators Small Blue with Chew Guard Technology
Super tough to stand up to rough playtime fun
Features Chew Guard Technology and double stitched seams to last longer than your standard plush toy, GUARANTEED!
Super-soft bubble plush that dogs love
Fun squeaker
________________________________________________________________________________
Corgis also love squeaky dog toys!  A Hedgehogz is one of my favorites.  I love to throw him up in the air and chase him around.  He also makes cute grunting sounds!  This is definitely a "Winston-approved" toy for any dog.  He is great to cuddle with too!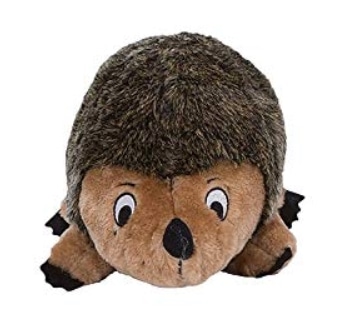 Outward Hound Kyjen Hedgehogz Squeak Toy for Dogs
GRUNT ON: Unique to Outward Hound Hedgehogz durable plush dog toys are the grunt and jingle sounds they make! A squeaker is built into our Small and Medium Hedgehogz, but in sizes Large to Extra-Large, there's a grunting squeaker and jingle ball for added fun!
BIG FUN: Huge on fun and Hedgehogz sounds, these cute and cuddly Hedgehogz are as fun to squeak and grunt with as they are to cuddle and sleep with
CUDDLE, FETCH AND GRUNT: The unique shape of these Outward Hound hedgehog toys made cuddling comfortable, fetch fun, and play exciting with built-in grunting noisemakers!
________________________________________________________________________________
Mom is always concerned about my teeth!  And since I am such a vivacious chewer she found this toy for me.  I really like it!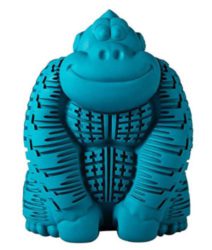 EXTREMELY DURABLE — This Arm & Hammer Dental Dog Toy is made from extremely durable, all natural rubber to withstand even the most aggressive of chewers. While no dog toy is truly indestructible, this one comes very close

GORILLA SHAPE — This fun gorilla shape will keep your pup enticed and distracted for hours on end

FRESHENS BREATH AND REDUCES TARTAR — Designed to help freshen breath, stimulate gums, and reduce tartar and plaque buildup as your dog plays and chews away

BAKING SODA INFUSED AND DISHWASHER SAFE — Safely fight bad breath with the power of baking soda. Dog toy is also dishwasher safe for easy cleaning
OTHER
Being a puppy I can get scared very easily.  Also, since I am an RVing dog, I come across a lot more things than other dogs that live in one location all the time.  I can be in one location one day, and the next day I am five hundred miles from there.  There is always something new for me to get used to.  During some travel days, Mom gives me these little tablets to help calm me down.  They have a natural relaxing effect on me.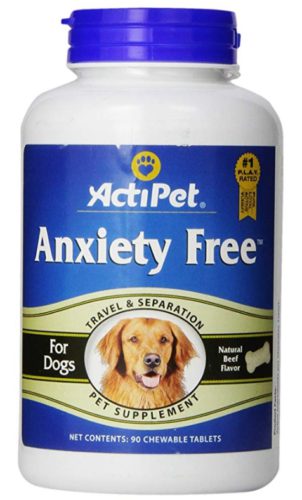 ActiPet Anxiety Free, for Travel and Separation
Ease your pet's anxiety naturally during travel and times of separation
Contains St John's wort, chamomile, passion flower, and valerian
Yummy, naturally beef flavored chewable tablet
________________________________________________________________________________
Since I create a lot of waste, and Mom and Dad are responsible pet owners, they have little bags they use to help clean up my mess.  They are in a little container that attaches to my leash and it makes cleaning up little surprises easy.   Mom then takes my bagged bundles of love and throws them out.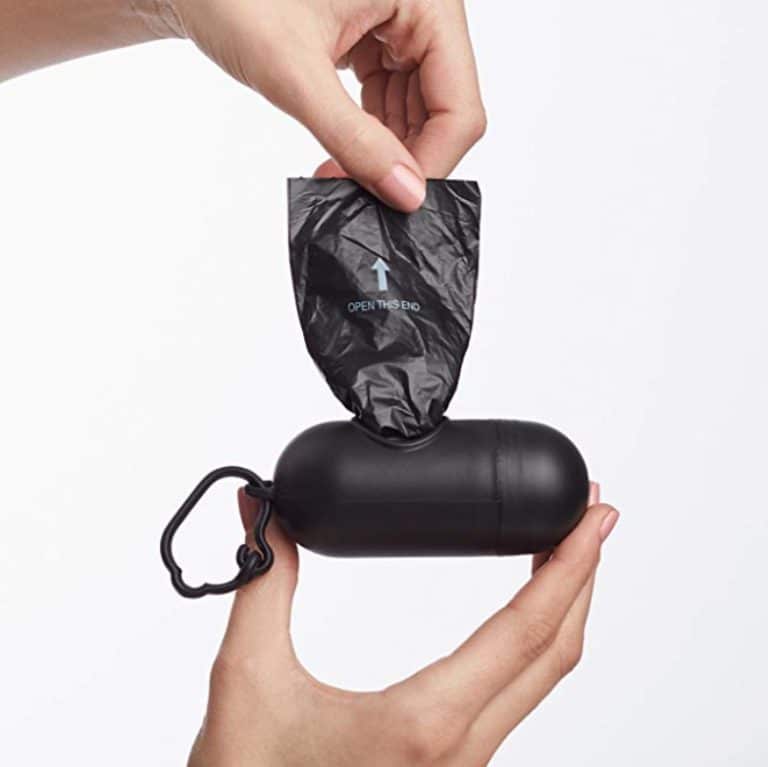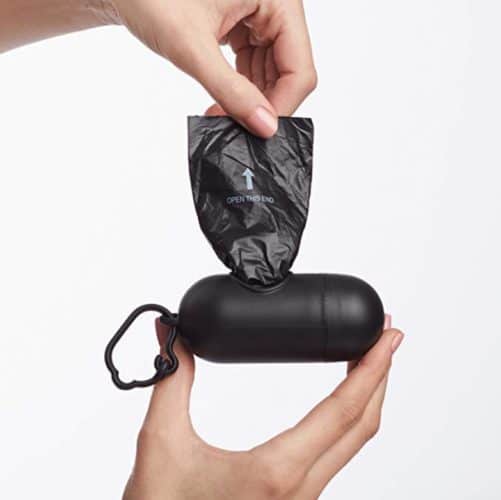 AmazonBasics Dog Waste Bags with Dispenser and Leash Clip
900 black dog-waste bags and dispenser with leash clip
Measures approximately 13×9 inches (LxW)
Leak-proof bags for safe, sanitary handling; arrows point to the bag opening for quick access
15 bags per roll (60 total rolls); the bags are thicker than standard 20 bags per roll designs
Rolls fit standard-size leash dispensers and quickly pull out
________________________________________________________________________________
Since I am a fluffy Corgi that has long and thin hair, it gets matted easily.  Dog grooming is an important part of fur-kid care and I need lots of that!  My breeder recommended a steel comb for grooming the longer haired areas of my cute little body.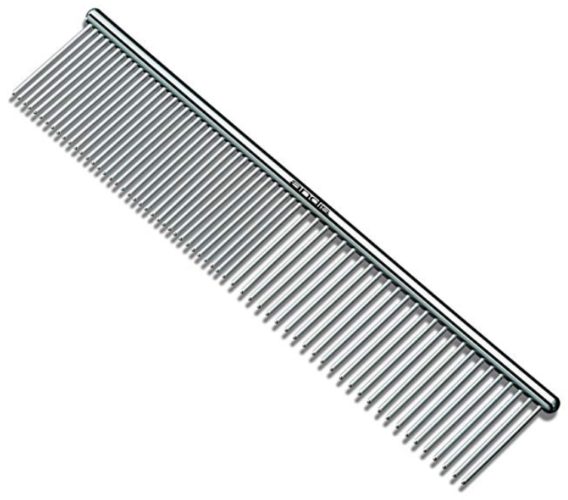 Andis Pet Steel Comb
Removes tangles, mats, loose hair and dirt
Stimulates skin and hair follicles
Perfect for finishing and fluffing
Lightweight for fatigue-free grooming
________________________________________________________________________________
Corgis love to have a place to sleep, a place of safety, and something to help with the den instincts that we are born with.  When I am not sleeping under the bed I like to hang out in my dog crate.  Because it has two doors it adjusts well to many situations.  It fits great in the truck and the side door makes it easy for me to get out.  I am not a big fan of the truck so I feel safer in my crate.  I also travel in the RV in my crate because it is much safer for me.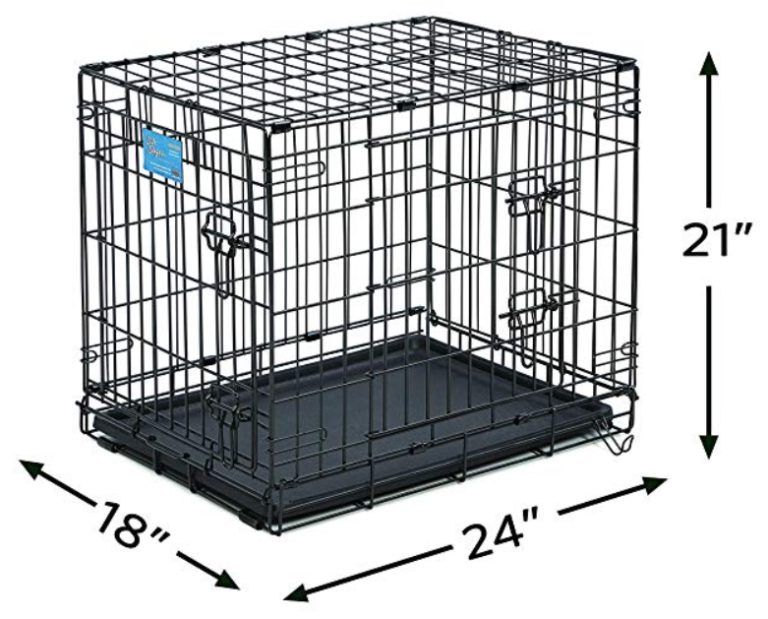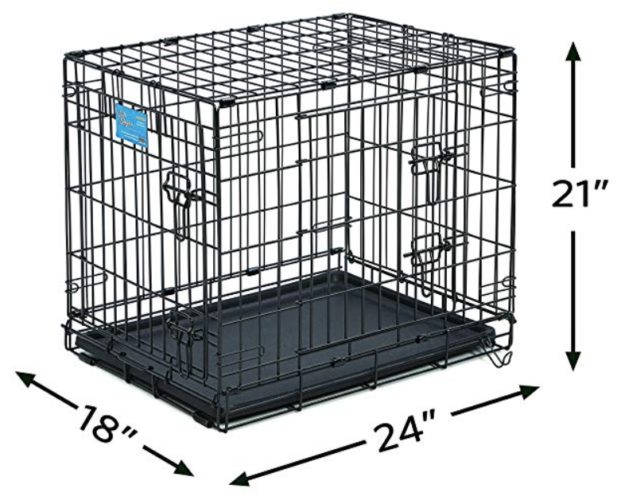 Small Dog Crate | MidWest Life Stages 24″ Double Door Folding Metal Dog Crate
Double door folding metal dog crate, Life Stages measures 24L x 18W x 21H inches & is suitable for small dog breeds.
The versatile 2-door dog crate includes a FREE divider panel, durable dog tray, carrying handle, "roller" feet to protect floors & a "MidWest Quality Guarantee" 1-year Manufacturer's Warranty. Note, we manufacture the iCrate and the Life Stages Dog Crate. The main difference is the Life Stages is made of heavier gauge steel and has a tighter wire mesh making it stronger than iCrate.
Two heavy-duty slide-bolt latches (per door) securely lock dog crate door in place keeping your dog safely inside their pet home
This is an easy assembly & portable dog crate.  It sets up in seconds with no tools required for assembly & dog crate folds flat for convenient storage or travel.
Durable design creates a safe place for your pet while you're away & provides for your dog's instinctual "den" instincts. Patented rounded corner clips greatly reduce possible sharp-points with this dog crate for a safer experience for you & your dog.
________________________________________________________________________________
I don't need these but I thought I would share this item because Lindsey wears them.  It has been a great thing to help keep Mom's sanity.  Because Lindsey was born in 2004 she is now an old girl!  She can't control her bladder anymore so diapers are a great way to help keep the RV from being ruined with dog urine.  Lindsey seems to not mind wearing them.  It kind of looks like she is wearing a Speedo . . . LOL!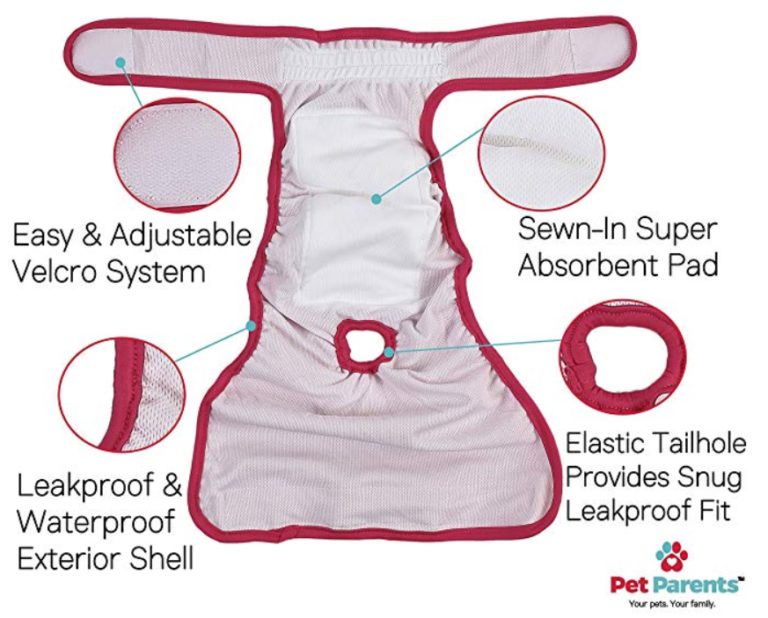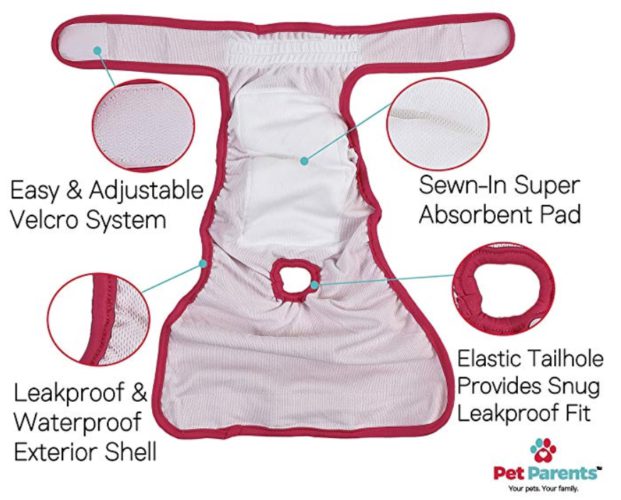 Pet Parents Washable Dog Diapers (3pack) of Doggie Diapers
DOG DIAPERS LARGE – Best for larger dogs and puppies, waist size 19″ to 27″. Please measure your dog's waist right in front of the back legs to ensure a good fit.
3 WASHABLE DOG DIAPERS IN 3 COLORS PER PACKAGE – One each of PINK, PURPLE, and BLACK. These washable doggy diapers are more economical and environmentally friendly than disposable dog diapers.
FEMALE DOG DIAPERS- Easy-to-use diaper wrap for dogs. Useful for untrained puppies, female dogs in heat, and dogs that suffer from excitement urination or incontinence.
SOFT & COMFORTABLE DIAPERS FOR DOGS- To increase your dog's comfort and acceptance our diaper wraps have no "crinkly" or uncomfortable texture that causes many dogs to dislike the ordinary disposable diapers. Velcro closures are quick and easy to secure and won't stick to your pet's fur.
HIGHLY ABSORBENT DOGGIE DIAPERS – The diaper pad is sewn into the diaper and has a waterproof outer layer to prevent leaks and damage to rugs, carpets, upholstered chairs and sofas.
________________________________________________________________________________
Mom and Dad have been fur-kid parents their entire married life!  They know how to keep us healthy as stated earlier.  They believe that our teeth are very important and need to be brushed each night.  When I was a puppy Mom started sticking her fingers in my mouth and massaging my teeth and gums.  Now she uses a finger brush and toothpaste to clean my teeth.  The toothpaste tastes great and I really like it!  Without proper dental care, dogs can develop dental diseases that can affect organs like the liver.  This is what I like!

DOG TOOTHPASTE: Petrodex Advanced Dental Care Enzymatic Dog Toothpaste helps reduce plaque and tartar formation.

PATENTED ENZYMES: With patented enzymes, this non-foaming formula of dog toothpaste does not require rinsing.

FIGHTS BAD BREATH: With regular use, Petrodex Enzymatic Toothpaste for Dogs helps reduce plaque and fights bad breath.

POULTRY FLAVOR: Dog toothpaste comes in a delicious poultry flavor that dogs love!

RECOMMENDED USE: For best results, brush using enzymatic toothpaste for dogs at least 2-3 times per week. Use a soft-bristled Petrodex toothbrush designed for pets.
These are the finger brushes that Mom uses with the toothpaste!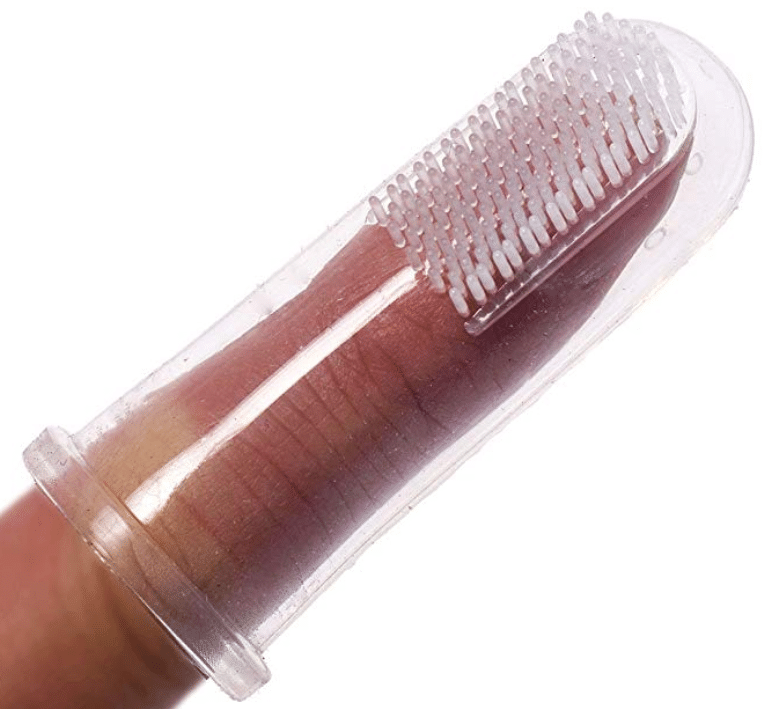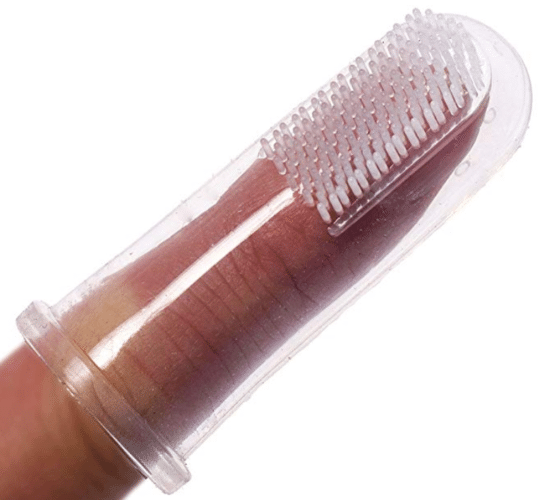 FOR SMALL TO MEDIUM FINGERS. Each finger toothbrush has a 5/8 inch diameter opening.

The finger dental hygiene brushes give you an easier process for cleaning your pet's teeth. The brush enables the user to clean the difficult to reach areas of the pet.

The unique design of our pet finger toothbrush features soft brush bristles and smooth edges allowing you to clean tartar and plaque without the risk of hard bristles and sharp edges hurting your pet.

Each unit comes with soft brush head to clean teeth and massage tip to clean tongue of your lovely pets. Small and convenient design allows the item to be easily stored and carried.

The Item is designed for users with small fingers. Item Dimension. 1 X 2.25 Inches. 100% SATISFACTION GUARANTEE!
________________________________________________________________________________
In addition to all the other great stuff Mom and Dad do for me, they also want me to be clean and fresh smelling.  I am not nuts about this idea but I have to admit I do look so handsome after the bathing torture . . . . LOL!  This is what Mom likes to use on me!
Shower your dog with love by treating them to a pampering evening with Vibrant Life Cucumber Melon Moisturizing Dog Shampoo. This cruelty-free shampoo provides enhanced odor control, moisturizes, reduces shedding and relieves dry, itchy skin. Its natural formula not only leaves your dog clean but also has the premium fragrance of cucumber and melon, which will be just light enough for your dog to enjoy as much as you do. With no parabens, SLS or sulfates, you can feel good knowing your dog is being groomed with only the best ingredients. The shampoo comes in a bottle with an easy to open top and is PH balanced for dogs. For use, just wet your dog's coat with warm water, apply shampoo, lather through from back of ears to tail and rinse. Take care of your dog with Vibrant Life Cucumber Melon Moisturizing Dog Shampoo.
Vibrant Life shares your passion for animals. You can count on Vibrant Life for a full line of expertly crafted, quality products to keep your pet healthy and happy. Which makes you happy, too. Enjoy the Vibrant Life.
Vibrant life Moisturizing Dog Shampoo, Cucumber & Melon, 24 fl oz:
Enhanced odor Control
Reduces shedding
Relieves dry, itchy skin
No parabens, SLS or sulfates
Cruelty-free
PH balanced for dogs
Premium fragrance
________________________________________________________________________________