BAROOOO!  Hello again from Lindsey on the Road.  I wuf being a part of the RVCDA, or better known as the RV Camping Dogs of America.  (I just made that up but you can use it.) So for this Weekly Bark Report I want to say I'm soooooo excited to see my fur-friends again here in Middlebury. Don'tcha just love that name? Middle-Bury.  I'm finding all kinds of things to bury here, as Mom frownz……
Since last I wrote we left Nor Car-o-line-a and stopped one night at a rest area.  I guess that's why we rested over night.  Good name! Next stop on the hit parade of camping was at a Ground in Indy-ana, which mom called Fair, to meet some friends. All I can say is all ground is good to me so I don't know why she called it fair. Humans.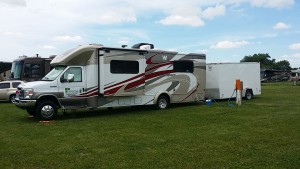 It was really boring there.  Nothing much for a FRAPping Corgi such as myself to do. I saw alot of camping dogs there that I tried to meet.  They were kinda stuck up. Must have been some sort of camp for RVs cuz they all looked the same, a big box with wheels like we used to have. I guess we didn't blend.
We got to meet a new fur-kid named Charlie. He was called a Shhhhh-now-Zer. He told me he gets to go to work with his pet parents at someplace called Workamper News when he's not a camping dog. Talk about a lucky dog..  Hey Von Charlie! You are cute but not my type.  I prefer the foxy looking dudes like Koi (pictured above).  He duz a sploot that sends my nub a-waggin'.  I sure wish I had a tail like he does. Then I could help around the RV dusting floorz.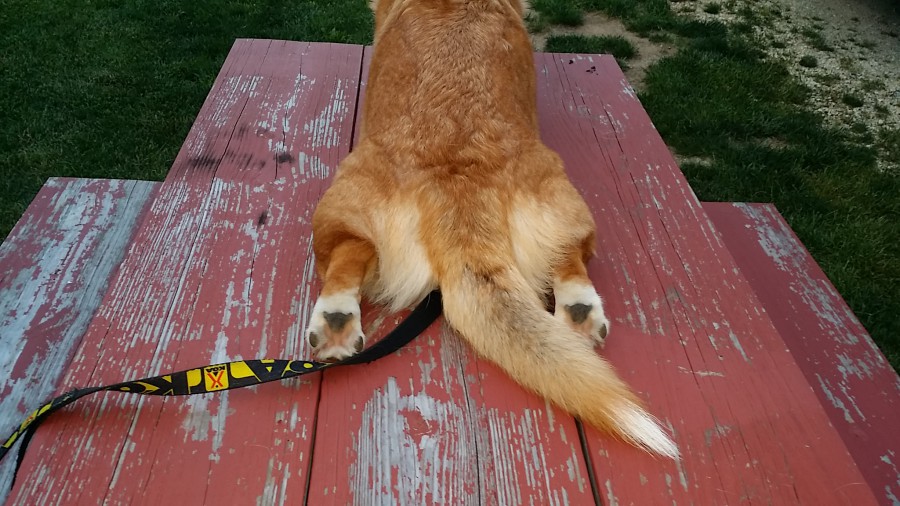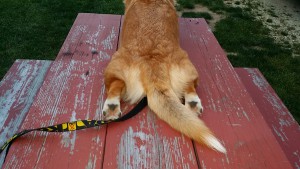 Speaking of Koi, he, Kiah and Kimball are my palz that live at the campground we are now at. Mom lets me follow them on human Facebook. Their page is called Camping Corgi FRAPping. And check out one of the cool playground signs!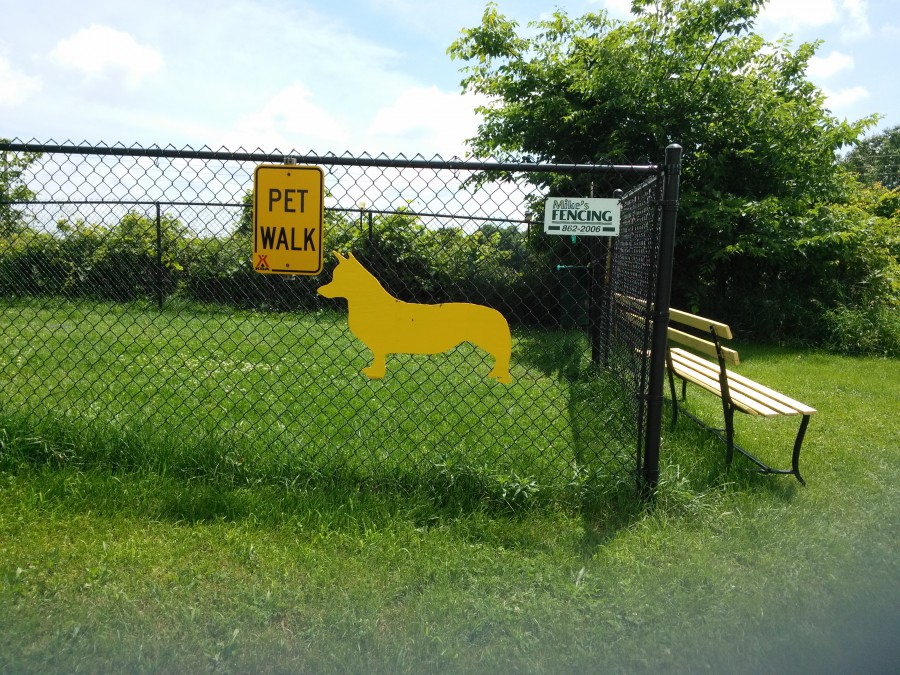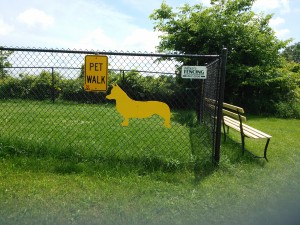 Mz Hope and Mr Nick do a neat-o thing they call Corgi-Palooza in July.  My palz are the campground mascots so I'm really excited to be invited. Mom and dad finally got with the program and brung me here. It's gonna be sooo much fun to show off to all the RV camping dog SOBz"(Some Other Breedz". I heard that from Charliez dad.) Stay tuned for an upcoming Bark Report on this event as this camping corgi will be front and center. You go K, K and K! I'm there with y'all for Palooza!  
Side bar my furry followers.  Let your pet parents know that this Friday is take your dog to work day!  I like subtle hints like climbing onto dad's computer case, sitting on his shoes, chest press in bed and blocking the door are among my personal favorites. The door blocking has produced the best results since I'm a lean, mean corgi machine and can be picked up easily by dad. I'm really not mean just feisty. But it sounded good, yes?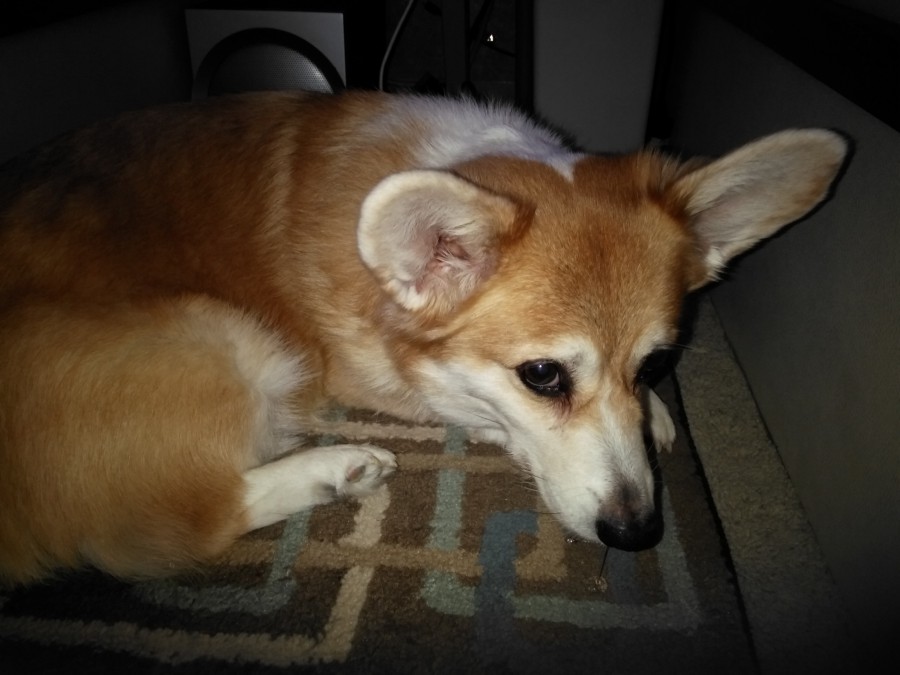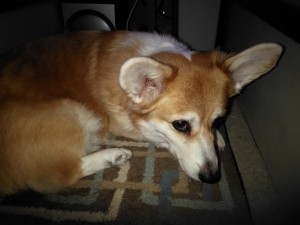 You know I do have one minor complaint to make.  Don't tell Dad.  He keeps telling me to move out of his way when I'm under the table holding the rug down. Helloooo!  Does he not know the rules here?  Just because we have a moving house doesn't mean my personal space doesn't count.  Corgi Rules baby.  After all, who's the top dog here? Besides that you just never know when someone is going to come along and steal that rug.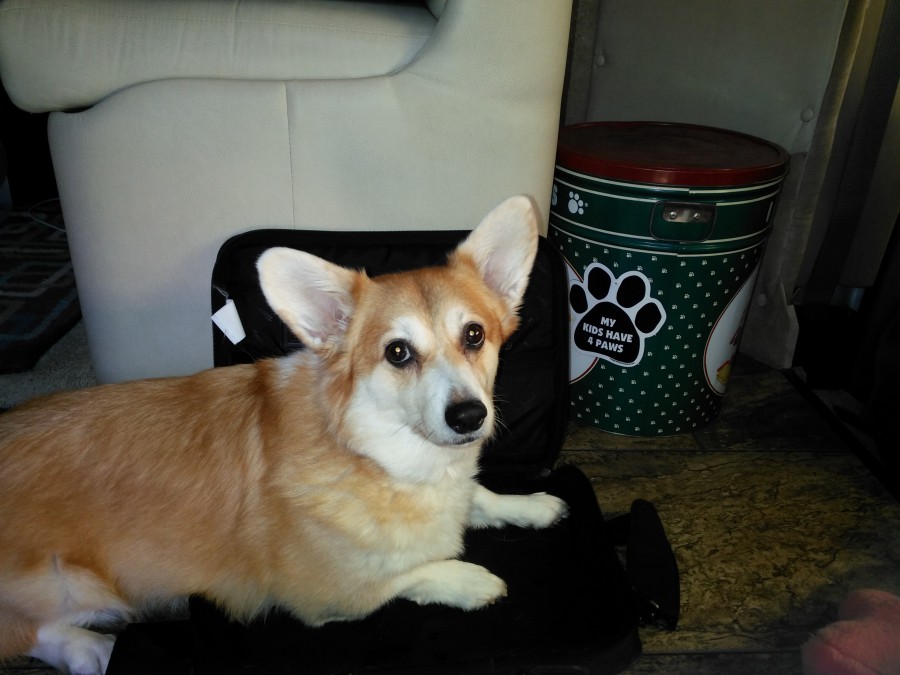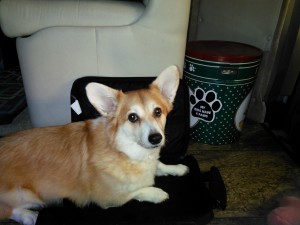 Here's me trying to get on the computer but Dad hid it from me.  Ha, I found it when he was gone, so take that Dad!  You can't hide things away in this RV cuz I'll find them!  I am super snooper Corgi!!
As many of you may not know I have been an only fur-baby since my sister went away last year. She wuz a really cool camping corgi. My hero.  I miss her cuz she waz always really brave and helped me guard the RV when mom and dad waz gone.  She'd watch and tell me when to be on guard and when to just chill.  We talked corgi-eze when we didn't want mom and dad to know what we were talking about.  I don't know where Maya went so suddenly.  Mom sez she's camping over the Rainbow Bridge now.  I like rainbows but I'm kinda a-feared of bridges. I wonder what kind of RV she'z camping in? 
Well, it's that time again to say buh-bye.  I feel a nap coming on.
Lindsey out.  zzzzz
Hey, Lindsey's mom here. Now that she is sleeping I just want to say that if any of her furry followers out there want to join the RVCDA, please comment below.  I may encourage her to set up a group, as long as it doesn't go to her head.  
Happy Tails y'all.