As a full time RVer, we deal with a lot of crap on a year-round basis!  And I am not talking about life situations here.  I am referring to fecal matter.  If you use your RV a lot, RV black water tank problems will arise!  There are easy methods to use to "clear things up", but simple RV black water tank maintenance using water and an RV black tank cleaning wand will avoid any unexpected issues!
Avoiding RV Black Water Tank Problems
There are a few easy things you can do on a regular basis to keep things flowing and to also keep your tank sensors showing the correct tank levels. These might seem very basic, but I talk to a lot of RVers who do not do these things and problems they have because of it.  So here are just a few ideas.  We will cover the basics first.
Use lots of water when flushing!  I know this is hard to do when you are boon docking, but I fill the bowl with water for each flush of a number two event.  LOL!  For just liquids only, not as much.  You want to be sure you have enough liquids in the tank to dissolve the solids and allow them to completely flush out when emptying the RV black water tank.

Never leave the RV black water tank gate valve open!!  Empty the tank when needed and keep the gate valve closed till it is full again!!  If you are traveling a lot, when the tank is half full add water to fill the tank and then dump.  After all, water is weight and carrying around hundreds of extra pounds of liquids should be avoided on certain classes of RV's! This is my just my opinion, but it is one that is based on years of RV travel.

Use septic safe toilet paper!  You want to be sure you are using TP that will dissolve easily in water.  You can perform a simple test on your own to see if your choice of TP dissolves completely.  Take a piece of the TP and put it in a glass of water and let it sit.  It should dissolve. If not, don't use that brand.  Pam and I buy single-ply septic safe TP and that seems to work fine.  If you really need to have super plush soft and scented TP then I might suggest you not throw it in the RV black water tank but into a sealed waste basket.
Only empty the RV black water tank when it is full!  As mentioned earlier, when emptying the tank when it is not full it can lead to problems.  You will not get a good flush out unless you have a lot of liquid in the tank.  While using your RV black water tank, depending on how often you need to dump it, solids will settle to the bottom of the tank.  If it sits there in liquid for a week, the only way to be sure to get the stuff to flow out it is to have a lot of water pushing it out the RV black water tank pipe at the bottom of the tank.
Be careful what chemicals you throw in the RV black water tank!!  I just recently was told a story by an RV full timing friend of mine.  I will share it here to make a point about this one.  She was told that the little dishwasher packets that they sell these days work great in the RV black water tank.  So, she put a few in before hitting the road thinking that as she drove they would help clean and sanitize the tank.  She left the RV for a week while on a trip and returned to it and added one of the normal RV tank treatment packets to the tank thinking that she had forgotten to before the last move.  She went to bed and woke up the next morning in a brain fog and a little disoriented.  The two original packets mixed with the new one and created a chemical reaction that could have killed her had she not left a few windows open.  I mostly use just water because we use our septic system every day.  If I really feel the need I add a few ounces of Rid-X.  This is specifically designed to break down waste in septic tanks.

Use a tank rinser to keep your black tank from developing excessive amounts of residual solids.  As I mentioned earlier, even in the best conditions not all stuff inside the RV black water tank is flushed out. One thing you can do is fill the tank with fresh water and dump the tank again.  That can help to remove the leftover solids.  Some RV manufacturers install tank flushers inside the black water tank.  Using that system after every dump can help to keep the tank clean.  Just don't use your fresh water hose to attached to it!  I witness an RVer do this the other day – yuk!!  What happens if you get some back flow?

Use a flexible swivel stick to completely clean your RV black water tank. I had not used one of these before until we got our newer RV.  Given it is a motorized RV and it sits lower to the ground, we don't get the same evacuation flow that we got with the 5th wheel.  We also keep getting tank level readings of 1/3 even after dumping the tank.  So, I purchased a Camco flexible swivel stick to help push the remaining crap out of the tank.  This works great!  It sprays a high-pressure stream of water around the entire tank and gets rid of the leftover solids.  I know it works because when I shine a flashlight down the toilet, into the black tank, and I can see the difference from before and after I use it.  Before use, brown stuff, after use, I can see the bottom of the black tank!  And the tank gauges also reports empty after use.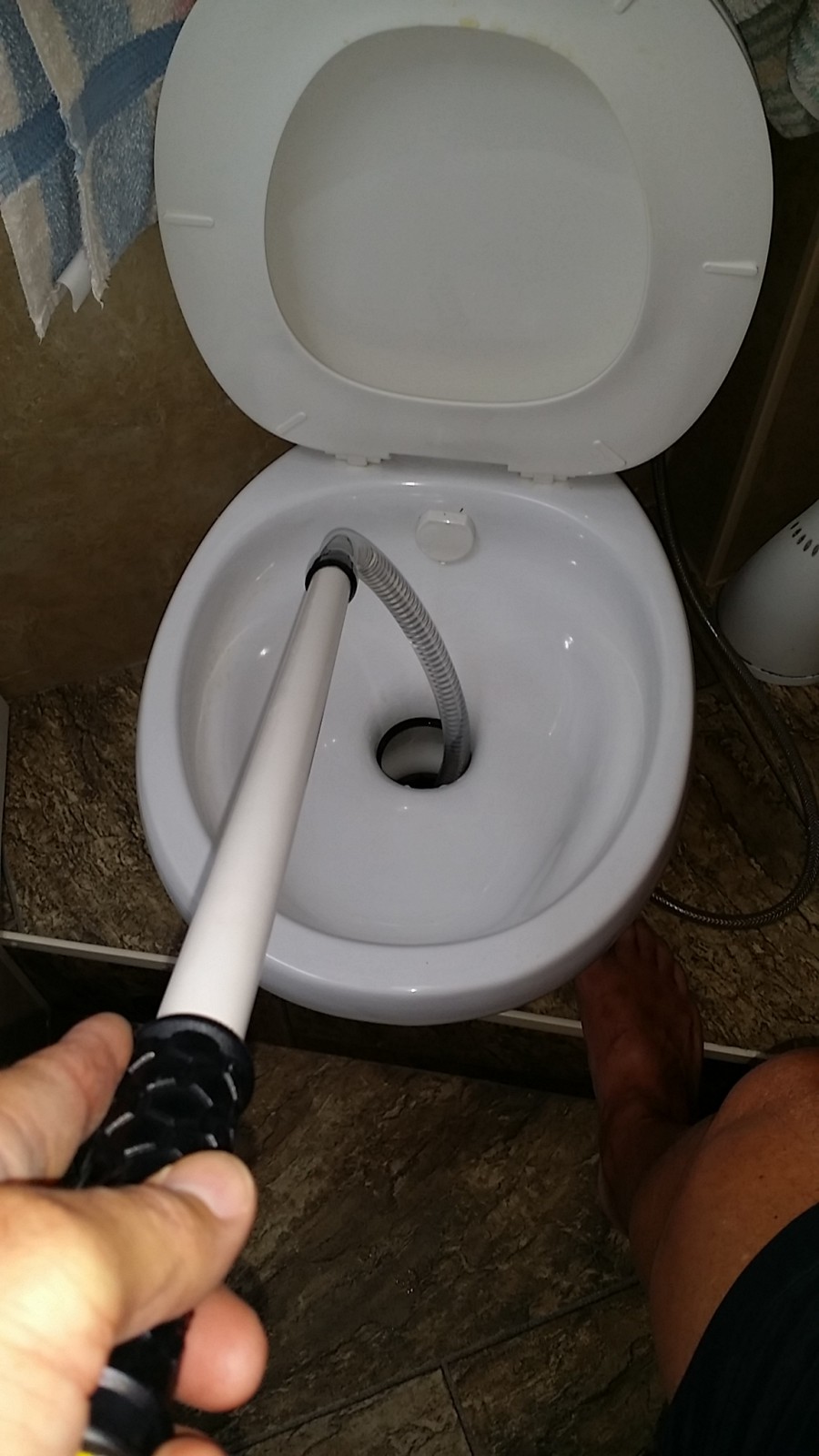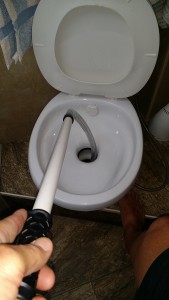 Given that most RV black water tanks are not a straight shot from the toilet bowl into the tank, the Camco flexible swivel stick is the best choice to be sure to get the job done right!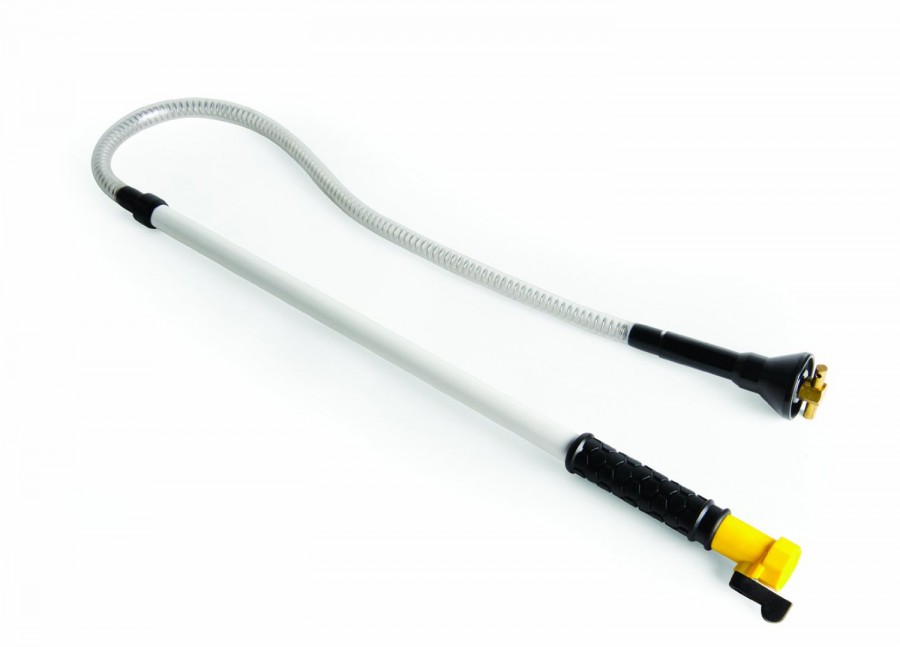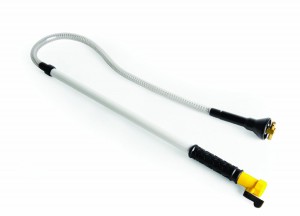 Regardless of the method you use based on the list above, certainly taking into account all seven ideas mentioned above will keep things flowing smoothly out of your RV black water tank. These steps will also help to prevent a situation that would not allow you to use one of the most needed items inside your RV!
Please feel free to share your crappy stories.  This is truly one of the joys of RVing and we must have a laugh or two about the things that do happen!
Happy Crappy Free Travels!!