Are you thinking of crossing border into Canada?  Are you going to be near the Niagara Falls area and thinking about taking the Rainbow Bridge to Canada?  Yes, there is a Rainbow bridge you can walk, bike or drive across to get into their country.  We were hoping to see our beloved pets on the other side but no luck there!  LOL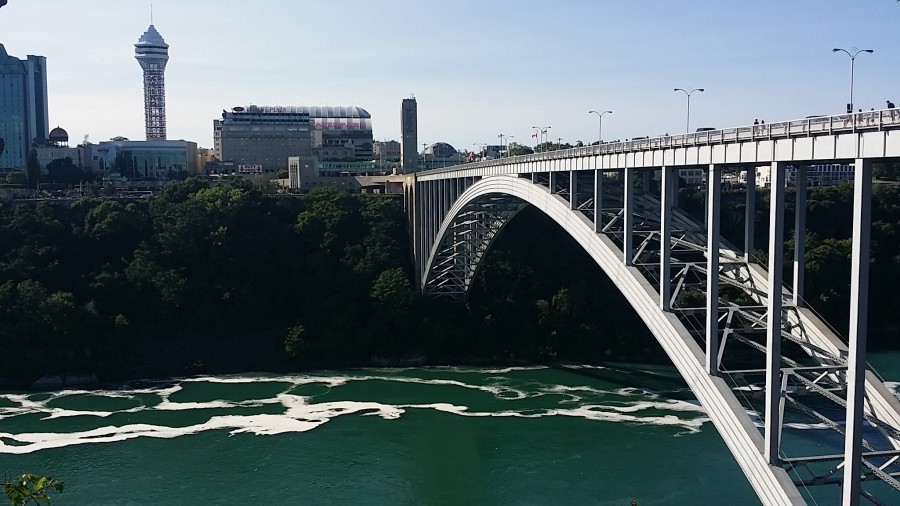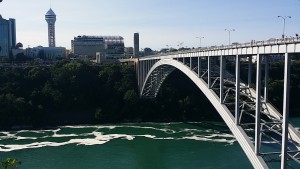 As a Rver, issues like border crossings become really important if you are considering crossing the border with your RV home.  It can be much more complicated than just driving across in a car.  We had heard it is much easier to get into Canada than it is coming back into the United States.
This post is about our story and experience with taking the Rainbow Bridge to Canada.  But first a little background.
We wanted to take our full time RV living home to the Niagara Falls area for a visit to this place that we had never been to before.  It looks so pretty in all the pictures so we wanted to visit while we were in that area of the country. We visited in late summer.  It appeared that most of the American families were not there, but there were sure a lot of foreign tourists!  We ran into a lot of Indians: the kind that says, "thank you for calling customer support!" LOL (A Jeff Dunham and Peanut joke)
We did want to park our RV close to Niagara Falls.  We researched campgrounds in the area and found most that were within 10 miles or so were $50 – $80 per night.  In our full time RV living travels, unless we are holding an RV inspection class, we try to keep our nightly park fees at an average of about $20 per night.  We do this by using multiple sources including Passport America, Good Sams Camping Club, and freecampgrounds.com.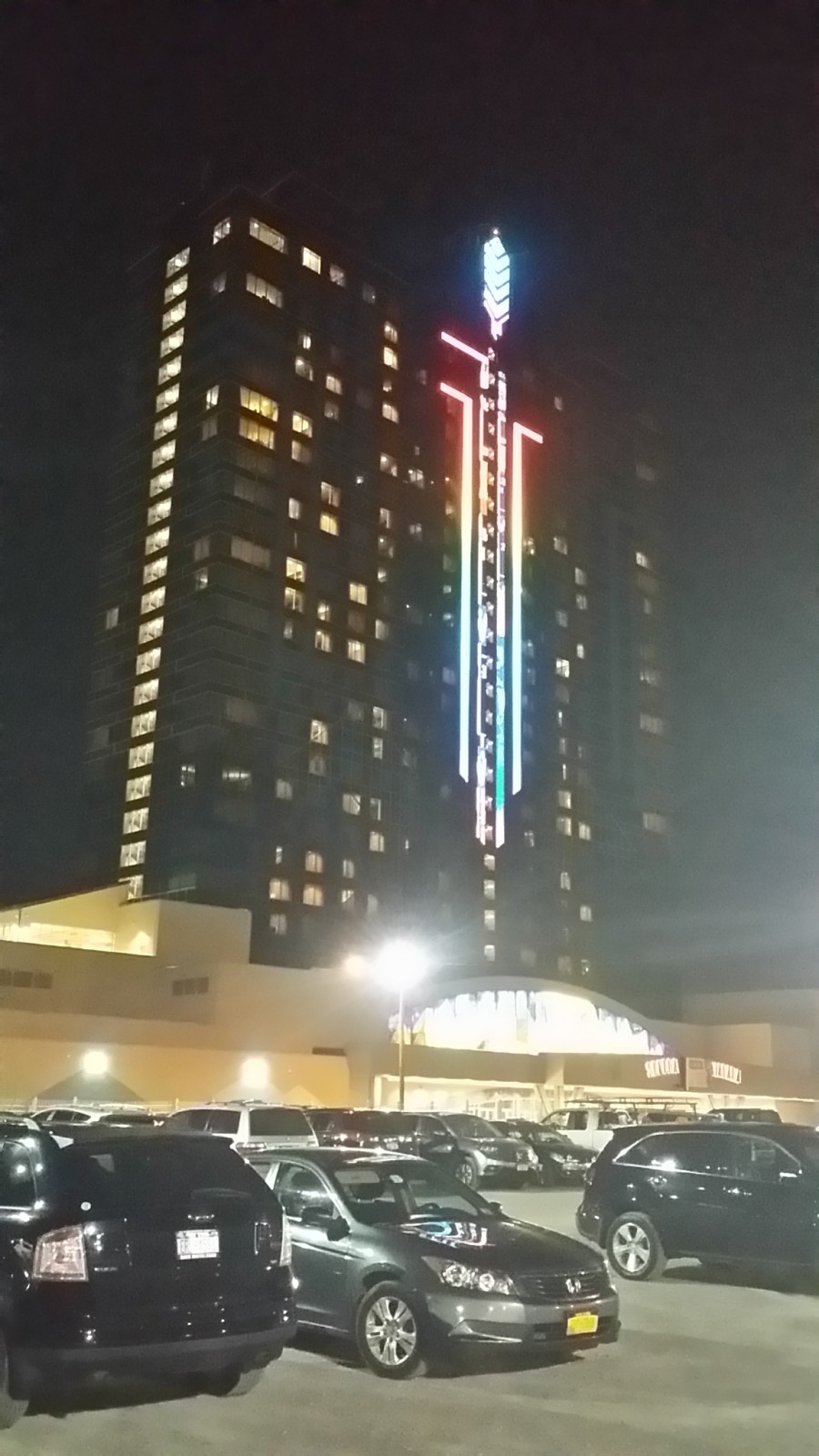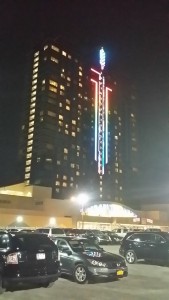 We found a casino that is just about a mile from Niagara Falls State Park, depending on where in the park you want to go.  They allow RVers to park in their east parking lot as long as you park along the east side of the lot by the fence.  There are no utility hookups provided.  This is a boondocking option only.  The location is called Seneca Niagara Resort and Casino.  The parking lot entrance is right off Falls Rd.  It is easy to get any size RV to this location.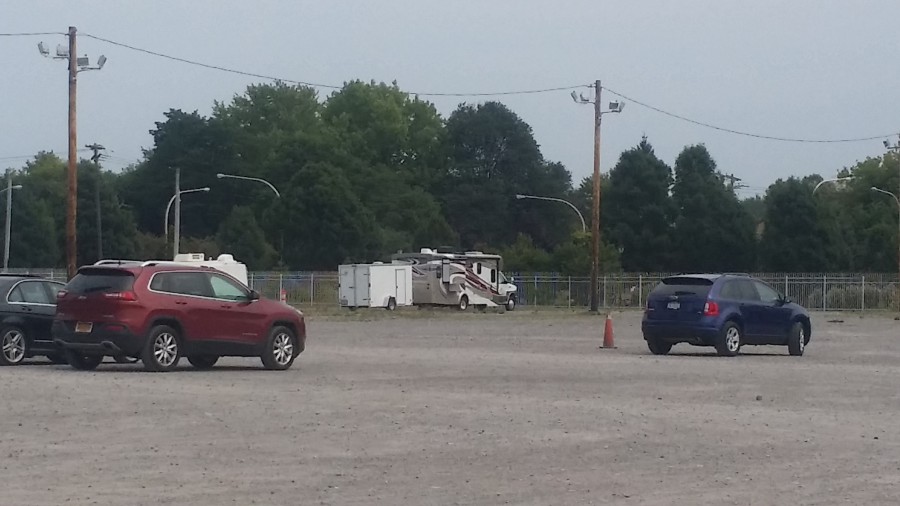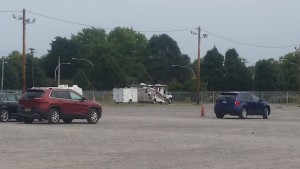 If you decide to take advantage of their kindness, be sure to visit the casino and patronize them in some way.  Oh, and this facility is owned by Native Americans: the ones that go Hiya Hiya, Hiya Hiya!  LOL (Again, more Jeff Dunham!)
We found this to be an excellent location as it was located close to the Falls. In the two days we stayed at the Seneca Niagara Resort and Casino, we walked to Niagara Falls six times.  It took us less than 15 minutes to do so! It is almost a straight shot west to Niagara Falls State Park.  
In addition to food choices at the Casino, there are also great eating opportunities along the way to the Falls.  We found Mario's NY Style Pizza. After a day of walking around, and into Canada, we were hungry!  Their pizza was awesome, and they had many varieties to choose from.
Crossing Border into Canada
For this website post, I would like to focus on the easiest way to cross the border, and that is walking across the Rainbow Bridge to Canada.  For a United States citizen with a current passport, all you need to do is enter the border patrol facility from the west side bridge access point, go through the one-way turnstile and you are off to Canada.  
The views from the bridge are spectacular.  You can place one foot in the US and the other in Canada as there is a plaque that marks the dividing line between the countries.  We also observed that at the time we crossed the bridge the high volume of vehicles that were waiting to enter the United States.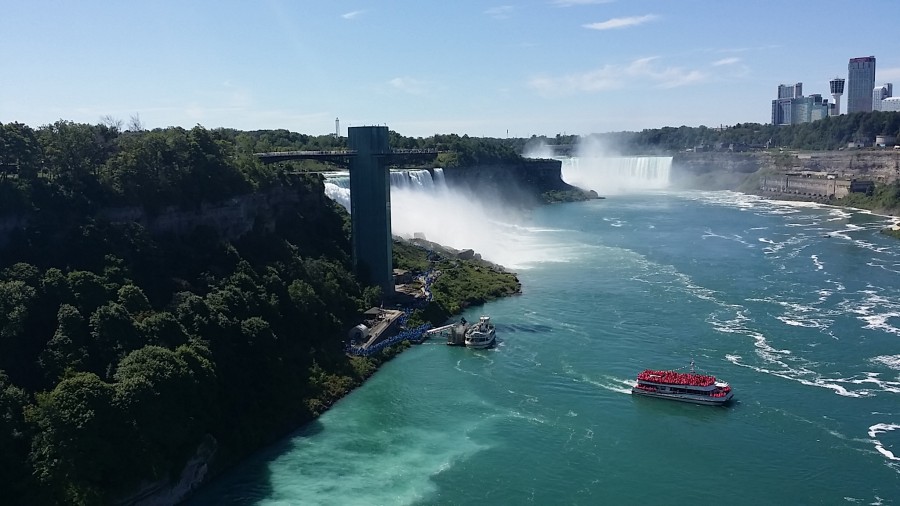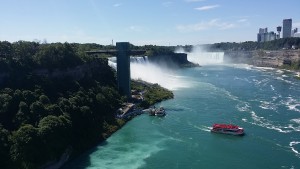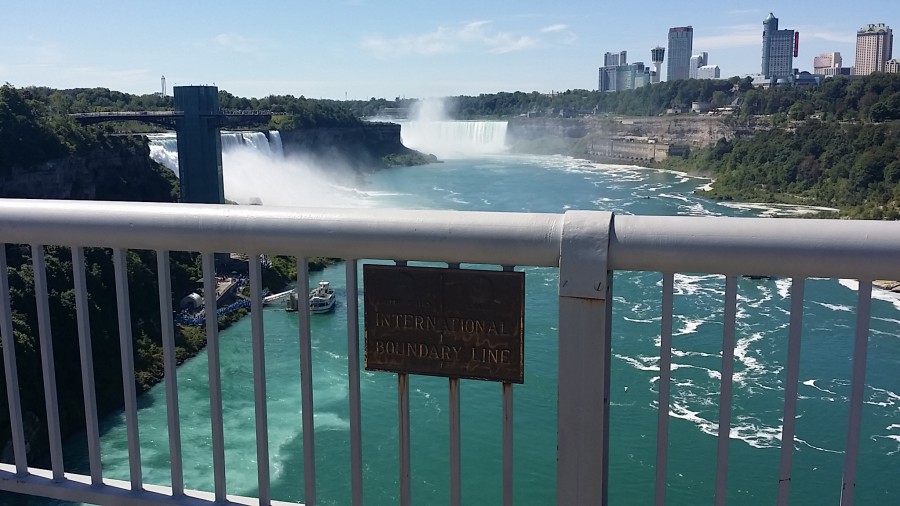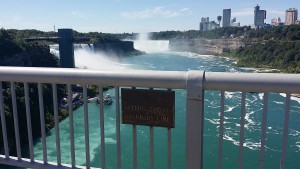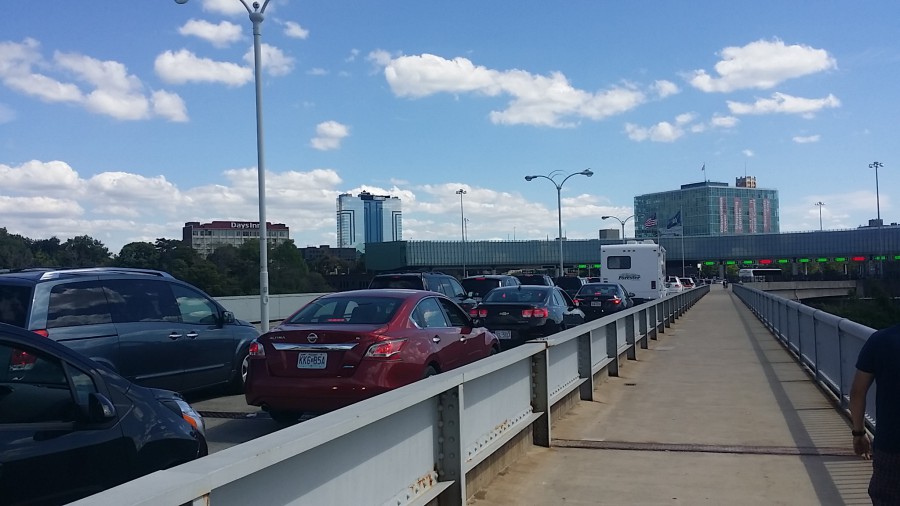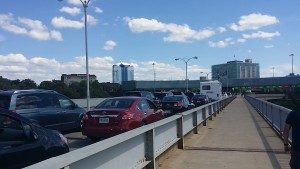 Once across the bridge, you are directed to an office where a Canadian border patrol officer will check your passport for entry into Canada.  If you are a U.S. citizen or permanent resident, you must carry proof of citizenship such as a passport, birth certificate, a certificate of citizenship or naturalization, a U.S. Permanent Resident Card, or a Certificate of Indian Status along with photo identification. If you are a U.S. permanent resident, ensure you carry proof of your status such as a U.S. Permanent Resident Card.
This was all pretty painless.  We were through that part of the crossing in just a few minutes.  There was only one other family ahead of us at the time.  I would never expect it to be that busy when walking the Rainbow Bridge to Canada as most people would probably prefer to drive.  
The only thing the border agent asked us was where we were from in the US and why we were visiting that day?  That was it!  We were now on Canadian soil.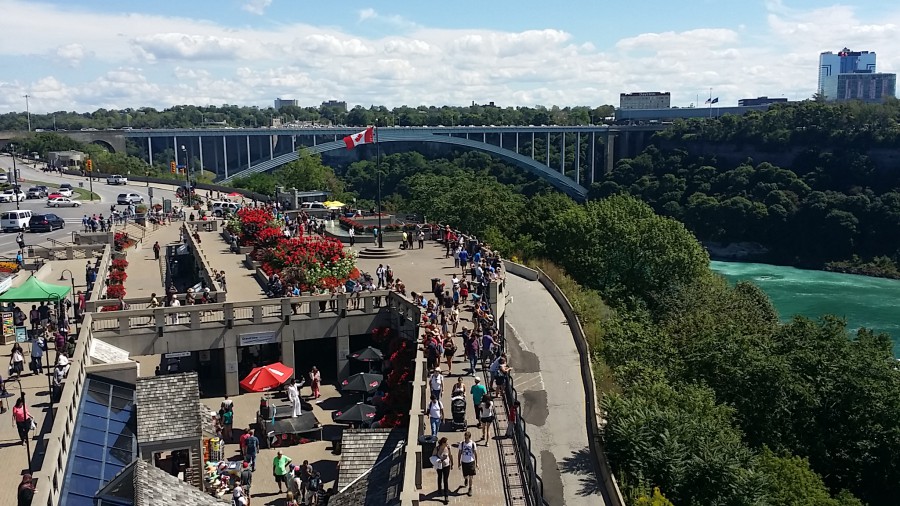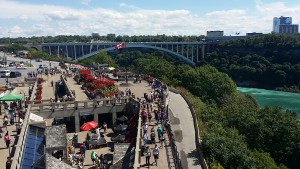 So, if you are in the Niagara Falls area on the US side, why would one want to venture across the Rainbow Bridge to Canada?  The Falls are beautiful and the views from Niagara State Park are certainly amazing, but the Falls are truly spectacular from the Canadian side.  The Horseshoe Falls cannot be truly appreciated unless you see them while in Canada.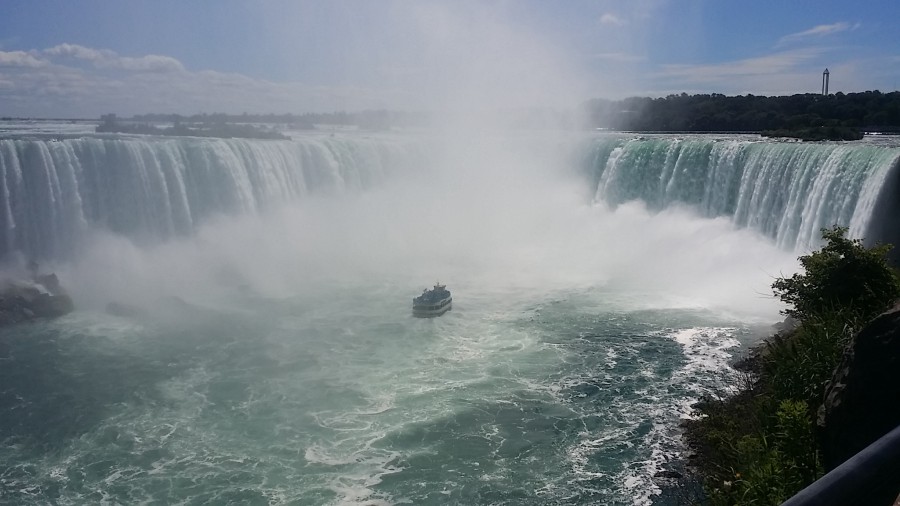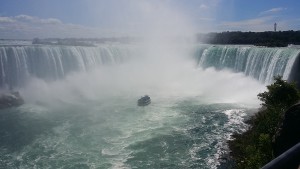 Now, you can take the Maid of the Mist boat tour and truly experience Niagara Falls, and get really wet too!  We watched many folks waiting in long lines to get their tickets and a plastic bag to cover themselves once in the midst of all the mist from the Falls.  
We also noted how wet they were when they got off the boat!  The plastic bag appeared to have failed many! On a hot day that would be awesome, but it was a rather cool day when we were there.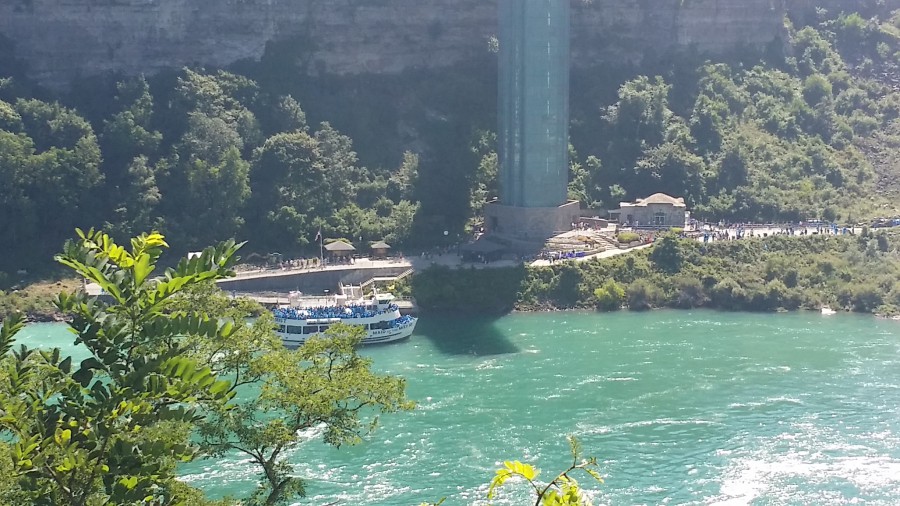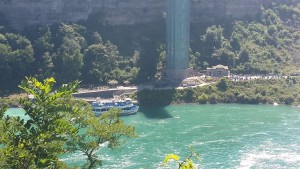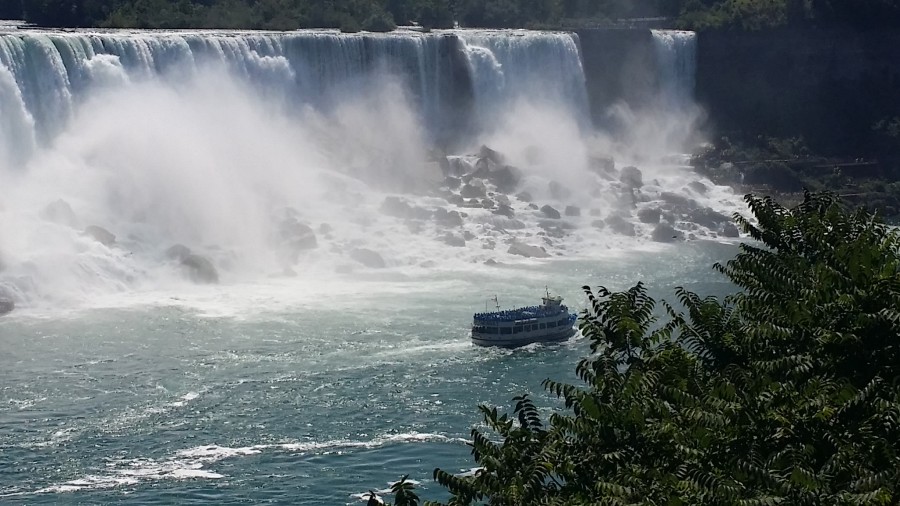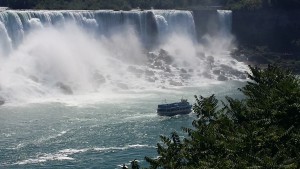 The mist from the Horseshoe Falls almost makes it appear like it is raining. The day we were there the wind was blowing the mist over the main walkway which is along Niagara Parkway.  There are plenty of opportunities to get a little wet while visiting Niagara Falls!  But it is so worth it to see views like these!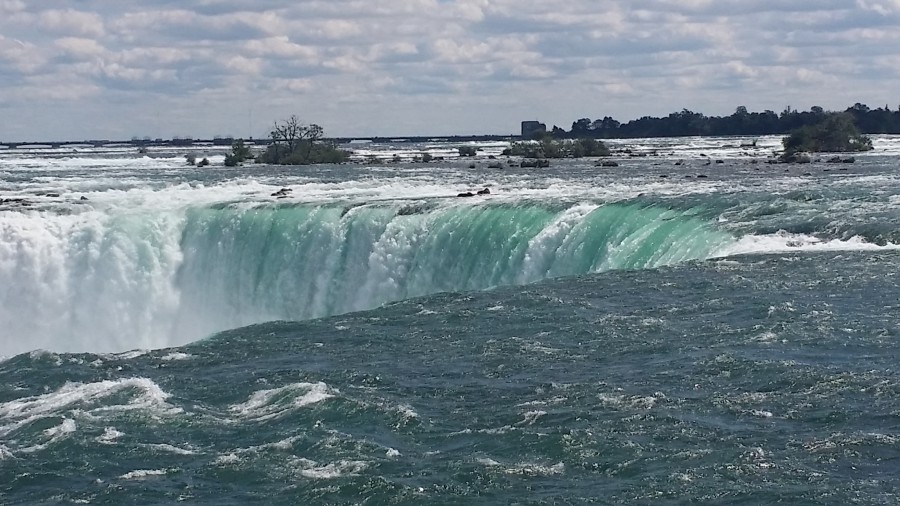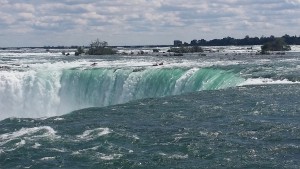 Crossing back the United States via the Rainbow Bridge was just as easy as it was to cross into Canada.  It was a good thing we had some American currency with us as we needed fifty cents each to get back onto the bridge. They had a coin changer so we could get some quarters.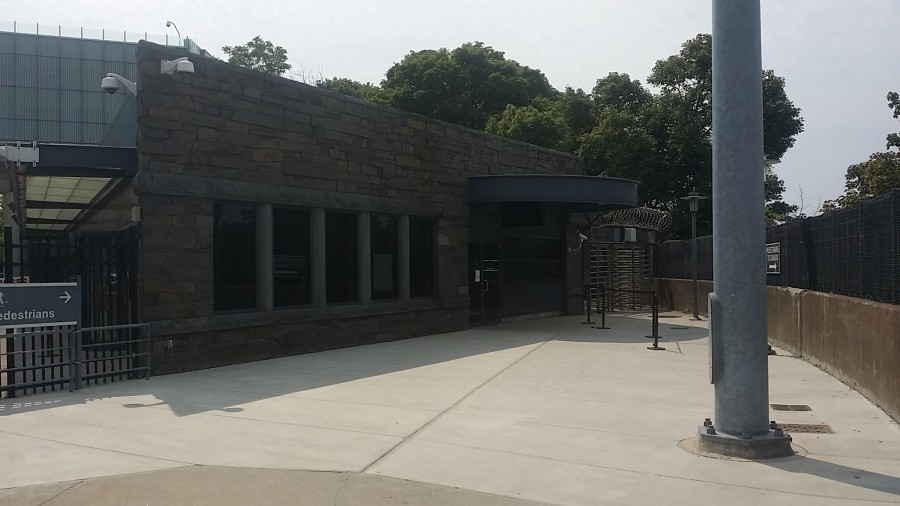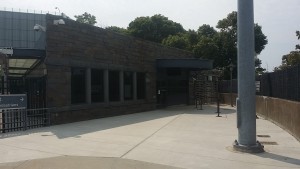 Once through the turnstile, we walked back across the Rainbow Bridge.  We beat all the vehicle traffic sitting in line trying and enter the United States. Once in the Border Patrol office, we only had to wait for one couple ahead of us.  We were asked if we had anything to declare, showed our passports and we were permitted back on American soil.  Simple as that.  Do be sure to remove your hat and sunglasses, if wearing them, before speaking to an agent.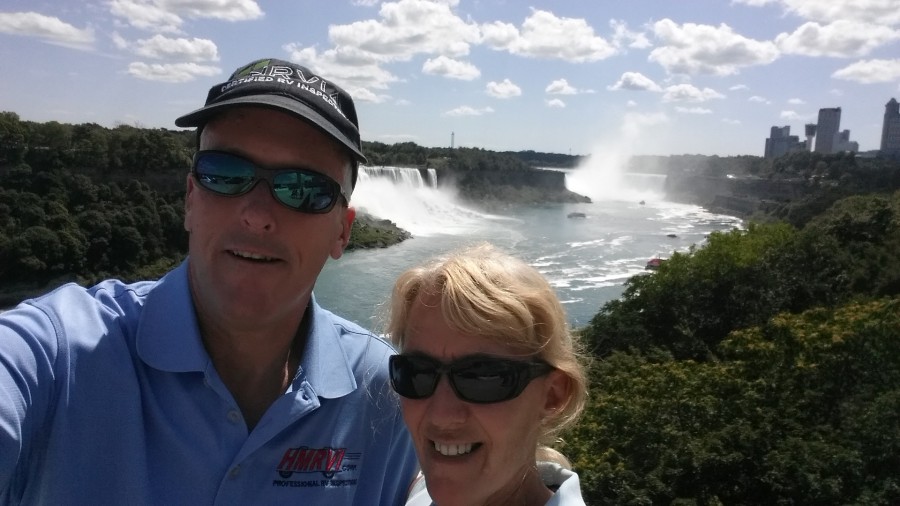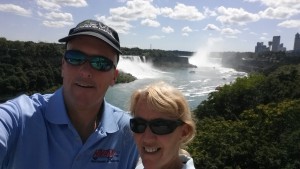 Well, there it is!  Walking across the Rainbow Bridge to Canada and crossing the border into Canada is as easy as that!  I would highly recommend the experience in order to view Niagara Falls from both countries.  It was truly a treat for Pam and me!  The round trip by foot was about five miles.  It did not seem like it though!  It was an easy walk with lots of places to stop and hang out.
We may do it again soon but the next time we may try biking across to Canada.  There is a little bit more involved in that process as you cannot use the pedestrian walkway.  We will share that experience when we have completed that adventure.
Please leave a comment about your border crossing experiences if you have visited Niagara Falls in your RV.
Happy RV Travels,
Howard, Pam, and Lindsey