Hello my four legged and two legged followers. Lindsey here with my Weekly Bark Report to report on how Corgi Dogs and RVs united at the Middlebury KOA.  As promised I'm here to give you first paw account on Corgi-Palooza that Mz Hope hosted. You are hearin' it straight from the corgi's mouth as this reporter was front and center.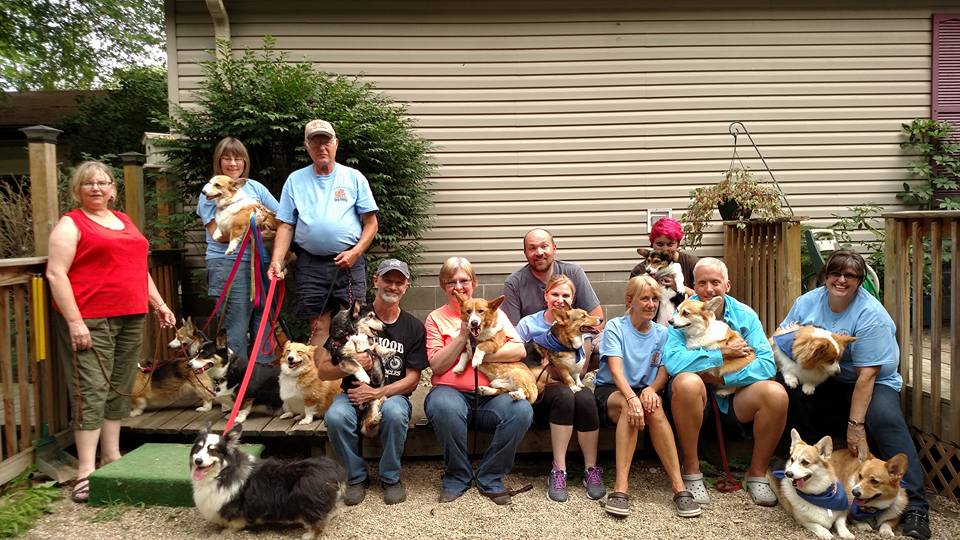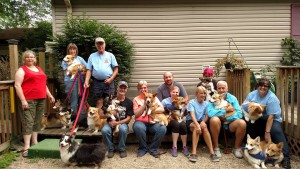 I'm a little behind my barkline cuz Mom and Dad were busy last week with Dad's class and wouldn't let me use the computer.  Kinda bites but I'm here to tell all about it now. As they say here in Amish country, you are gettin' it straight from the horseys mouth. Mom says I'm just a pup reporter but I do want to someday update y'all on other doggy events.  This was just getting my paws wet.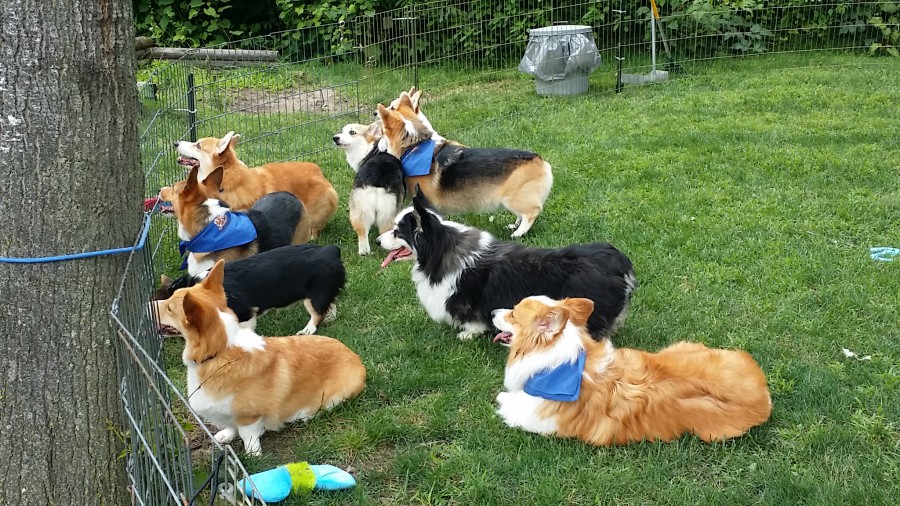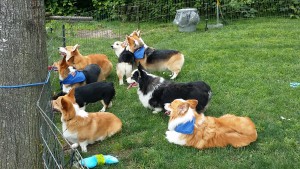 All our parents came in RVs with their furry kids. In my opinion, I feel we must have a comfy ride going to these things.  Mom and Dad always sez they likes to travel in style, and be comfort-able. Duh! Well so do we.  It's all about the ride you know.  How would it look if us dogs showed up in something beneath our stature.  (For corgis that can be tuff since we are short by most dog standards.) I do have to let my humans drive my home because my legs just don't reach those pedal thingys on the floor. There's my short stature again. Sorry, rabbit trail.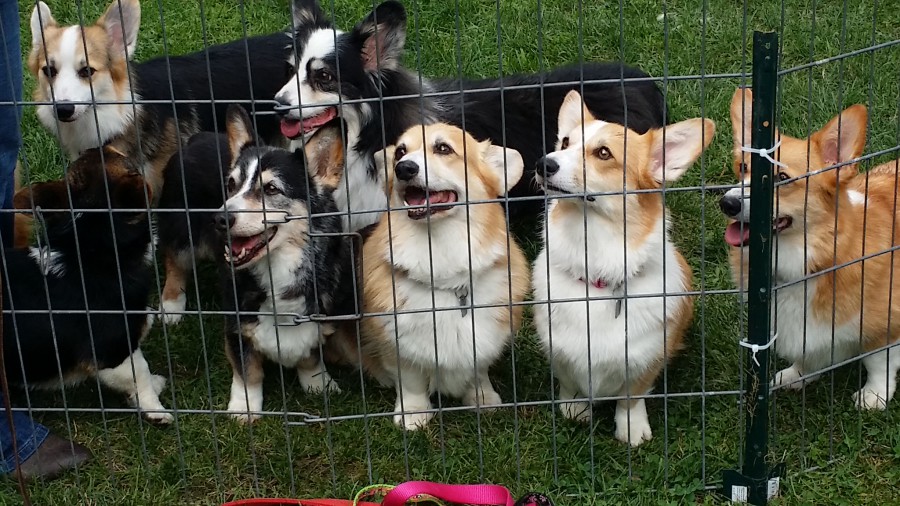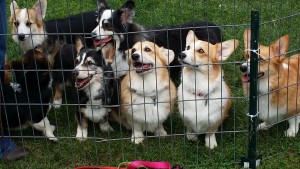 Back to the Palooza. We had this really kool place by the pond where we could all FRAP together. (That's corgi-eze for Frequent Random Acts of Play.)  Some of the boyz don't play too good. Over a stupid ball.  Geez, grow up.  There was a whole package of ballz and they all wanted the same one.  Us girls played cheerleader on the sidelines.  Kiah even had on her KOA yellow cheerleader outfit.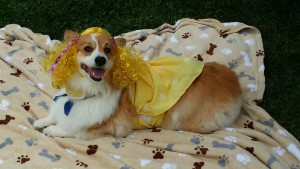 The baby that came really liked the ice pool.  She thought she was queen of the hill until one of the boyz wanted to dig in it.  Not for this corgi.  I spent enuff time in our big house in the mountains.  Had my share of doing my bizness in that cold suff and freezin' my puppy paws with ice kookies stuck between my toes.  Brrrr!  Makes me want to crawl under a blanket just thinking about it.  Oops. Rabbit trail again.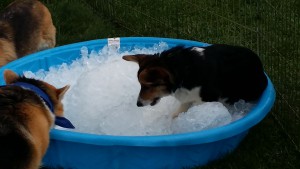 Mr Kool Koi had his own kissing booth.  Ms Hope said if you wanted a Koi Kiss she would give to somethin' called KOA Kare Kamps.  I guess it's for sick small humans.  I just stealed kisses from him whenever I saw him. I think his real name is Koi Bond.  He kisses real good.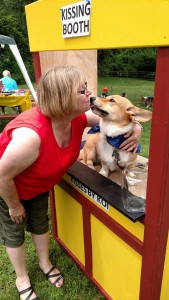 BAROOO!  Yo, yo, check me out!  Do I look hot or what?! These outfits were compliments of Kiah's Kloset. I looked so Kool in my prom dress that a couple a boys came and had their taken picture with me.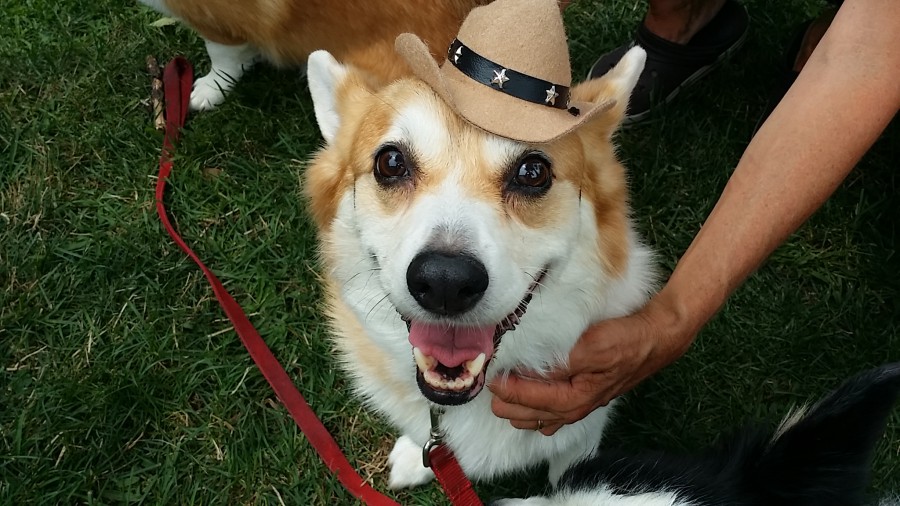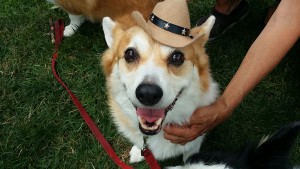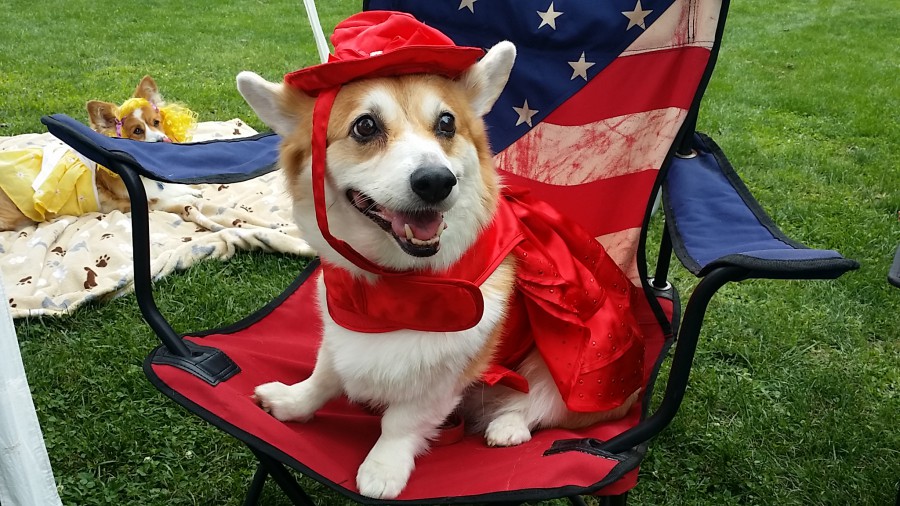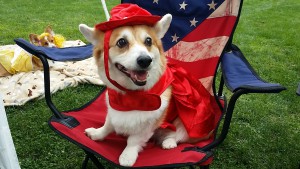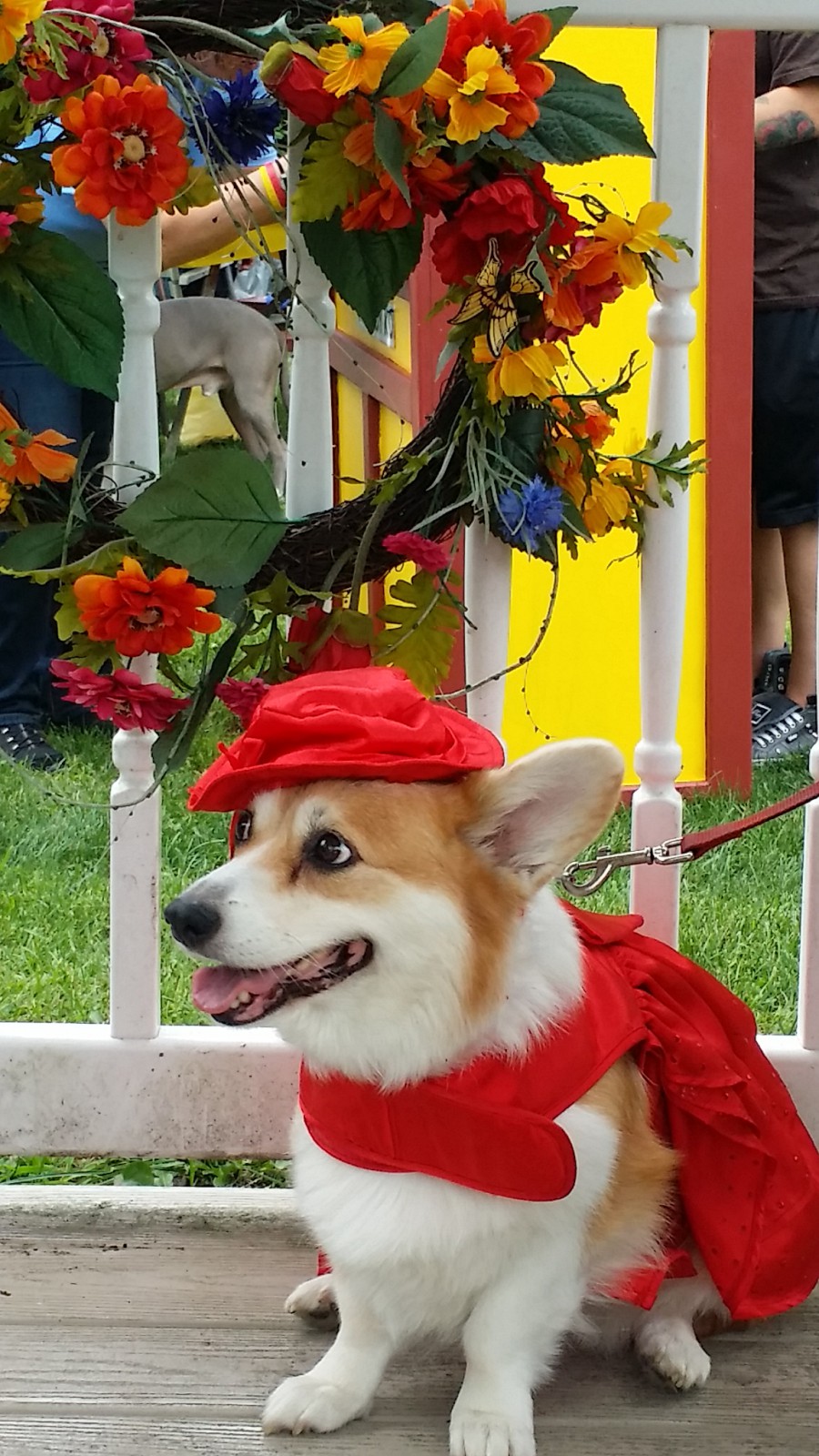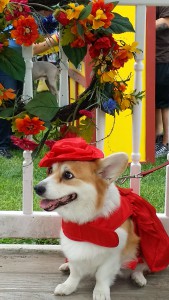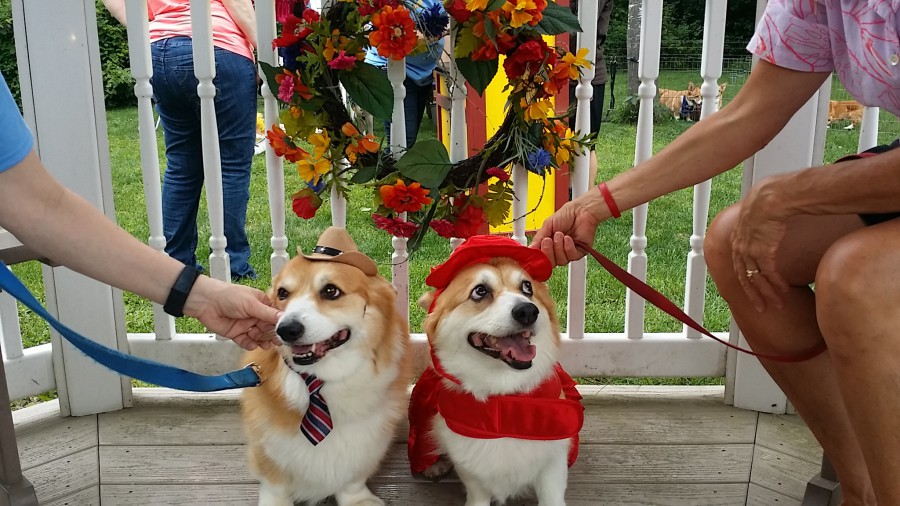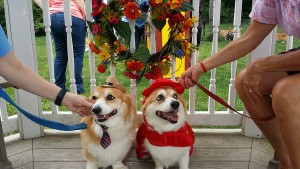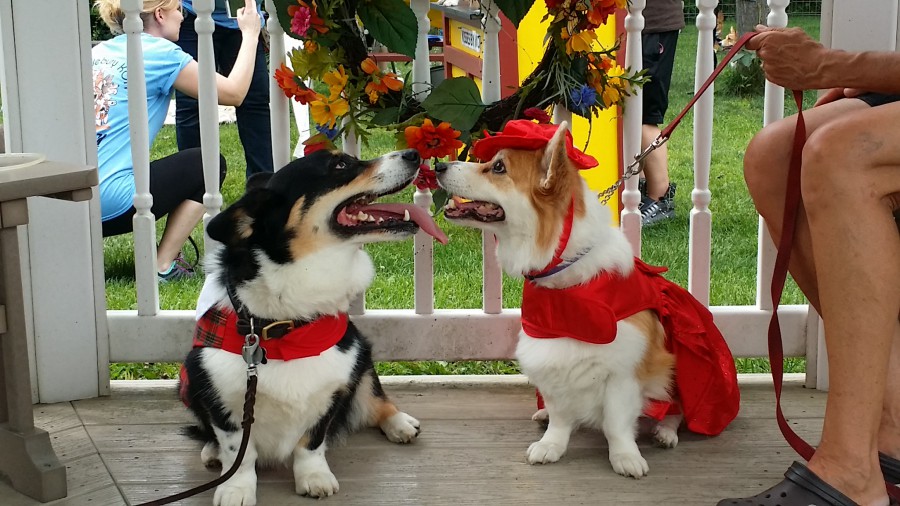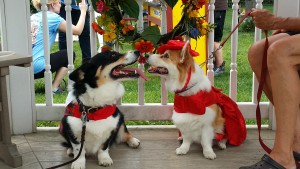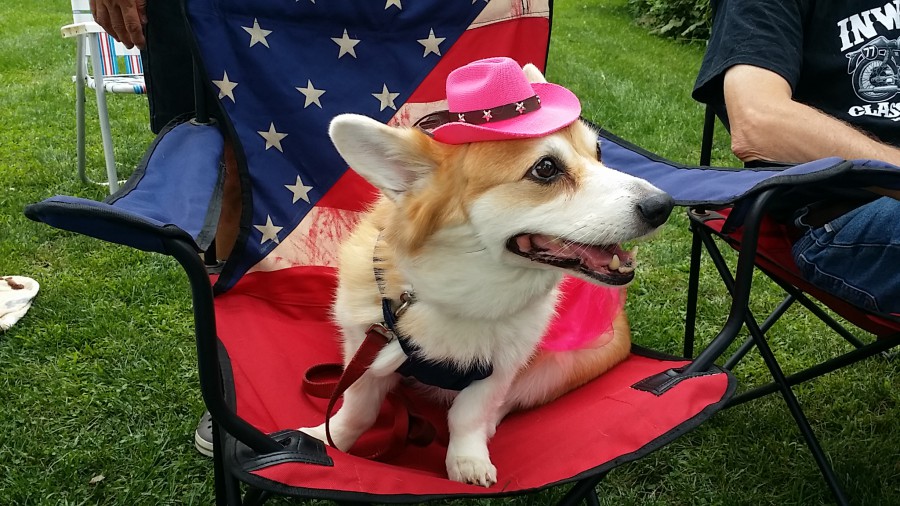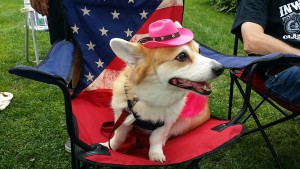 After we got to try on stuff there was THE parade.  Strut our stuff for all the non-pet parents to see what they are missing. And after the parade one of the pet parents treated us all to a frozen cookie!  Yummy!  I'm drooling just thinkin' about it.  Mom said she was her hero.  She has 6 dogs in her pack.  (Hmm, from this reporters 'spective, I think in MY house one more in my pack would be just fine. Can't spread the love that thin, unless we get a bigger moving house.)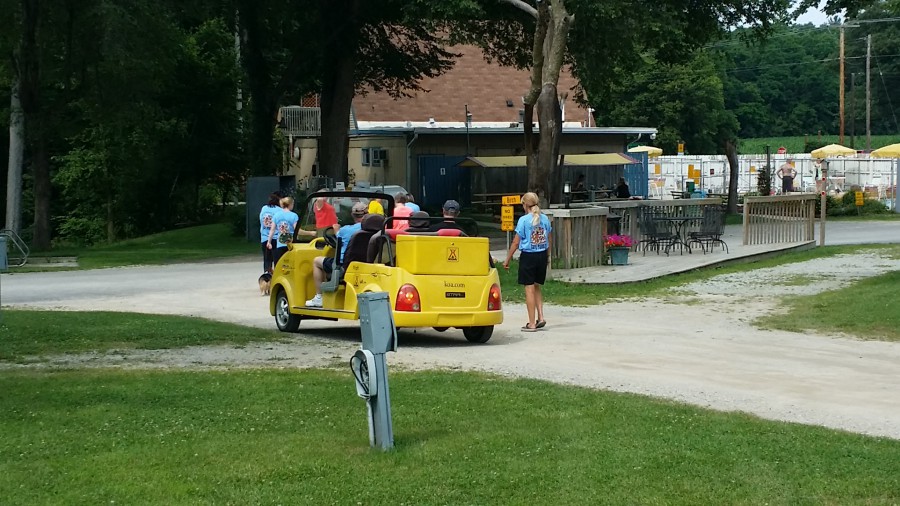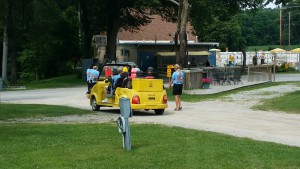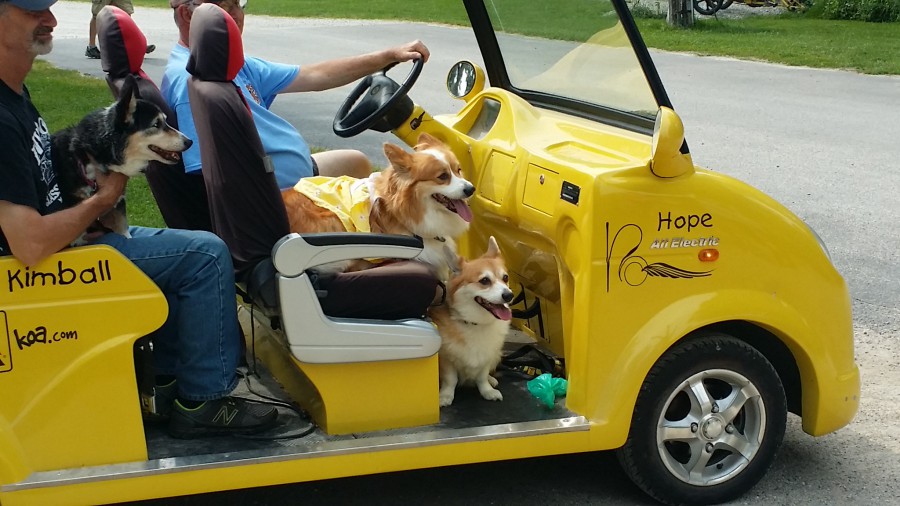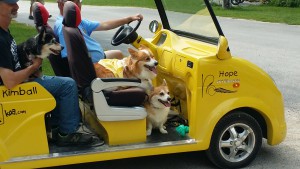 Anyway, I want y'all to sniff in your pet parents ears to take you to fun stuff like this. Maybe get on doggy FaceBook.  Start your own Dash-Hound Dazes, Pit-Picnics, Westie-Festies, Beagle Beach Day, Poodle-Pride, Scotty-Sunday, Terrier-Tuesday, whatever.  I could come up with all kinds a neat ideas.  We need to stand united on this and let our RVing pet parents know that dogs and RVs work really good together, and how easy it is to take us to neato stuff!. I had such fun that I can't wait to go cover another doggy event. 
Bark at me below to let this pup-reporter know what's on the pee-mail circuit out there in your campgrounds.
'Nuff said.  Happy Tails!
Lindsey out.