We have had three different refrigerators in the RV's we have owned: two were Norcold refrigerators and one was a residential fridge.  I personally would take the residential fridge over the gas/electric Norcold refrigerator any day.  However, in certain size RV's, it just makes more sense for the RV manufacturers to put in the absorption type units.
Norcold Refrigerator Safety
Certainly if you have either a Norcold or Dometic refrigerator you should be sure your unit is not on recall.  You can go to Norcold or Dometic's website to verify that you are not on the recall list.  Armed with your model, fridge serial number, and cooling unit serial number you can verify that your unit is okay.  You may also have to look for the upgrade kit that may have already been installed in your RV fridge if you have an older unit.  This is Norcold's process: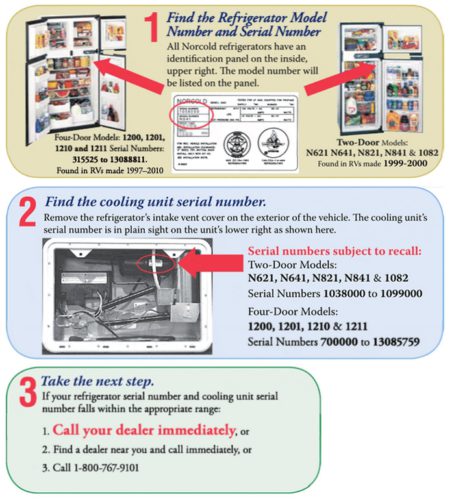 This is what you need to do for a Dometic Unit: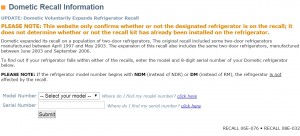 Avoiding Trouble
One of the best ways to avoid trouble with your Dometic or Norcold refrigerator is to be sure when you are using the fridge on either gas or electric, the unit is level!  I have heard RVers say I use my fridge all the time, and the unit is not always level, and I have never had a problem.
That may be true, but the damage that can happen occurs over time.  Each occurrence when the boiler overheats due to a non-level condition reduces the fridges efficiency not allowing it to cool the way it was supposed to.  Our previous Norcold refrigerator could barely keep fifty-five degrees when it was in the nineties outside.
That was in our previous 5th wheel RV before we put hydraulic levelers on it.  You see, even being off three degrees from level can create issues for your absorption fridges boiler assembly / cooling unit.  The best way to avoid this situation is to not run the fridge when you are in unlevel conditions: driving up and down unlevel highways and back roads and parking in unlevel areas.  That way you will avoid damaging your fridges cooling unit. 
If you feel your RV is not level, this is a good time to be sure your Dometic or Norcold refrigerator is not turned on.  Your fridge can stay cold for hours without power.  We can travel eight hours and the fridge will only drop a few degrees if we don't open the doors.
And by the way, you should never travel with your propane system energized.  It clearly states this on the safety placards in your RV, especially motorized RV's!  Early on in our RVing lives we were not told this fact. "Sure, you can run the fridge while traveling!  Don't turn that propane off, just leave it on and you'll be fine!"  
That's what the RV rental companies told us.  So we did.  Then a few years later we almost lost our RV to a propane fire if not for dumb luck that we decided to stop and look in the RV and we found a fire brewing.  But, this is what can happen!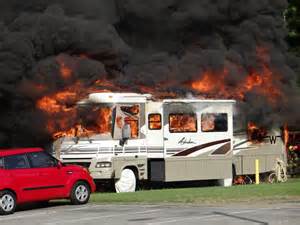 Avoiding a Fire!
When trouble occurs in the RV refrigerator cycle, the heat that normally drives the refrigeration cycle can become destructive.   If conditions have been allowed to occur, like operating in an unlevel condition over extended periods of time, trouble could be lurking.  When this heat is not controlled, fire will occur!  
Even Dometic and Norcolds recalls have not stopped their refrigerators from burning an RV to the ground.  The temperatures they are trying to control run around 355 to 400 degrees.  Those are the temperatures involved in these absorption fridges!
Norcold Refrigerator Solutions
The best way to avoid a fire is to control what happens in the refrigerator's Cooling unit.
Mac the Fire Guy is a proponent of installing a fire suppression system in the cooling unit area of the fridge.  It is a unit that releases a foam in the exterior fridge area that puts out a fire when the temperature in that area reaches a preset level.  I believe the best way to prevent an RV fridge fire is to automatically shut down the unit when the temperature reaches unsafe levels.
The addition of a twelve volt fan in the outside fridge compartment can get air to move more freely over the cooling unit and drastically improve the efficiency.  Camco makes a fridge roof vent kit that uses a fan and solar power.  It replaces the existing roof vent.
I will share another method I believe will also work well in a future blog. So, stay tuned, and as always feel free to comment if you wish!