Hi to all my fellow tree sniffers and leg lifters.  Lindsey here with my Weekly Bark Report.  I know, mom says I been bad cuz I haven't kept everyone up to date.  My bad.  I got really lazy with all this hot weather.  Makes my paws stink.  Does anyone else have "Frito Paws"?  Mom is weird.  She smells my feet and says they smell like Fritos.  What's a frito? 
I have to say this Corgi is loving living aboard my moving house.  
We just got back from visiting my Uncle Adam and Aunt Rebecca and that little pain in my face Rylee.  I love Aunt Rebecca cuz she gives me big chunks of apples and other treats. (Mom needs to be more like her. Hee!) Rylee tries to steal them.  I was hiding in my crate with a big old pillow in front to protect me and SHE pushes it away to try to get into my face, the little brat.  I was pretending to be nice in front of the camera!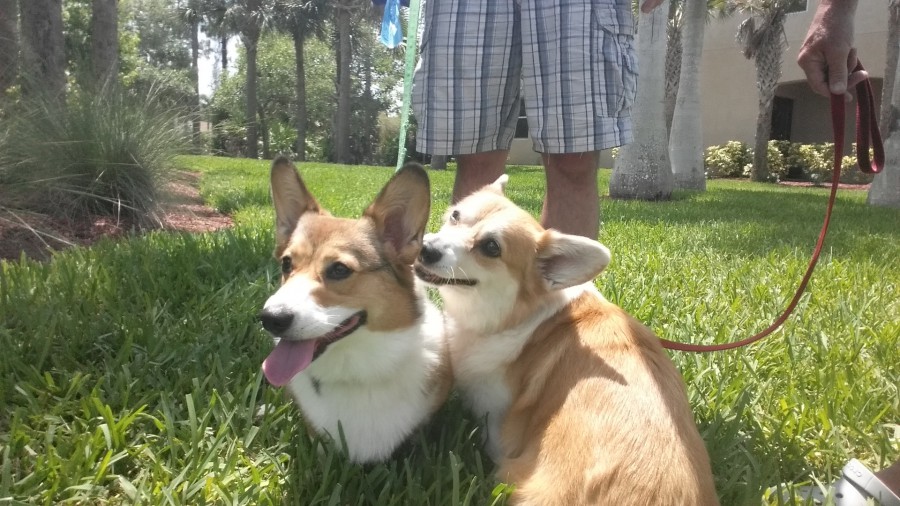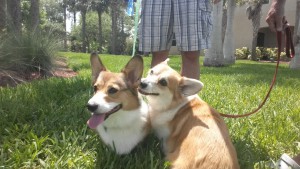 We also got to visit dad's bitch and stud.  I can't call them Grammy and Grampy.  I'm not sure why so please don't tell them.  It's boring there, you know.  All I get to do is sleep in the laundry room while they eat, drink and laugh. This is always my chance to really catch up on a good puppy nap, recharge my battery.
Next week is probably my favorite reason for loving the lifestyle.  We get to move!  We get to leave this place called Palmetto,  It's really kinda nasty here with lots of bugs.  I love sitting outside with mom and dad but we can't do that here.  Mom calls them no-see-ums. I don't know why, I can see-um.  Humans are weird. All these old people here that look worse than my grammy and grampy.  Can't even take a decent walk here cuz they let their furbabies in my face. GRRRR!  
Now we get to go to all different places and all the cool pee-mails to read and respond to.  This summer we get to move the house alot!  Mom said our first stop is the beach. It's called Care-A-Bell. I sure hope I can get sand in my toes there.  It'll be really fun to sit outside again and watch all the people go by.  I know dad will still have his nose in his phone cuz it's always chirping and clucking and pinging and ponging. 
Mom said after our little Lay Down time we are going to a bunch of new places for dad to teach his RV 'Spector classes.  One is called Rawlee for in the second paw-week in June.  I get to see Miss Carmen again.  She's really cool.  
Then we get to go see a couple other Corgi friends at Middlebury. That sounds like a cool place. Makes me want to bury my bone.  I think mom said it's in IN, or is it OUT?  I can't 'member.   Dad has 2 classes there. One last paw week of June and middle paw of July.  I can't wait to see Koi, Kiah and Kimball again.  Miss Hope and Mr Nick are neato.  They have Corgi-paloosa there so lots of Corgis come. I follow Kiah and Kimball on Facebook when mom isn't looking. .
Mom says after that we may even get to go to Canada for dad to teach a class in the 4th Paw week of July.  I don't know what Canada is but mom says it's really big, eh? I'm a little worried because I may get examined? I hope it's not like going to the Vet.
Next we go to Mercer, PAW first paw week of August.  Work work work.  All dad does is talk about RV 'Spections everywhere we go.  I'm not looking forward to going to Nagra Falls area after PAW.  I don't think I like the name, Bath, New York. I know what mom will be doing 4th paw week in August while dad is teaching if the name means anything.  E-ooooh.
Finally then after the dog days of summer, 1st paw week of October mom said dad will have a class near Chocolate, PAW.  Someplace called Manheim.  Any idea what a Man-Heim is?  Sounds like one of those foamy things mom and dad drink they call beers.
Okay I'm getting tired just thinking about all the traveling we'll be doing. I think I need a nap, again cuz I know after Chocolate mom said something about heading to Heebie Jeebies Springs in Ar-Can-Sis.  I'll tell you about that another time.  Time to catch some ZZZZZZs. 
Lindsey out for now.