TIRE SAFETY MATTERS!
Of all the things on an RV that matter the most, RV tires should hit the top of the list.  When an RV tire fails, whether it is on a trailer, 5th wheel, motorhome, or any other class of RV, the damage that can be done is costly!  Think about the fact that the entire investment in your second home rides on rubber and air.  Unfortunately, when RV tires choose to fail is usually when you are traveling down the road at fifty-five to sixty-five miles per hour.  The cost to repair the damage can run in the thousands, not to mention a ruined vacation or even the possibility of loss of life!  So, let's look at when to replace RV tires and my choice of Michelin RV tires.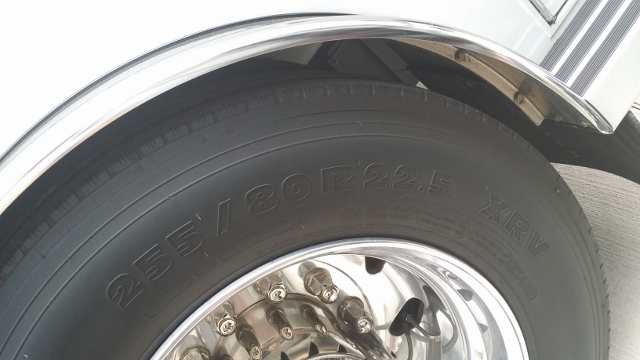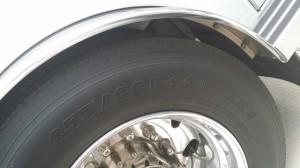 When Pam and I purchased our first full time RV living home back in 2008, it was a 2006 that had been manufactured in late 2005.  It was barely used, looked brand new, as did the tread on the eight tires it had. However, there were very tiny cracks in the outer sidewall near the tire rim. I was not too worried about that though. They were the factory originals and the tread wear was nonexistent.  I suspect that the RV had not traveled much except for its trip from the factory to where we bought it. When to replace the RV tires was not even going to be a concern of mine for years, so I thought.
When we purchased our used tow vehicle, a 2005 Freightliner Sportchassis in early 2009, it had been kept garaged by the owner, and looked like new! The DOT code on the Michelin RV tires showed a manufacture date in early 2004. So, when I purchased this used truck, it already had five-year-old tires.
They also had very tiny sidewall cracks in a few areas.  Now Michelin RV tires are very highly rated, especially the XRV's, so I did not worry too much about them either.  I figured I had a least a couple more years of use as they only had twenty-two thousand miles on them.  I did wind up replacing them in 2010 because it was not worth the damage that could have been caused by an aged related issue from a Michelin RV tire failure.
During an early summer trip in 2009, with tire pressure monitors installed on the 5th wheel, we headed for South Florida and ultimately to the Keys. The weather was hot and the tires were fifteen degrees above cold pressure.  As we neared our stop for the night, one of the tires started to slowly loose pressure: our tire pressure monitor system went into alarm mode.
We got to our planned stop safely as tire pressure loss was within safety limits, but I suspected the tire was shot. Fortunately, because of the tire pressure monitor system, I was alerted to the problem and was able to arrive at my destination safely.
Short end to the story is we had all eight tires replaced as the one troublesome tire had a hole through the tread and a crack right through to the belt.  The tires were only four years old.  But they had sat in the sun most of the time and had been stationary.  When tires sit they age more quickly.
With RV tires that roll and flex frequently, they wind up pushing emollients and waxes to the surface of the tire which protects them from ozone, cracking, and from drying out as quickly.  Tires that sit can develop flat spots and visible surface cracks that eventually lead to tire failure when the tire is heated up in travel.
So how do you know when to replace RV tires?  The best rule is to go no more than seven years if the tires have been used regularly.  If the RV sits out most of the time it might be better to replace them every five years. My tires were only four years old, and they failed.  I would attribute the early failure to being around the salt air, the RV sitting, and the tires not covered.
If you are buying a used RV, be sure to not only check tire tread depth, even tread wear and sidewall tire cracks, but also check the DOT code on the tire.  The four digit code will tell you when the tire was made.
The tires can be as much as one year older than the RV itself – I found that one out the hard way.  Also, when your RV sits, use tire covers, take the weight of the RV off the tires either by using the RV jack system if available, and keep the tires away from ground contact as the tires can absorb water. RV accessory manufacturers make blocks you can use to pull the RV onto for this purpose.
And last of all, travel with a tire pressure monitoring system so you always know the pressure your tires are running at.  These devices allow you to travel without worry!  You will be able to avoid severe tire damage because you will know ahead of time that something is wrong.
If a tire should suddenly blow on tour trailer or toad, you will know instantly so you can pull over to avoid serious damage to the RV, and possibly your loved ones. Blown tires on inner duals can lead to RV fires!  The same can tear up the underbelly of an RV trailer, and you may not notice it for miles until some passerby waves at you to pull over!
Pam and I have seen many results of failed tires, and the damage done, from other RVers, and it is something to take seriously.  In deciding when to replace RV tires, the best rule of thumb is no more than five years, or as often as you can afford to.  At least monitor them if they are older, and be sure to travel at the proper tire cold pressure, based on your RV's weight. If you do then you will have many miles of stress-free travels!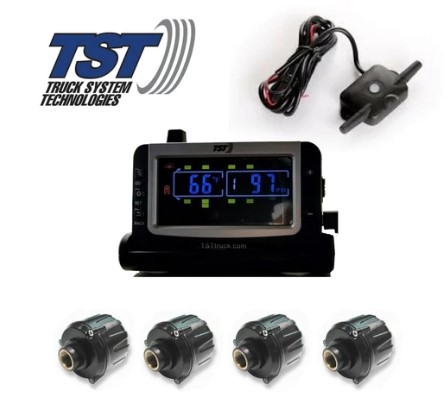 How do these things work?  All you do is screw the remote sensor onto any tire you want to monitor.  The monitor wirelessly sends a signal to the remote unit by the driver's seat.  It will show current tire pressure instantaneously while you drive, or are stationary.
No more guessing what your tires pressure is at before you hit the road. And the monitors last for years!  If the pressure drops below twelve percent of total pressure, an alarm sounds for the driver to hear.  One saved tire, and the avoided RV damage buys the system many times over!  It's really the best way to go for RV's that don't already have these installed, especially 5th wheel and travel trailers!
Blessings and happy travels,
Howard & Pam
Please feel free to leave comments if I can answer any questions you may have!