Hi everyone! Winston here. This RVing Corgi update has been saved for Lindsey to write since she is the senior Corgi in our family. But I am saddened to say she went over the Rainbow Bridge on February 3rd, at 2:56 PM CST.
She had a good life and spent her years traveling the country with Mom, Dad, and Maya, and then me when Maya went over the Rainbow Bridge back in 2013. Lindsey was with Mom and Dad all of their full time RV life that started in 2008.
I am a newcomer to the whole thing but have been with Mom and Dad for a little over two years now. I have been the biggest spokesdog for their business and even have my own Facebook page.
Lindsey lived to a ripe old age of sixteen years and seven months. She had pretty bad doggie dementia, had to wear diapers, and had all kinds of other issues too. The vet felt she had no quality of life. So, bye-bye my sis-fur! I'll miss you even though you were always trying to bite me. Even in her old age, even though she could not see or smell, she would snap at me with her teeth. She did have an evil streak.
So, now it is my responsibility to post updates to Mom and Dad's full time RV living website.
It was a busy Fall for Mom and Dad as they had lots of RV inspection classes that they have been teaching since getting back to Athens, Texas with Miss Tiffy Too. We did manage to get away again several times to visit the gulf coast of Texas. Galveston Island is only a day's drive from Athens so short trips to the beach are fairly easy. Mom and Dad prefer Port Aransas, but that is almost twice as far. That's not usually a big deal but with Covid and other concerns, Galveston had to do.
Since getting Miss Tiffy Two, we have put about 3,500 miles on her. Dad is really enjoying the Liquidspring system that is now being installed in Tiffin gasser motor homes. It makes the ride of the Ford F53 chassis so much more comfortable. With the three ride choices of sport, normal, or comfort mode, I am so much more comfortable. I am the one riding on the floor and not in a big comfy seat. Although I have been hanging out in Mom's lap lately.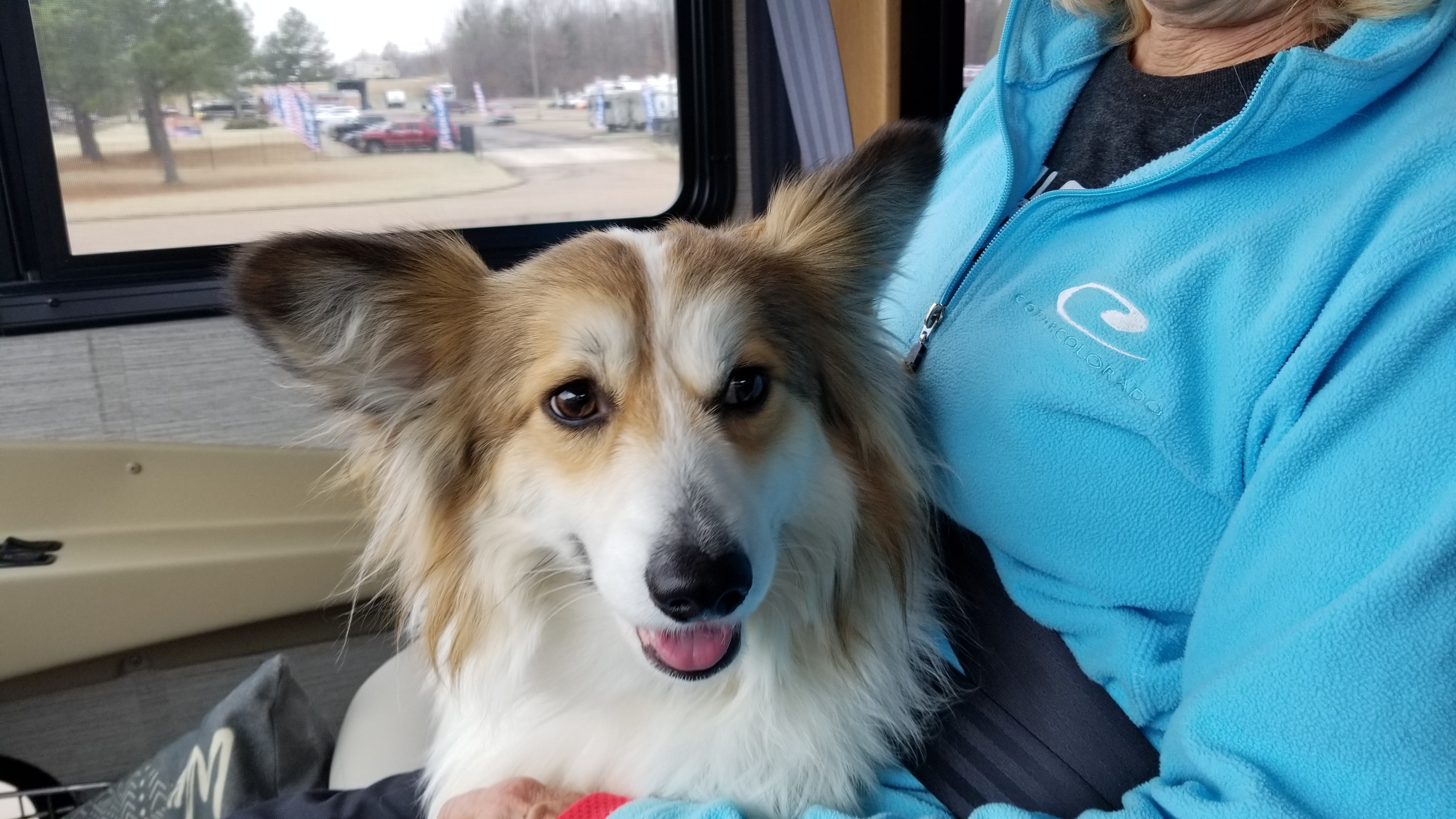 I am so spoiled, just as I should be! It could also be that Mom is still missing Lindsey and I am the fortunate benefactor of her need to hug a Corgi. It's all good!
At the time of my writing this post, we are in Red Bay, Alabama at the Tiffin Service and Warranty Center. We are here for issues that need attention on our full time RV living home. Dad created this really cool RV inspection report so the service center would have a clear understanding of what needs attention. This is the same thing he does for his RV clients. It's like a home inspection for an RV.
Unfortunately, an ice storm moved in. From what I have heard Mom and Dad say, the whole country was in a frigid state. Even the state of Texas, for the first time ever, the entire state was under a winter storm warning. Our RV home was covered in ice!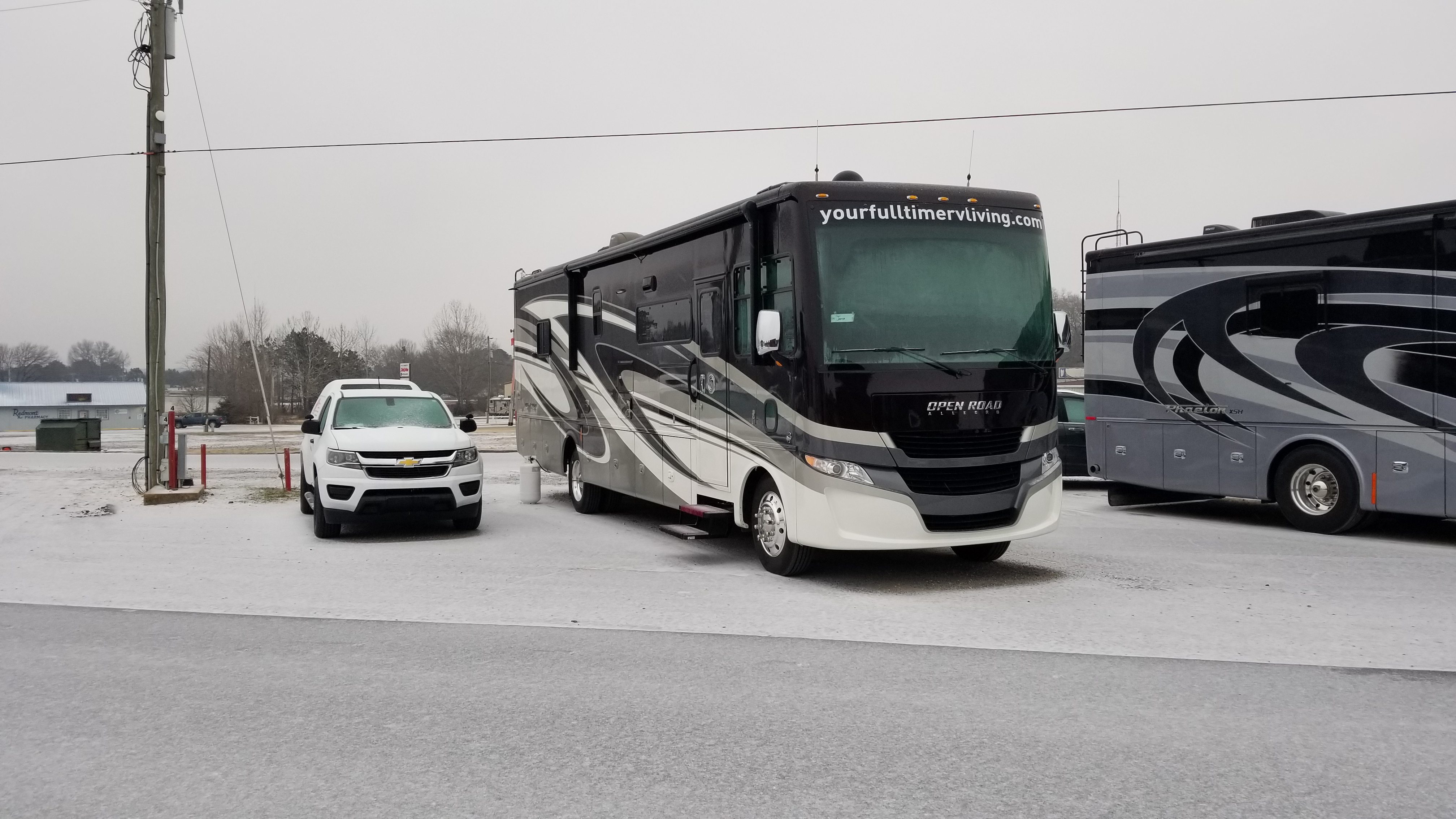 That's a thin layer of ice on the road. It got worse before it got better!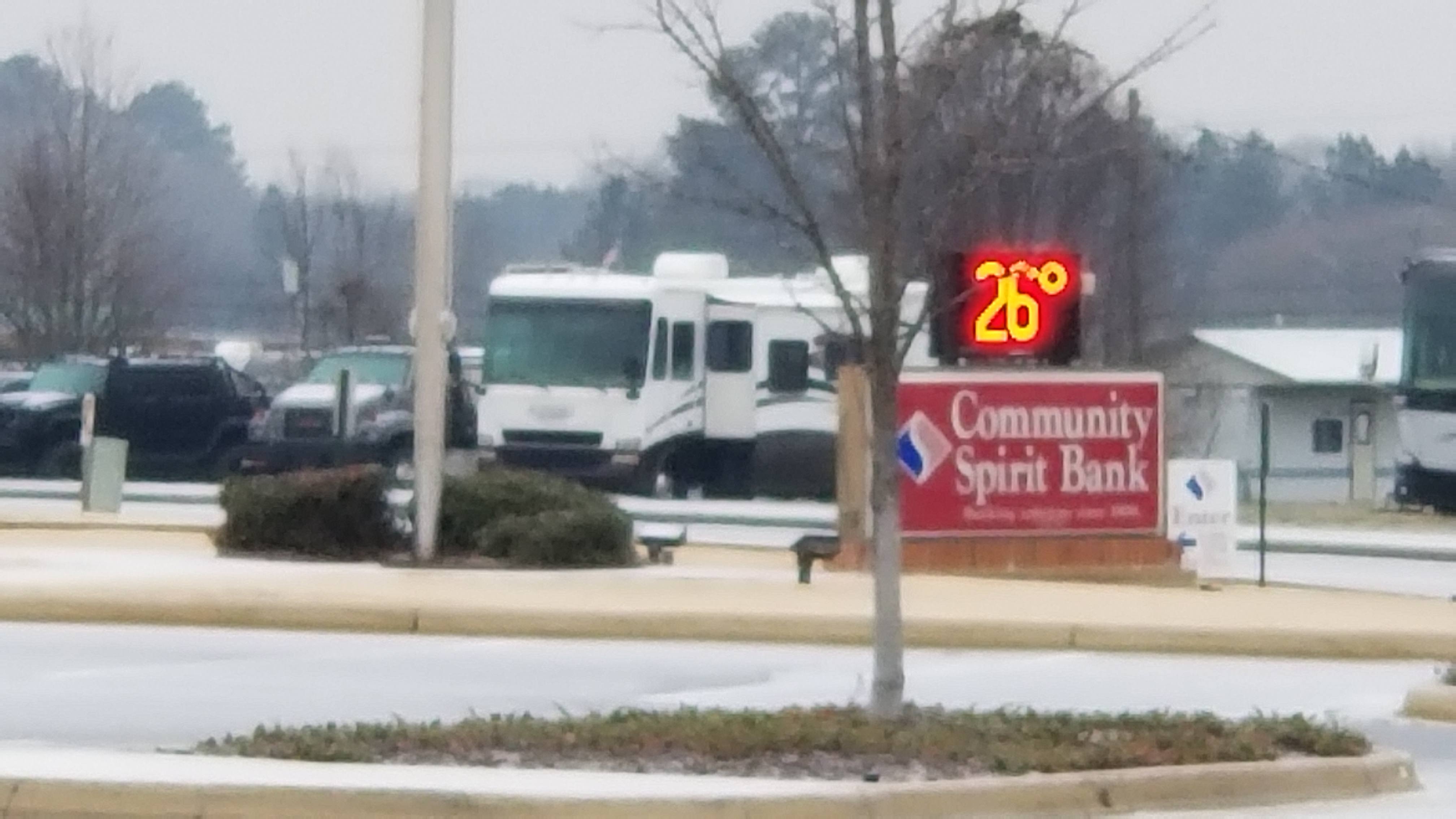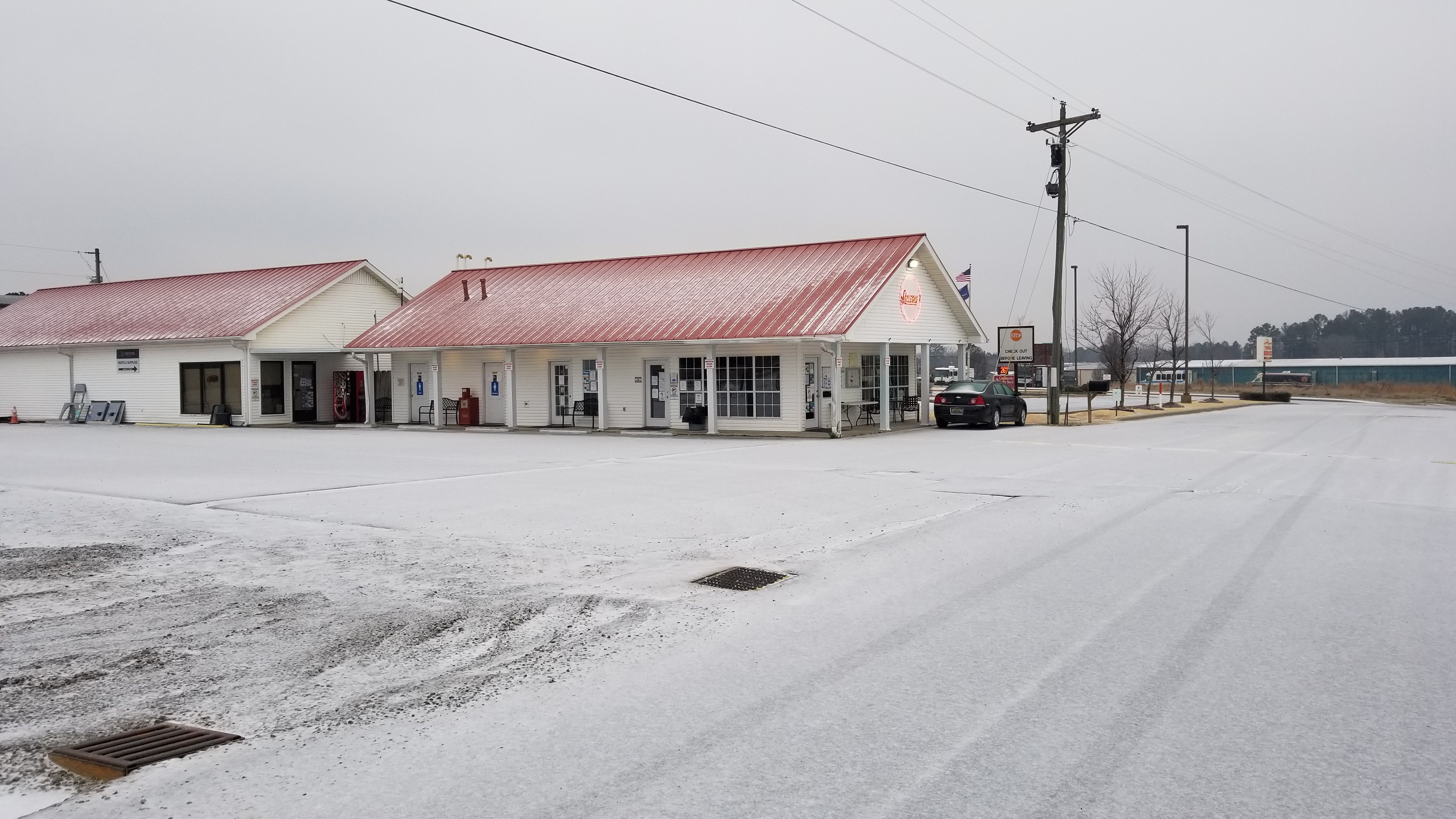 When you show up for warranty work at the Tiffin Service Center and Campground, you check in and wait to be called for service. They do not take appointments. To stay onsite, the verbiage that is printed in their welcome packet states, "to stay at the onsite campground you must be within the first year from the original date of purchase." Otherwise you have to stay at one of the nearby RV parks that are in Red Bay.
Since we meet those parameters, we stayed at the onsite Allegro Campground. We checked in on a Tuesday, and by Friday we had moved up from thirteenth on the list to ninth. We had to stay the weekend and through the ice storm which hit on a Monday. The service center was closed on Monday because of the ice storm, so we just had to wait. We thought about leaving and heading south, but it was pretty much the same everywhere that was within a few day's drive, so we just stuck it out.
Check the next post when it becomes available. I will let you know how it all turned out!