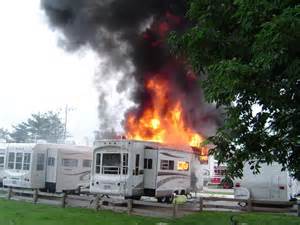 When it comes to RV fire safety, you must take the necessary steps to be prepared! We learned this one the hard way and almost lost our RV and all we owned!  It was because we were relatively new full time RVers and trusted the advice of others without checking the facts.
It was an RV trip back in May of 2010. Pam and I were coming out of Wisconsin after visiting with her Dad and brother's family. We were just about to cross into Illinois and decided to stop to fuel up.
Our 5th wheel RV had a Norcold refrigerator that when we traveled, we left the propane on to keep it cooling.  That is what we did when we rented RV's!  That was the advice we were given by the rental agencies.  In fact, one rental company told us to not touch the propane tank.  So we didn't!  We just left the tank valve turned on all the time.
We pulled into a Flying J truck stop to get some diesel fuel.  We had to use the truck lanes due to the dual tanks on the Freightliner truck.  Driving through some of those truck stops can be a challenge due to the heavy ruts from the weight of the trucks and the compressed asphalt due to hot weather.
We pulled into a fuel lane, filled up, and decided to stop for a bit to take a lunch break. So I made my way through the maze of the rutted parking lot with the 5th wheel doing a bit of side to side swaying, and we found a place to park.  We were nestled in between a few trucks, but we had enough room to get out.
As I usually do after traveling with the truck in hot weather, I let it idle for a few minutes to give the turbo time to cool down.  I was sitting in the truck, and Pam went back to open up the RV.  I was logging mileage and doing some mid-trip checks.
Pam opened the door to the 5th wheel while I was still in the truck and I heard the words no RVer ever wants to hear or see, "Fire!"  She screamed loud enough to attract my attention and that of those around us!
I immediately ran to the street side of the RV and shot off the propane tanks.  I don't know what made me do that, but I did!  I have never been a big fan of propane usage in an RV due to its volatility!  I shut off the tank and ran to see what was going on in the RV.  The fire extinguisher was at the door, and I was ready to do battle!
The RV was filled with smoke!  The fire was at the propane stove.  When Pam opened the door, she saw the stove was on and heard the clicking of the piezo ignitor.  Since I had just turned off the propane, the flames had stopped, but the stovetop cover was still smoldering as it took the brunt of the flames.  The fire had started to work up the side wall of the kitchen slide.
We got the burnt stovetop cover out of the RV and the horrible smell that came along with it!  The trucker next to us heard all the commotion, and he told us he was ready to get the heck out of there!  We had just caught this in time!  Had we not stopped for a break, the RV, and the truck would have been a goner.
Once a propane fire starts, it takes only a few minutes for it to engulf the entire RV, especially at highway speeds!
So what happened?
Remember me mentioning the rutted parking areas at the truck stop?  Well, apparently during the side to side swaying while moving the 5th wheel after fueling up, the plates in the cabinet above the cooktop fell out and hit the controls knobs.  It turned one knob to full propane usage and the other to the engage the piezo – a one in a million chance! We had never had any issues with the cabinet doors before!  After that we did decide to bungee them closed during travel!
So, one cooktop burner was going full blast and burning the Corian cooktop cover creating a toxic gas and a lot of heat build up.  We had a wood bowl on top of that cover held in place by a rubber mat.  That burned as well as part of the wood bowl.  That is how hot the cooktop cover got!
This all happened in a matter of two minutes.  Again, imagine if we had not stopped! Now, what if I was traveling with the propane tanks turned off?  Would that have been a better idea?
Now that Pam and I have been out full time RV living for eight years, and teach people how to be RV inspectors, we are a lot wiser and have more of a mindset towards safety!  We have attended lots of RV shows and rallies!  At one of these shows, we met a gentleman named Mac McCoy.
He has been a firefighter for more than three decades.  He was the fire service training coordinator for the State of Oregon; he has a bachelor's degree in Fire Science and Masters in Fire Administration.  Since 1999 he has lived full time in his RV and traveled the country talking about RV fire safety.  He is one source I would highly recommend you listen to when it comes to this subject!
If you get a chance to catch him at a local rally or RV show.  It would be worth your time to attend his seminar!  He always has lots of RV fire safety items and information that can help you be prepared for a possible RV fire!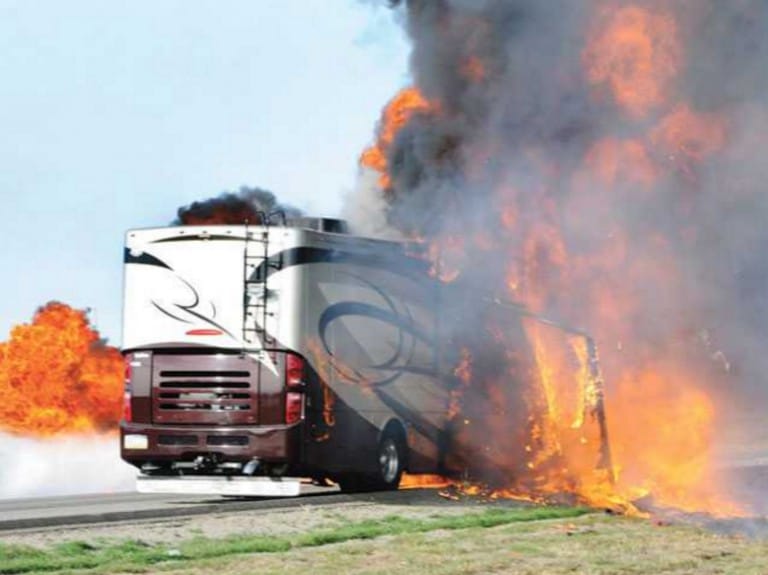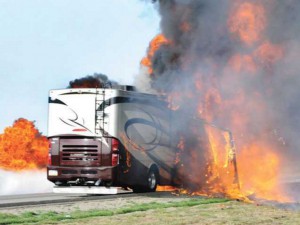 Here are several things you can do to keep safe while traveling in your RV, both on the road and while parked!  You can find more of these from Mac at macthefireguy.com. Tell him Howard and Pam sent you!  Here are some of Mac's recommendations:
Driving with the propane system on can add danger to you and your RV if you are involved in an accident or have a fire.  We learned this one the hard way!  It was almost catastrophic!   Most people leave the propane system on to keep the RV refrigerator cold.  The fridge will stay cold for eight hours during travel if you leave it closed.  As Mac says, "shut the propane off at the tank when traveling in your RV!"

You should have at least three fire extinguishers in your RV!  One should be in the kitchen area, one in the bedroom, and one outside the RV in a readily accessible storage area.  Everyone in the RVing family should know how to use it and where they are!  You also want to be sure you have the right extinguisher for the fire you are fighting.

Have a plan of action before a fire occurs!  Think about what you would do if you have an engine fire, a refrigerator fire, a cooktop fire, or an electrical fire.  Do your research so you can avoid any of these types of fires from happening!

Know your escape routes out of the RV!  Be sure your emergency windows work and know how to use them.  Imagine having to get out of the RV during a stressful situation.  Be prepared to get out of the RV quickly and how to best do that.

Test your safety systems monthly, or a least before each RV trip!  Check the smoke detector, the carbon monoxide detector, and the LP gas detector to be sure they go into alarm.  If they are older than five years, and they don't have an expiration date on them, but a manufacturer date, replace them with recommended RV application units.  Those from the home improvement` stores are not the best for RV's!

The first rule of fighting a major RV fire is to save the lives of the RV occupants first and property second!  Get everyone to safety first before attempting to extinguish a fire.  Only after everyone is safe should you attempt to put out a fire with the devices you have accessible in the RV!

Something people don't consider when the RV is parked at a campsite is to have an extra hose hooked up or a quick disconnect on your water hose.  If your RV, or a neighbors RV, becomes involved in a fire it may make the difference in being able to save or protect your RV from further damage.
Again, have a plan of action for many possible situations!  Don't think it won't happen to you!  If you are prepared and have taken the necessary steps to avoid an RV fire, chances are you will be enjoying your RV for many years to come!