When it gets cold an RV can be a chilly place to inhabit!  RV propane furnaces are designed to adequately heat RV spaces, but they consume propane at a rapid pace.  Some people turn to electric space heaters to cut the chill.  So, what is the best electric RV heater to help you when the weather turns cold?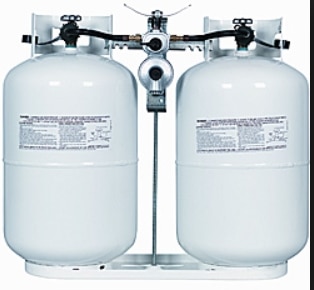 For travel trailers and 5th wheels, it is fairly easy to pull the propane tanks out of the RV and get them filled.  If the RV park that you are staying in sells propane, it can be a quick exchange to get heat back on in the RV.  If you have to locate a local propane facility this can be more of a challenge.  Propane can also be expensive!  And, RVers feel like if they are paying for electric why also pay for propane, so they look for RV space heaters to solve the problem.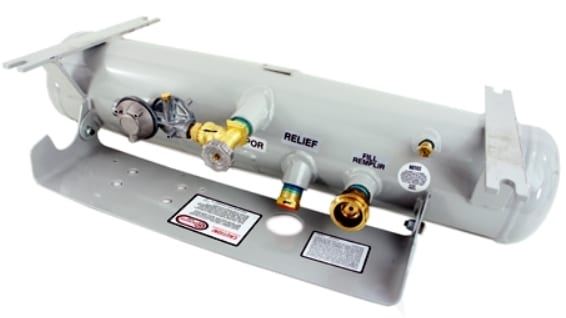 For those of us that have motorized RV's with ASME propane tanks, this can be more of a challenge.  For those of us that live full-time in our RV's, and work camp in a location for months on end, getting propane is an issue.  It involves unhooking all services, retracting slideouts, getting interior items ready for travel, and moving the RV to a facility that can fill the ASME tank.  We have found that not all propane sellers have the equipment to fill RV ASME tanks.
What we have done is to augment our heating systems by using an RV space heater.  The heating sources we have installed on our RV, which we call Miss Tiffy, is a Suburban propane heater, a Coleman Mach heat pump that is part of the roof AC unit, and a fireplace unit that puts out about five thousand btu's.  When the temperatures drop below forty degrees the heat pump is not able to be used due to how it produces heat.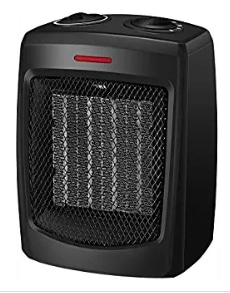 Our problem is not that we don't have enough good heating sources in our full-time RV home, it is that when the propane heater is used the seventeen-gallon propane tank will be empty in a few days.  Then we have to move the RV to get it filled. 
Whenever we move the RV there is always a list of things that need to happen before the RV can hit the road.  Whether we move it one hundred feet or one hundred miles, the same things have to happen, and they take time.  When we move the RV we want it to be because we are traveling to a new location, not because we need fuel.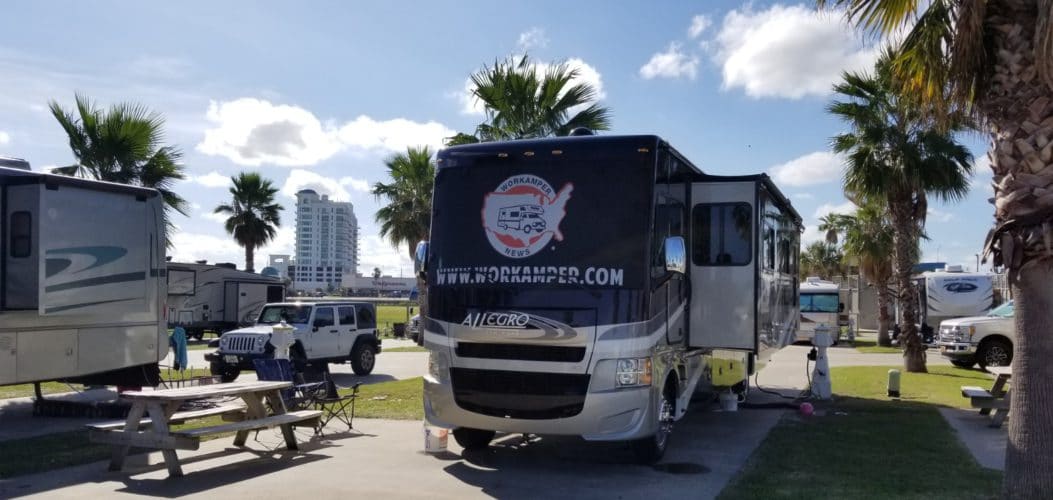 Now, we can install what is called an extend-a-stay system to the ASME tank that allows us to use a small refillable DOT tank.  But, after having used an RV space heater in our RV's, we prefer to do that instead.  Plus I really don't want to be carrying an extra propane tank.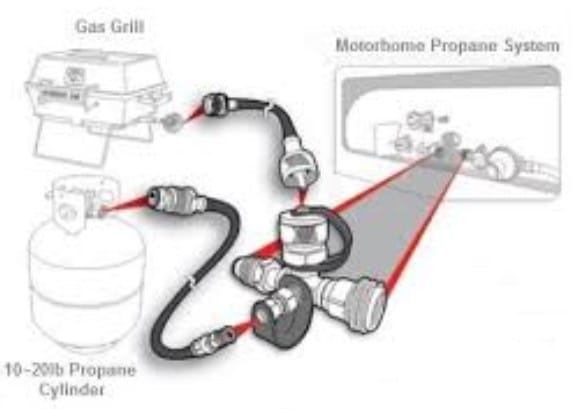 So what did Howard and Pam decide was the best electric RV space heater for Miss Tiffy?
Over our years of home ownership, and RV ownership, we have used many electric space heaters.  In our basement, in our large Colorado home, we used infrared space heaters to cut the chill.  We lived at 9,300 feet above sea level.  It was cold nine months out of the year!  We also had ceramic space heaters and oil filled space heaters, the kind that looks like an old-style wall radiator.  Of all the types we used we liked the infrared heater the best.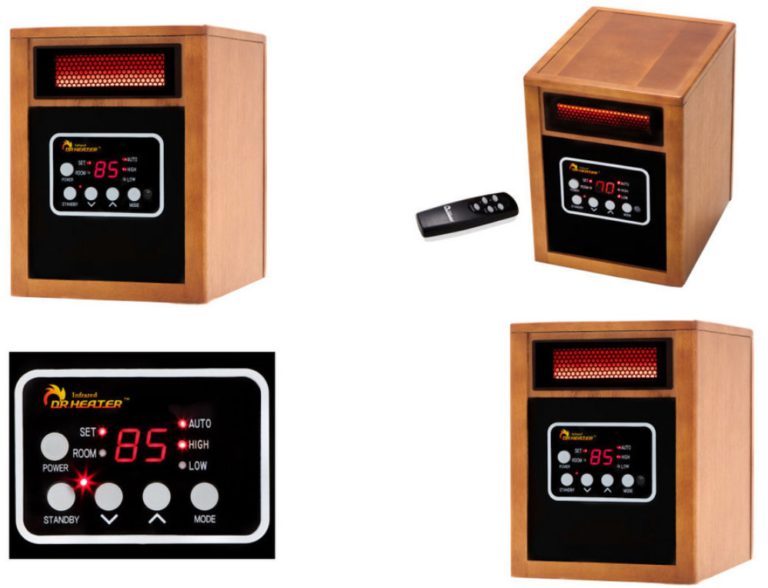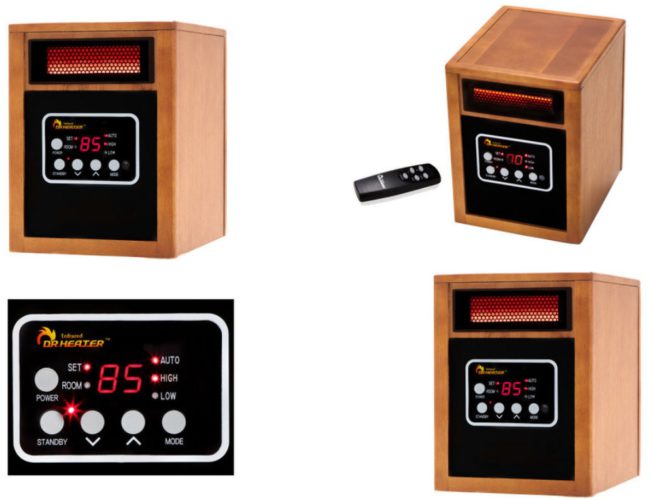 In fact, when we sold the house to begin the full-time RV lifestyle we kept the heaters and used them in our first full-time RV home.  They worked great but they were just too big to use once we got our next full-time RV home, so we sold them.
Now that we have Miss Tiffy we decided to augment our installed RV heating options with another infrared heater.  The question was which one?  When we bought our others they were close to $500 each and they were the size of small end tables.  So my thoughts were, have they reduced in price and size since I last purchased one?
Since I am a big fan of Amazon and a member of Amazon Prime, I decided to start my research there.  I searched RV space heaters and electric space heaters and came up with many options.  Then I started looking at space heaters that could heat larger areas like living rooms.  Since our RV is a little over three hundred square feet, I was looking for a unit that could handle double that due to we live in an RV, not a house.  It is not as well insulated as a house.
So here is what information I found and used to make my decision on the right type of RV space heaters that would work for our needs.
Why Choose an Infrared RV Space Heater
Most RV space heaters are noisy.  Before purchasing our infrared heater, we bought a little 1,500-watt ceramic unit for our previous RV, Frank.  Frank was much smaller than Miss Tiffy and we needed an additional source of heat during a cold spell last year.  When it got down to sixteen degrees around the Dallas area, we had to do something to keep things from freezing.
The little ceramic heater did the job but it was noisy, its exterior surfaces got extremely hot which concerned us with our dogs, and we could not leave it unattended without worrying that it could cause a fire.
I still have the heater and use it as a backup if I want to warm the plumbing bay, but we now rely fully on our infrared heater.
Here is a list of infrared heater benefits that I used to make my purchase decision:
Not only is it quieter than competing types of space heaters but instead of using a three-inch fan the infrared heater uses a state-of-the-art seven-inch blower that creates higher pressure and moves larger volumes of air at lower motor speeds, thereby reducing noise.  While running it only records 39 dB.

Safety is a big concern for us while using electric space heaters in an RV.  So, having overheat and tip-over protection built-in, as well as a 12-hour automatic shutoff feature and a heavy duty power cord, that gave us comfort in knowing we can use the space heater while not attending to it and while sleeping.

Infrared heaters heat the objects in the room, unlike other heaters which just heat the air.  Since hot air rises to the ceiling you feel less comfortable because of the drafts that are created.  By heating objects in the RV and not the air, an infrared heater provides better warmth and is more energy efficient.  So, if you are staying long-term in an RV park and have to pay for electric, this RV space heater option could save you a few pennies.

When tested against other competing heaters the infrared heater heated the same amount of space much faster than other heaters at twice the price.  At 1,500-watts the infrared heater delivers sixty percent more heat than traditional space heaters at the same wattage.  How is that possible?  The infrared system allows for greater heat production without using any more energy.  It's all about the heat transfer process.

Infrared space heaters will not dry out your skin like conventional space heaters which push out lots of hot air stripping the room of moisture.

Our particular choice of Infrared heater brand has three power settings: it has an auto feature with a thermostat, a low 1,000-watt setting, and a 1,500-watt setting.  The auto feature allows me to set the room temperature anywhere from fifty to eighty-six degrees F.  It then chooses between the high or low setting to keep the room at my desired temperature setting.  Cycling on and off was a feature that I wanted in an RV space heater.

The unit is designed to run 80,000 hours, it has a 3-year warranty, and 30-day money back guarantee.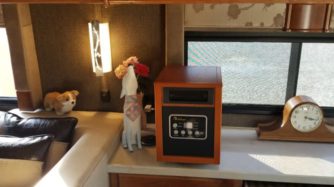 All these features made my choice for an infrared RV space heater a comfortable one.  Compared to other options I researched at the same price, my choice was easy!
Pam and I want to thank you for stopping by!  we hope the information we shared here will be helpful as you research ways to stay warm when full-time RVing in the winter months.