An RV surge protector is designed to assist you when plugging your RV into an unknown power source such as an RV park, a storage unit, a friends home, etc.  The RV surge protector is designed to analyze the power source for a proper ground and neutral, not have reverse polarity issues, and no high or low voltage issues.
Once the power source checks out the RV surge protector lets 120-volt power through to the RV.  While plugged in it also monitors for changing conditions like surges and high/low voltage issues.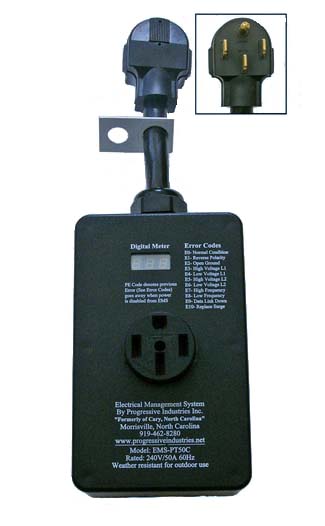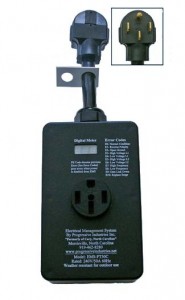 You can carry a voltage meter as I see some do, but that does not protect you as conditions change while the RV is plugged into its power source. And yes, they do change all the time!  So, the best solution I have discovered is a portable electrical management system: an RV surge protector. It is that, and so much more!
How does an RV surge protector work?  Well, the same as they do on your electronics at home.  The only difference is that this device can be plugged into the power pedestal at your RV site. They also come in a kit that you can direct wire to your main power feed.  They are available in both 50 and 30 amp models.
You plug your RV's power cord into the RV surge protector and flip the breaker on.  It will take a few minutes while it checks the incoming power source for proper voltage, frequency, grounding, neutral condition, and reverse polarity. It monitors power conditions constantly so that if something changes, the unit cuts power to the RV, thereby protecting your expensive electrical items.
What Could Be Ruined Due to Improper RV Electrical Power Supply?
AC units at $600 to $1,200 each

RV refrigerators at $2,200 to $4,500

Televisions at $250 to $1,000 each

Other entertainment components

Blown control boards on RV appliances . . .
The list goes on!
There have been many times that my unit has shut my power down because of a problem.  When it does so it flashes an error code to let me know the fault condition.
When RV parks reach full capacity, the quality of electrical power tends to diminish. One older park we stayed at had mostly RVers that were in 30 amp trailers and they used every bit of 30 amps!  The condition they created was a drain on one leg of my 50 amp service.  The voltage would drop below 104 volts during peak usage.  That condition can ruin appliances like refrigerators and AC units.  What the RV surge protector unit does is cut the power till the condition improves.  Most times I just notify the park management and they fix the problem.
A few summers ago we were staying in an RV park during the hot days of August.  The temperatures were in the upper nineties and our ac units were running non-stop.  In the middle of the afternoon, the power went out – yikes! Not a good time to be without power!  I checked the unit and the error code was for low voltage.  The power returned shortly but the breaker was extremely hot.  We called park management and they replaced the breaker.  It was failing! Had it not been for the RV surge protector unit's notification, who knows what would have happened?  I suspect some burnt wires and perhaps even an electrical fire.
If you travel in an RV there is no question you need to use one of these devices!  It will pay for itself over and over again!  RV park electrical power is known to be one of the worst sources of RV electricity. From my experience, the reason this is true is that it's maintained by park owners and work campers who are not qualified to be working on the electrical system.
The unit I currently use has been repaired four times because the power source we plugged into was bad.  It basically blew out the internal circuitry.  Better that than my RV electronics!  If this happens while the unit is under warranty, the manufacturer will repair or replace it!
Let me tell you another recent story!  We were in the panhandle of Florida during some heavy spring rains.  In a matter of less than a twenty-four hour period, we received almost two feet of rain.  There was major flooding, including my RV site.  The electrical pedestal was mostly underwater with my RV surge protector plugged into it. After the waters receded, the unit was basically still working, but giving faulty readings.  I called the manufacturer and they told me to send it in and they would fix it.  I have been using the same once since 2009!
I rest assured that when I travel I don't have to worry about the electrical power being supplied to my valuable RV electrical items!  So no, I don't think anyone should be without one, especially if you are enjoying the full time RV living lifestyle!
RV Surge Protector Update
The technology is changing with these RV surge protectors!  For years it has been that once you plug in the unit it takes a few minutes for the unit to let power pass through to the RV.
So, if the unit shuts down power for a suspected problem, like low voltage, it will take a few minutes to turn the power back on once the condition is corrected.  That can be a bummer if you are in the middle of your Sunday afternoon football game!
The new Surge Guard unit now only takes ten seconds!  As one who has been using once since 2009, I really appreciate this new advancement in the technology!
Just a brief remark on the quality of the Surge Guard.  They are owned by a company called Southwire.  They are the largest producer of electrical cabling in North America.  The only conclusion I can draw from that is that they know a few things about electricity!
All of the cabling and plugs on these new Surge Guard units are designed by Southwire and what is used in most electrical industries.  These Surge Guard units are built with a high degree of quality and precision!
Is it possible for your RV to suddenly develop an open neutral condition somewhere between the plug and the electrical panel inside?  This could really create a problem!
Now the problem is solved with this new RV surge protector model!  These are the only 30 and 50 amp units on the market providing this level of protection.
The current brands and models that you can buy only detect issues with the incoming power.  The new Surge Guard detects open neutral conditions inside the RV.  It also protects against elevated ground currents from inside the RV.
Open neutral conditions or elevated voltage issues are more common that you may realize.  Issues involving poor connections in a junction box, a transfer switch, or from the main breaker could cause serious problems for the RV!  Road vibrations can cause a myriad of issues to the electrical systems of an RV.
The RV owner using this Surge Guard model is not only protected from the power going into the RV but also protected from the power that is being consumed inside the RV.
A few other things that have been added to this next generation of RV surge protector is the increased brass thickness in the units receptacle plugin.  This helps to better reduce heat.  Without this upgrade, the brass blade receivers can become loose and develop a poor connection with the RV shore power cord.
There is also a locking ring that can be used to secure the unit to the RV park's electrical pedestal that can accept a cable lock or chain to protect the device from walking off.
There appears to be no doubt that the Surge Guard company has the highest level of RV electrical protection on the market!  With 4,200 joules of protection, it is the new standard in the industry.  Its closest competitor is only rated at 3,580 joules!
Please feel free to leave comments if I can answer any questions you may have!
Blessings,
Howard and Pam
PS – The folks at TechnoRV, Eric, and Tami Johnson, have the best customer service and prices on these units!  Feel free that you can buy with confidence from these folks!!