As I have mentioned elsewhere on this website, I love the RV lifestyle!  So much so that I live in mine all the time!  It is a great way to see the country, to work where and when I want, and to visit and stay in places that I choose.  Since hitting the road in 2008, I have learned many things along the way: some by the advice of others and some by my own doings.
When you travel in a big vehicle the chance for things to go wrong is greatly increased, unless you are prepared.   Ask any RVer!  They will tell you about some unfortunate event they have had on the road.  But in this article, I want to talk about RV tire pressure monitoring systems, and in particular, the Pressure Pro system.

Overall Product Rank:  8.0 out of 10
Product Description: Pressure Pro offers several models for six, 16 and 34 wheels.  The 16-wheel system is designed with RVers in mind and features a forward/back button to monitor both the tow vehicle and trailer, or each individually.
They're designed for easy installation; plug the dash monitor in and screw sensors on the tire valves. Units can read real-time pressures from 10 to 199 psi, and display psi, BAR or kPa.  Monitors have two low-pressure alerts, at 12.5- and 25-percent drops.  They also have a user adjustable high-pressure alert that's factory set at 24-psi overinflation.
Audible and visual alerts identify the tire's location and show real-time pressure.  Press a button to check each tire's air pressure; displays in psi, BAR or kPa and displays temperature.  Operating range is up to 199 feet. Kits include a monitor and 3.5-inch antenna; an extra antenna may be needed in certain applications.  Tire sensors are sold separately; batteries last 4-5 years and there's an exchange program.
Pro's and Cons:  The only negative I can up with is that you have to send the units back to have the battery replaced.  However, I have had my sensor for over five years and they are still going.  Now we did unscrew them to keep them from taking readings when not in use.  They were only installed during travel days.
Price:  Base kits with six sensors start at $499.99, less at some other sources.
Guarantee: One-year warranty
Product Specifications: 10 WHEEL MONITOR Part #ALTGPM10)
Monitors 1 to 10 wheel positions

Dimensions, Weight, Power = 6.5"W x 3.0"H x 0.5"D, 4 ounces, 12VDC

For use on Auto, SUV, RV, Heavy Equip, Ag, Bus, Truck

Communicates (real time) via RS232 to a serial port

Data Logging capabilities
TPMS Comparisons:

The reason that a tire pressure monitor system is so important is that in an RV, your life, your belongings, your loved ones, and all the other stuff you have is riding on 6 to 8 tires, depending on your RV setup.
Now because they are so heavy, that just makes the job of an RV tire that much more demanding.  My 5th wheel trailer came in at 21,000 pounds, riding on 8 tires.  If one of those tires blows in travel, it can tear apart the underside of the RV, creating thousands of dollars in damage!
It has not happened to me, but I have seen numerous occasions as I travel, especially in the summer, when road temperatures take the tires to dangerously high temperatures, and they blow out, unless you are monitoring their performance.
Now, this usually happens because the tires are either under or over-inflated, and sometimes because they are old and should have been replaced.  RV tires are a rare sort of thing in that they can have really good tread left on the tire, but the tires themselves are dried out and may possibly have cracked sidewalls.  Automobiles, on the other hand, are driven every day and get 20 – 50 thousand miles on them a year.  In an RV's lifetime, it may not see that much mileage as they mostly stay parked. Most people only get to enjoy them on family vacations!
Tires rely on movement to push the emollients of the tire outward thereby protecting the tire walls from ozone and UV damage.  When tires don't move often enough the tires don't have a chance to flex and perform this function.
The best rule with RV's is to replace the tires every 5 – 7 years.  And when the RV is not in use, use a rubber rejuvenator on the tires, keep them off wet surfaces, and keep them covered.  Avoid armor all and that kind of product.  It will actually dry your tires out.  Consult your tire manufacturer for suggestions.  I had Michelin tires on my truck, and they had their own tire product that I used on all my RV tires.  It is very similar to the 303 Aerospace protectant which I now use.
Now, back to the discussion of the tire pressure monitor system's use.  With the Pressure Pro system, you can monitor as few as 6 tires on your RV, or as many as 16.  The tire sensors screw onto the valve stems, and the monitor attaches inside your vehicle to monitor each tire individually.  If pressure changes 12.5% from the starting install value, it gives a gentle alarm.  If the pressure changes 25% over install value, it loudly notifies you. Either way, it notifies you that it's time to get off the road and check the appropriate tire.  I have even been parked for the evening and had the alarm go off overnight because a valve stem developed a leak.  I usually don't check my tire pressure every day while in travel mode, but the Pressure Pro does it for me.  In this case, I would have had some serious problems had I not fixed the leak prior to hitting the road.  And I only knew about it because the systems alarm was going off.
I have also been traveling in extreme temperatures and have had the tire pressure monitor systems alarm sound because the pressure was getting a little too high. So we pulled over at a rest area, let the tires cool, and then continued our safe travels.  Had we not known we could have had a blowout!  Have you seen what a blown tire does to an RV?
Should these sensors show inside tire temperature readings too?  Keep reading, I'll introduce the best tire pressure monitoring system currently on the market for RVers!
Or even worse:

I also talked about another tire issue we had on our fifth wheel trailer elsewhere on this website.  Had we not had the Pressure Pro tire monitor system in use at that time we would have had serious RV damage the next day!
The Pressure Pro tire pressure monitor systems, no matter which one you choose, and depending on your RV setup, will help you to relax while traveling.  You will know your tires are safe, and at some point help, you avoid serious damage to your RV, yourself or your loved ones!
Fall 2017 Update
Here is another system that is on the market that I have just learned about and now own.  I wanted to pass it along as another option for you!  It is the TST Tire Monitoring System.  
The thing I like most about this is you can replace the batteries yourself.  With the PressurePro sensors, you have to send them in for replacement at a significant cost.  Also, the tire temperature readings from inside the tires are displayed.  This is very important information you need to know when traveling in a loaded vehicle, especially an RV or truck!
If you have not checked out my recent video, please do so!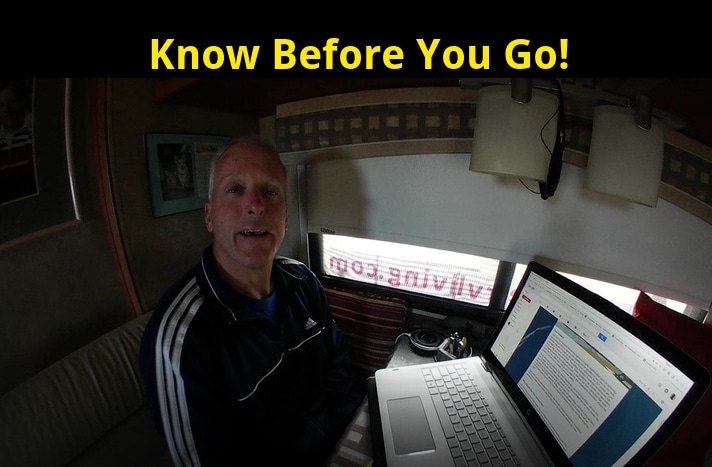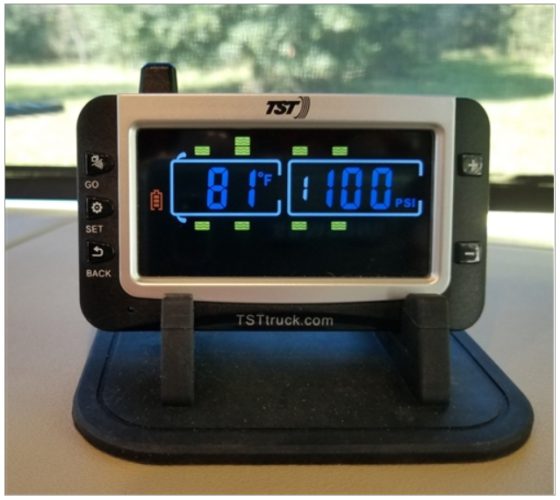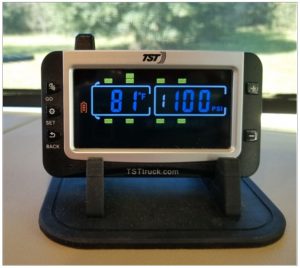 Pam and I upgraded our system to this new color monitor system with monitors that have replaceable batteries!  Our old Pressure Pro system sensors died and I was hesitant to spend thirty-five dollars per sensor to get new ones, so we investigated other options.  We came across this new system with an awesome color monitor and sensors that the batteries can be replaced by the owner.  These were the features that really sold us:
The system reports temperature and pressure readings.

The color monitor – 3.5″ x 1-3/4″ screen.

Can monitor up to four different trailers and one hundred and ten sensors.

A PSI range of up to two hundred and eighteen PSI'

Easy to read warnings for high and low pressure and temperature.

Can customize each axle for high and low alert parameters.

Replaceable sensor batteries.

Theft resistant sensors.

Auto-scrolling of tire readings as you drive.
The TST 507 with 6 cap sensors is ideal for an RV with a single rear axle with duals. This system includes the signal repeater and the new color monitor. This will cover your back duals and your two front tires and gives you peace of mind as you drive down the road. This would also work great for a triple axle 5th wheel, and then you could add some flow thru sensors for your tow vehicle.  Lots of options with the TST 507 Color Monitor system!
Here are some pictures of unpacking the unit and putting it to use: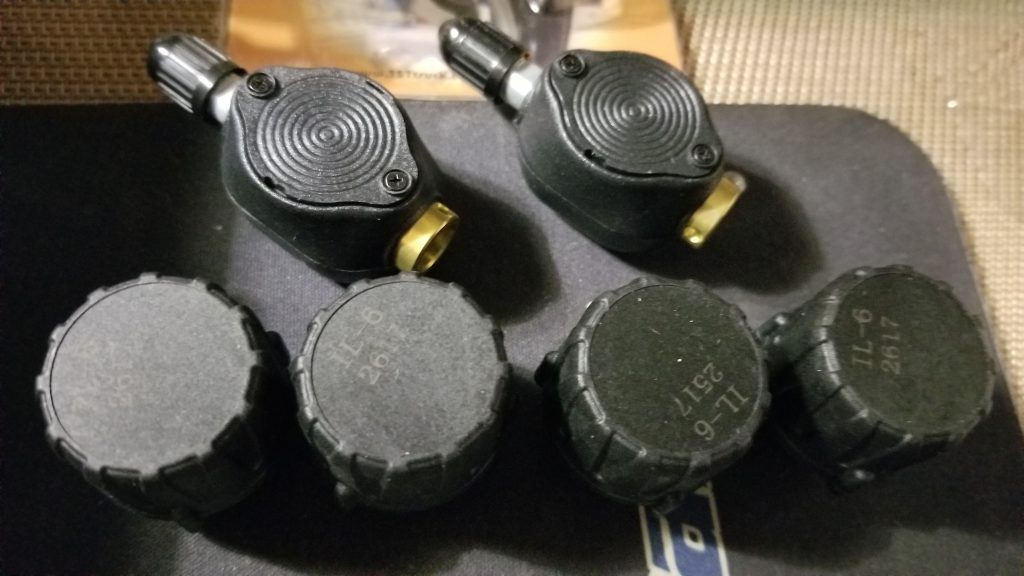 We got six regular sensors and two pass through sensors to try.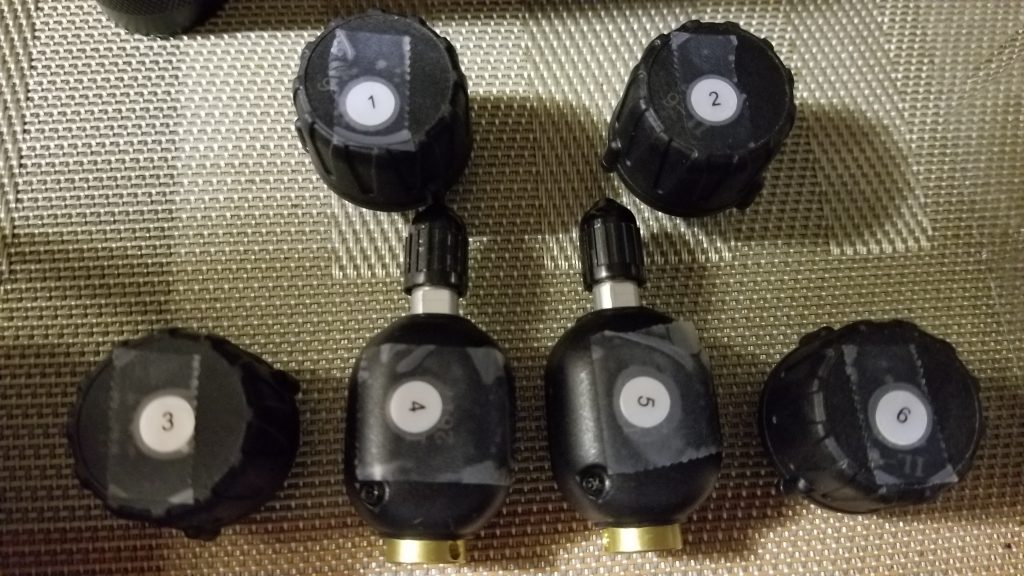 Then, per the instructions, we labeled the sensors so we would know which ones to program for each tire location.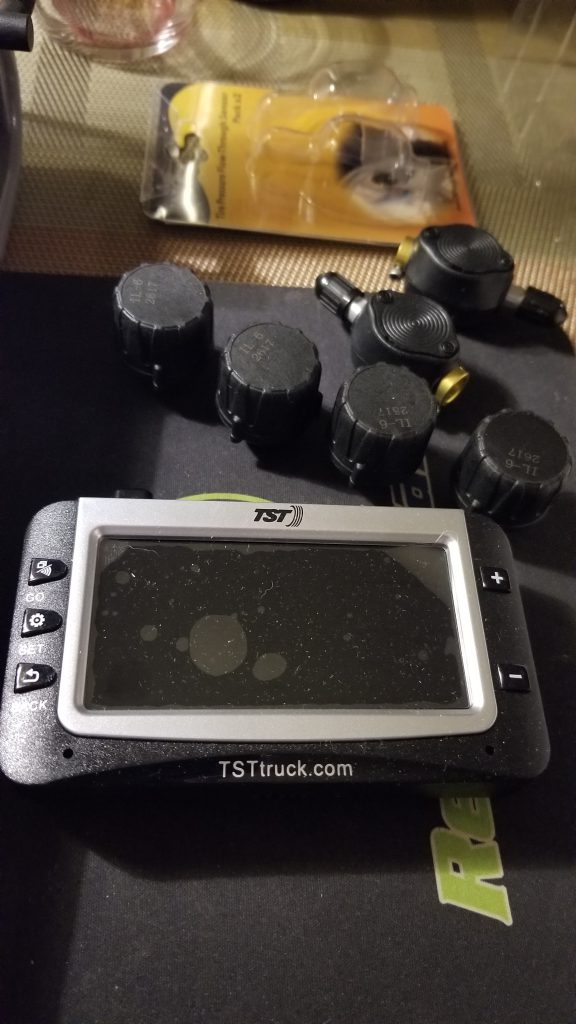 Then we got a look at the monitor screen with its protective cover that we removed.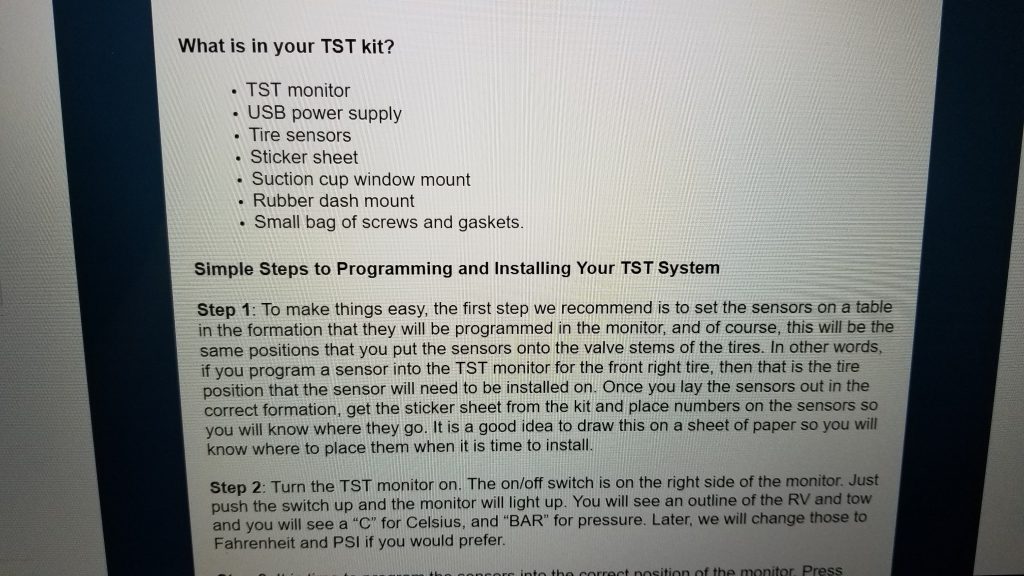 The best part of the whole system is the instructions that were emailed once the system was purchased.  The instructions that came with the TST 507 are okay, but the instructions that got emailed to me were so much clearer and had my new tire pressure monitor system set up very quickly and easily!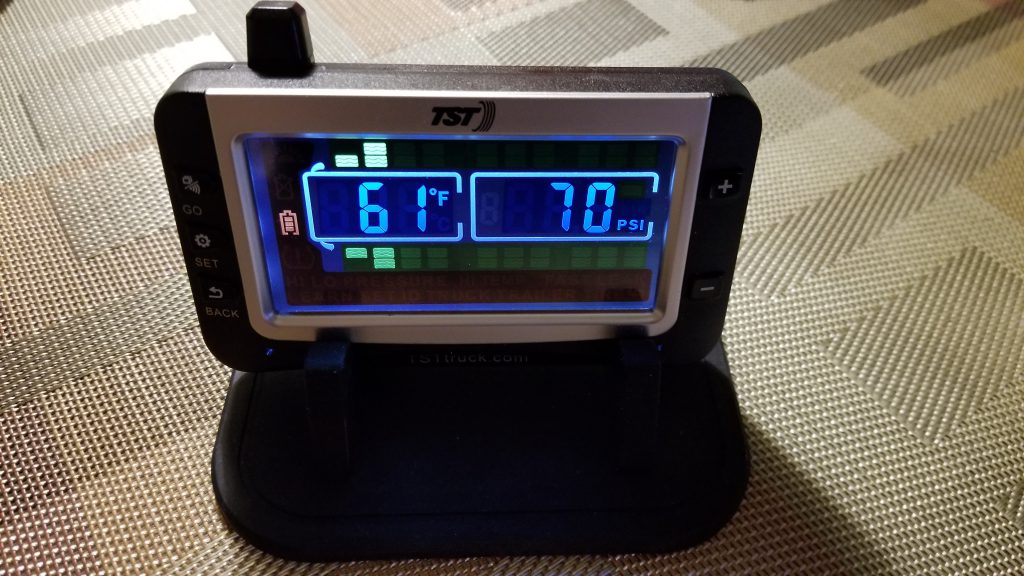 Once we had the tire pressure monitor units installed and the monitor programmed, I turned the unit on and waited a few minutes while it picked up the signal from each tire pressure monitor.
I had set the tire pressure for each tire prior to installing them.  I also had verified what that pressure should be based on the load charts for my tires.
Here is a picture of our latest journey, the second one since we started using the TST 507 system.  We left early, before dawn, and had to make a stop at the post office, and I took this picture while Pam was mailing some documents we needed to get in the email.
Notice the temperature of the tire shown: thirty-four degrees internal temperature.  It was a cold morning!  I had the tires set at eighty psi just before travel, and notice the eighty-six psi reading after only four miles of travel.
Traveling with our new TST 507 tire pressure monitor system has made the journey so much more enjoyable because we don't have to worry about what is going on with our tires.  Without properly functioning tires we could not safely do what we need to do!
Please leave a comment below if I have helped you in your research of these systems.
Blessings
Howard and Pam