After a long summer on the road, we are back in Florida for the winter season.  Pam and I left Florida last June with the intent of visiting/traveling through seventeen states.  Our purpose for the summer travel was to attend RV shows and teach advanced RV inspector classes in the northeast states.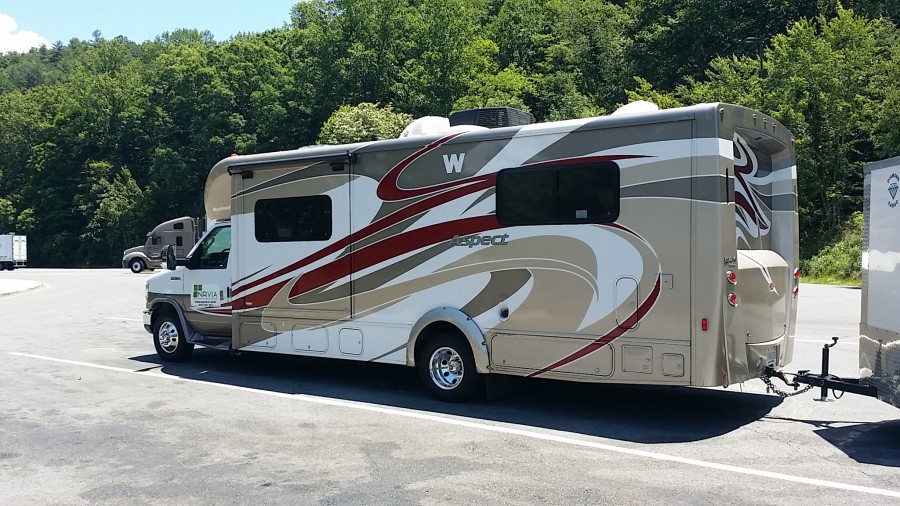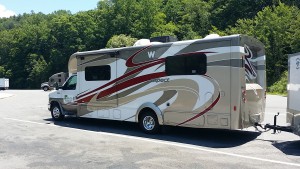 Our plans worked out perfectly, and we were able to accomplish everything we had planned.  Since starting the full time RV living lifestyle back in 2008, we have spent a good portion of our time in Florida as we have aging parents that we like to be available for if they need us.
In June, we visited the panhandle before leaving the state.  We spent a week at Carrabelle Beach RV Resort as we had never been to that area before.  The small beach across from the RV park is not like the beaches of Destin, but it was still nice.  We did venture out to St. George Island and found those beaches closer to what we like.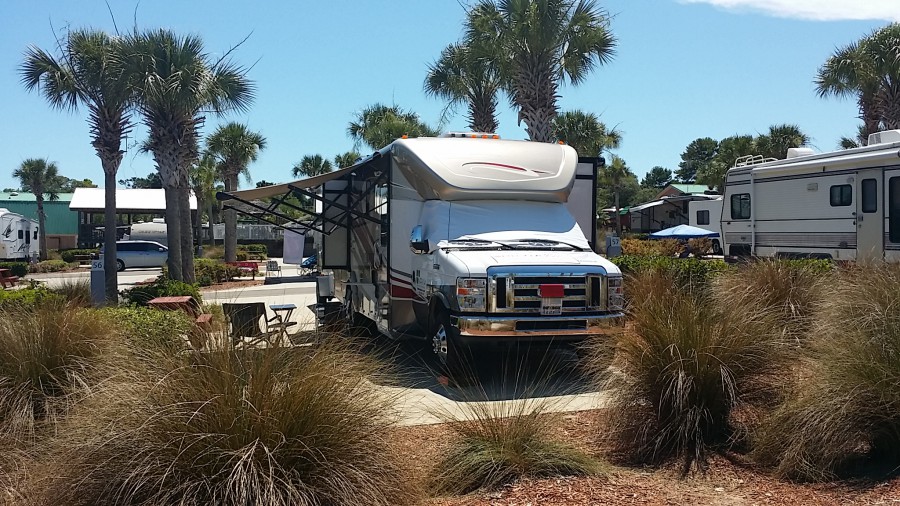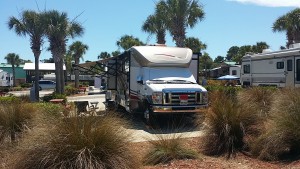 The next area we headed to visit was with friends in North Carolina, north of the Raliegh area.  We boondocked at our friends small ranch that is located out of town in the country.  It was nice to awake to the sounds of nearby livestock and the horses playing nearby.  It is so enjoyable to be able to visit friends and family as we travel but not burden them with taking care of us, and Lindsey.  Where ever we go we have everything we need and are always comfortable in our home on wheels.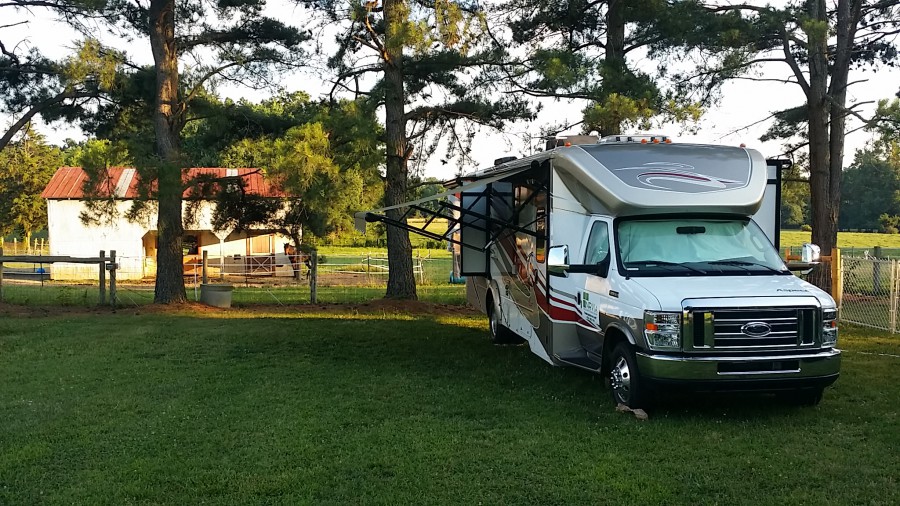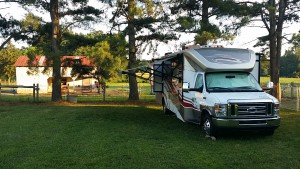 Once leaving North Carolina, we headed to Indiana for the month of June and July.  The purpose of being there was to teach two advanced RV inspector classes.  We stayed at the KOA in Middlebury Indiana.  We enjoyed our stay there, and the staff was most accommodating allowing us to use their facility to hold our two weeks of classes.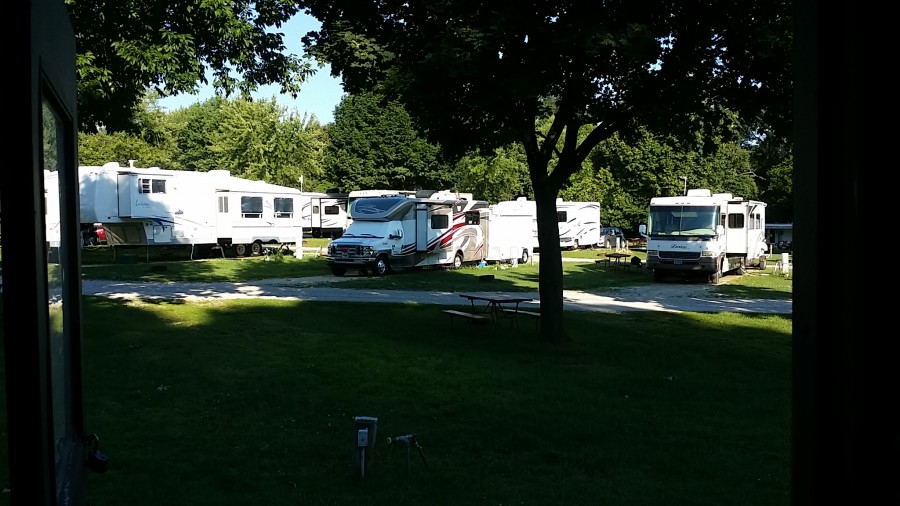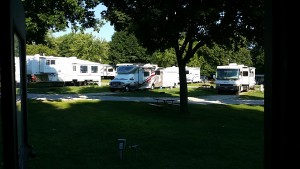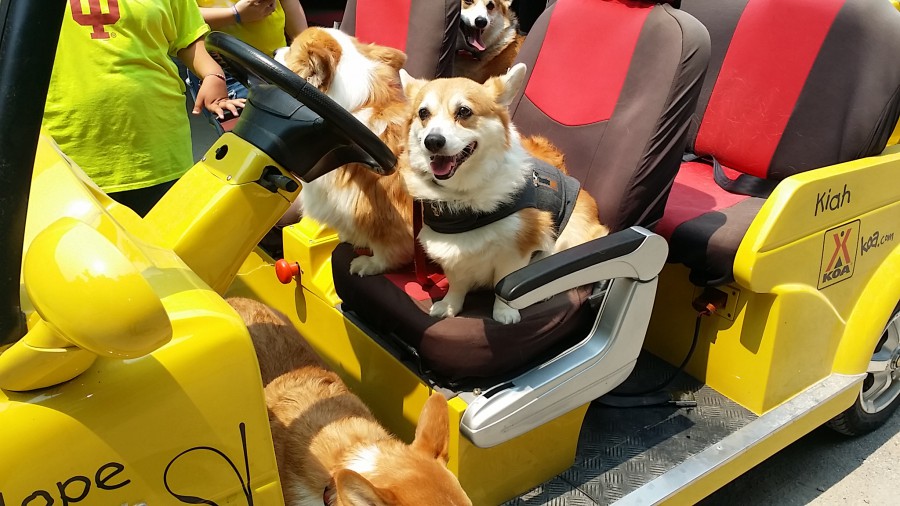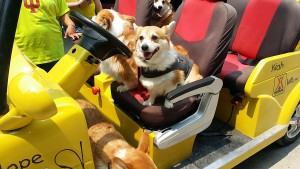 We were so glad to be up north over the summer months, and not in Florida!  The weather was beautiful and stayed mostly in the seventies and low eighties all summer long.  We even had days where the highs were only in the sixties.  It was like being back in the mountains of Colorado!
From there we ventured into Illinois on our way to Wisconsin to visit family in the Oshkosh area.  Pam's brother lives in a small town, on a lake, and he has a property that he allowed us to parked the RV.  He was able to supply us with both water and 30 amp electric service.  By using their shower facilities, and bathroom when needed, we were able to stretch our tanks for a week.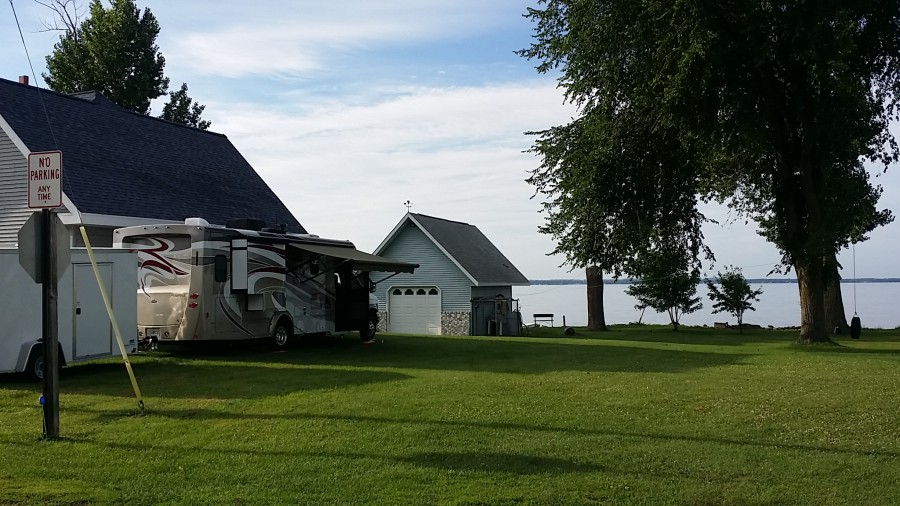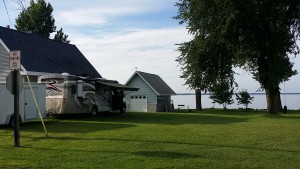 Once we left that location, our next stop was up in the upper peninsula of Michigan around Mackinaw Island.  We wanted to visit this area again to do some biking.  There are miles of both paved and unpaved bike trails.  We enjoyed biking from the KOA in Mackinaw City into town to check out the sites.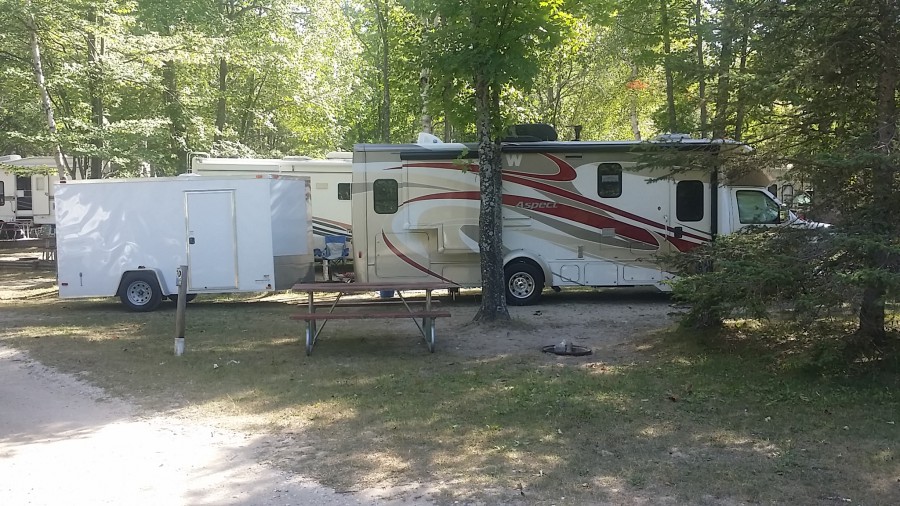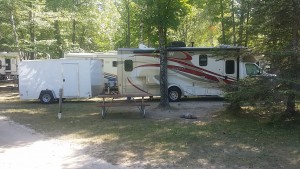 You can take a ferry over to Mackinaw Island, with your bike, and ride the bike trails that are on the island.  Since cars are not allowed it is a great place to enjoy a ride without having to share the roads with vehicles, just horse-drawn buggies that run around town.
From there we traveled towards western Pennsylvania to the Mercer KOA.  We had another RV inspector training class scheduled for early August.  Once again the nice folks within the KOA system allowed us to use their clubhouse facility to have our five-day class.  We only spent a week around the Mercer area but enjoyed our stay and the small town atmosphere of Mercer, PA.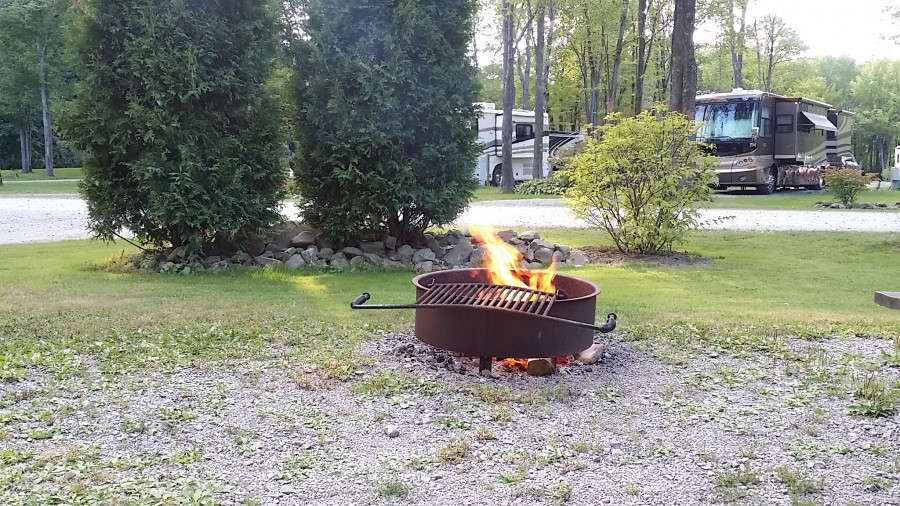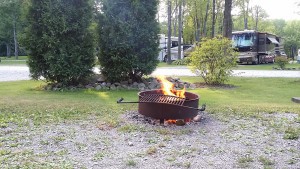 From there we traveled to Ohio to check out a Thousand Trails RV park that we had some good reviews.  Since we received a two free week offer to try out their system of RV parks, we decided that this would be a good time to take advantage of the offer.  We had some free time before we needed to move on.
We stayed at Lake Kenisee RV Campground.  It is located out of town from Jefferson, Ohio.  It was in a country type location, and the campground was adequate for our needs.  We did spend two weeks at this location using the free offer and were thankful for free camping.  It sure helped keep our average nightly park fees at a reasonable rate.  Through our summer travels, we managed to stay right around that $20 for our nightly park fees.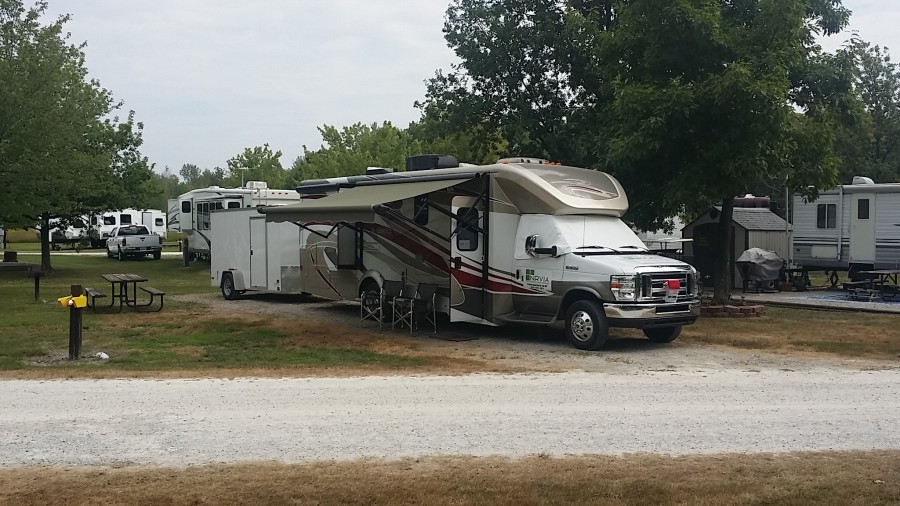 At that point, we had three weeks before we needed to be in Manheim, Pennsylvania for the Hershey PA RV Show, the RV Tech Course, and to teach another RV inspector class.  Since we had never been to Niagara Falls before and wanted to write an article for Passport America's Multi-Briefs, we traveled to that area.  I wrote an article titled ten free things to do in Niagara Falls.  It was a lot of fun visiting the area, taking great photos, and creating an article that would help others enjoy the area too!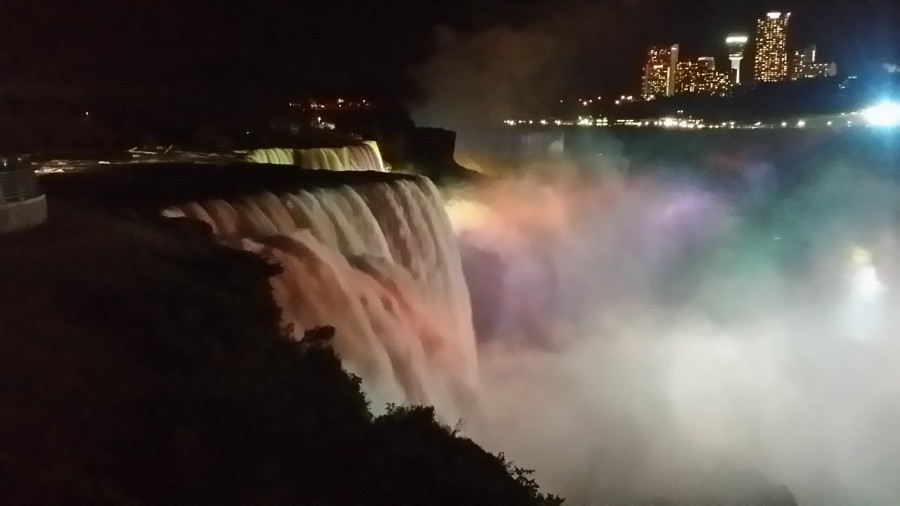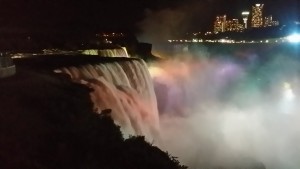 We stayed in several locations while we were there.  We enjoyed boondocking at the Seneca Niagara Resort & Casino. They allow RVers to stay in their east parking lot.  We found them on freecampgrounds.com.  From that location, it was a short ten-minute walk to get to Niagara Falls State Park.  We spent a few nights at the Casino and enjoyed many walks to the falls to enjoy the sites.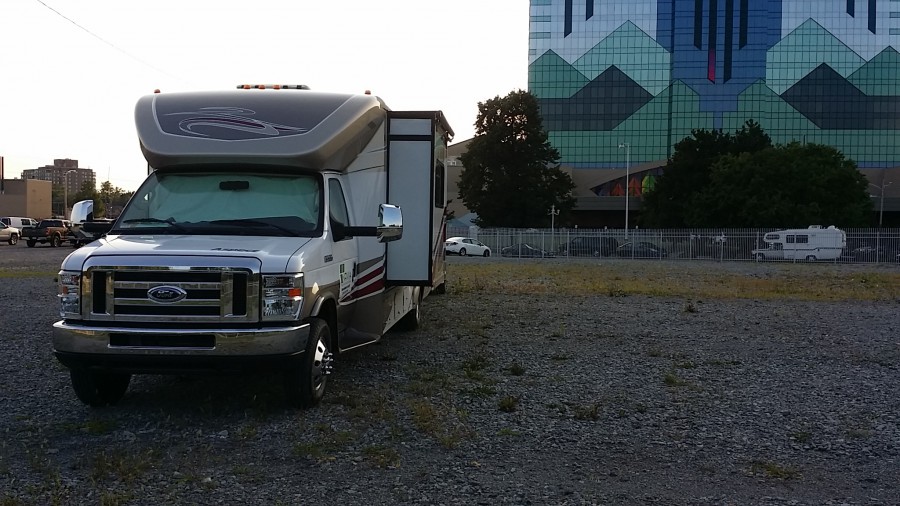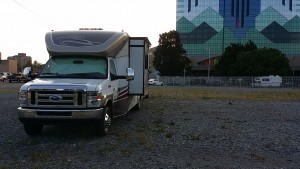 We also walked across the Rainbow Bridge into Canada.  With a passport and fifty cents, it is an easy round trip.  It is very easy to do.  The views of the Falls from the Canadian side are spectacular!  From the casino location to the Canadian Falls was a two and a half mile walk.  There were many things to see and do along the way.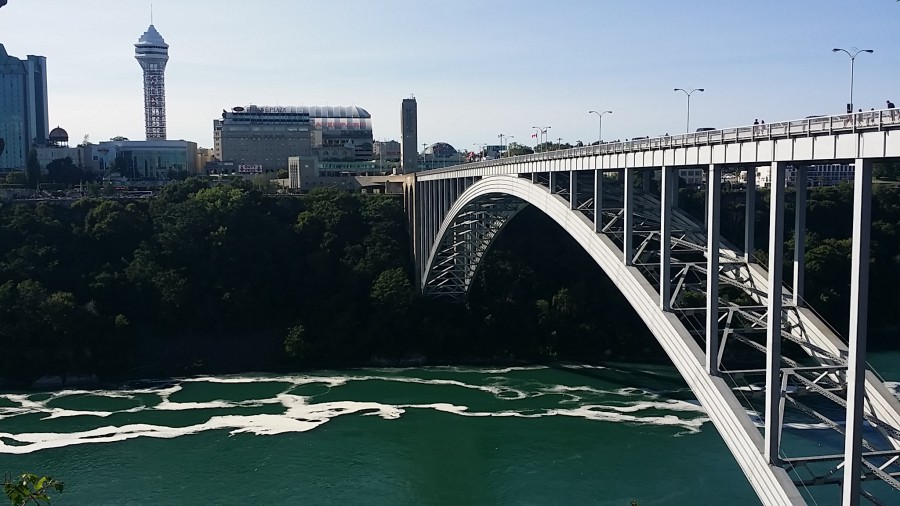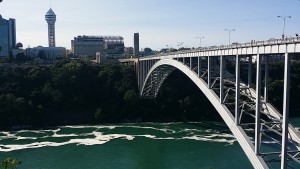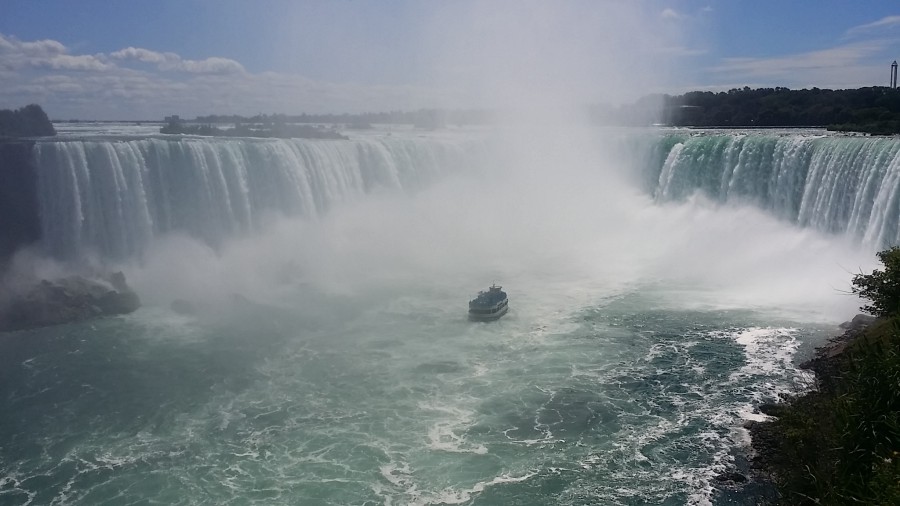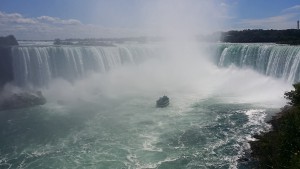 From there we spent a little time in a nearby park in Gas Port, NY.  They were a Passport America park and offered a $16 nightly rate plus a minimal electrical usage charge.  We stayed there for four nights,
We enjoyed Niagara Falls so much, and because we found we needed more information for our article, we decided to return to the Niagara Falls location and stay for three more nights.  We once again ventured into Canada by walking across the bridge.  We wanted to check out more free things to do while in the area.
Our business associations have allowed us to make some new Canadian associates.  One of them was located about an hour and a half from our location.  They wanted to meet with us and discuss some business over a pizza.  What a great time!  Enjoying the Falls, sharing time with friends, and enjoying New York style pizza.  Life is good!!
From there we needed to start heading towards Manheim, Pennsylvania.  Over the Labor Day weekend we did not feel like spending $80 a night for an RV spot, so we boondocked in the Cabella's Parking lot in Hamburg, PA.  They have parking for RV's, a dump station and non-potable water if needed.  All you need to do is let them know at the customer service desk that you are staying for the night.  When we did, they told us, "enjoy your stay!"  Great customer service in that store.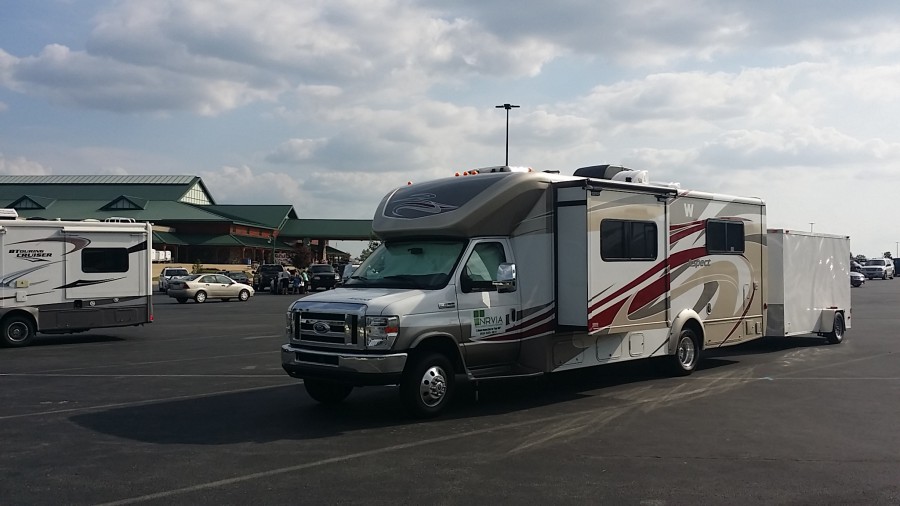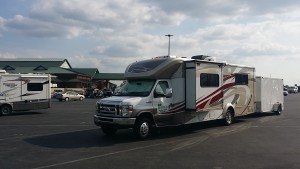 It is a great location to hang out and check out all the retail locations and eateries.  The Cabela's store in Hamburg is huge.  It is basically like a Home Depot, but for those that love to shoot and kill things!  LOL  If you are an out-doors kind of person, this is the place for you!
From there we moved a short distance to Manheim, PA.  We stayed a month in the area while attending the Hershey PA RV show.  We were working in the Workamper News and NRVIA vendor booths.  We also helped out with the RV Tech Course class and then had a group of students for the NRVIA advanced RV inspector training class.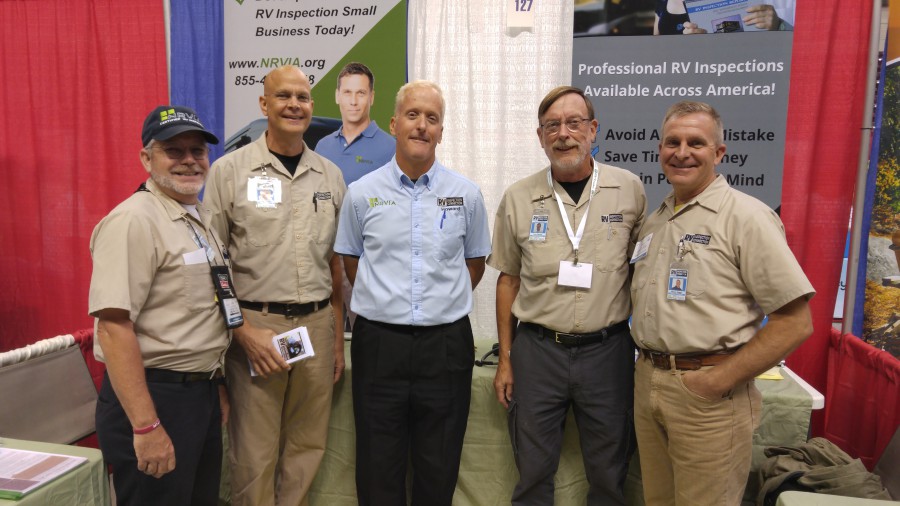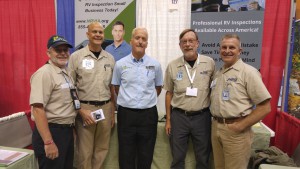 That was a pretty busy month for us!  We met lots of folks during these events and made some new friends.
The Hershey PA RV Show is advertised as the largest RV show in the country.  After having attended a few of these shows, I would have to say they make that claim based on the number of RV's that are at the show.  There are plenty of RV manufacturers that bring their new models to show to the attending public.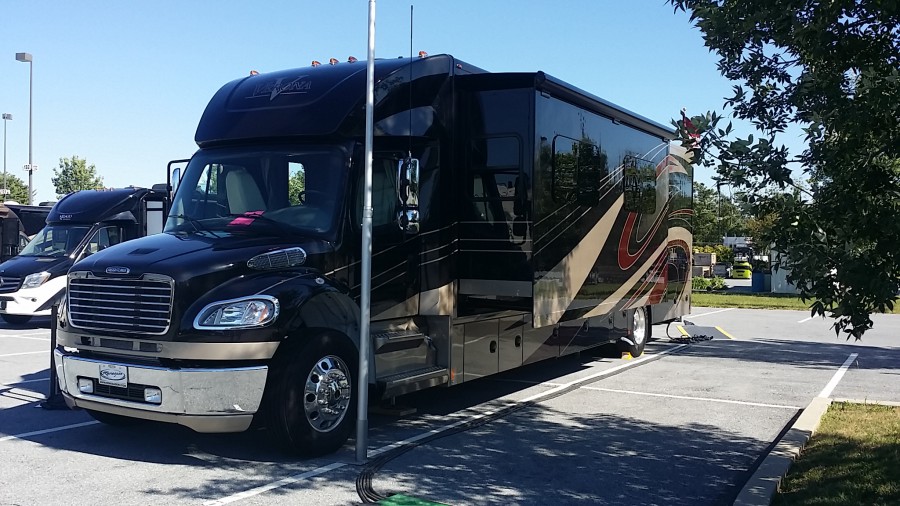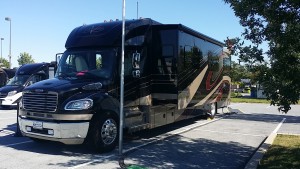 From Pennsylvania, we traveled to Heber Springs, Arkansas for another month of events: the RV Tech Course, Workamper Rendezvous, the NRVIA national conference, and an NRVIA Learn by Doing class that I taught.  It was another busy but enjoyable month!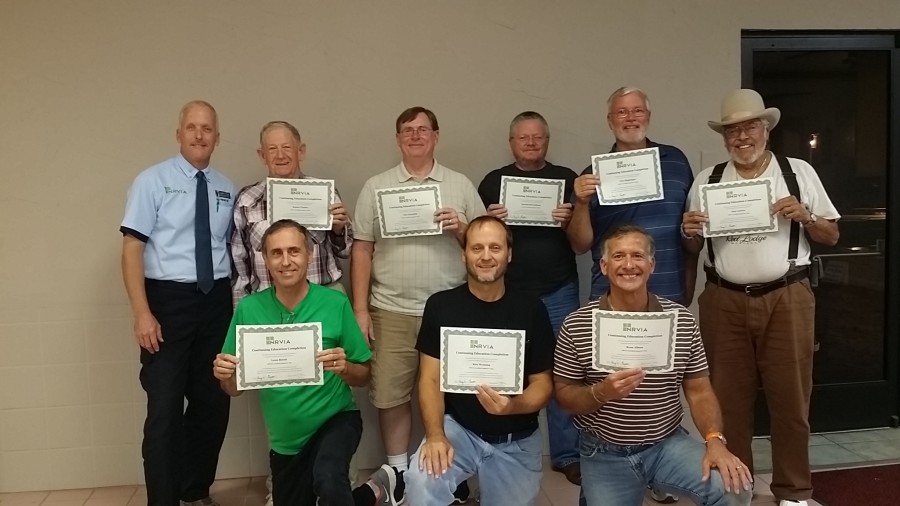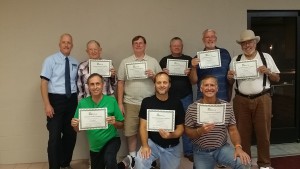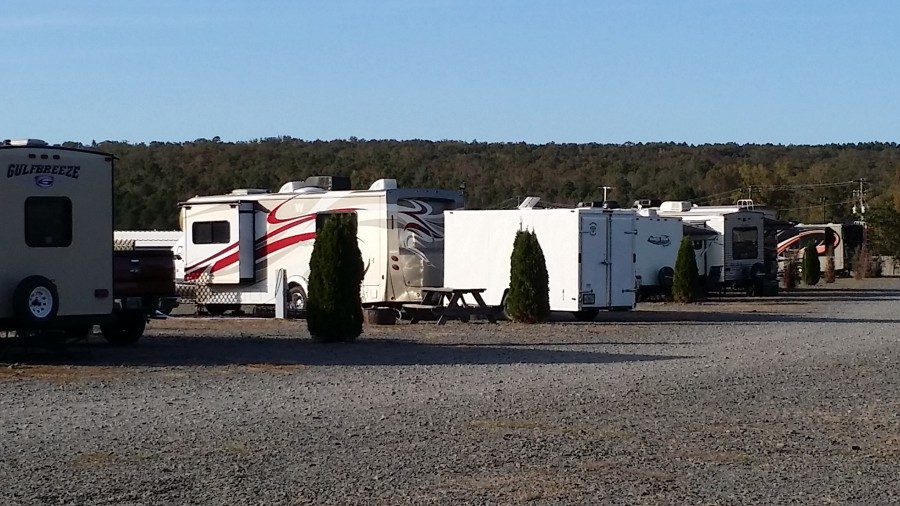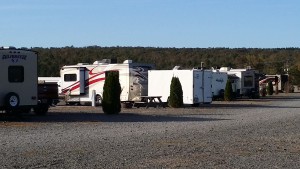 While parked in a small RV Park in Heber Springs, our trailer that we tow behind was hit by what we are sure was a drunk driver.  We were parked on our RV site and out with friends.  A neighbor two spaces down drove through our site and into our trailer, just missing the RV.  He tore the axle off its welds and totaled the trailer.  Since the RV was hooked to the trailer, it was also moved a few inches.  Fortunately, there were witnesses, no damage was done to the RV, and we were able to file a claim on the drivers' insurance.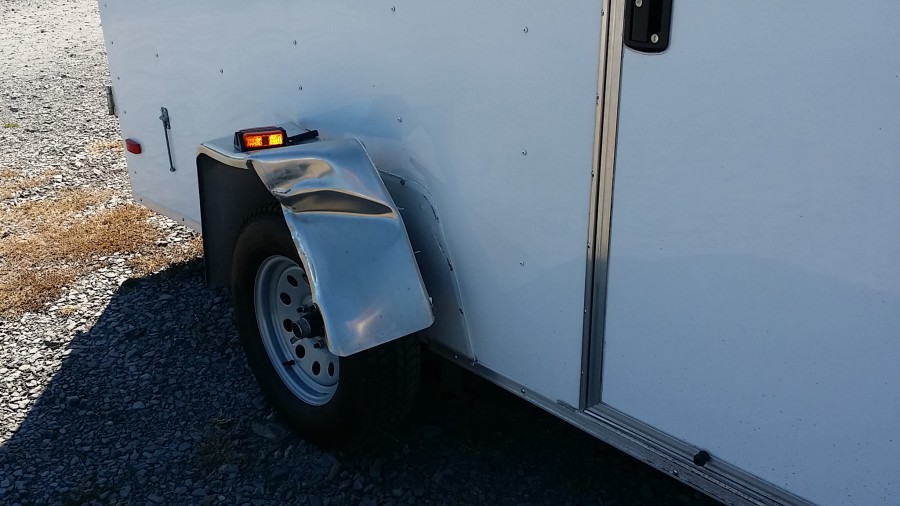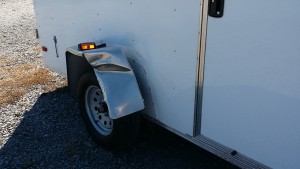 However, there was no match to our trailer within 500 miles of our location.  So, we had the manufacturer build us a replacement and deliver it to us.  It cost us out of pocket dollars, but we had to have the trailer to move on.  The bummer was I had to spend a day modifying it to the way the original trailer was so we could get back on the road.  We left the other behind for the salvage yard.  The thing is the trailer was only nine months old.  Oh well, life on the road!
Come to find out, once we got the new trailer and compared the two, we discovered the reason we were not supposed to leave Arkansas with it.  It was not built properly and probably would have caused us some problems later on.  So, we trusted all along that there was a reason for our delay in departing the state, and once the new trailer showed up we understood the reason for our trailer dilemma!  God is good!!
So, once we hit the road, we were headed back to Florida for an NRVIA class in December.  We just finished up with that group of students, and we are just hanging out in the panhandle of Florida before heading to the Tampa area for an early January 2016 NRVIA class.
It has been a fun summer/fall with us logging almost 7,000 miles traveling to the northeast and back.  Our newer RV that we purchased in February of 2015 has worked beautifully for us.  It proves that you can full time in a smaller RV if you are organized and have the experience of previous travels to guide you in making the right decisions.
Pam and I wish you all a happy and blessed New Year!  Perhaps we'll see you on the road soon!
This post is powered by Grammarly