Since our Fall Update, Pam and I have been back in Florida.  We spent time in the panhandle of Florida from mid-November to early January 2016.  Pam and I enjoy the Destin area of Florida because of the beautiful white sand beaches and gorgeous sunsets!  It was a warm Thanksgiving and early December!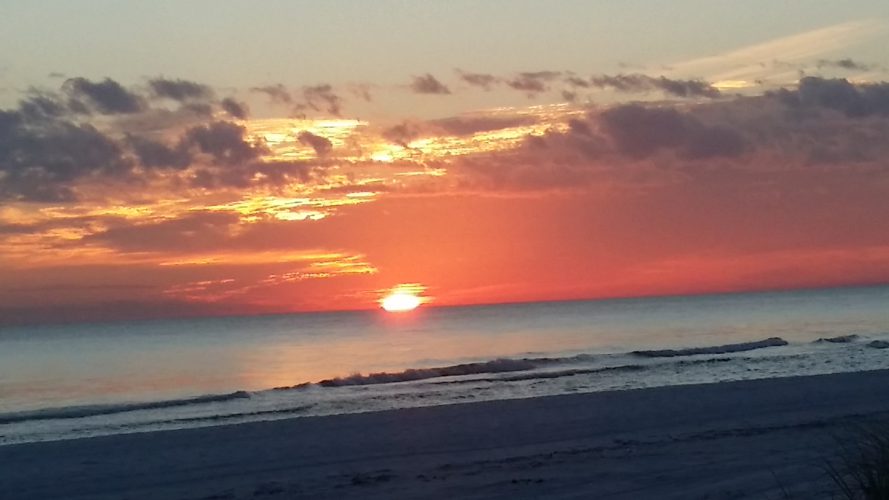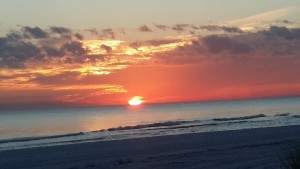 In early January, we headed to the Tampa area to spend a week at Lazydays in Seffner, FL.  We were teaching an NRVIA 5-Day Learn by Doing Advanced RV inspector training class.  We had six eager students who were perfecting their RV inspection skills!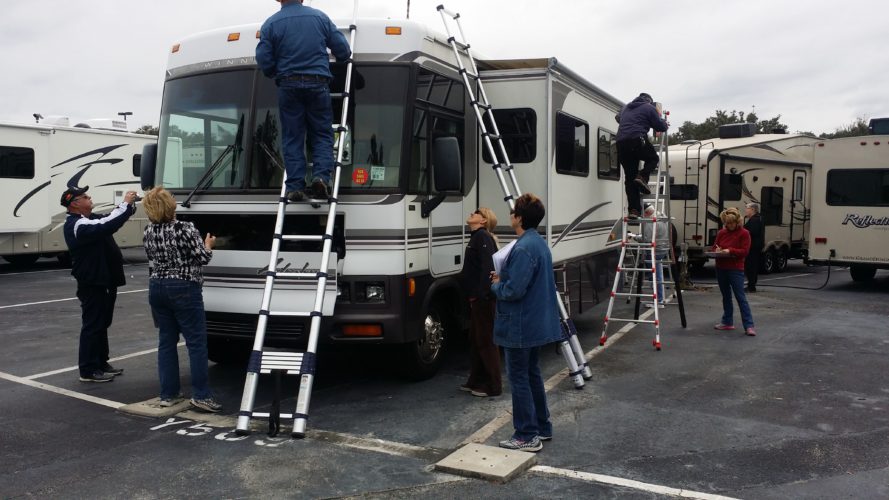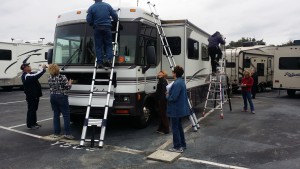 This year we decided not to stay in any one place for very long as we have done in past years during the winter season. When visiting Florida in the winter, in an RV while enjoying full-time RV living lifestyle, it can be difficult to find an RV spot in February!  It is much easier to do so if you are willing to move around a bit.  And, there are deals to be had!  Some of our camping club memberships give us discounts even during the winter in Florida.  That is awesome!!
Once we left Lazydays, we headed to the Tampa RV Supershow.  This event is held every year at the Tampa Fairgrounds facility that is located near I-4 and I-75.  This year had a mixture of warms days and some cooler, and we had several days of rain during the event.  The weather had an effect on the visitor numbers as they did not break last year's attendance record, but they only missed it by a few hundred attendees.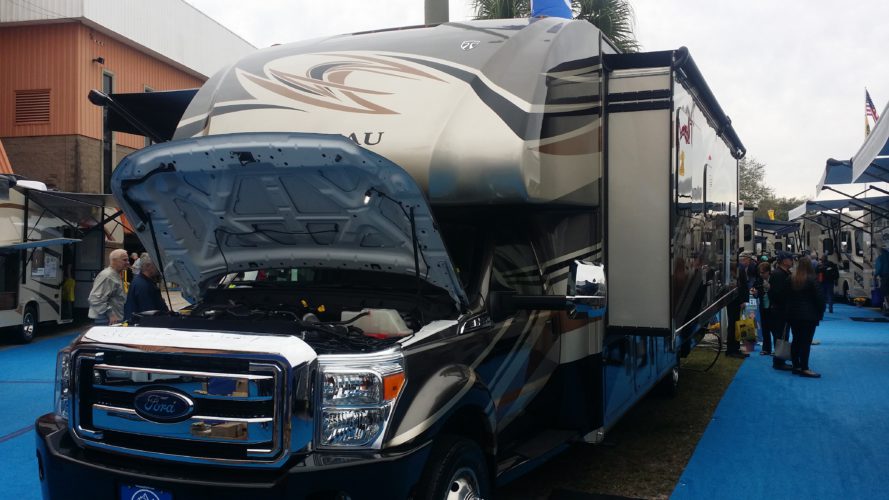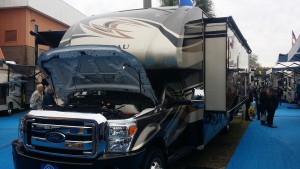 Pam and I enjoyed visiting with vendors and manufacturers to learn about their new products for 2016!  There certainly are some creative innovations being used in RV's coming off the line.  We saw some 5th wheel RV manufacturers that are using some creative thinking by putting the kitchens up front, raised living rooms in the rear with storage bays underneath, TV's behind mirrors in bedrooms, and large slide-in-slide units.
And of course, who can resist looking at the multi-million dollar units on display!  Some are set up to view from the outside only!  You can't go inside unless you make an appointment, have a credit check run on you, prove your net worth, and give up your first born!  LOL
While everyone else was checking out the interiors of the more expensive units, I was outside checking out all the storage bays with all the equipment installed that controls plumbing, heating, electronics, electrical functions, etc.  I look at RV's differently than most!  I try to determine how you get to things if service is needed and how things work?  As an RV inspector/trainer, I am always evaluating what the RV manufacturers are doing!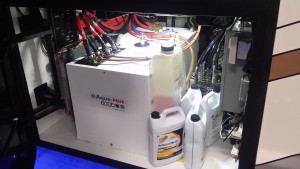 While looking at some of the class A gas toy hauler units, I was intrigued by something I have never seen in a factory installed appliance.  I have seen RV owners install window AC units in their RV's, but now one particular manufacturer has come up with a way to do that to eliminate the added height of a rooftop AC unit.
They took a small window type AC unit and installed it in a cabinet.  They placed an oversized vent on the exterior wall of the RV.  To vent the heat, they used a rooftop refrigerator vent that you would typically see in a Dometic or Norcold installation.  To make this work the small AC unit was mounted near the interior ceiling.  I was not able to test its operation, but I was intrigued by the ingenuity!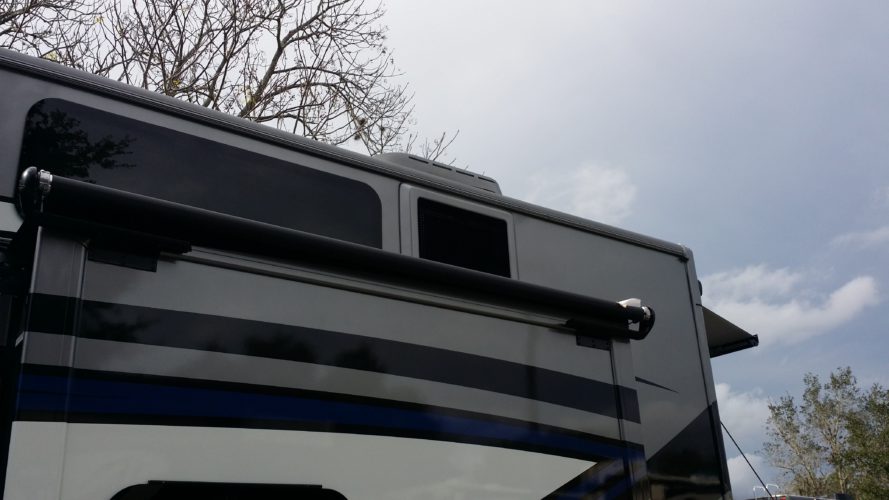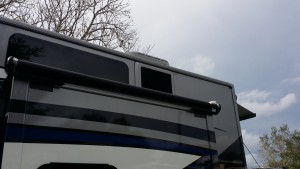 While at the show we were able to stay in the vendor camping area.  After a long day of walking around the Fairgrounds, it was nice not to have to deal with the rush hour traffic while trying to depart from the show.  Staying right at the Fairgrounds was very convenient and enjoyable!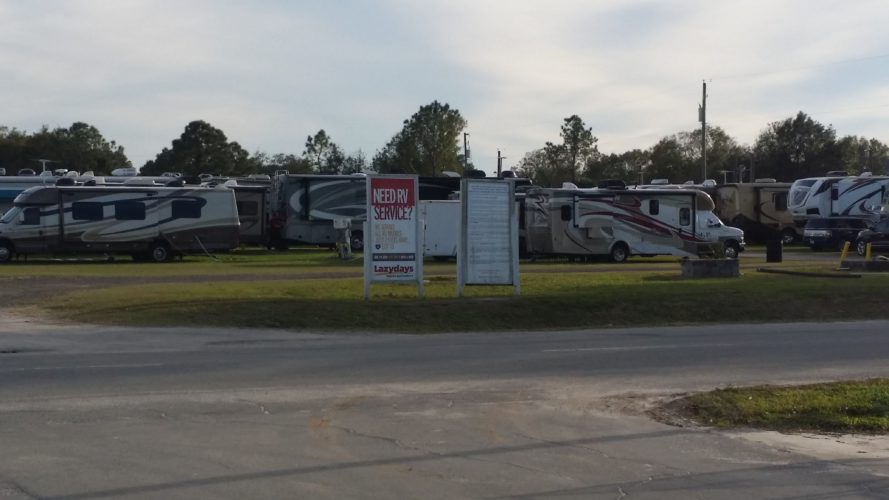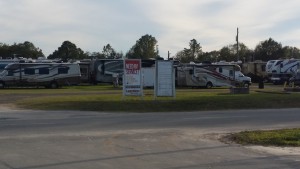 Since leaving the Tampa RV Supershow, we have been staying north of the Tampa area and visiting RV parks that were offering deals at the show.  So far so good!  We have been able to get an RV spot in campgrounds that were offering specials.  Sometimes you get a decent place, other times you don't!
Last week we were parked in a campground RV site right at the entrance gate and the mail delivery area.  Use your imagination as to our thoughts there.  However, for nine nights the average cost was $15.83!  So, we could not complain too much I guess!  It is winter in Florida, and the snowbirds are here!
The following week we were in another RV park, and we were located right up front near a busy two-lane state road.  The office told us that this was all they had.  For the price paid, I guess we can't complain here either!  We were able to get a week's stay for $99.
So, we left that park and headed to Walmart for some shopping and decided to stay the night.  While there we decided on our next location.  We found another RV park in the area offering a $99 for a week special.  Awesome!!
We are now in a quiet little campground that is located out of the city busyness.  It is an older park with an eclectic mix of older RV's and park models, but again, for the price it is just fine!
From here we are headed back to Lazydays for another Learn by Doing 5-day Advanced Inspector Training class.  We will be there till the end of February.
Where will we be after that?  Right now we don't know!  But that is the fun of full time RV living!  It does not matter.  If we can't find a spot, there is always a Walmart parking lot we can hang out at for a few days.  Some of the Walmarts north of the Tampa area are pretty nice!
Are you out traveling in your RV this winter, or not?  Share what you are up to in the comment area below!
Happy Travels!
Howard and Pam
This post is powered by Grammarly