If you are looking for an RV Inspection in Florida, then you will be happy to know that there is a national organization, and local inspectors, that are available in Florida to do certified RV Inspections!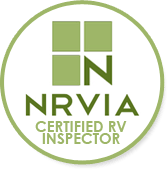 Whether you are a casual RVer, one who is looking to be a full time RVer, or you are already enjoying the full time RV lifestyle, when purchasing a used RV, you should have an RV Inspection performed on it to be sure you are not buying a money pit!


What is an RV Inspection?
An RV Inspection is an in-depth analysis of the condition of a recreational vehicle, at that point in time. It is like the doctor asking the patient, "what is wrong with you right now and what have you observed?"
The RV Inspection is performed in such a way that inspection items are addressed that you may not have thought to look for!  Fluids analysis can be performed while doing the RV Inspection to get an even better understanding of the mechanical worthiness of the RV!

The truth is most RV buyers do not know what they are looking for when it comes to the overall condition of a used RV.  When they are considering their RV purchase they are more interested in the floor plan, the color schemes, and the amenities.  They don't know about the items that really could cost them a lot of additional dollars unless a detailed RV Inspection is performed on the unit!
Who are the RV Inspectors?
They are NRVIA certified individuals who have been professionally trained and certified to perform a top notch RV Inspection!  Most of them are RVers themselves, and some are full time RVers who run their inspection business out of their mobile office: their RV home!
They have received the best RV Inspection training in the industry.  They have traveled to locations around the country for classroom training from an NRVIA/RVIA/RVDA Master Certified RV Tech with forty years experience in the industry!  They are tested along the way and must pass all certification exams, as well as the hands-on applications, and in the field testing.
Why Use an RV Inspector?
Because, and most importantly, they are giving you an unbiased, in-depth, and independent RV Inspection.  The RV inspectors have no part in the sales process, therefore, they are not going to be tainted by the need to make a sale.  They have your best interests in mind!  They are working for you!


Once the visual RV inspection is complete, the RV inspector will use proprietary software, created just for their use, to create a detailed analysis of what the RV told them on that day of the inspection.  It will include a summary page detailing the most critical issues that an RV buyer should consider, as well as photos and breakdowns of each of twelve specific inspection categories on the RV.
Who am I?
My name is Howard Jaros.  I am an NRVIA lifetime certified member of the NRVIA, I work with RV Inspection Connection, the premier national RV Inspection company in the country, I am a full time RVer and have been for seven years, I run my inspection business from my RV home, and I train others to be certified RV inspectors.  You can learn more about me here!
You can learn more about RV inspections at Used RV Inspections.
I would be happy to answer any questions you may have.  This is how you can reach me:
By email at howard@yourfulltimervliving.com

By Text at 850-585-1811

Or, you may leave a comment below and I will get back to you shortly!
Find Out Where HMRVI is Available to do RV Inspections For You!
Thanks for visiting yourfulltimervliving.com!  I hope you found this information useful as you consider buying a used RV!  I also hope you now know the importance of having an RV Inspection performed on any used RV you are considering.  We want to protect you from buying a money pit as well as have you enjoy worry-free travels once you do hit the road in your home on wheels!
Many Blessings as You Look to Enjoy the RV Lifestyle!
Howard and Pam