One of the best RV buying tips I can give you when you are purchasing a used RV is to get it inspected!  By spending the time to inspect a used RV, you will save yourself headaches later on.  You will also be told all the things on the RV that need attention before you take possession of the vehicle. What does it take to inspect a used RV?  Please read on and I'll uncover what this process involves!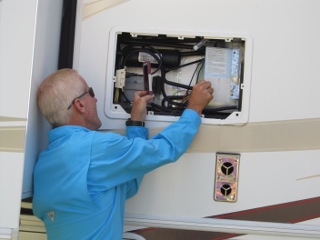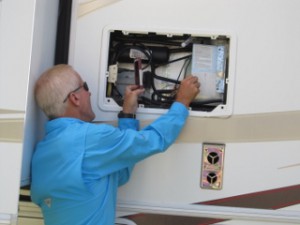 I believe you deserve an RV that will give you worry-free travels and create lasting memories for a lifetime.  Traveling in an RV is one of the most enjoyable ways to visit places that you want to see!  You may have already discovered this and are now ready to buy an RV.
So what would be some good RV buying tips?  I think these are some of the most important ones to consider!
Top RV Buying Tips!
Do your homework:  decide on the class of RV you think would most suit your needs, whether its for part time or full time RV living, and rent one. There is no better way to uncover things you may not have considered then to actually take an RV out and live in it for a week or two.

Use the Power of the Internet: visit the RVing blogs and read what others are saying about your RV choice.  RV.net and RVforum.net are great sources that RVers love to post too.  rveducation101.com is another good source!

Visit Dealerships:  only do this after you really know what you want! Take a look at different makes, floor plans, model years, etc.  Don't get pushed by an RV salesman into making a decision.  Leave the checkbook at home!  Never buy on the first visit.  Take pictures, notes and go home and think about any purchase seriously before moving forward. Most dealership's staff are an asset in helping you make a decision, but it is yours to make and you don't want to make a very expensive mistake!

NADA valuation:  be sure you know what the NADA value is for the RV you are seriously considering purchasing.  Comparison shop at dealerships either online or in person.  Craigslist and Ebay have lots of used RV's for sale.  Be careful here!  You may find a good deal, but do your homework.  There are lots of well-intentioned people who want to sell their used RV at a fair price, but they are also grossly unaware of issues that may bring future problems!  Get it inspected!!
The Best of the RV Buying Tips You Will Need!
Inspect a used RV before you sign on the dotted line!  Let me say that again because people miss this one and wind up buying a money pit!  Be sure to have that used RV inspected by a certified RV inspector.  Not an RV tech, not the dealer staff, not a friend of yours, a certified RV inspector who will offer a UNBIASED inspection of the RV!
It is the job of the certified RV inspector to get the RV to tell them the condition of the vehicle at that point in time!  Through careful analysis of the major and minor systems of the RV, including oil and coolant analysis, their findings allow the buyer to know the exact condition of the RV!
What do things cost in an RV?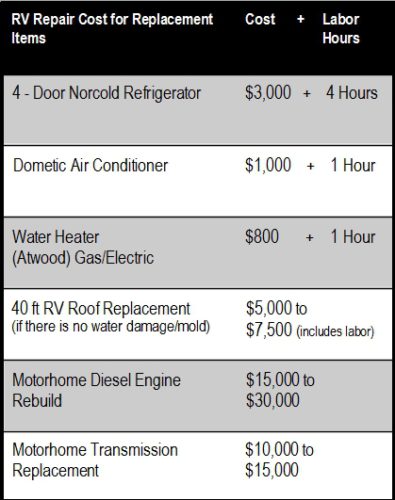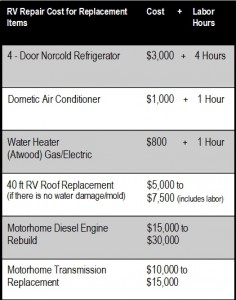 You see, if you purchase an RV with any of these items that may have an issue, you will not only be paying for the RV, but the cost of the repairs that should have been made before the RV was sold!
What Exactly is an RV Inspection?
When you inspect a used RV, or should I say have a professional certified RV inspector perform an RV inspection, what exactly is being done? It is much like a home inspection.  The RV inspector will spend as much as six hours examining the vehicle and testing it's systems.  Here are just some of the items being evaluated:
Exterior items being evaluated: roof, vents, AC units, sealant, running gear, hookups, steps, etc.

Slide Outs: operation and integrity of the system

Electrical Systems: 120 volt and 12 volt systems, hot skin test, main panel and fuse box evaluation, inverter test, converter test, gfi's, and generator operation.

Propane System leak checks

Water Systems:  city supply and water pump function, evaluate and test all plumbing onboard including function of gate valves.

Appliances

Interior condition and appearance

Furniture condition

Verification of vehicle data information.
Depending on the level of certified RV inspection that a person wants, the computer generated report detailing the inspectors findings can have 15 to 100 pictures included in it and be 50 to 100 pages in length.  The first few pages of the report summarize the major issues that may need immediate attention in the RV.  The rest of the report details the items the RV inspector examined and all findings that were observed at the time of inspection.  The NADA valuation is also included so the buyer knows that they are paying a fair price for the RV.
I believe you deserve to find an RV that is a good buy, and is trouble-free at that point in time!  If you would like to know more about this service, you may call me at 850-585-1811, drop me an email at howard@yourfulltimervliving.com, leave a comment below, or fill out the form on the right side of the web page.
We are growing to serve you nationally, so give us a call so we can schedule an appointment and help you find your dream home on wheels!
Blessings,
Howard and Pam