I have noticed an emerging trend among the full time RVers who love their gadgets!  And I am in complete agreement on this one!  RV awning lights, especially led awning lights, are pretty amazing when you see them on at night!  This newer technology allows the daytime fun to carry into the night time without missing a beat.  It is surprising how bright these led awning lights are!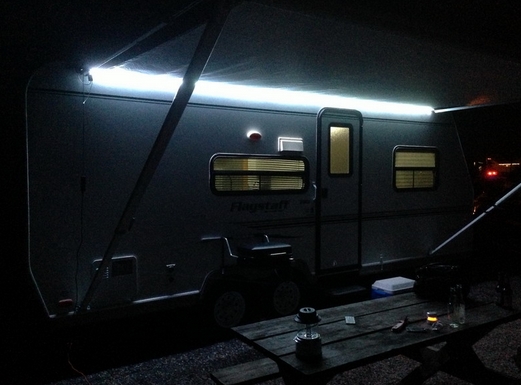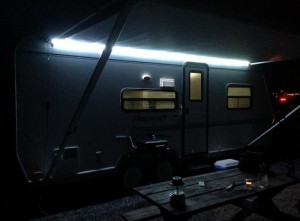 There are two ways you can mount these RV awning lights depending on what you like best.  They can be mounted up at the top of the awning, right underneath the sidewall awning rail, or they can be inserted in the awning tube and roll up inside the fabric when the awning is retracted.  Either way this can be a permanent installation that can be enjoyed each time you use your awning at night.
How Do LED Awning Lights Work?
Are these easy to install?  Without getting too technical, I think this is best explained in a video!

Honestly, how cool is the Dometic light kit?  I don't think it will be too long before these kits will be installed on all RV's before leaving the factory.  It makes real sense to find a way to hardwire them to your 12 volt exterior light switch so you can control the power from the inside of your RV.  The remote adds that extra feature of convenience!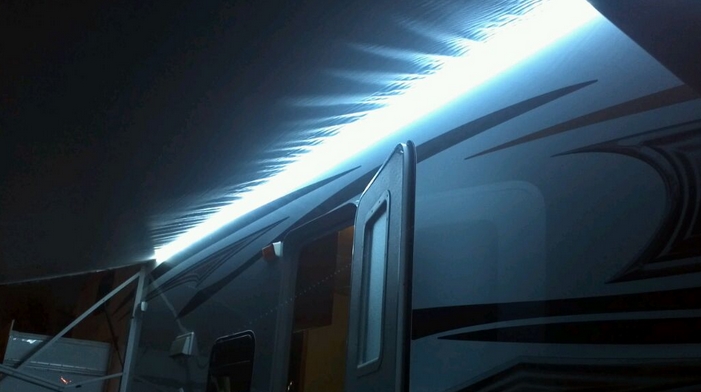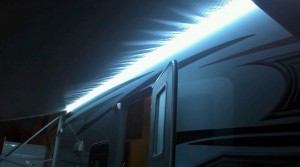 I like that the strips can be trimmed to fit custom lengths, and the 3M adhesive backing keeps the lights secure when the awning is closed. The wireless remote control adds convenience with its dimmer feature and handy key chain clip, and it functions up to 125′ from the unit. With seven vibrant colors all in one strip, you can program it to fade or step between colors (white, blue, pink, red, yellow, green and cyan).
7-Color RV Awning Lights Features
16′ of colorful programmable LED lights

350 LEDs

Waterproof, long-lasting LED lights

Lasts over 3 1/2 years with continuous use

Simple installation

Trim to fit custom lengths

Includes wireless remote control with on/off button plus multiple program features to change colors

Colors: white, blue, pink, red, yellow, green, cyan

Contents include one 16′ adhesive-backed LED light strip, one wireless remote control, 12 volt AC outlet plug

Energy saving if living off the grid

Enough light to read by if desired

Great for parties!
With the decreasing cost of this technology and the huge advantages of power savings, there is no reason to not switch over to all LED technology in an RV!  One RVer we know of switched all his lighting from incandescent to led lighting, including adding led awning lights.  With everything on, he said he was drawing less than 100 watts!
If you spend a fair bit of time off the grid, or even if you enjoy full time RV living and have to pay for your electricity use each month, over the long term led lighting could benefit you!  Some of the led lights I have installed in my RV are rated for sixty thousand hours of use!  Some of the incandescent bulbs I have replaced only lasted for a few months!  The filaments in them just don't seem to last very long.  That is why I am a huge fan of this led lighting technology!
Blessings and enjoying your new led awning lights!
Howard and Pam