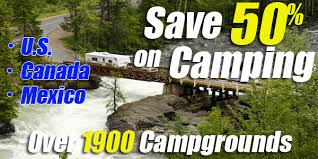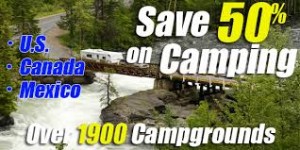 I think anyone who uses their RV regularly, whether part time or full time, should be a member of at least one of the RV camping clubs out there.  I will share in this post a few of the ones out there that might be of interest to you!
For those of us who are full time RVers, having, at least, one RV camping club membership makes time on the road more affordable.  Even if the money does not matter, why pay more than you have to?  Take the savings and give it to someone else!  If you can easily save fifty percent on RV parks all over the country, why wouldn't you?
For folks that take their RV out many weeks a year, RV camping clubs are a good idea too!
So what are some of the camping clubs that are out there?  I will share a few of them with you and let you know which ones have worked best for us. There are many other smaller offerings that encompass park memberships to be part of a national club.  I will not discuss those here, just services that you purchase yearly, and are then part of a network of independent RV parks around the country.
Happy Camper Club:  for $40 for one year you have access to discounts at over 1200 parks across the United States. Their website is user-friendly and allows you to choose your state of interest and then look at a map for campgrounds near where you are going.  Some of their member benefits include an online camping guide that offers information about RV park pricing, directions, park amenities, and pet information.  They also offer a free online trip planner, free email account, and a Walmart location directory.
Harvest Hosts:  Here's a unique offering for those who like farm fresh products!  Harvest Hosts' goal is to provide new experiences for RVers.  You will meet fascinating people, visit interesting locales and have the opportunity to purchase locally grown farm fresh products.  At the end of the day, you'll have a unique and special location to spend the night for no overnight fee.  There are no black-out dates and no limits or restrictions on the number of Hosts you can visit.  Harvest Hosts is an online program.  When you join, you receive a username and password that provides access to the Host Directory, interactive maps and an easy to use Find a Host app.  You will also be able to print your own Membership Card and Vehicle Identification Badge.  Membership is $40.00 for twelve months.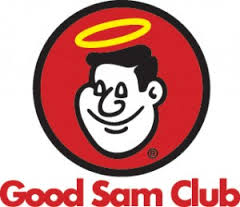 Good Sams Club:   This one is a must for any RVer.  There are so many discount programs included with the yearly club fee!  The main discounts are ten percent off at 2100 campgrounds and RV parks, save up to thirty percent at Camping World, save on fuel at Pilot and Flying J Travel Centers, and a special member price for their emergency roadside service.  We have had to use that, and the membership fee has been worth the peace of mind! There are numerous other advantages to the Good Sams program so check out their website and see if it is of value to you!


Passport America:   Passport America invented the 50% Discount Camping Club in 1992 and has continued to improve on their concept.  With over 1600 campgrounds across the US, Canada, and Mexico that are currently participating in the Passport America Program, and new parks joining daily. Although the concept is being imitated Passport America is still the best value, lowest price, and the World's Largest Network of Quality Campgrounds of its kind.  Pam and I have used this service for years and have more than paid for the membership fee in only a few nights of camping.  Plus, we also use the My RV Mail Forwarding service, so this membership gives us a discount on that offering.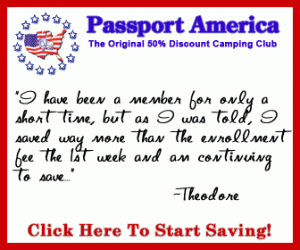 I think you can tell which one we prefer!  But check them all out and see which works best for your camping needs!  You may find having a few memberships is a good mix to meet your RV campground needs.
Please leave a comment if you found this information helpful, or if you have any questions!
Happy Travels,
Howard and Pam
no overnight fee.  There are no black-out dates and no limits or restrictions on the number of Hosts you can visit.