Greetings Everyone!  Pam and I are taking our web site in a new direction! We want to share more of our personal experiences with you in regards to the full time RV living lifestyle.  We have been fairly static in the past seven years of full time life, but since we have changed from the monster truck and 5th wheel to living in a small RV: living in a Class C RV to be exact, all 29 feet of it, we have more to share with you!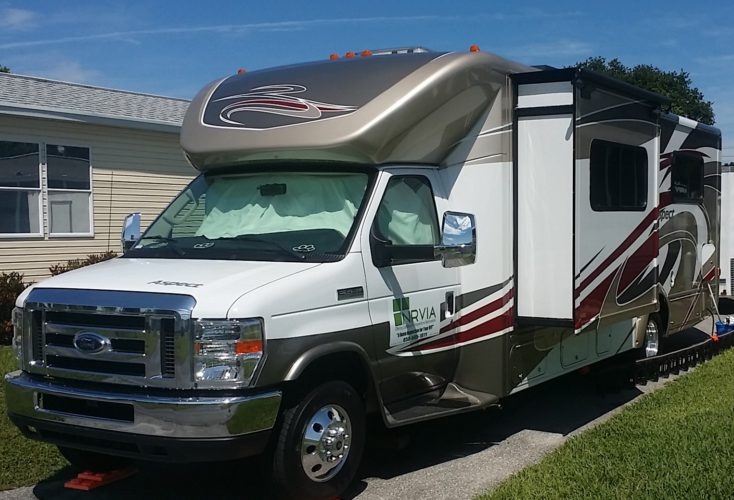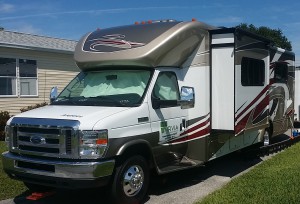 Lindsey, the neurotic Corgi, has also expressed her desire to be more a part of the conversation.  She says she has had no input thus far on how this RV life affects her.  So we are going to allow her to share some of her thoughts with you too!  She wants to be able to let her canine friends in on what this full time RV life is all about.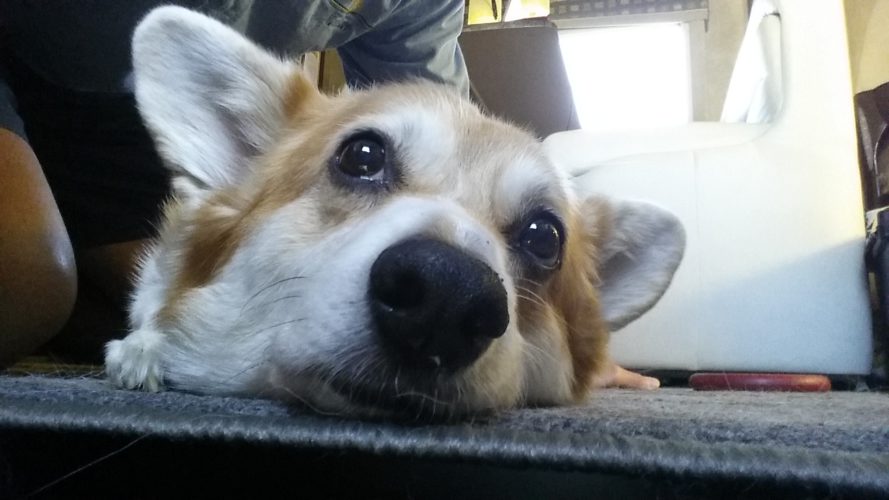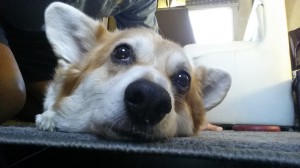 We have been living in a small RV now since we traded our truck and 5th wheel back in late February.  It has taken some time to get everything we had in the fifth wheel in the right places in the Class C RV!  Of course we could not fit everything we had in the fifth wheel in here.  So, we have a 6×12 cargo trailer to pick up the slack.  I am still working to secure everything so that when we hit the road at the end of May, we won't have a tossed salad in there!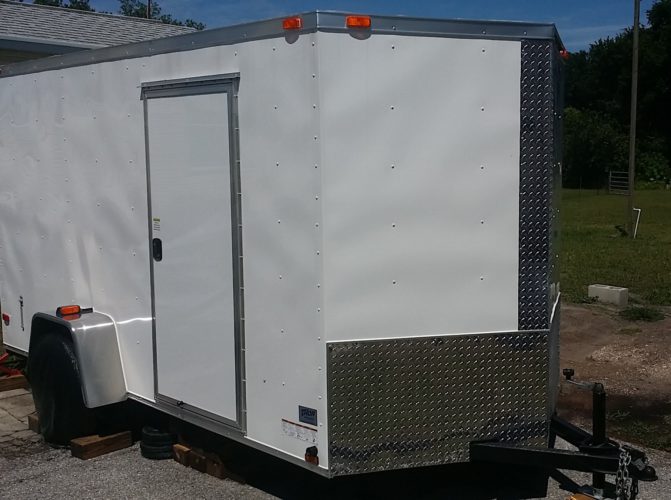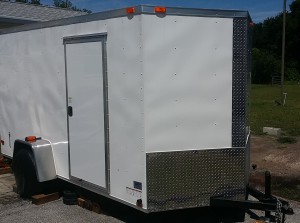 The Honda scooter we have had always been transported on the back of the 5th wheel on a platform that I had built.  Now it can safely go in the trailer and be kept out of the elements during travel.  It is also so much easier to get stored due to the lower height and secure mounting of the Condor Scooter Chock.  I have been using that device since 2010 and it has worked well to keep the scooter secure during travel.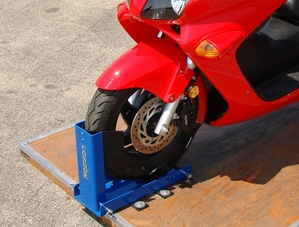 This summer we will be traveling up the east coast holding RV inspector training classes.  Our travels will take us along the east coast states, perhaps as far west as Ohio, up into the Northeast states, and maybe even into Canada as it looks like the NRVIA may make its way to our friends in the northern country, Eh?
We have taken the Class C RV on some shorter road trips around Florida and find it so easy to navigate, to park, to break camp, and to live in!  It has everything we need to be comfortable.  I really love having a generator available with the push of a button, unlike the 5th wheel that we had to use an external generator.  That was never a quick process!
We were parked at Lazydays RV Campground in Seffner Florida last week.  I was holding a 5-day Advanced RV Inspector training class at their Rally Park.  We spent the week with five NRVIA certified RV inspectors.  They are a great group of guys that really worked hard to get everything they could out of the class!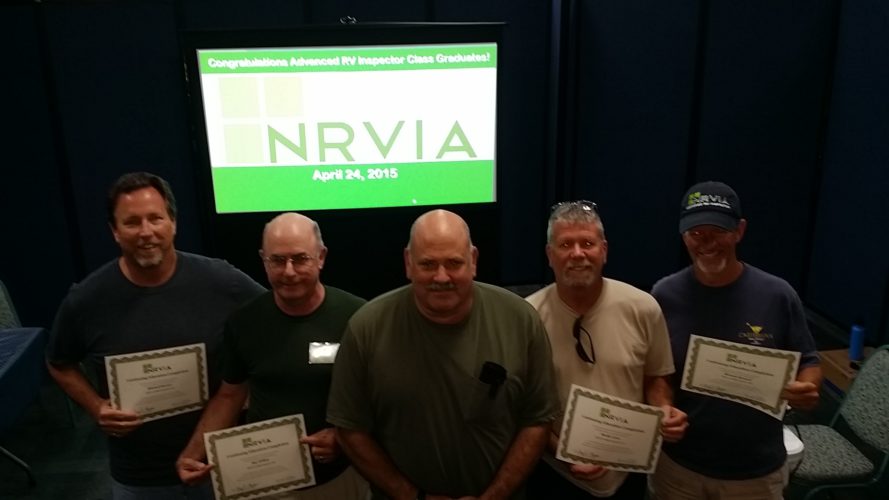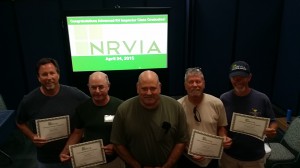 Anyway, we had a little graduation party the last evening of the class and Pam and I needed to head out as we had a commitment the following morning.  So, it was 7:30pm when we ended the celebration, and by 7:40pm we had jacks up, slides in, the electric awning away, electric and water attachments stored, and we hit the road.  That would have taken hours in the 5th wheel!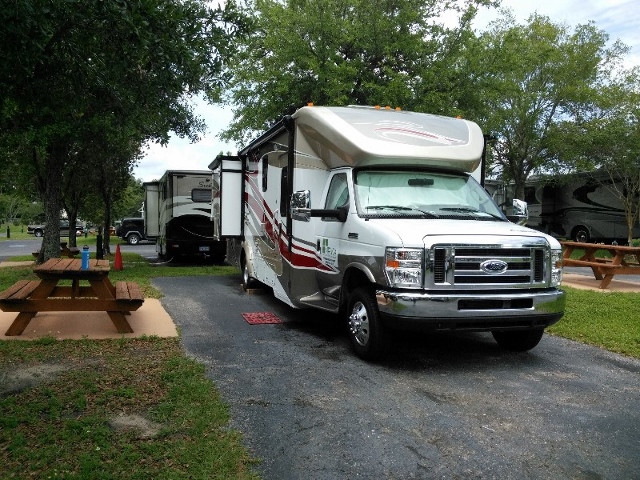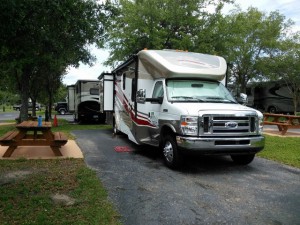 We arrived at our destination a few hours later, backed in, jacks down, services reconnected, slides out and it's happy living in a small RV, just a different view out the window and only ten minutes after backing in. Awesome!!  In the past, in ten minutes I was still backing the 60-foot behemoth into the usually inadequate sized RV site.
We'll keep you posted and have more for you in a few days.  Stay tuned and come back soon!  And as always, feel free to leave a comment if we can be of assistance as you look at the full time RV life.