Water is a precious commodity!  Clean and safe drinkable water is your lifeblood.  That is why it is so important to consider sanitizing RV fresh water tank!
But, another important issue to consider here is the longevity of the RV water pump.  Without proper maintenance it will not last as long as it should.
I have already discussed on this website about the importance of cleaning the RV water pump screen in order to troubleshoot possible reduced water flow from the pump.  The second issue can also be bacteria contamination from an RV water tank and the RV water system.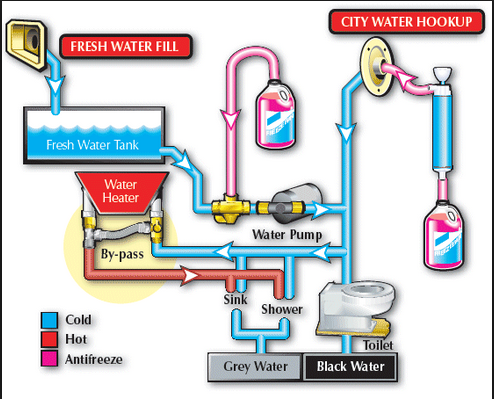 Sanitizing RV fresh water tank is so important, not only for having safe water to use within your RV, but to keep your RV water pump functioning at its best.  Operating your RV water pump with a contaminated water system can slowly destroy your pump over time.  If you are noticing a sulfur or rotten eggs type of smell, you may need to consider sanitizing RV fresh water tank as a way to eliminate this problem!
Sanitizing RV Fresh Water Tank
This is a fairly simple process, and there are several different methods you can use when sanitizing RV fresh water tank.  I think this is one of the simplest that I have come across, and it is recommended by the folks at SHURflo water pumps.
To start, be sure your RV is unhooked from the city water supply and the RV fresh water tank is no more than half full.  Obtain some bleach, and a water pitcher, to mix a water and bleach solution.  You will want to add five ounces of bleach for every forty gallons of RV fresh water tank volume.  So, if you have a seventy five gallon tank you will be using about nine and a half ounces of bleach.
Once you have the proper amount of bleach and water mixed in your pitcher, use a funnel to pour the bleach and water solution into the fresh water tank from the outside water fill.
If you have a winterizing setup in your RV, and you know how to use it, you can use that to suck the bleach solution out of your pitcher and into the RV fresh water tank.  Once you have used either of these methods, fill the RV fresh water tank till it is full with fresh potable water.
Now, go inside your RV, turn on the water pump, and run the water in each faucet till you smell the bleach.  Do this for both the hot and cold water. Don't forget the outside water faucet, if you have one.

Once you detect the smell of bleach from each RV faucet, turn them off. Allow the bleach and water solution to sit in the water supply lines for at least four hours. You may go longer if you desire.  If you don't want to wait that long, double the solution concentration and use the same method, but for only one hour.
A good time to do this is when you are going to take a drive in your RV. As long as you have full hookups when you get to where you are going, you can take advantage of the agitation on the RV fresh water tank as you are driving down the road.  That way you can assure sanitizing RV fresh water tank is completely accomplished!
Once the water and bleach has had enough contact time, you can proceed to drain the fresh water tank and fill it again with fresh potable water.  Then go back to your RV faucets and run water from the RV fresh water tank to flush out the bleach from the supply lines.  Do that for both the hot and cold water until you don't smell any more bleach.  If you really want to be sure, you can also use a water test kit, designed for chlorine detection, to be sure you have safe drinking water.
If you still notice the smell of bleach, or your test kit indicates the presence of chlorine, even after running enough fresh water through the supply lines, from the fresh water tank, you may have to drain and refill the fresh water tank again.
Okay, there you have it!  Sanitizing RV fresh water tank is not that complicated and it will assure that you not only extend the life of your RV fresh water pump, but that you will also have safe drinking water.
Blessings in your RV adventures!
Howard and Pam
Please leave a comment before you check out another page!  if you found this information useful we would like to hear!
And remember, before you buy a used RV, be sure to have it inspected by a certified NRVIA member!