Certified RV Inspection
Would you like to buy your new RV with confidence and know that you are not buying someone else's problems?  Why buy a money pit!  Why not buy an RV that has been evaluated for current issues so you have a better chance of enjoying worry-free travels!  If that sounds like what you are looking for, then get a certified RV Inspection!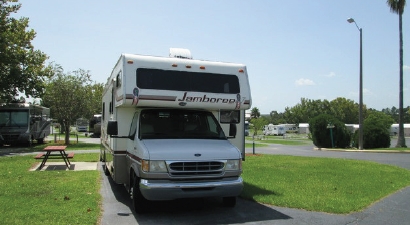 Would you want to buy this RV?
This client was in California buying this RV from a seller in Florida. How can you really trust what a seller is telling you?  More on this story as you read on!
What is a Certified RV Inspection
A certified RV Inspection is called that because it is performed by a certified NRVIA RV Inspector.  The RV Inspector has been trained in such a way that they will surpass the highest standards in the industry.  They have received many hours of class time study, hands-on training, and had to pass numerous tests in order to be able to perform a certified RV Inspection.
When you work with an NRVIA RV Inspector, you will be in the hands of a professional that can communicate, both in written and verbal form, what you will need to know about the RV you intend to purchase.
The RV Inspection process is a relatively new one!  There have been other RV inspection services around the country for years. However, a lot of these folks are also RV technicians.  They know a lot about how to fix RVs!  But, you can't really consider their counsel as unbiased.  How do you know if they have really found a problem or are they just trying to sell you something the RV does not need?
The NRVIA (National RV Inspectors Association) was launched in January of 2014. There is now an organization whose sole purpose is to certify RV Inspectors to perform these third party, unbiased RV Inspections all across the country!  Now there is a place that RV buyers, RV sellers, and others can go to have their RV inspected to verify its current condition.
When you want an RV inspected before you purchase that vehicle, you want a third party, unbiased opinion of the state of the vehicle at that point in time.  Can you take the word of the seller, or the dealer, that the RV is in the condition they claim it to be?  For your safety, you want to be sure that the RV is examined before you take possession so that you don't wind up having to put a lot of additional funds into an unfit recreational vehicle!
But what about the States that require vehicle inspections?  Is that inspection enough information for the RV buyer to know more about their RV purchase.  Well, according to Wikipedia, these inspections are monitored by the state and limited in their scope.  And, by then it's too late!  The purchase is already made.
Here's the Rest of the Story!
So, back to the story of the buyer in California!  They found the Class C RV through Craigslist.  It appeared to be a good deal on a sixteen-year-old RV, at that time. From the pictures the seller sent to the buyer, it also appeared to be in good condition.  But the buyer suspected there may be some issues.
Not knowing if such a service existed, she did an internet search for an RV Inspector around the area the RV was located.  She found one of the NRVIA certified RV Inspectors in the area and called to schedule an appointment. They needed the inspection as soon as possible because the buyer did not want the RV to be sold to someone else.
As it turned out, the inspector in the area was not available, but another that was also able to do an RV inspection took the job.  He had to travel out of his area, but he was able to help out in this case.  So, the inspector met the seller at a local RV park where the RV was stored and the RV inspection was done there.
The inspector arrived before the seller did.  He started to investigate the RV using a uniform standards checklist for the type of inspection that the buyer contracted the inspector to perform.  From the time he crawled up on the roof until he completed the inspection, he knew the seller was not telling the buyer the whole story!  The RV Inspector took pictures and documented his findings.
I won't go into all the details of the condition of the RV, but the worst issues I will share.  The seller had covered a large crack in the street sidewall with a large sports team sticker!  This was truly a case of buyer beware!  Here are some photos of the major issues.  There were many others!
In this particular case, complete oil and coolant analysis was recommended prior to the inspection day!  The buyer did not request that to be performed, but given the poor condition of the RV, it would have really given a complete picture of the RV's mechanical condition given that inspectors can't take the engine apart, but they can take oil and coolant samples and send them to a national lab for analysis.
Once the buyer received the certified RV inspection, a computer-generated 100-page report the next day, she knew that this was not the RV for her!  The buyer also discovered the pictures that were sent by the owner were not the ones from the RV that was inspected. 
By spending $499 the RV buyer saved themselves thousands, and a trip across the country, only to discover that they would have purchased a real lemon!  This RV had some serious issues that needed to be resolved before it hit the road!  This sort of examination took the RV Inspector six hours to perform.  A Premier Inspection can take eight hours to complete depending on the type of RV that is being inspected.
Do You Now Know Why You Need An RV Inspection?
This is just one example of the many reasons that you want a used RV to be inspected!  There are some sellers who are truly trying to hide things from the buyer.  There are other sellers that really don't know what may be wrong with their RV!  This includes RVs sold at dealerships!
I am Howard from HMRVI Corporation.  Along with my wife Pam, we launched our RV inspection business back in early 2014.  We felt that this industry was necessary given our years on the road as full-time RVers, and hearing all the stories from unhappy RV buyers. Having been full time RVing since 2008 we hear so many more stories like this as we talk to people at RV parks.
We desire to serve our clients by giving them all the info they need prior to making a purchasing decision.  We want to be sure they have safe and uninterrupted travels while enjoying time on the road with friends and family!
We have discovered in the years of performing RV inspections that regardless of whether an RV is used or new, similar conditions are revealed to those discussed above, some serious enough to keep the new RV at the dealership a few more weeks before the RV is ready to leave with its new owner.
The moral of this story is to get it inspected! Doing so will help you avoid buying a money pit, a traveling nightmare, ruined vacations, etc.
Listen to the Director of Administration for the NRVIA talk about what an NRVIA inspection is all about.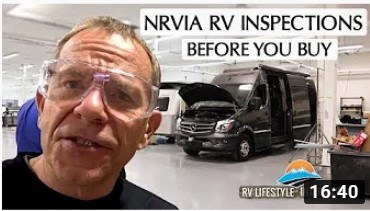 If you would like to know more about the RV Inspection process you can visit usedrvinspection.com, or use our contact page for more information.  You may also text at 850-585-1811 or email hmrvicorp@gmail.com to learn more about this nationwide service.
Find Out Where HMRVI is Available to do RV Inspections For You!

Please leave me a comment before you go!  I would be happy to respond to your inquiry!

Wishing you many blessings as you join the RV lifestyle!
Howard and Pam