When purchasing a used RV from a used RV sale, be sure to seek out an RV inspection service to help you verify that the used RV you are about to purchase is what the seller claims it is.  It does not matter whether the used RV sale is from an individual or from a dealer.  There are too many systems aboard an RV to trust that the seller has taken the time to evaluate them all!
I was reading the RV Daily report recently.  The article posted was about a family that had just purchased an RV.  They drove off and parked their "new to them" RV at an RV park.  The article did not give many details, or whether the RV was purchased at a used RV sale.  I am sure they did not seek out a used RV inspection service to go over all the major systems of the vehicle before driving off.
The result of their trusting the seller was that just hours after driving away, the RV burned to the ground.  Now, I did not hear what had actually started the fire.  My guess would be either the RV refrigerator had an issue, a propane leak, or an electrical problem.  Perhaps it was a combination of these.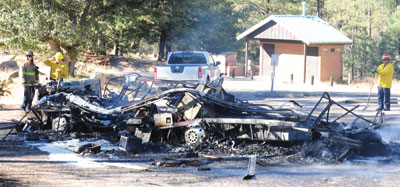 Had the buyer known that a nationwide RV inspection service existed and that it was so affordable, it might have saved them so much heartache.  I am sure that before this happened they were excited about their new RV home, and dreaming about all the adventures ahead, only to have those dreams destroyed by something they did not consider would ever happen!
I want you to know that if you are looking at a used RV sale around the country, and you want to be sure you are purchasing a great vehicle, and not a lemon, then please seek professional help from a certified RV Inspector!  Especially if you are buying from a source like eBay or Craigslist!!
This used RV Inspection service is operating nationally.  It is powered by the NRVIA and is ready to serve you!
Have you purchased a home recently?  Was it suggested by the mortgage company that you get a certified home inspection?  If you have gone through this process then you know what I am talking about.  
Back in the 1970's nobody had heard of a home inspection.  That was a new industry back then. It took a few years for it to catch on but now it is mainstream.  Most lenders or insurance companies will not take on a home policy unless the integrity of the home has been verified by an unbiased source. And that source is a home inspector certified by someone like ASHI or NACHI!
Why do I mention this?  Well, the NRVIA, the National RV Inspectors Association is just like the certifying home inspection agencies.  The NRVIA was created to train and certify professionals that can fill a void in this industry.  There is now a solution for helping folks that are looking at used RV sales. They can buy with assurance if they seek out an NRVIA professional!  A certified RV inspector can help RV buyers receive an unbiased inspection of the used RV they might be interested in purchasing.
I would be happy to schedule your used RV inspection!  All you need to do is contact Howard with the location of the RV you plan to buy. Once we get some basic information from you, we can decide on what level of RV inspection service would be the best one that suits your needs.
Find Out Where HMRVI is Available to do RV Inspections For You!
Please leave a question or a comment before you check out other pages on this website!  I would be happy to help you out as you investigate purchasing a used RV!
Blessings,
Howard Jaros
NRVIA Lifetime Member
HMRVI Corporation