There are two issues that can affect the performance of an RV water pump: a dirty rv water pump filter screen, and a contaminated fresh water RV system.  This RV water pump troubleshooting method will give you a starting point in helping to diagnose a problem you may be having in your RV.
The first thing you need to do is locate your RV water pump.  Some RV manufacturers locate their RV water pumps inside the RV while others will locate them in a storage bin outside the RV.  If you have never searched for your water pump before, you may have to do some real investigation to find it.
What does the RV water pump look like?

I don't know why, but RV manufacturers like to hide RV water pumps, even though RV owners like us need easy access to service them.  I found mine by turning on the RV water pump and tracing the distinct noise it makes when being used.  I found mine buried underneath the kitchen counter with no way to get to it.  I had to remove a cabinet panel and make a door out of it.  That also gave me future access for the maintenance I am describing here.
Okay, once you located it, the rest of your RV water pump troubleshooting process is easy!
Hopefully you will be able to access the pump well enough so that it will be fairly easy to disconnect the fresh water tank supply line and allow you to remove the RV water pump screen assembly so that you can clean it out. But before you do that, be sure to have your RV unhooked from city water, and also be sure the water pump is off. Turn on a faucet and relieve pressure in the water system.
If you have the new clear filter assembly, all you need to do is unscrew the bottom screen housing to access the screen for cleaning.

If you have the semi-clear filter housing you will need to remove the fresh water supply line coming from the fresh water tank.  It will be attached to the filter screen assembly.  You may get a little residual water come out from what was left in the supply line.  Now that the supply hose is removed, unscrew the filter assembly from the RV water pump housing.  You will need to do that in order to get the screen out to clean it.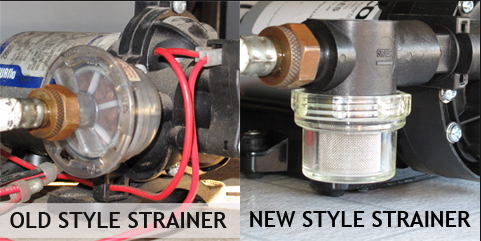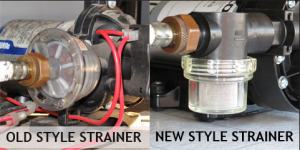 If you have the older style like the one shown above, open it by turning the threaded male end counter clockwise to allow the two parts to separate from each other. Once you have your filter assembly apart you can push the screen out from the female threaded end and clean the screen. Take it outside and rinse it with water to get all the particles out.  Once you have done that, reassemble the filter, and attach it back to the RV water pump.
This will be the first step in assuring that your RV water pump is running at its best!  The next issue that I will deal with, in another section of RV water pump troubleshooting, is sanitizing the RV fresh water system.

If you are an occasional RV-er, this should be done at the start and end of your RV season.  If you enjoy full time RV living, then a good rule of thumb is to sanitize the fresh water system every six months.
Please look for my next page on this subject!  It is very important to the health of your RV water pump!
Please leave a comment before you check out another post, or pose a question if we can be of assistance!
Blessings in your RV adventures!
Howard and Pam