Did you find this web page because you were looking for work camper job listings?  Well, you have come to the right place!  Pam and I have been work camping since 2008.  We love the lifestyle and would highly recommend it to anyone who has an adventurous spirit!
What is Work Camping?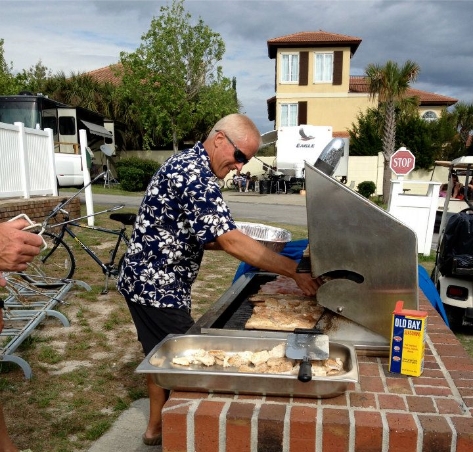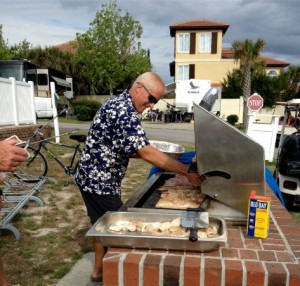 Work camping is the lifestyle of living in an RV and having a job.  That job can be working in the campground you are living at, or at a local business establishment.  It can also still be called work camping if you have a business you run out of your RV, or you donate your time as a volunteer while living in your RV.
If you do any of these things then you are called a work camper!
You may have also seen the word workamping.  This is a term used by the folks over at Workamper News to describe the same thing.  If you are looking for work camper job listings, then you can also find them under the term workamping job listings.
Work Camper Job Listings
What are some of the sources you can locate these work camper jobs at? You can find ads in RV magazines, travel planners, campground directories, and free employment newspapers.  These print sources might be more of an option when you are already in a location that you want to work.
If you are looking to secure a work camping job via the internet, then here are some websites that Pam and I have used to find work camper job listings:
caretaker.org

coolworks.com

workamper.com

work-for-rvers-and-campers.com

workampingjobs.com

camphost.org
We have our favorite source from that list of websites!  It is the one that we have secured most of our work camper jobs.  The reason it has worked so well is that it is the most high-tech and up-to-date website source of them all!
That would be Workamper News.  It is a paid source, but like anything, you get what you pay for.  In my experience, if you don't pay much for something, you don't get very much.  It costs dollars to create value!
Workamper News Gold level provides the job seeking work camper with the Workamper News bi-monthly magazine full of Workamper jobs, the Daily Hotline email of even more jobs, the Awesome Applicants Resume service, tools to research Employers, the option to run Situations Wanted ads, articles to assist in creating an online resume, recorded webinar libraries and networking forums.
The work camper job listings that come from Workamper News are better quality than some of the other sources.  The people who advertise using this source have nice work camping programs for the people they employ.  They are experienced employers and know what work camping is all about. Therefore, they understand the lifestyle and provide a pleasant work camping experience.
Our favorite of the Workamper News services is the Awesome Applicants Resume Service!  It has worked so well for us.  We love that our resume, that we created using the software on their website, is available for employers to search throughout the whole country.  We can pick states we wanted to work in and those employers looking for workampers in those states can view our resume and see if we were a match for them.
We have gotten calls from all over the country!  On one occasion we opened up our availability for the entire United States just to see what might come up.  It was amazing how many calls we got!  Now we have work camping experience, and a nice resume, so that is probably why we got called.
But we got that initial experience by creating an appealing resume using the guidelines that Workamper News advised. Once we did that we put it out there for the employers to be able to search for.  We also emailed the resume to campgrounds that we wanted to stay at to see if they needed help.  That worked well too!
As a side note, Steve Anderson, the president of Workamper News, was a Human Resources Director for Adventure Land before taking over Workamper News.  He hired work campers at that facility for years.  You see, he knows how to get people hired!  By the way, you can find Adventure Land work camper jobs listings at Workamper News!
We got one great job by responding immediately to the Workamper News Daily Hotline email. The email gets sent to us each day with current job postings. We sent our resume directly from the member area of the Workamper News website.  I think we were first in line on that one!  We did get a job offer and took it.  It turned out to be a good work experience!
It is rare, but if you happen to find a bad employer, you can spread the word quite easily!  Employers know that they are evaluated on the Workamper News website, so they try really hard to be fair with everyone.
Well, there you go!  That should be enough information to get you started finding a great job in a great place of your choice.  We hope you have great work experiences as you enjoy your full time RV living journey!
If we can be of assistance, please leave us a comment below, or fill out the form on the right side of the web page, and we will get back to you!
Blessings,
Howard and Pam