Many people do not understand that an RV has more than just one electrical system! I always thought there were two electrical systems in an RV: the 12 volt and the 120 volt. But I missed the fact that there are really two 12 volt systems.  This was one of the first lessons, one of many in my RV life, that taught me when RV electrical problems arise, I needed a basic understanding of RV electrical systems!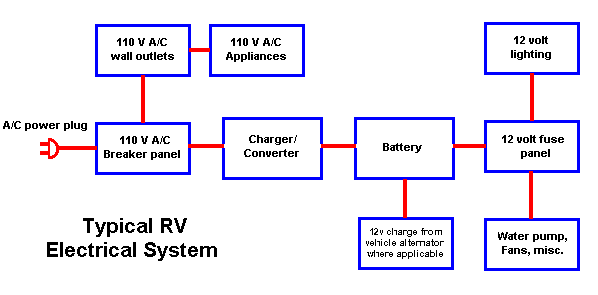 Imagine you are enjoying a nice evening in the RV: the AC unit is cranking, the convection oven is cooking the evening meal, the electric water heater element just kicked on because the wife is in the shower, and all of the sudden it gets awfully quiet in the RV.
What happened?  RV electrical problems may have popped up because of these possible situations: did the water heater kick on and send the electrical system into overload? Did the RV park's power cut out?  Did your EMS unit shut the power down because it detected a problem?  Did the AC unit and the convection oven restart together?  What should you do?  Here comes the purple monkey!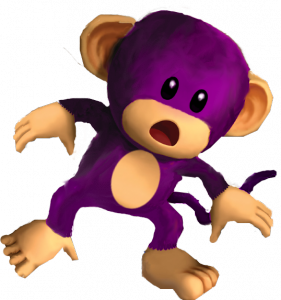 What is a purple monkey?  It's a big hairy problem that does not seem to have an immediate answer due to a distortion of the facts.  And it climbs on your back and laughs at you while you panic!  If you don't have at least a basic understanding of how RV electrical problems can arise, then the purple monkey may visit you quite often!
How to Avoid RV Electrical Problems!
The best way to avoid RV electrical problems is to understand the three electrical systems that you have in your RV and be able to diagnose a problem by learning how they work together to keep you comfortable in your home on wheels.
The 3 Electrical Systems in Your RV
Chassis 12 Volt System

: this is the power from the chassis batteries that run the exterior running lights, the stop lights, and the turn signals of the RV.  On a trailer or 5th wheel, this power comes through the 7-way pin connector that attaches to the tow vehicle.  On a motorized RV, this power comes from the batteries that are attached to the alternator, just like in a car.

RV 12 Volt System

:  these are the deep cycle batteries that power all the 12-volt lights, the circuit boards of the RV appliances, the fresh water pump, the propane detector, the slide outs, and the leveling jacks. In order to keep the batteries charged, just like the alternator does in a car, the RV has a converter that takes 120 volts and converts that to 12 volts to charge the deep cycle batteries.

House 120 Volt System

: just like in a "sticks and bricks" home, 120-volt alternating current is needed to power the air conditioner units, the microwave, the electric heating element in the water heater and refrigerator, the wall receptacles, the converter, and any other 120 volt accessories the RV may have.
Most electrical products have labels on them to tell you what kind of electrical requirements they need and use: volts, amps and watts.  Do you know what these are, and how to figure out what your maximum usage is in your RV?  If you don't, the big purple monkey may visit you!  So, let me get the monkey off your back!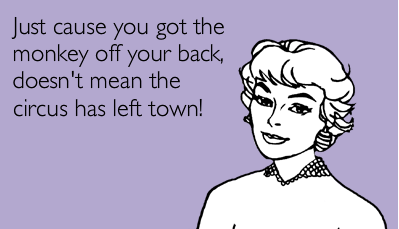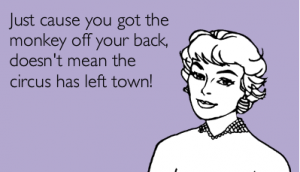 What are Volts, Amps, and Watts?
Most RV Electrical Problems occur because RVers don't understand the relationship between volts, amps, and watts!  It is very easy to overload an RV such that you are tripping the breaker in the main panel, or even for the appliance itself.
So what is a Volt?  Very simply it is the push that electricity has through the wires of your 12 volts or 120 volts RV electrical system.  In comparison, it is like water pressure to a water system.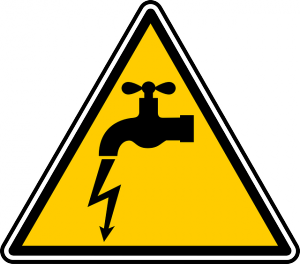 So how about an Amp?  Amperage is the flow of electricity.  Amperage is the same to electricity as gallons of water flow is to a water system.  The size and length of the wire determine how much amperage there can be. If you try to flow too many amps through a small, or underrated wire, what happens?  It gets hot, right?  The resistance to flow equals restriction, and therefore heat builds up.  The wire will overheat and melt it's casing, possibly causing a fire.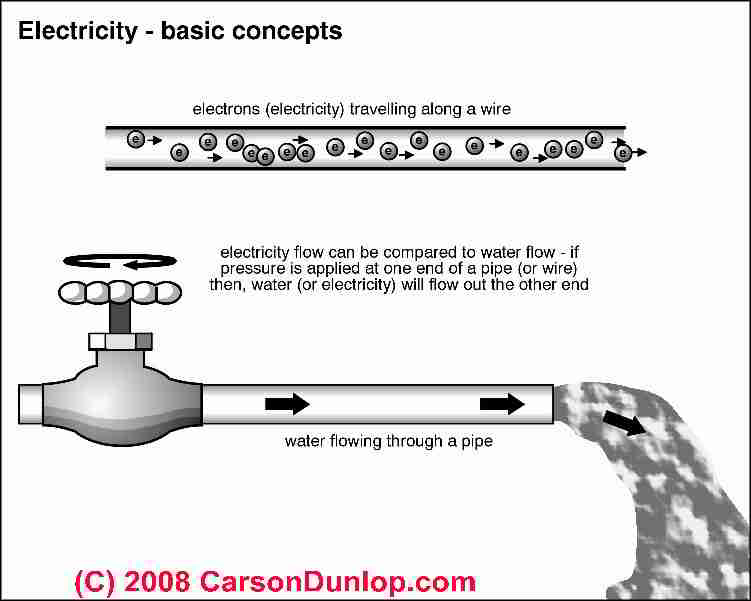 Then, what are Watts?  A watt is the power the electricity has.  If you know that you have 120 volts going into your RV, and you have 30 amp main service inside that RV, then if you multiply the 120 volts times the 30 amps, you get 3600 watts.  So what does that mean to you?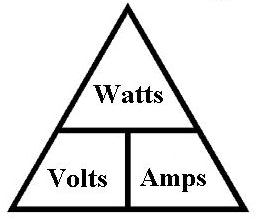 Real-Life Example
Mr. and Mrs. Smith, and the kids, hook up their travel trailer and head out for the weekend.  They had it plugged in at home and had all the electrical items running before they left.  They unplugged the RV and hit the road. The electric water heater was on, the air conditioner unit was running, the converter was charging the batteries, and the fridge was set to be on electric when plugged in.  Oh, and this is a 120 volt / 30 amp electrical system.
So what happened when Mr. and Mrs. Smith get to their destination and plugged in their RV?  Remember, everything was left on!  Let's examine the load on the system:
Air Conditioner at 20 amps x 120 volts = 2,400 watts

Electric Water Heater at 12 amps x 120 volts = 1,440 watts

Converter at 7 amps x 120 volts = 840 watts

Dometic Fridge at 120 volts x 4 amps = 480 watts
for a Grand Total of 5,160 watts
All those appliances were still switched on and were calling for power because the RV was hot inside, the hot water had cooled off, the fridge needed to keep cooling and was switching from propane, and the batteries needed charging.  After a few minutes of being plugged in, the Smith's were sitting without AC, hot water, and ice cold beer because the breaker tripped. Perhaps it was the main breaker in the RV, or perhaps the breaker at the electrical pedestal.
They only had 3,600 watts available to use, at most!  And when an air condition first kicks on, it requires approximately another 500 watts.
How could this have been avoided?
Some RV Electrical No No's!
The lesson from the example above is don't unplug your RV without allowing your appliances to cycle off before shutting off the main power. Be sure to turn off your major amp drawing items and you will avoid tripping breakers when you get to your next destination.  Turn them back on when you need them, and not all at once, especially on a 30 amp RV!

Don't plug your RV into a 15 amp outlet, using an adapter, and then try and run your Air conditioner unit.  You will ruin the ac and burn up your wiring. That may be okay to just run the converter to keep batteries charged, but that's about it!

Don't plug into an RV park electrical pedestal without checking the power source.  If you don't know how to use a voltmeter, either learn or get an electrical management device.  These are designed to plug into the RV park's electrical pedestal and detect any electrical issues before you plug in.

Don't run all electrical appliances in your RV unless you know for sure what the power requirements are, based on a 30 or 50 amp RV electrical system.  That is 3,600 watts or 12,000 watts of total available power.
Would you like to know more about solving electrical issues?  How about all the other issues that come up in your RV?  Would you like to be able to fix 80% of the RV issues that are easy to find, and easy to fix, by yourself? Would you like to save yourself thousands of dollars from the many repairs that will be needed over the years?  What about time off the road because you are waiting for someone else to solve your problem?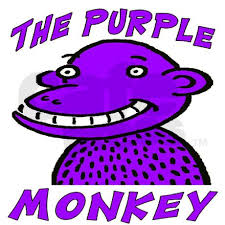 Jump over to my page that talks about an RV technician course that could help you get the purple monkey off your back!  You can learn how to handle issues similar to these, like a pro!  You can attend this 5-day course live, or take the home study course.

Would you like more information about either the 5-day live course or the home study course?  Please visit my Contact Us page and I will get back to you as soon as I can!
Thank you!!
Feel free to leave a comment, or ask a question, before you go!
Here's wishing you happy adventures as you enjoy the RV lifestyle!
Howard and Pam