Since I started my full time RVing website in 2012, we have over those years offered to assist folks with their RV problems.  People come to our site and leave us questions to see if we can help them with their issues.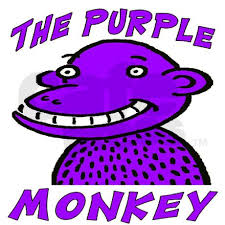 When problems arise and we tell ourselves that it is really bad and going to cost a lot of money to fix, that is just a big hairy problem that appears to have no immediate solution.  Better known as a purple monkey!
This is just opinion without fact on the spur of the moment when one does not know how to handle simple issues that randomly occur in RV's.
Here are some of the latest questions that we have had come up:
Lloyd – My inside lights flickered when I was connected to shore power. In the morning the lights were dim. I had to hook my battery charger to charge batteries to retract the slide.  When I did the lights went bright again because I was charging batteries.  All outlets were working and so was A/C & microwave. Do you think it's the converter?
Me – Hi, Lloyd!
Thanks for stopping by our website! What is your battery voltage with the converter on? Then, what is the static voltage with the converter off?
Lloyd – I charged my battery's, there at 13.09. Hook up batteries they drop to 12.53, hook up shore power & they stayed at 12.53. I turn one interior light on & it drop to 12.24 battery alone & when hook to shore power. Also with the refrigerator on auto both green * yellow (gas) lights flash. Before my issue when I plug to shore power only green light came on.
Me – Hi, Lloyd! It sounds like your converter may not be charging your house battery. Also, since it was not working it weakened your battery to the point that it no longer can carry the load on its own as evidenced by the quick drop in voltage. Check the fuses on your converter. You have to read more than the starting voltage when plugged into shore power and with the converter on. That 12.53 should have been above 13 volts if the converter was working properly.
Keep us posted!

Jessica – I was running my propane heater I haven't run it yet this year because I've been using a radiator heater well I turn it on but i turned it up to 77 and then next thing I know an hour or two later the lights start going dim and the heater shut completely off but the lights are dim and working but the thermostat is completely off what do you think it could be?  COULD IT HAVE gotten too cold and drained the battery or what and then my smart safe propane gas detector is beeping but there is no smell or anything and it was going off the other day but I wasn't running any gas.
Me – Hi, Jessica!
Thanks for stopping by our website! The propane heater gets its power from the 12-volt house battery system. It does require quite a bit of power to operate. It can drop the battery voltage as much as a half volt during operation. If the battery is weak or the converter is not operating, you will have the kind of problems you are describing. I would check out your static battery voltage and if the converter is actually charging the battery as it is supposed to.
This will require a voltmeter and the ability to check the battery voltage with the converter operating and with it turned off. If things are working properly, there should be at least a half volt difference between the two. A properly operating 12-volt battery at static voltage should read around 12.6 volts.
Investigate and keep us posted! Thank you.

Henry – All the small lights in my camper(except for the one in the bathroom quit coming on. One day the lights above my bed flickered till i turned them off. Then a few days later they all just quit coming on. Got any ideas on what it might be?
Me – Have you checked your 12-volt fuses? Check that out and let us know.
Peter – Hi Howard, Just a quick word of thanks, your help and attention here are fantastic! Really makes me want to take the course. Too bad I see no Washington State stops
Me – Thanks for stopping by our website and inquiring about more information on an RV Basics Training Course in the Washington area. We will be in Bakersfield, CA in April and Salem, OR in May of 2017. If you want more information you can email me at howard@yourfulltimervliving.com.
Linda – Hi: We have a 39′ 2008 HR Neptune motorhome. There are two light switches in the bedroom that are unreliable. Sometimes the lights come on and sometimes they don't come on for hours after you turn on the switch. Any ideas? Thank you
Me – Hi, Linda!
Thanks for stopping by our website! Light switches can develop a bit of corrosion just due to age and the RV environment. Sometimes some quick action of turning the switch on and off a few times can shake that loose. Of course, if you can find a replacement switch that matches what you have, this option would be the best bet for a long-term solution. You might also want to check your fuses to be sure one is not loose. If so, take a pair of needle nose pliers and crimp the connections a bit to create a better connection.
These are just some of the things we see on a daily basis. It usually is in regards to these kinds of electrical issues!
Did I know how to answer these kinds of questions before I took this training course?  No!  It is only through the knowledge that is shared through this learn-at-home video training program that I now can confidently solve my own RV issues and save money and time having to visit a service center.  They are usually weeks out from solving any potential problems!
RV Basic Training
A lot of these problems can be solved instantly if one has the knowledge to understand where the problem is coming from and then self-diagnose the answer. Eighty percent of these things are easy to access and easy to fix!
There is nothing worse than trying to live in an RV with systems that are not working, especially when it comes to lights, heating, cooling, hot water, refrigeration, and 120-volt and 12-volt electrical systems.
So, whether you have an RV or are looking to buy one, do yourself a favor and buy yourself a present of knowledge. You will go from Zero to Hero when you are able to solve your own RV problems!

And the best thing is you don't need internet access to all the training modules you will receive.  You can watch them over and over again right from your computer, no data usage required!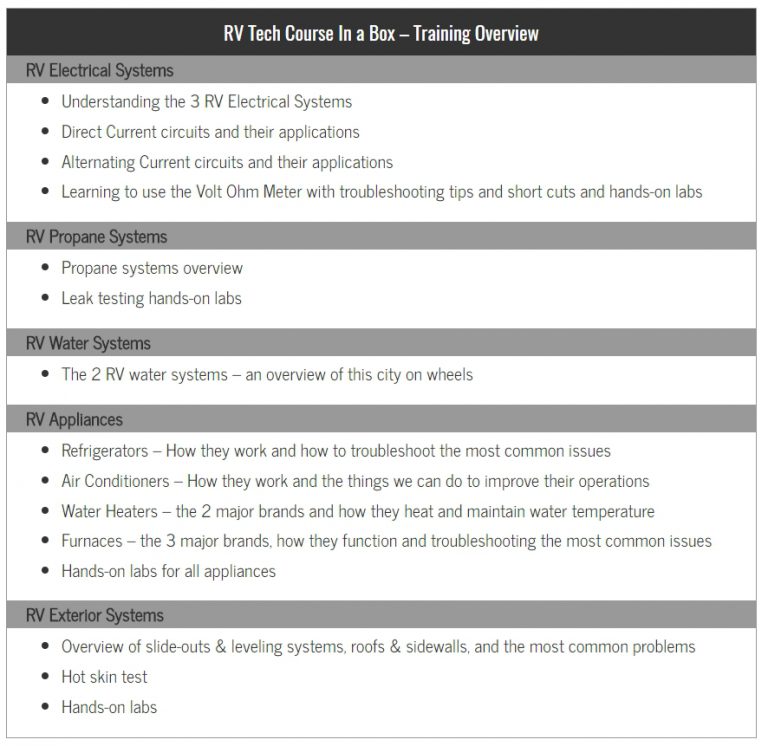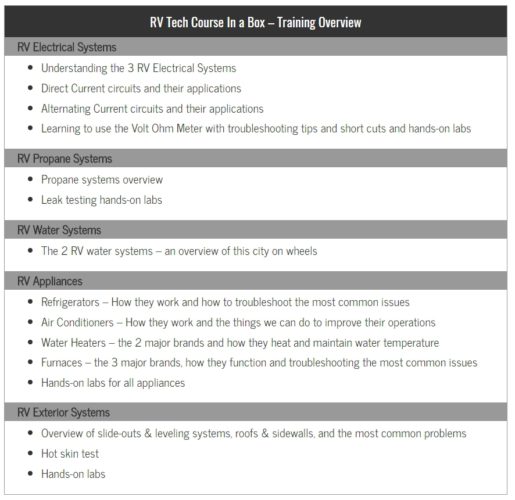 Let me help you to better understand your RV!  Click Here to jump over to our sister site and use the contact form so we can assist you.
Thank you!