Winter will soon be upon us, and the migration of Northerners heading to warmer climates will begin once again. Some come with RV's, and some are returning to their winter homes, whether they be a park model or some other type.  Lots of the RVing folks come looking for work camper jobs in Florida because there are a lot of them to be had.
I have already noticed the increase in work camper ads starting to appear in Workamper News.  Most of the work camping Florida opportunities are focused on RV parks looking for individuals and couples for work in housekeeping, maintenance, park hosts, activities directors, and cooks, etc.

A lot of these jobs are filled by the same folks each year.  They return to the same RV park each winter and work there in order to pay for their RV campsite.  Some just work enough to cover those costs, and others work a 32-40 hour a week schedule. It just depends on the RV park's needs.  In any case, if you are looking to migrate for work camping in Florida, start looking now for the best choices of jobs in the places you want to go.
Now, work camping does not have to only be working in an RV park and trading hours for that site to be considered work camping.  As I have said in other posts, if you live in your RV, and you have a job, whether that is working from your RV running a business, or working at another location, you are work camping.
What About Running an RV Related Business?
Do you love RVing?  Would you like to know more about how to easily fix eighty percent of problems that arise in an RV, and perhaps create a business that you can operate out of your RV?  What about the tax advantages of such an idea?  Would those skills also make you more desirable to an RV park owner?

I took this class to do just that!  It was fantastic!  I have been living in my RV, full time, for six years and I did not know about a lot of the things Mr. Cooper taught in his five-day class.  I took the class to make myself more valuable to prospective RV park owners looking for work campers with more than just average skills.  Even though I have always work camped in maintenance positions, given my electrical and engineering background, I still wanted to broaden my Workamper resume.
Then the light bulb in my head lit up!  Do you mean I can take this knowledge and help make people's RV experience even better?  Would I be able to offer folks a way to know that the RV they are buying is as the seller claims it to be?  Would I want to be an RV Inspector?
Then I heard there was going to be a huge need in Florida for RV inspectors! This is being launched in Florida first.  It is launching nationally, but given Florida is the number one RV sales state, focus definitely needs to begin there.  Then I heard, "we need your help!"  I said "I am turning the key! Where do you want me to go?"

But, I had to do a few things first before I could step in an RV in order to help out a prospective buyer/seller.  I obviously had to complete my five-day class (it is also taught online but I wanted hands-on in this case), pass certification tests, be sure to have a business entity to support my new activities, insurance to cover my business, and contract with the folks that are making this all possible.
Why contract with a national entity to do RV Inspections?  Well, there are two options.   Someone can join the NRVIA and go out on their own, perhaps adding this service to an existing home inspection business, for example.  The marketing and customer acquisition is all up to the individual.
But, with RV Inspection Connection, a new inspector is joining a nationwide network that allows the inspector to use proprietary software to aid in creating professional reports, benefit from national advertising to secure quality leads, ongoing training, network with like-minded individuals who will support your new business, and be part of the premier RV inspection company in the industry!  Instead of the phrase, show me the CarFax, it will soon be show me the RV Inspection Report!
Now, why is this so much better than working in a campground for peanuts? Well, I am to young to retire, and even if I did I would be bored out of my mind!  This idea of RV inspections was one that allows me to be involved in something I love to do and make it more safe and enjoyable for others who are just starting to discover RVing.  Hey, what about the tax advantages? That's material for another post!
Why safer?  Well, unless an RV has been professionally inspected by a well trained, third party, and unbiased RV inspector than you are taking your chances when purchasing an RV.  Are dealers reputable  Are sellers really disclosing all?  We would sure hope so!  Most are, but why take a chance that some unknown issue is lurking within that RV, and could cost you thousands to fix once it's purchased and on the road!


So, we need your help!  We need hundreds of RV inspectors in the state of Florida alone.  As this grows, and it will quite quickly, we need folks to jump on board and join us in our mission of offering RV inspections done right!
One of the best things about this is an RVer can be mobile.  They can work in Florida, and in the summer go somewhere else if they want.  Through the RV Inspection Connection's system, Rvers can move about the country and still have work in any area they choose to visit!
Want to know what you can make as an RV inspector?  Drop me an email, or give me a call.  We can discuss that further!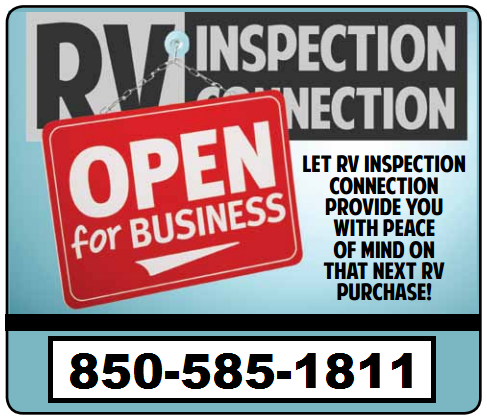 Please leave a comment before you go!  We would like to know what you think after reading this page, or if you have further questions.  You may also email us at howard@yourfulltimervliving.com for more information.
Blessings,
Howard and Pam
Certified NRVIA RV Inspector – Trainer