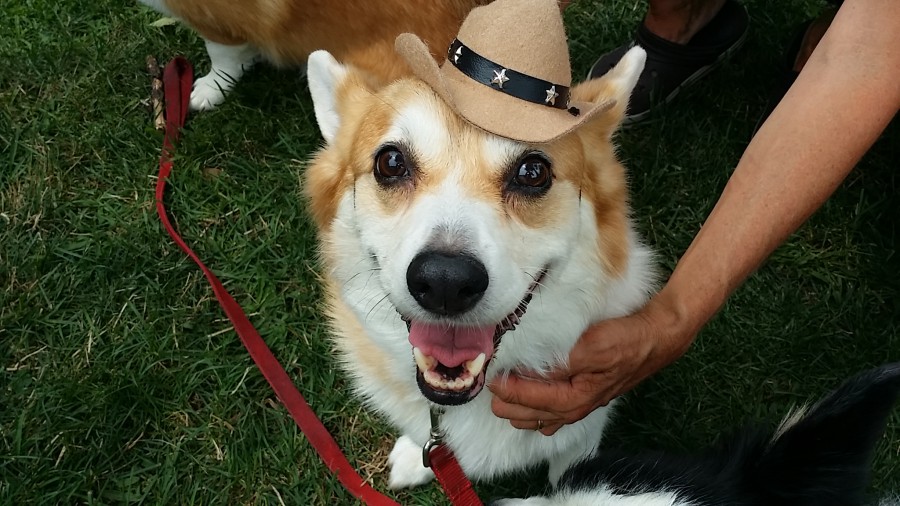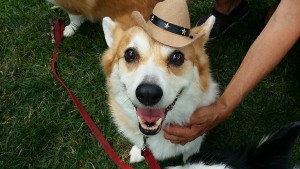 Barooo! That's Corgi-ese for Hello from Lindsey with my Weekly Bark Report. I want to bark at about Learning RV Electrical Systems. I'm really really excited cuz I got to go to a neato RV Main-ten-ence Course that The Texas RV Professor teaches all over the country. (You think he'd get me a big ole cowboy hat? I think I'd look mitey sty-lish. I may be Welsh but I could pull it off.)
Acorse just gotta let ya know, I'm probably gonna bark about this for awhile cuz Mr. Cooper has soooo much to teach about our movin' home and I got really excited learnin' all this stuff. Just makes me want to wag a tail over it, IF I had one.
But alotta the stuff was over my head, and as a low rider like me, that's not too hard to do. If ya know what I mean. BOL! (bark out loud)  And Mom helped me out puttin' it in a way I can know, so you can know too. K-I-S-S she calls it. Hmmm….
Lessee, I think I want to start with some a the harderd stuff.  Somethin' called the electrical systems in our movin' house. Wow, dudes, did you know there are 3 different ways that make our house work?! I thought mom and dad just flipped a switch and it all worked.
I found out when we want to use stuff like the TV, mom wants coffee, dinner in the microwavey thing, roof air on to keep me cool, that it won't work unless that big plug outside is put into that steel pole.  Kinda like you guys have in your stick built house 'cept you don't need to plug in outside to gets your stuff to work.
It's called 120 volt system. Lotsa campers call it Shore Power. The Professor said it's called that cuz it runs 120 volts of electricalcity thru the wires. That kinda stuff needs the 120 volts in order to run. This is the stuff the electrical company will charge ya for so they can make money.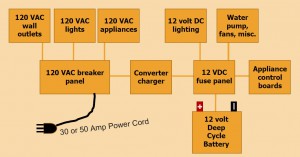 Then there's something called the Chassis System. It has thingys called battrees that run that system. Dad calls it SLI (Starter, Lites, Ignition) System. Ours has these thingys, one under the hood and two others by my entry door. They could also be in a bin like on those big buses.
When we had our towing home, Dad used the battree thingys from our truck to run this stuff.  So so when dad puts the key in, it makes our house start up, turns on the lites so Mom and Dad can drive in the dark and it makes that click, click, click sound when we turn a corner.
Which brings me to the 3rd system. This one is called the Coach System or House battrees. Some of your moving homes may have 4, some may have only 1. Whatever you have it has to total 12 volts or stuff like the RV frigerators, potty fans, lites on walls and cee-ling, and furnace won't work.  Then you get cold, can't see, and your food can get smelly.  Eeeew!  
Mr. Cooper said the piggy bank needs to be full and all hooked together to make enough juice to use that stuff in your RV.  Made perfect scents to me. (Get it? Smelly food? Ha! Sometimes I crack myself up!)
Phew! Barkin' about all this electricalcity stuff can make my doggy brain get fried. Bark, do I hear you ask, is that 120 or 12 volt brain fry and what's the difference?  Stay tuned. Subject for another time. Right now I need a good "snap" (a short nap). 
Lindsey out.. 
PS – You can leave a comment, or ask a question, and I will bark back at you!